October 12, 2021
🚀 Axios today launches our next Get Smart video short course series. This one is on the modern space era, and what it means for economies, geopolitics and climate change. Sign up here.
Top of the Morning
Private equity firms are sitting on the sidelines when it comes to vaccine mandates for portfolio companies, despite often requiring shots for their own employees.
Why it matters: Private equity employs around 7% of all American workers, and is represented in almost every industry and geography, which means that PE vax mandates could have a significant impact on the public health.
Yes, vax mandates are controversial. And, as of last night, not allowed in Texas (where private enterprise autonomy only goes so far).
But if firms implement vax mandates in their own offices, why not in the offices of companies they own? Is the health and safety of portfolio company employees considered less valuable than that of their direct employees?
Behind the scenes: Several firms tell me that they encourage portfolio company vax mandates, and that they've provided virtual trainings and information sessions on COVID and vaccinations. But they've stopped short of requirements.
Part of the apathy is tied to President Biden's plans to require vaccinations or regular testing for all private companies with at least 100 employees. In short, firms are waiting on those rules, which Labor Secretary Marty Walsh recently told me should come "in the next several weeks."
But even if those rules don't get caught up in legal red tape, there are plenty of PE-backed businesses that fall below that 100 employee threshold.
The bottom line: For private equity, all of this is unprecedented. And hard. And uncomfortable. And part of doing the job.
The BFD
Magic Leap, a Plantation, Florida-based augmented reality company, raised $500 million at a $2 billion post-money valuation from unspecified "existing investors."
Why it's the BFD: This is a company that lives up to its name, at least in terms of separating VCs from their money, as Magic Leap has now raised nearly twice as many dollars as its current valuation. Maybe that's why none of those return backers are eager to be identified.
History: Magic Leap was valued at $6.9 billion in a 2019 round, and in 2014 raised at a $1.5 billion post-money valuation. Last year it replaced founding CEO Rony Abovitz with former Microsoft exec Peggy Johnson.
The bottom line: "The company has been trying to turn things around by revamping its messaging with a focus wholly on enterprise audiences after years of trying to compete with Microsoft for military contracts (and failing) and trying to compete with Microsoft for enterprise clients (with some success), all while attempting to also stay on consumer radars by bankrolling expensive games for their very expensive headset." — Lucas Matney, TechCrunch
Venture Capital Deals
• Plume, a Palo Alto-based provider of connected home SaaS, raised $300 million led by SoftBank at a $2.6 billion post-money valuation. http://axios.link/LM6m
• Personio, a German provider of HR software for SMBs, raised $270 million in Series E funding at a $6.3 billion valuation. Greenoaks led, and was joined by Altimeter Capital, Alkeon Capital and insiders Index Ventures, Accel, Meritech Capital Partners, Lightspeed Venture Partners, Northzone and Global Founders Capital. http://axios.link/meDx
🐶 Bond Vet, a New York-based vet clinic chain, raised $170 million from Warburg Pincus. http://axios.link/kaH1
• Hailo, an Israeli AI chipmaker, raised $136 million in Series C funding. Poalim Equity and Gil Agmon co-led, and were joined by ABB Technology Ventures, Latitude Ventures, OurCrowd, Carasso Motors, Comasco, Shlomo Group, Talcar Corp. and Automotive Equipment. http://axios.link/bG2I
• Hublio, an SF-based virtual and live events platform, raised $125 million in Series B funding. Alkeon Capital led, and was joined by Lightspeed Venture Partners and Balderton Capital. http://axios.link/qz9z
• Open, an Indian neobank, raised $100 million in Series C funding at a $500 million post-money valuation. Temasek led, and was joined by Google, SBI Investment and insiders Tiger Global and 3one4 Capital. http://axios.link/2bbS
• Alviere, a New York-based embedded finance startup, raised $70 million in Series B funding from backers like Viola Ventures, Viola Fintech, CommerzVentures and North Coast Ventures. http://axios.link/QKtl
• ResQ, a Toronto-based restaurant equipment repair startup, raised US$39 million in Series A funding. Tiger Global and Canvas Ventures co-led, and were joined by Homebrew, Inovia Capital and Golden Ventures. http://axios.link/9Rhh
🚑 SkyCell, a Swiss developer of medicine and vaccine transportation containers, raised $35 million in Series C equity and debt funding from such backers as DisruptAD, SHUAA and Mobiliar. http://axios.link/kM6C
• Fount, a South Korean robo-adviser, raised $33.4 million in Series C funding. Hana Financial Investment led, and was joined by Nice Investment and insiders Smilegate Investment, KT Investment, Shinhan Capital and Korea Development Bank. http://axios.link/zduM
🚑 Oshi Health, a New York-based provider of virtual care for GI issues, raised $23 million in Series A funding. Flare Capital Partners, Bessemer Venture Partners and Frist Cressey Ventures co-led, and were joined by CVS and Takeda. www.oshihealth.com
• FrankieOne, an Australian digital transaction fraud prevention startup, raised A$20 million in Series A funding. AirTree Ventures and Greycroft co-led, and were joined by 20VC, Reinventure, Tidal Ventures, APEX Capital and Mantis. http://axios.link/7gVg
• FitOn, an LA-based digital fitness startup, raised $18 million in Series B funding. Delta-v Capital led, and was joined by insiders Accel, Telstra Ventures, Crosscut Ventures, Maverick Ventures and Second Avenue Partners. http://axios.link/gSHz
• Violet, a Seattle-based e-commerce API, raised $10 million in Series A funding. Klarna led, and was joined by Sugar Capital, Lachy Groom and Red Sea Ventures. www.violet.io
• Cloudtamer.io, a Fulton, Md.-based automated multi-cloud governance and management platform, raised $9.5 million in Series A funding. Blue Heron Capital and TDF Ventures co-led, and were joined by Blu Venture Investors, Early Light Ventures and Gaingels. www.cloudtamer.io
• The Shift Network, a Petaluma, Calif.-based online education startup focused on health and wellness, raised $8.7 million in Series A funding co-led by Evolve Ventures and Bridge Builders Collective. www.theshiftnetwork.com
• Humming Homes, a New York-based residential property management platform, raised $5.6 million in new seed funding. Greycroft led, and was joined by Thrive Capital, Sound Ventures and New Valley Ventures. www.humminghomes.com
• Alsoug, a Sudanese digital classifieds startup, raised $5 million co-led by Egypt's Fawry. The company says this is the "first major foreign investment into a Sudanese tech business since sanctions were lifted in 2020." www.alsoug.com
• Crabi, a Mexican auto insurance startup, raised $4 million in seed funding. Kaszek Ventures led, and was joined by Tuesday Capital and Redwood Ventures. www.crabi.com
Private Equity Deals
• The Blackstone Group confirmed that it will invest $1 billion to bankroll a music catalog acquisition platform led by music manager Merck Mercuriadis. http://axios.link/l4rn
🚑 GlaxoSmithKline (LSE: GSK) is getting private equity interest for its consumer unit, setting up what could be the largest-ever buyout with a value of around $54 billion, per Bloomberg. http://axios.link/X4O0
• Fenix Parts, a Hurst, Texas-based portfolio company of Stellex Capital, acquired the assets of Pensacola, Fla.-based University Auto Recyclers. www.fenixparts.com
• TA Associates agreed to buy a 25% stake in Foncia, a French residential property management firm majority owned by Partners Group. www.fr.foncia.com
• Tata Motors of India agreed to raise $1 billion from TPG Rise Climate and ADQ for its passenger EV unit.
Public Offerings
• Enfusion, a Chicago-based provider of investment management SaaS, set IPO terms to 18.8 million shares at $15-$17. It would have a $1.9 billion fully-diluted value, were it to price in the middle, and plans to list on the NYSE (ENFN). Enfusion reports $8 million of net income on $51 million in revenue for the first half of 2021. Backers include FTV Capital and Iconiq. http://axios.link/f6FQ
• GitLab, an SF-based DevOps platform valued by VCs at $6 billion, upped its IPO price range to $66–$69 from $55–$60. It now would have a $9.65 billion market cap, were it to price in the middle. http://axios.link/OGSg
SPAC Stuff
• Hyphen Group, a Hong Kong-based comparison engine for personal financial services, is in talks to go public via Provident Acquisition (Nasdaq: PAQC) at around a $1 billion valuation, per Bloomberg. Hyphen has raised $110 million from firms like Experian, IFC, Gobi Ventures, Goldman Sachs, ACE & Co. and Route 66 Ventures. http://axios.link/MnyK
• Rocket Lab, a Huntington Beach, Calif.-based small satellite launch company that's going public via SPAC, acquired Advanced Solutions, a Littleton, Colo.-based aerospace engineering firm, for up to $45.5 million. www.go-asi.com
Liquidity Events
🧀 Mason Wells sold Whitehall Specialties, a Whitehall, Wis.-based maker of custom cheese products, to Irish dairy cooperative Ornua. www.whitehall-specialties.com
• Vroom (Nasdaq: VRM) agreed to buy Fort Worth, Texas-based auto lender United Auto Credit from Pine Brook Partners for $300 million in cash. http://axios.link/waaL
More M&A
• 4iG of Budapest will pay $68 million for a 51% stake in listed Israeli satellite operator Spacecom. http://axios.link/Rf7J
🚑 Elliott Management is publicly urging Healthcare Trust of America (NYSE: HTA) to explore a sale, pushing the REIT's market cap up past $7 billion. http://axios.link/6glb
🚑 Pacira BioSciences (Nasdaq: PCRX) agreed to buy Flexion Therapeutics (Nasdaq: FLXN), a Burlington, Mass.-based provider of non-opioid pain meds, for $630 million in cash. http://axios.link/0b3N
Fundraising
• 2150, a European VC firm, raised $312 million for a fund focused on reducing urban carbon emissions. http://axios.link/ReGU
• ACME Capital, a VC firm co-led by Scott Stanford and Hany Nada, is raising $225 million for a new early-stage fund and $100 million for an opportunities fund, per SEC filings. www.acme.vc
• Angular Ventures, a London-based deeptech VC firm founded by Gil Dibner, raised $80 million for its second fund and said that David Peterson (ex-Airtable) joined as its second full partner. www.angularventures.com
• Munich Re Ventures raised $500 million for its second fund. www.munichre.com/mrv
• Newark Venture Partners raised $85 million for its second fund focused on seed-stage B2B software startups. http://axios.link/qlVh
• Paradigm, a crypto-focused VC firm, is raising $1.5 billion for a new fund, per CoinDesk. http://axios.link/KwCA
It's Personnel
• Antares Capital, a Chicago-based private credit firm, said that founding partner and COO Timothy Lyne will succeed David Brackett as CEO, effective at year-end. www.antares.com
• Paul Lee joined VC firm Tribe Capital as a partner. He previously was chief revenue officer at Quaestor and, before that, a partner with Global Founders Capital. www.tribecap.co
Final Numbers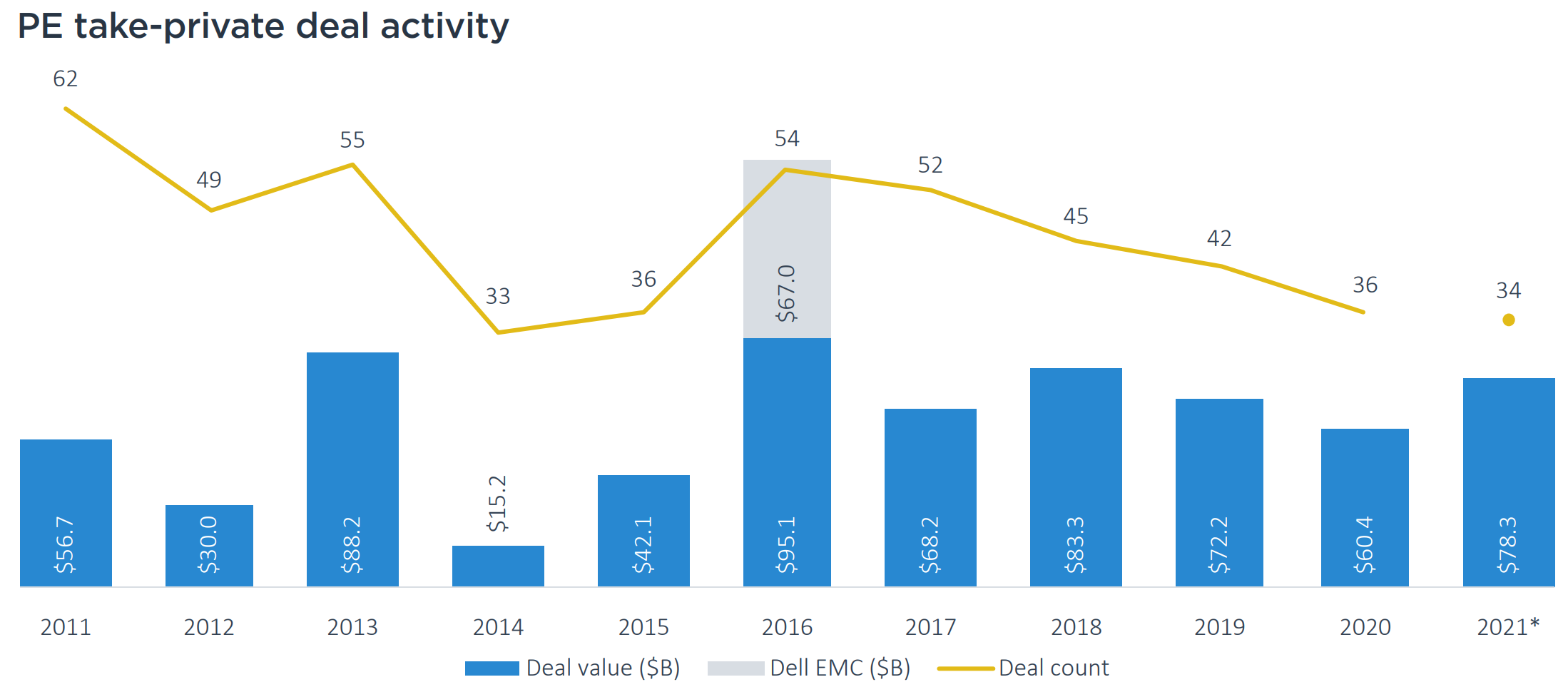 Private equity is breaking deal activity records in 2021, alongside venture capital and broader M&A.
But the vast majority of that involves privately-held target companies, as the number of "take-private" acquisitions is barely above the five-year average (if excluding Dell-EMC, and well below that average if included).
🙏 Thanks for reading Axios Pro Rata! Please ask your friends, colleagues and Kiké Hernández to sign up at GetProRata.axios.com.