Happy Thursday, Pro Rata readers! Just one day left to send me tips and scoops at kia@axios or on Twitter at @imkialikethecar. I'm kidding — you can send them year-round!
Event reminder: RSVP to our 2/26 event in NYC for interviews with NBA star Draymond Green, BBG Ventures' Susan Lyne, JPMorgan's Jennifer Piepszak, and Equinox CEO Harvey Spevak.
https://www.axios.com/newsletters/axios-pro-rata-59cc22d6-c7ec-4450-bfaa-19dcbf033a13.html?chunk=0#story0
Top of the Morning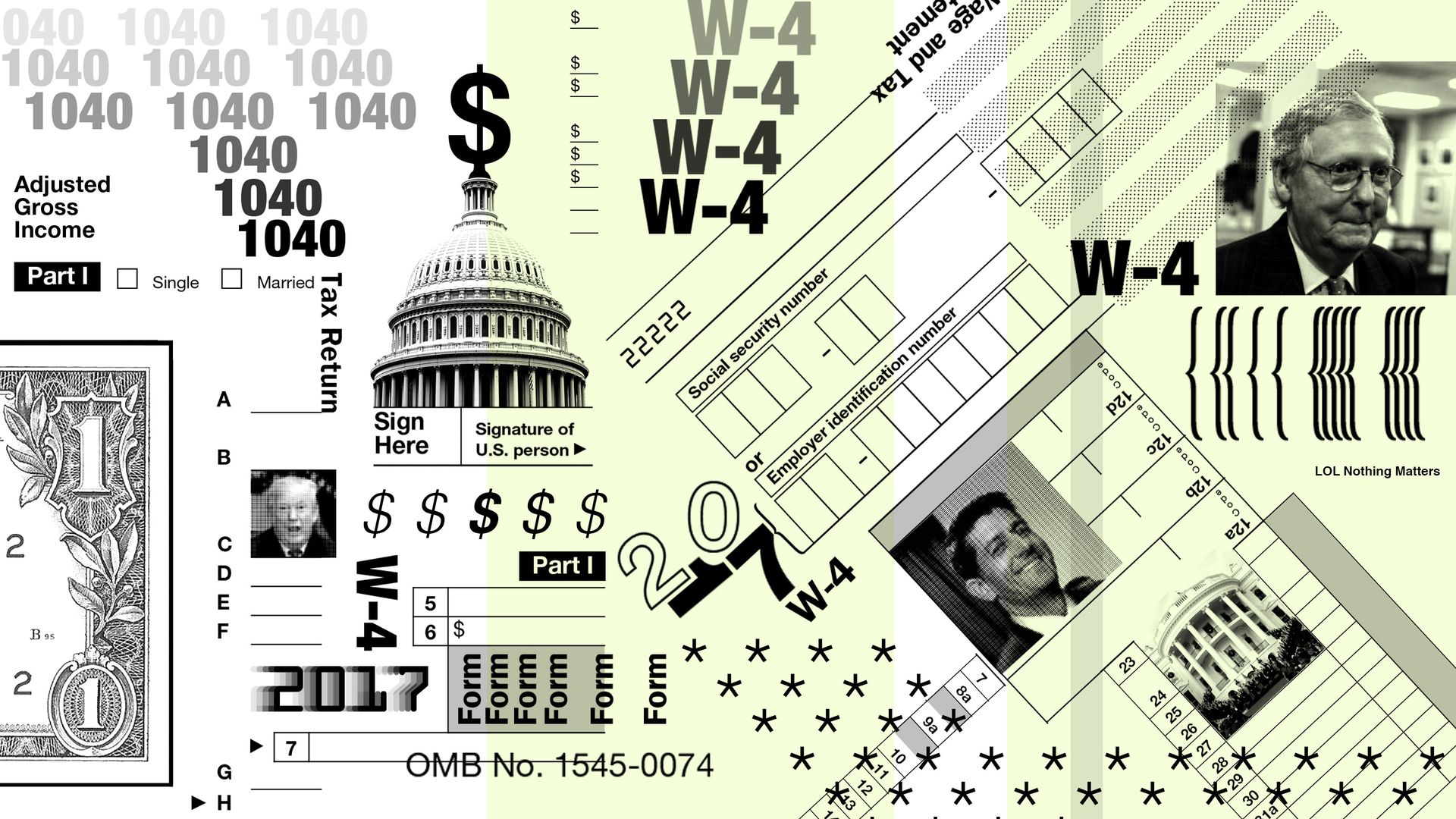 What has the new tax bill done so far? Well, between Jan. 1 and Feb. 20, 113 companies announced stock buybacks totaling $173 billion, the highest level ever at this point in the year, according to Birinyi Associates' Jeffrey Rubin, reports Axios's Zach Basu.
43 companies announced buybacks of more than $500 million, including Cisco, Wells Fargo, PepsiCo, Amgen, AbbVie, and Alphabet.
Meanwhile, in health care: Nine drug companies are spending a combined $50 billion on new share buyback programs, according to Axios's Bob Herman, who also notes that the "money is enriching hedge funds, other Wall Street investors and top drug company executives, but it isn't necessarily helping patients."
• The other media merger: Sinclair Broadcast Group said Wednesday it would sell several television stations as it looks to bring its purchase of a group of Tribune stations into compliance with media ownership rules and win the blessing of regulators, reports Axios's David McCabe.
It indicated it would sell "one or more" stations in eight markets so that it wouldn't violate ownership rules. But in three markets, it has asked the commission to waive its prohibition on one company owning two of the top four stations.
The big picture: Even with the sell-off, the deal will make the right-leaning Sinclair the most powerful local broadcaster in America.
What's next: The FCC will give the public a chance to comment on the updated merger application, and ultimately decide whether to approve the deal. The Department of Justice also has to sign off and has reportedly been having discussions with Sinclair about selling some stations.
• Beauty-as-a-service: New York-based Glossier has raised $52 million in new funding led by IVP and Index Ventures, with Thrive Capital, Forerunner Ventures, and 14W, plus Howard Schultz, and Natalie Massenet's Imaginary Ventures also participating.
Key insight from IVP's Roseanne Wincek: Some beauty companies can scale similarly to software companies. There's recurring revenue (replenishing products when they run out), and low barriers to trying new products once you're hooked on a brand.
• Crypto news: The latest in messaging app Telegram's upcoming coin offering is that it's secretly planning a second pre-sale for accredited investors, according to The Verge.
The level of hype for this ICO is unprecedented, with all major VCs in town (who can) putting in money. And this means it's either the most promising technology we've seen in a while, or it's plain herd mentality at this point. Do send me your thoughts (and any insider intel) on this one!
• Baby steps: This morning, the NVCA (venture capital's lobby group in D.C.), released a set of guidelines to help firms with handling sexual harassment.
https://www.axios.com/newsletters/axios-pro-rata-59cc22d6-c7ec-4450-bfaa-19dcbf033a13.html?chunk=1#story1
The BFD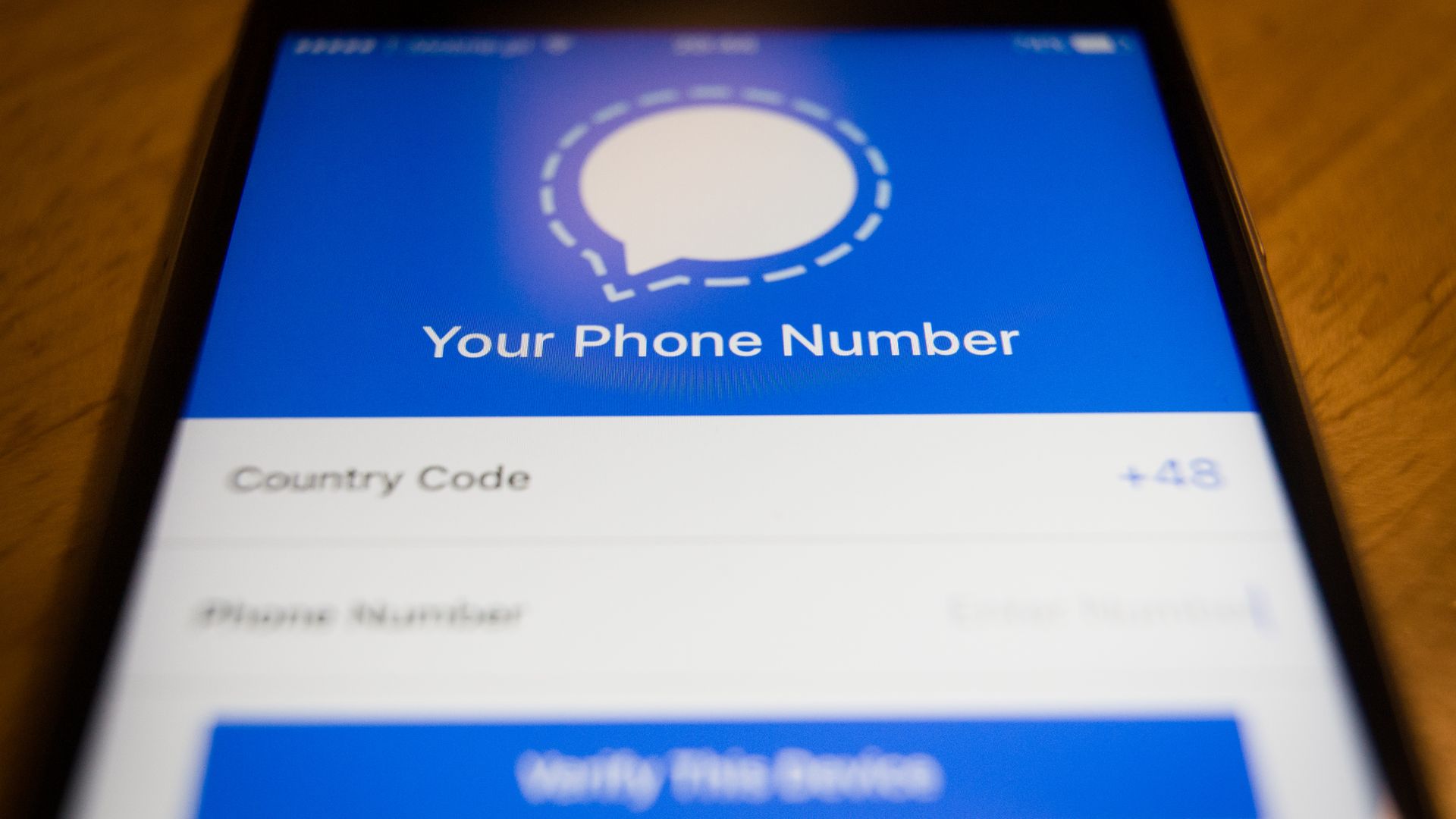 Signal, the popular encrypted messaging app, has raised $50 million from WhatsApp co-founder Brian Acton. The funds are going to a new umbrella non-profit, the Signal Foundation, which Acton will chair.
Why it's the BFD: Signal has become the discreet chat app of choice for everyone from journalists to political activists, thanks to its solid end-to-end encryption technology. Its technology is also used by apps like WhatsApp, Facebook Messenger, and Skype.
Bottom line: "As most frequent Signal users can attest, the app's encrypted voice calls in particular seem sometimes to be testing its infrastructure's limits: While practically no one in the security or cryptography community questions Signal's privacy bona fides, calls are often dropped or choppy... That often leaves privacy-sensitive users with a choice between riding out Signal's hiccups or switching to a far less secure means of communication." — Wired
https://www.axios.com/newsletters/axios-pro-rata-59cc22d6-c7ec-4450-bfaa-19dcbf033a13.html?chunk=2#story2
Venture Capital Deals
🚑Kallyope, a New York-based biotechnology company, has raised $66 million in Series B funding from Lux Capital, The Column Group, Polaris Partners, Illumina Ventures, Alexandria Venture Investments, Euclidean Capital and Two Sigma Ventures. www.kallyope.com
• Wealthsimple, a Toronto-based online robo-advisor, has raised a $51 million in new funding investment from Power Financial. http://axios.link/OuSZ
🚑Cota, a New York-based health care data analytics company, has raised $40 million in Series C funding led by IQVIA, with participation from EW Healthcare Partners and Memorial Sloan Kettering Cancer Center.
• Capillary Technologies, an India-based provider or customer management software for retailers, has raised $20 million in new fundings from Warburg Pincus and Sequoia. http://axios.link/65nh
• Tinyclues, a Paris-based maker of marketing analytics software, has raised $18 million in Series B funding led by EQT Ventures, with participation from Alven, Elaia Partners, and ISAI.
• Meritize, a Frisco, Texas-based lender for students, has raised $6.8 million in seed funding led by Colchis Capital, Chicago Ventures and Cube Financial Holdings, with participation from ECMC, College Loan Corporation, University Ventures, City Light Capital, PC Squared and Meritize management.
• ChronWell, a Fort Lauderdale-Fla.-based workers' compensation insurance service, has raised $4.5 million in a Series A funding round from undisclosed investors. www.chronwell.com
• Teampay, a New York-based maker of expense management software, has raised a $4 million seed round led by Crosscut Ventures, with participation from KEC Ventures, Precursor Ventures, CoVenture, and other angels and funds.
• Beauty By Design, a Los Angeles-based a skincare products marketplace, has raised $2.2 million in seed funding led by Resolute Ventures, with participation from Ludlow Ventures, TenoneTen Ventures, Troy Capital Partners, and several angel investors.
• Intello, a New York-based provider of tools for tracking software usage, has raised $1.3 million in seed funding led by Emerge, with participation from BoxGroup, Blacktop, Kaedan, Tectonic, and angel investors. www.intello.io
• Feature Labs, a Boston-based maker of automation software for data science, has raised $1.5 million in seed funding led by Flybridge Capital Partners, with participation from First Star Ventures & 122 West Ventures. www.featurelabs.com
https://www.axios.com/newsletters/axios-pro-rata-59cc22d6-c7ec-4450-bfaa-19dcbf033a13.html?chunk=3#story3
Private Equity Deals
• Antin Infrastructure Partners has agreed to acquire FirstLight, an Albany, N.Y.-based provider of fiber-optic bandwidth infrastructure services, from Oak Hill Capital Partners. www.firstlight.net
• RAB Ventures has acquired a majority stake in HouseWorks, a Mass.-based provider of home care, elder care and senior home care services. www.house-works.com
• Strattam Capital has agreed to invest in SSB, a Denver-based provider of data management and analytics tools. www.ssbinfo.com
• Eli Global has agreed to acquire Finanzen, a Berlin-based online marketplace for retail customer leads in the finance and insurance sectors, from Blackfin Capital Partners and Finanzen's founders. www.finanzen.com
https://www.axios.com/newsletters/axios-pro-rata-59cc22d6-c7ec-4450-bfaa-19dcbf033a13.html?chunk=4#story4
More M&A
🚑Merck (NYSE: MRK), the U.S. drug maker, has agreed to buy Viralytics (ASX: VLA) for 502 million Australian dollars ($394 million). http://axios.link/y6Wj
• Solium has acquired Advanced-HR, a San Francisco-based startup that provides employee compensation data. http://axios.link/Ey19
• Falcon.io, a Denmark-based social media management company, has acquired competitor Komfo from Sitecore, which is majority-owned by EQT. http://axios.link/tSAe
🚑Mercy Health and Bon Secours Health System, two large Catholic hospital systems, have agreed to merge. http://axios.link/GlLl
• ProSiebenSat.1 has agreed to sell a 25.1% stake in its NuCom e-commerce business to General Atlantic for €300 million ($368.6 million). http://axios.link/DAPD
https://www.axios.com/newsletters/axios-pro-rata-59cc22d6-c7ec-4450-bfaa-19dcbf033a13.html?chunk=5#story5
Fundraising
• Insignia Ventures Partners, a Singapore-based fund founded by former Sequoia Capital venture partner Yinglan Tan, has closed its debut fund with $120 million, according to DealStreet Asia. http://axios.link/zDr5
https://www.axios.com/newsletters/axios-pro-rata-59cc22d6-c7ec-4450-bfaa-19dcbf033a13.html?chunk=6#story6
It's Personnel
• Carl Stanton has joined Invesco as managing director and head of private equity. Previously, he was a managing partner at Wellspring Capital Management. www.invesco.com
• Jeff M. Feinberg has joined Sun Capital Partners as an operations managing director. Previously, he was the chief transformation officer at Bridgewater Associates. www.suncappart.com
https://www.axios.com/newsletters/axios-pro-rata-59cc22d6-c7ec-4450-bfaa-19dcbf033a13.html?chunk=7#story7
Final Numbers