Axios Pro Rata
February 07, 2018
Top of the Morning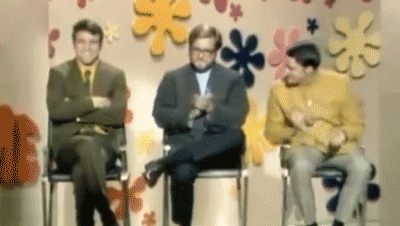 Last year there were reports that Match Group, the owner of popular dating app Tinder, had approached rival Bumble about a possible acquisition for more than $1 billion. Match Group CEO Mandy Ginsberg declined to comment specifically on Bumble during this morning's Q4 earnings call, but did make an intriguing disclosure:
"On the product front, Tinder has been on the cutting edge of innovation since its inception in 2012, inventing the swipe gesture, which has since become this cultural phenomenon of 'swipe right' and 'swipe left' and that is often imitated on mobile products. Tinder also invented the 'double blind opt-in' whereby two users need to 'like' each other before they can message. In fact, these features are so innovative that Tinder was granted a patent in the dating category by the US Patent & Trademark office which we think is valuable."
Axios has located the patent, which does indeed relate to the double opt-in, swipe left/right technology that is now central to mobile dating apps like Tinder, Bumble and others.
The patent application is dated October 21, 2013 — which is seven months before Bumble founder Whitney Wolfe Herd left Tinder to launch her rival company.
Herd is not among the "inventors" listed on the application. Neither is Justin Mateen, Herd's former Tinder boss who was later fired after Herd sued Mateen and Tinder for sexual harassment.
It is worth noting that Bumble has a major user interface difference from Tinder, which is that only women can initiate conversations. It is unclear (to me, at least) how this would impact any IP claim.
Ginsberg didn't say anything about what Match Group plans to do about enforcing the patent, if anything, but clearly this could become a factor in any future M&A discussions between the two companies. It also could possibly play a role in any other dating app acquisitions that Match Group might be considering.
A Match Group spokeswoman declined comment, while we've so far been unable to speak with Bumble.
• Asset management: The Carlyle Group this morning announced Q4 earnings that beat analyst estimates. It also said that, in 2017, its corporate private equity business was actually smaller — in terms of fundraising, investments and realized proceeds — than its other combined businesses.
• Signing bonus: Online job search site ZipRecruiter has raised around $50 million in Series B funding at a post-money valuation just south of $1 billion, according to multiple sources. It appears to be an insider-led round — IVP led a $63 million Series A in 2014 at a $300 million pre-money — but Wellington Management came on board as a new investor. The eight year-old company declined comment.
• Next act: Lo Toney is listed as a partner on the website of Google Ventures, but he's in the process of raising a fund-of-funds focused on seed funds led by women and/or minority general partners. It's called Plexo Capital, and counts Alphabet among its backers. Once the fundraise concludes, Toney will formally leave GV.
• All hail breaks loose: Travis Kalanick took the stand yesterday in the Waymo vs. Uber trial, while Congress slammed the ride-hail giant for its handling of a 2016 data breach. Read the downloads from San Francisco and from D.C.
Speaking of unicorn tumult: Bloomberg's Olivia Zalesky has much more detail on the internal battle at Airbnb that led to last week's departure of CFO Laurence Tosi.
The BFD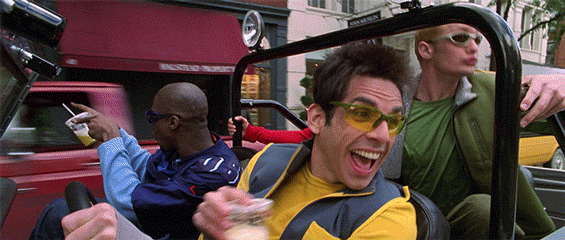 George Feldenkreis, the founder of Perry Ellis International (Nasdaq: PERY), and Fortress Investment Group have offered to buy the apparel company for $430 million, or $27.50 per share (18.6% premium to yesterday's closing price).
Why it's the BFD: Because Feldenkreis was ousted as executive chairman just six months ago, despite having installed his son as CEO (following activist pressure to split the chairman and CEO roles).
Bottom line: "Feldenkreis, who continues to sit on the board, has grown frustrated with what he sees as a short-term focus and an unwillingness to invest in the business on the part of his fellow directors... He thinks that as a private company, Perry Ellis would have an easier time beefing up its marketing, e-commerce and its international business, and possibly acquiring more brands." -- Miriam Gottfried & David Benoit, WSJ
Venture Capital Deals
• SmartAction, an El Segundo, Calif.-based "omnichannel customer self-service platform powered by AI," has raised growth equity funding from Staley Capital and TVC Capital. No financial terms were disclosed, but a source tells Axios that the round total was $33 million. www.smartaction.ai
• ACV Auctions, a Buffalo, N.Y.-based online auction site for auto dealers, has raised $31 million in Series C funding from Bessemer Venture Partners, Tribeca Ventures, SoftBank NY and Armory Square Ventures. http://axios.link/T2QC
🚑 Xoc Pharmaceuticals, a Los Gatos, Calif.-based CNS therapeutics company initially focused on Parkinson's and migraines, has raised $30 million in tranched Series A funding led by NEA. http://axios.link/UO5S
• Marketing Evolution, a New York-based provider of marketing optimization and analytics software, has raised $20.6 million in Series B funding. Insight Venture Partners led, and was joined by return backer Zetta Venture Partners. www.marketingevolution.com
• Quizlet, a San Francisco-based user-generated learning platform for high school and college students, has raised $20 million in Series B funding. Icon Ventures led, and was joined by Union Square Ventures, Costanoa Ventures, Owl Ventures and Altos Ventures. http://axios.link/gt5n
• Reonomy, a New York-based provider of commercial real estate data and analytics, has raised $16 million in new VC funding led by existing backer Bain Capital Ventures. http://axios.link/mOf6
• Yoshi, a San Francisco-based subscription service for on-site car maintenance and fuel delivery, has raised $13.7 million in Series A funding. GM Ventures and Exxon Mobil co-led, and were joined by Y Combinator, Kevin Durant and Arab Angel. www.startyoshi.com
• Human Interest (f.k.a. Captain401), a San Francisco-based provider of employee benefits solutions for small businesses, has raised $11 million in VC funding led by Wing VC. http://axios.link/UiYZ
• Mixmax, a San Francisco-based business email startup, has raised $10.35 million in VC funding from Creandum Capital, SaaStr and return backers Harrison Metal and Floodgate. http://axios.link/XNRu
• Nyriad, a New Zealand-based maker of storage systems that are accelerated via GPUs, has raised US$8.5 million in new VC funding. Backers include Data Collective VC, Prelude Ventures, East Ventures, Idaten Ventures and New Zealand Venture Investment Fund. http://axios.link/ZS57
• Aperio Systems, an Israel-based provider of "last line" of cyberdefense solutions for critical infrastructure, has raised $4.5 million in seed funding. EDP led, and was joined by Data Point Capital, Jump Capital and Scopus Ventures. www.aperio-systems.com
• Placements.io, a Seattle-based provider of automated order-to-cash software for digital publishers and their advertisers, has raised $3.8 million in seed funding. Revel Partners led, and was joined by Vulcan Capital and Alpine Meridian. http://axios.link/FIDq
• Loris.ai, a startup that helps companies have conversations around difficult issues like harassment, has raised $2 million in seed funding led by Floodgate. Other backers include Kapor Capital and LinkedIn CEO Jeff Weiner. http://axios.link/4jdh
• Slab, a wiki platform for internal employee communications, has raised $2.2 million in VC funding from CRV, NEA and Matrix Partners. http://axios.link/vD9h
• Bolstra, a Carmel, Ind.-based customer success platform, has raised $1.5 million in seed funding from VisionTech Angels and return backers Allos Ventures, 4G Ventures and Collina Ventures. www.bolstra.com
• Datawallet, a C2B blockchain-based data exchange, has raised $40 million via a digital token sale. http://axios.link/uzXJ
Private Equity Deals
• Castanea Partners has acquired a minority stake in The Townshend Group, the Portland, Ore.-based parent company of Brew Dr. Kombucha. http://axios.link/B3Nw
🚑 ComForCare, a non-medical home care agency franchisor owned by The Riverside Company, has acquired CarePatrol, a Gilbert, Ariz.-based franchisor of senior living advisory and placement services. www.carepatrol.com
🚑 Jefferson Dental Care, a Dallas-based portfolio company of Brentwood Associates, has acquired The Smile Center, a dental support group with six affiliated clinics in San Antonio. www.jeffersondentalclinics.com
• Recommerce Group, a Swedish smartphone reconditioner and reseller, has raised €50 million from Capzanine and Creadev. www.recommrce-group.com
• Warburg Pincus has agreed to invest around $395 million for a 55% stake in the lending solutions unit of Fiserv (Nasdaq: FISV). www.fiserv.com
Public Offerings
• TFI TAB Food Investments, a franchisor for Burger King and other quick-service restaurants in Turkey and China, has postponed an IPO that was set to raise upwards of $222 million. It had planned to trade on the Nasdaq under ticker TFIG, with Morgan Stanley as lead underwriter. It reports $2.9 billion in revenue for the first nine months of 2017. http://axios.link/Dt1E
Liquidity Events
• KAR Auction Services (NYSE: KAR) has acquired Stratim (fka ZIRX), a San Francisco-based provider of urban fleet and autonomous vehicle logistics solutions. Stratim had raised over $30 million in VC funding from firms like BMW i Ventures, Bessemer Venture Partners, Norwest Venture Partners and Trinity Ventures. http://axios.link/YHFo
🚑 Omnicom Group (NYSE: OMC) has acquired Snow Cos., a Williamsburg, Va.-based patient engagement agency, from shareholders like WestView Capital Partners. www.snow-companies.com
More M&A
⛽ Ascent Resources Marcellus Holdings, an Oklahoma City-based shale driller founded by the late Aubrey McClendon, has filed for pre-negotiated Chapter 11 bankruptcy protection. http://axios.link/4Tkg
• CloudBees, a San Jose, Calif.-based provider of continuous delivery solutions, has agreed to acquire Boston-based CodeShip. CloudBees has raised around $50 million in VC funding, while CodeShip had raised around $11 million from Ascent Venture Partners, Sigma Prime Ventures, Join Capital, Boston Seed Capital and F-Prime Capital Partners. http://axios.link/nDik
• Houzz, a home remodeling platform that has raised over $600 million in venture funding, has acquired IvyMark, a San Francisco-based provider of business management software for interior designers. IvyMark had been seeded by backers like NFX Guild and Pitango Venture Capital. http://axios.link/CY5x
• Manulife Financial (TSX: MFC) is considering a sale process for many of its U.S. insurance assets, according to Reuters. This reportedly would not include John Hancock, which Manulife also doesn't plan to float via an IPO. http://axios.link/QbCF
⛽ Terraform Power (Nasdaq: TERP), a Bethesda, Md.-based clean energy company controlled by Brookfield Asset Management, has launched a $1.2 billion takeover bid for Spanish renewable energy company Saeta Yield. http://axios.link/zp4W
Fundraising
🚑 Edmond De Rothschild Investment Partners has raised €345 million for its fifth venture capital fund focused on European life sciences startups. http://axios.link/xiny
🚑 Ping An Ventures is raising a pair of later-stage healthcare funds with a combined target of $1.3 billion, according to Reuters. http://axios.link/SS8V
It's Personnel
• Marc Andreessen won't stand for reelection to the board of HP Enterprise (NYSE: HPE), which holds its annual shareholder meeting in April.
🚑 Nessan Bermingham, co-founder and former CEO of CRISPR company Intellia Therapeutics (Nasdaq: NTLA), has rejoined Atlas Venture as a venture partner. He originally joined Atlas back in 2002, and later co-founded Intellia with the firm. http://axios.link/nPv8
• Kevin Doyle has joined Tenex Capital Management as director of business development. He previously co-founded PE-Nexus/Dealnexus. www.tenexcm.com
• Kapor Capital has promoted Ulili Onovakpuri from principal to partner. http://axios.link/ahQ0
• Matt Shafer has joined Toronto-based Northleaf Capital Partners as a New York-based managing director. He previously was a partner and head of Americas for Vision Capital. www.northleafcapital.com
• White Star Capital has promoted Lylan Masterman to general partner, and head of the VC firm's New York office. www.whitestarvc.com
Final Numbers: UK venture capital hits record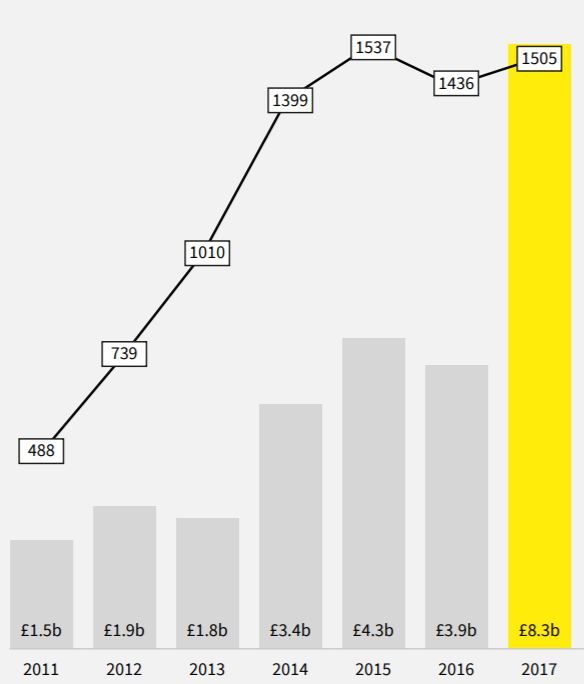 More from Beauhurst:
"More cash has been invested in British high-growth companies than ever before, and it's coming in ever-larger deals... We're seeing more interest from government in the high-growth ecosystem than perhaps any time in history. This is all particularly remarkable given the gloomy prospects anticipated in the wake of Brexit. Even now, forecasts belie the strength of the high-growth economy – with foreign investment in UK firms at its highest since records began."