Axios Pro Rata
June 15, 2017
A ton of deal news this morning, so here we go...
Top of the Morning
• From the Bench #1: SCOTUS has found that disgorgement penalties are subject to a 5-year statute of limitations, which could make it much tougher for the SEC to investigate private equity and hedge funds (assuming that's even still a thing). For broader context, the SEC in 2015 extracted around $3 billion in disgorgement payments (vs. $1.2b in monetary penalties).
Per Latham & Watkins: "The SEC now may be forced to decide earlier in an investigation whether to recommend enforcement proceedings or to rely more on requesting tolling agreements from those under investigation."
• From the Bench #2: A federal appeals court has ruled against the FCC's proposed caps on intrastate rates on inmate phone calls. This is a market dominated by private equity-backed companies, which have argued that the often-outrageous fees they charge ($8.20 for the first minute, in one case) are caused by the kickbacks they are required to pay local and state governments to get the contracts in the first place (even though the companies partnered with those same government entities on their lawsuit).
One of the market's two largest players is Securus Technologies, which ABRY Partners purchased for $640 million four years ago. The company complains about how these caps would damage its bottom line but, while the case remained active, ABRY tentatively agreed to sell Securus for $1.5 billion (including debt) to Platinum Equity (financing commitments are due today). Profits for private equity, price-gouging for the kid who wants 15 minutes on the phone with their incarcerated parent.
• SaaS stuff: Luminate Capital Partners, a private equity firm focused on lower middle-market enterprise software companies, has closed its debut fund with $265 million. Per firm founder and Silver Lake alum Hollie Haynes Moore:
"For most of these subscription SaaS companies, you can invest as much money as you want but it still takes a long while to build up the top-line... It's why we're not doing stuff in Silicon Valley, where so many of these companies have raised $90 million in 10 years but only have $10 to $20 million in revenue."
• Gov't assistance: British Finance Minister Philip Hammond today will announce that the UK government plans to increase the amount of financial support it will provide to private industry, in preparation of Brexit. Specifically, the plan is to lessen the impact of losing access to both the European Investment Bank (which helps finance infrastructure projects) and the European Investment Fund (which backs tech and life sciences startups).
• Game off? Recode's Tony Romm reports that FTC staffers "have raised serious competition concerns with the proposed merger of FanDuel and DraftKings," thus raising the prospect of a regulatory prospect to block the deal. A big problem for such a legal challenge, however, would be that there only are two members right now on what is supposed to be a 5-person FTC commission. A source familiar with the situation says of Romm's story: "Pretty accurate picture of situation."
• Tell us how you really feel: Whole Foods CEO John Mackey talks to Texas Monthly about activist investor Jana Partners, which holds an 8.16% stake in his $11 billion grocer:
"We need to get better, and we're doing that. But these guys just want to sell us, because they think they can make forty or fifty percent in a short period of time. They're greedy bastards, and they're putting a bunch of propaganda out there, trying to destroy my reputation and the reputation of Whole Foods, because it's in their self-interest to do so."
• Tune in: I'll be on Cheddar today at around 12:10pm ET, talking about the Uber situation. Perhaps we'll discuss how having an even-numbered management committee is a poor design while the CEO is on leave. Or how the CTO is on said management committee, even though he was cited as negligent in the blog post that kicked off this whole brouhaha. Or how the writer of that blog post was crazy brave. Yeah, let's focus on that last one...
The BFD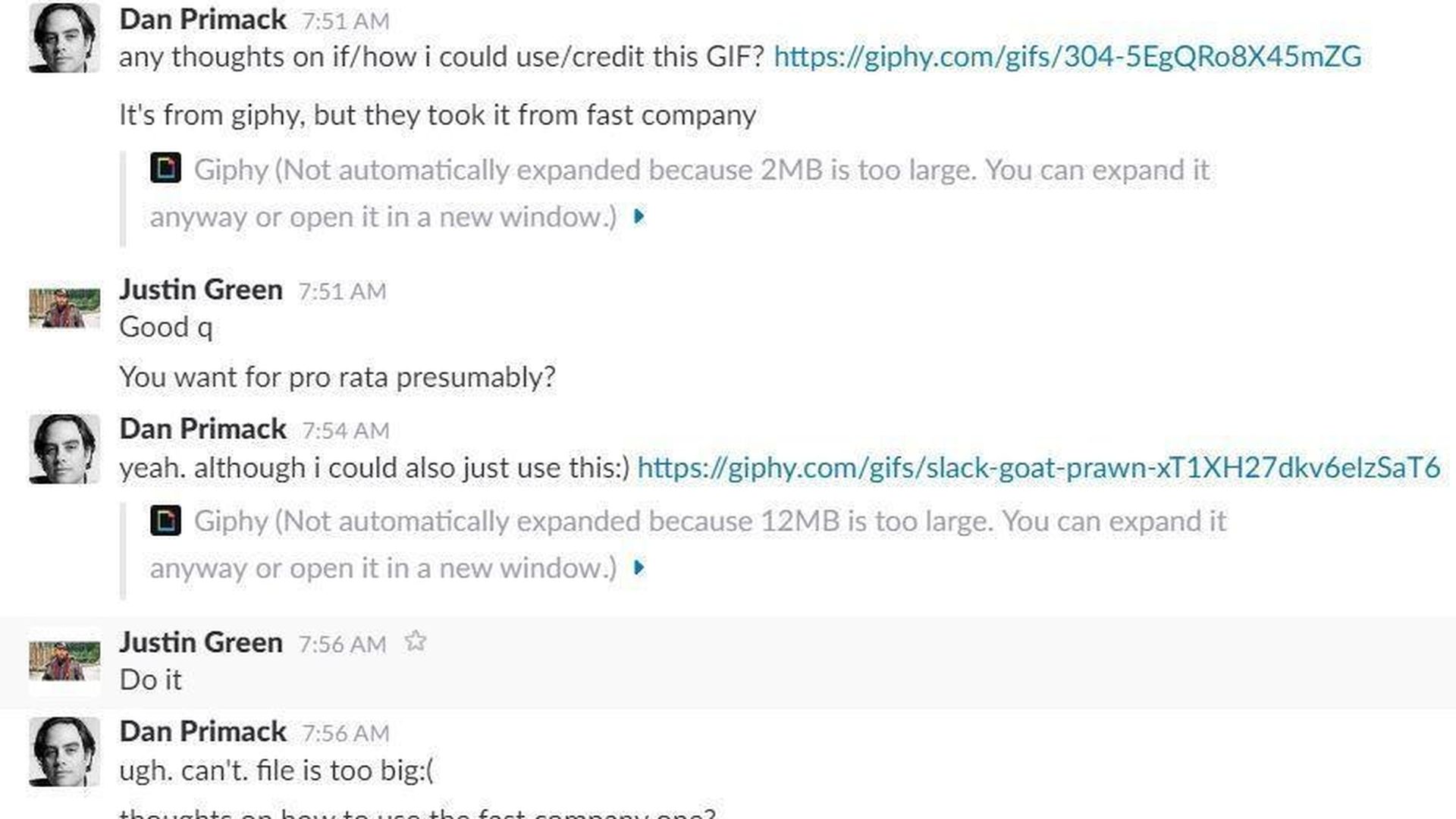 Slack, the San Francisco-based corporate chat app has received takeover interest from such companies as Amazon, according to Bloomberg, which adds that any such deal would be valued at a minimum of $9 billion.
Why it's the BFD: The reported price-tag would be more than double Slack's latest post-money valuation of $3.8 billion, which it received last April in a $200 million Series E round led by Thrive Capital (Slack has raised around $550m overall). Pretty outstanding IRR for VCs, given that the current iteration of Slack was only launched around four years ago. Plus, were Amazon to be the buyer, it would be major shot across the bow of neighbor Microsoft, which recently launched its own Slack knock-off enterprise collaboration tool.
Bottom line: It should be no surprise that Slack is receiving takeover interest, given its explosive growth and the essential role it plays in corporate workflows. But the real question is how to make a sale palatable to Slack founder and CEO Stewart Butterfield, whose last experience selling a startup to a big company ― Flickr to Yahoo in 2005 ― ended very poorly.
Venture Capital Deals
• Careem, ride-hailing service in the Middle East and North Africa, has raised $150 million in new Series E funding from Kingdom Holding Co., Daimler AG, DCM Ventures and Coatue Management. The round total is now $500 million, including an initial close last December. http://bit.ly/2ryYUxa
• Shadow (a.k.a. Blade), a French provider of cloud computing devices and services for gamers, has raised €51 million in Series A funding from individual angels. http://tcrn.ch/2sAdhpn
🚑 Omada Health, a San Francisco-based digital behavioral medicine company, has raised $50 million in new VC funding. Cigna (NYSE: CI) led the round, and was joined by Civilization Ventures, Sanofi Genzyme BioVentures and return backers U.S. Venture Partners, Andreessen Horowitz, Norwest Venture Partners, Humana, Kaiser Permanente Ventures, Providence Ventures, dRx Capital and GE Ventures. http://bit.ly/2s1AoYM
🚑 LabConnect, a Seattle-based provider of central lab and support services, has raised $24.5 million in Series A funding. ABS Capital Partners led the round, and was joined by Pablo Capital and BroadOak Capital. Some of the proceeds will provide liquidity to early shareholders. http://bit.ly/2rhS0Nh
• Inturn, a New York-based B2B platform for buying and selling excess retail inventory, has raised $22.5 million in Series B funding led by B Capital Group. http://tcrn.ch/2rqZYYr
• Bowery, a New York-based vertical farming startup, has raised $20 million in new VC funding. General Catalyst and GGV Capital co-led the round, and were joined by return backers GV and First Round Capital. http://bit.ly/2spfUdl
• Cultureamp, a San Francisco-based employee feedback and analytics platform, has raised $20 million in Series C funding. Sapphire Ventures led the round, and was joined by return backers Index Ventures and Felicis Ventures. www.cultureamp.com
• Ridibooks, a Korean e-book provider, has raised $20 million in Series C funding from Praxis Capital Partners, ShinHan Finance Investment and Company K Partners. http://tcrn.ch/2tpfil7
• Highspot, a Seattle-based sales enablement solution, has raised $15 million in Series B funding. Shasta Ventures led the round, and was joined by Salesforce Ventures and return backer Madrona Venture Group. http://tcrn.ch/2svD2aU
• Snips, a New York and Paris-based developer of a voice platform for connected devices, has raised $13 million in Series A funding. Korelya Capital and MAIF Avenir co-led the round, and were joined by BPI France and return backer Eniac Ventures. http://bit.ly/2s1P0aH
• Sqrll, a Cambridge, Mass.-based provider of cyberthreat hunting solutions, has raised $12.3 million in Series C funding. Spring Lake Equity Partners led the round, and was joined by return backers Matrix Partners, Rally Ventures and Accomplice. http://bit.ly/2ri3dNT
• Dispatch, a Boston-based platform for booking home services professionals, has raised $12 million in Series A funding. ServiceMaster (NYSE:SERV) and GrandBanks Capital co-led the round, and were joined by Salesforce Ventures, Liberty Mutual Strategic Ventures, Assurant, SalesForce Ventures, Promus Ventures, Recruit Strategic Partners, Ray Lane and Huff Capital. http://bit.ly/2ss8ntZ
🚑 Evasc Neurovascular Enterprises, a Vancouver-based developer of endovascular treatments for cerebral aneurysms, has raised C$10 million in Series A funding led by China's Yonghua Capital. www.evasc.com
• Snappcar, a Dutch P2P car-sharing startup, has raised €10 million in VC funding. Eurocar Group led the round, and was joined by Autobinck Group and Startup Studio Founders. http://bit.ly/2tmZxel
• Humm Kombucha, a Bend, Ore.-based fermented drink maker, has raised over $8 million in Series B funding led by VMG Partners. http://bit.ly/2rUocYf
• Fortanix, a Menlo Park, Calif.-based developer of runtime encryption technology, has raised $8 million in Series A funding from Foundation Capital and NeoTribe Ventures. www.fortanix.com
🚑 Orum Therapeutics, a South Korea-based developer of "cell-penetrating antibody technology" for therapeutic development, has raised $8 million in Series A funding from InterVest, KB Investment (KBIC)/Solidus Investment and LB Investment. www.orumrx.com
• Sure, a New York-based mobile insurance platform, has raised $8 million in Series A funding. IA Capital led the round, and was joined by Menlo Ventures, FF Venture Capital, Nationwide Ventures, Assurant and AmTrust. http://bit.ly/2s0cCMH
• Top Hat, a Toronto-based in-class student engagement app for higher education, has raised US$7.5 million in new Series C funding from Leaders Fund. The round total is now $30 million, including an earlier close led by Union Square Ventures. http://bit.ly/2rra6jV
• Shopmatic, an Indian provider of e-commerce enabling solutions for SMEs, has raised $5.7 million in new VC funding. ACP Pte led the round, and was joined by Spring Seeds Capital. http://bit.ly/2t2wxJC
• Landed, a startup focused on home down payment assistance, has raised $5 million from the Chan Zuckerberg Initiative. http://tcrn.ch/2sa3OSW
🚑 Regroup Therapy a Chicago-based provider of virtual staffing of psychiatrists and mental health professionals to health entities, has raised $5 million in Series A funding. OSF Ventures led the round, and was joined by HLM Venture Partners and return backers Hyde Park Angels, OCA Ventures, Furthur Fund and Impact Engine. www.regrouptherapy.com
• GeoQuant, an Israeli platform for "measuring political risk in real time," has raised $4 million in seed funding from Aleph. http://bit.ly/2tmPAh5
• G. Network, a London-based fiber broadband provider, has raised £4.7 million in new VC funding led by Albion Capital. http://bit.ly/2sb3tzy
• ZenIQ, a Los Altos, Calif.-based provider of an account-based marketing orchestration solution, has raised $4.6 million in new VC funding from Salesforce Ventures and return backer Costanoa Ventures. http://bit.ly/2soi7pl
• Grainful, an Ithaca, N.Y.-based meal kit and frozen foods startup centered around oats, has raised $3.3 million co-led by Advantage Capital and Rand Capital (via the CircleUp platform). http://bit.ly/2s1O8D6
• Osso VR, a Palo Alto, Calif.-based developer of VR-based surgical training technologies, has raised $2 million in seed funding led by SignalFire. www.ossovr.com
• Unikey, an Orlando, Fla.-based smart lock startup, has raised an undisclosed amount of VC funding from ff Venture Capital, Asset Management Ventures and Samsung NEXT. www.unikey.com
Private Equity Deals
• Delta Risk, a San Antonio, Texas-based provider of cyber security and risk management services, has raised an undisclosed amount of growth equity funding from existing backers like an affiliate of The Chertoff Group. www.deltarisk.com
• Equistone has acquired a majority stake in Willerby, a British maker of caravan holiday homes, from Caird Capital. No financial terms were disclosed, except that Willerby generates around £155 million in annual revenue. www.willerby.com
• Golden Gate Capital has agreed to acquire Express Oil & Tire Engineers, a Birmingham, Ala.-based auto service platform with around 300 locations, from Carousel Capital for an undisclosed amount. www.expressoil.com
• The Halifax Group has acquired BCI Burke Co., a Fond du Lac, Wis.-based provider of playground and related equipment, from Incline Equity Partners. No financial terms were disclosed. www.bciburke.com
• Liberty Hall Capital Partners has acquired British aircraft tire-maker Dunlop Aircraft Tyres from AAC Capital Partners for $135 million. http://bit.ly/2ruPMOM
• SS&C Technologies Holdings (Nasdaq: SSNC) has reached out to private equity firms to gauge takeover interest, according to Bloomberg. The Connecticut-based financial software company has a market cap of around $7.8 billion. https://bloom.bg/2ss8Ehx
• Thoma Bravo has acquired Continuum, a Boston-based IT management platform for managed IT service providers, from Summit Partners. No financial terms were disclosed. http://bit.ly/2rsxMV3
• Toshiba Corp. has received numerous first-round offers for its 60% stake in Swiss smart electricity meter company Landis+Gyr, according to Bloomberg. Bidders reportedly include Goldman Sachs, BC Partners, Onex Corp. and a pairing of CVC Capital Partners with Honeywell. https://bloom.bg/2srOLY1
• Warburg Pincus has agreed to acquire a 43% stake in Indian engineering outsourcing company Tata Technologies for $360 million. Sellers include Tata Motors (30%) and Tata Capital (13%). http://reut.rs/2rv1jNU
• Yes To, a San Francisco-based maker of beauty products, has raised $56 million in minority equity funding from Viking Global Investors. Some of the proceeds will be used to provide partial liquidity to existing shareholders like San Francisco Equity Partners and Simon Equity Partners. www.yesto.com
Public Offerings
🚑 Athenex, a Buffalo, N.Y.-based developer of cancer therapeutics, raised $66 million in its IPO. The company priced 6 million shares at $11 per share (low end of range), and will trade on the Nasdaq under ticker symbol ATNX. Credit Suisse was listed as left lead underwriter. www.athenex.com
• CompuLab, an Israeli maker of fan-less personal computers and low-power circuit boards, has filed for a $24 million IPO. It plans to trade on the Nasdaq under ticker symbol CPUL, with Maxim Group serving as underwriter. The company reports $1.4 million of net income of around $22 million in revenue for 2016. www.compulab.com
🍕 DP Eurasia, the franchise holder for Domino's Pizza in Russia and Turkey has set its London IPO price range that could give it an initial market cap of up to $422 million. http://reut.rs/2rk1Xd9
Liquidity Events
• MidOcean Partners has agreed to sell Piscataway, N.J.-based Agilex Fragrances to Swiss fragrance and flavor company Firmenich for an undisclosed amount. www.agilexfragrances.com
More M&A
• You & Mr Jones, a New York-based brand-tech group, has acquired New York-based mobile marketing company Mobkoi for an undisclosed amount. www.mobkoi.com
Fundraising
• 500 Startups has closed its first Japan-focused seed fund with $35 million in capital commitments. http://tcrn.ch/2rjsGGA
🚑 Foresite Capital, a San Francisco-based VC firm focused on later-stage life sciences companies, is raising up to $650 million for its fourth fund, per an SEC filing. www.foresitecapital.com
• Glynn Capital, a Menlo Park, Calif.-based tech VC firm, has secured around $153 million for a $200 million-targeted fifth fund, per an SEC filing. www.glynncapital.com
It's Personnel
• Dave Famolari has left Verizon Ventures to become a managing director with Hearst Ventures. www.hearstventures.com
• Colin Fan, former co-head of investment banking at Deutsche Bank, reportedly is joining SoftBank Vision Fund as a managing director (he already has relocated to California). https://bloom.bg/2srB627
• Robin Olsson and Kim Homa have joined Kainos Capital, a private equity firm focused on the food and beverage market, as a managing director and director, respectively. Olsson previously was a principal with Operations Strategy Partners, while Homa was a director with USC Consulting Group. www.kainoscapital.com
• Nick Sanders is leaving Better Capital, a British buyout firm that does not plan to raise another fund, per Dow Jones. He joined the firm as its founding a decade ago to lead operations. http://bit.ly/2rjVoHp
Final Numbers