Axios Pro Rata
October 30, 2017
Greetings from a Starbucks, as a storm knocked out power to the home office (and I've been negligent in maintaining the backup generator). Be sure to send feedback and scoop via [email protected] or http://axios.com/tips – it will illuminate my phone and, thus, my house. Here we go..
Top of the Morning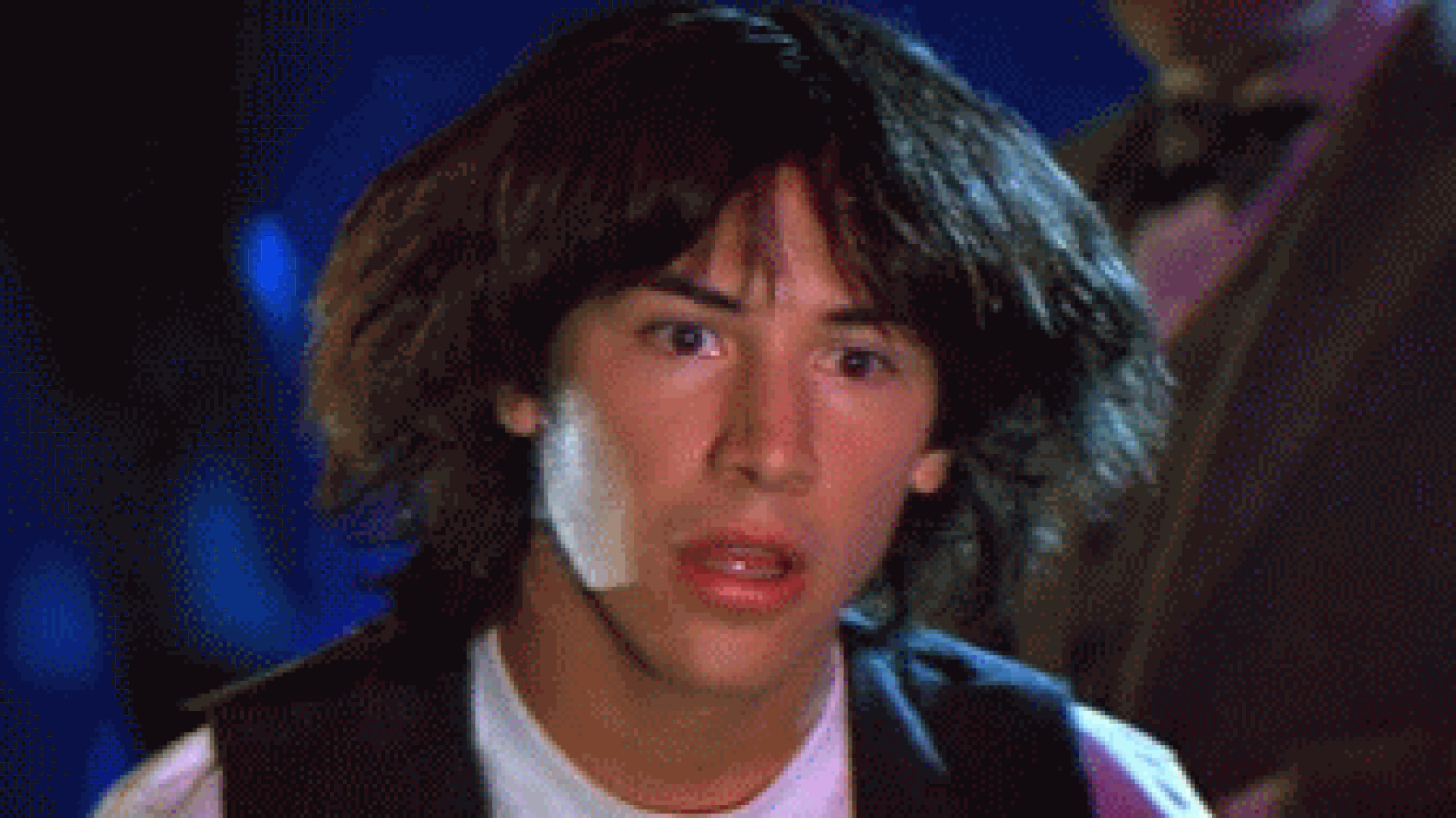 • Crypto-graphy: Bitcoin's market cap has now topped $100 billion. I think that means crypto traders working at J.P. Morgan needn't worry too much about being fired by Jamie Dimon, because they can simply retire.
Recommended reading: The NY Times' Nathaniel Popper digs into the murky world of celebrity endorsements for digital token sales.
Reminder: Cobinhood, which says it raised $10 million via its ICO and added for White House chief information officer Tony Scott as chief strategic advisor, refused to tell me if it had compensated actor Jamie Foxx for endorsement-like tweets. And I asked repeatedly.
You're late: It's well past time for the SEC to demand that token issuers disclose any paid ICO endorsements, and also if the payment is in cash or token.
Buyer beware: Even ardent crypto advocates acknowledge that the vast majority of ICOs are either intentional scams or well-intentioned nonsense. If you read an ICO white paper and it doesn't seem to make sense, the most likely explanation is that it doesn't make sense.
• Unicorn update: On Friday we noted that Vista Equity Partners had agreed to acquire Datto, a Norwalk, Conn.-based provider of business data protection solutions that had raised over $100 million from venture firms like General Catalyst and TCV. A source puts the price-tag north of $1.5 billion. That's around a 50% premium to Datto's last post-money valuation, and is the sort of number that would get more tech chatter were Datto not based in Norwalk.
• Carried interest: Italian tax officials have ruled that local fund managers can claim carried interest as capital gains so long as they have personally invested 1% of a fund's total capital.
• Trumpland: In September, the National Venture Capital Association filed for a preliminary injunction against the U.S. Dept of Homeland Security, related to the former's decision to delay implementation of a rule that would encourage foreigners to create new companies in the U.S. The two sides met in court this past Friday. Per NVCA's Jeff Farrah:
"Judge Boasberg asked the parties to consider expediting the summary judgment process so that, if the Court chooses, it could enter a final judgment in the case. Shortly after argument, the parties agreed to an exceptionally expedited summary judgment schedule that will provide the Court the option of addressing either the Motion for Preliminary Injunction or the ultimate merits of the case. This is a positive development because Judge Boasberg indicated during oral argument that we have 'pretty strong' arguments on the merits and that the government 'has a harder time' on the merits."
• Correction: We messed up last week in saying that NuTonomy didn't receive term sheets with pre-money valuations north of $600 million during a recent fundraise that was halted when NuTonomy agreed to be purchased by Delphi for up to $450 million. It did, per a reliable source, and the error was caused by a miscommunication on my part. Apologies.
The BFD
Akzo Nobel (Amsterdam: AKZA) reportedly is in talks to merge with smaller U.S. rival Axalta Coating Systems (NYSE: AXTA), to create a paints and coatings giant worth around $30 billion.
Why it's the BFD: Because this looks like a high-priced case of offense being the best defense, as Akzo Nobel earlier this year rebuffed repeated takeover offers from PPG Industries (NYSE: PPG).
Related: Akzo Nobel continues the sale process for its specialty chemicals business, with first-round bids expected by year-end. It's unclear how that prospective deal – which has drawn strong private equity interest – will be impacted by last week's collapse of the Clariant/Huntsman Corp. merger due to activist investor opposition.
Bottom line: "The U.S. coatings manufacturer is the 'ideal poison pill' that would make Akzo Nobel 'undigestable' for PPG, ING analyst Stijn Demeester said in a note, adding that any deal would have to overcome some hurdles in the companies' valuations. – Bloomberg
Venture Capital Deals
🚑 TELA Bio, a Malvern, Penn.-based developer of surgical scaffolds for abdominal surgeries, has secured up to $25 million in funding from Pacira Pharmaceuticals (Nasdaq: PCRX). Existing backers include OrbiMed, Quaker Partners and Signet Healthcare Partners. http://axios.link/E9IK
• Farmobile, an Overland Park, Kansas-based provider of farm analytics solutions, has raised $18.1 million in Series B funding from groups like Anterra Capital and AmTrust Agricultural Insurance Services. http://axios.link/CpjD
🚑 HighLife, a French developer of a trans-catheter mitral valve replacement system, has raised €12.3 million in new VC funding led by Sofinnova Partners. www.highlifemedical.com
🚑 Beam Dental, a Columbus, Ohio-based provider of dental benefits for SMEs, has raised $5.5 million in Series B funding. Lewis & Clark Ventures led the round, and was joined by return backer Drive Capital. http://axios.link/c1A6
• Templum, a New York-based platform for regulated ICOs, has raised $2.7 million in seed funding from Raptor Group, Galaxy Investment Partners, Blockchain Capital and Firstminute Capital. http://axios.link/tRaT
Private Equity Deals
• The Carlyle Group has entered into exclusive takeover talks with troubled British wholesaler Palmer & Harvey, according to The Telegraph. http://axios.link/7xRt
• Cinven has agreed to buy a majority stake in Planasa, a Spanish provider of berries, for €450 million. http://axios.link/EqwP
• General Atlantic has invested in Authentic Brands Group, a New York-based brand development group whose portfolio includes Marilyn Monroe, Elvis Presley and Juicy Couture. Existing ABG investors include Leonard Green & Partners and Lion Capital. www.authenticbrandsgroup.com
• Genstar Capital has completed its previously-announced purchase of proxy advisory firm Institutional Shareholder Services from Vestar Capital Partners for $720 million. http://axios.link/FoCr
• HSH Nordbank of Germany has received binding privatization offers from Apollo Global Management, Cerberus Capital Management and J.C. Flowers, according to Reuters. http://axios.link/WRNY
🚑 Utz Quality Foods, a Hanover, Penn.-based snack-maker owned by C. Dean Metropolous & Co., has agreed to acquire Inventure Foods (Nasdaq: SNAK), a Phoenix-based snack-maker that owns Nathan's Famous and TGI Fridays products, for $165 million. http://axios.link/TfGX
• Triton has acquired Rocore, an Indianapolis-based manufacturer of industrial heat exchangers, from Keystone Capital. www.rocore.com
Public Offerings
• 9 companies are expected to price IPOs on U.S. exchanges this week: ACM Research, Allena Pharmaceuticals, Altair Engineering, Aquantia, Evoqua Water Technologies, Funko, Loma Negra, Sentinel Energy Services and Spero Therapeutics. http://axios.link/V11x
• Cardlytics, an Atlanta-based marketing analytics company, has filed confidentially for an IPO, according to TechCrunch. The company has raised over $180 million in VC funding from firms like Polaris Partners, Canaan Partners, Discovery Capital, TTV Capital, ITC Holdings, Total Technology Ventures and Kinetic Ventures. http://axios.link/df04
• Four Seasons Education, a Shanghai-based provider of after-school math tutoring, has set its IPO terms to 10.1 million shares being offered at $9 to $11. It would have a fully-diluted market value of $524 million, were it to price in the middle. The company plans to trade on the NYSE under ticker symbol FEDU, with Morgan Stanley listed as left lead underwriter.
• Sogou, a Chinese mobile search engine being spun out of Sohu.com (Nasdaq: SOHU), set its IPO terms to 45 million shares being offered at $11 to $13. It would have a fully-diluted market value of around $4.8 billion, were it to price in the middle. The company plans to trade on the NYSE under ticker symbol SOGO, with J.P. Morgan listed as left lead underwriter. http://axios.link/wwYq
Liquidity Events
• Continental AG of Germany reportedly is in advanced talks to buy Argus Cyber Security, an Israeli developer of technology to prevent connected cars from being hacked, for around $400 million. Argus has raised around $30 million in VC funding from firms like Magma Venture Partners, Vertex Ventures Israel, SBI Holdings and Allianz Ventures. http://axios.link/PDqL
• Owens Corning (NYSE: OC) has agreed to acquire Paroc Group, a Finland-based maker of mineral wool insulation products, from CVC Capital Partners for around €900 million. http://axios.link/DSjO
🚑 Shanghai Fosun Pharmaceutical has agreed to acquire French drug distributor Tridem Pharma for €63 million. Sellers would include Paluel-Marmont Capital and Multicroissance. http://axios.link/aIly
• Warburg Pincus has hired UBS to find a buyer for its 31.5% stake in India's Gangavaram Port, according to DealStreetAsia. The deal could be worth between $300 million and $400 million, with DP World, Adani Ports and JSW Infrastructure reported to have buyside interest. http://axios.link/OB2U
More M&A
• Constellation Brands (NYSE: STZ) has agreed to invest C$245 million for a 9.9% equity stake in Canadian medical cannabis company Canopy Growth (TSX: WEED). http://axios.link/v5FB
• Frutarom Industries (TASE: FRUT) has agreed to acquire the 81% stake it doesn't already own in Israeli nutrition company Enzymotec (Nasdaq: ENZY) for around $168 million. http://axios.link/Fxlg
🚑 Novartis (Swiss: NOVN) has agreed to acquire Advanced Accelerator Applications (Nasdaq: AAAP), a French developer of nuclear medicines to treat tumors, for $3.9 billion (of $41 per ordinary share). http://axios.link/DIgf
🚀 Saudi Arabia plans to invest $1 billion into Virgin Galactic, Richard Branson's space business, in exchange for a minority stake. http://axios.link/5G6R
• Strayer Education (Nasdaq: STRA) is nearing a merger with for-profit education rival Capella Education (Nasdaq: CPLA), creating a combined company worth around $2 billion, per the WSJ. http://axios.link/PIOU
🏀 Joe Tsai, executive vice chairman of Alibaba Group, has offered to buy a majority stake in the Brooklyn Nets basketball franchise for a record $2.3 billion. No word yet on what the price would be if the Nets weren't awful. http://axios.link/fsAq
Fundraising
• SL Capital has closed its third private equity secondaries fund with $428 million in capital commitments. www.slcapital.com
Final Numbers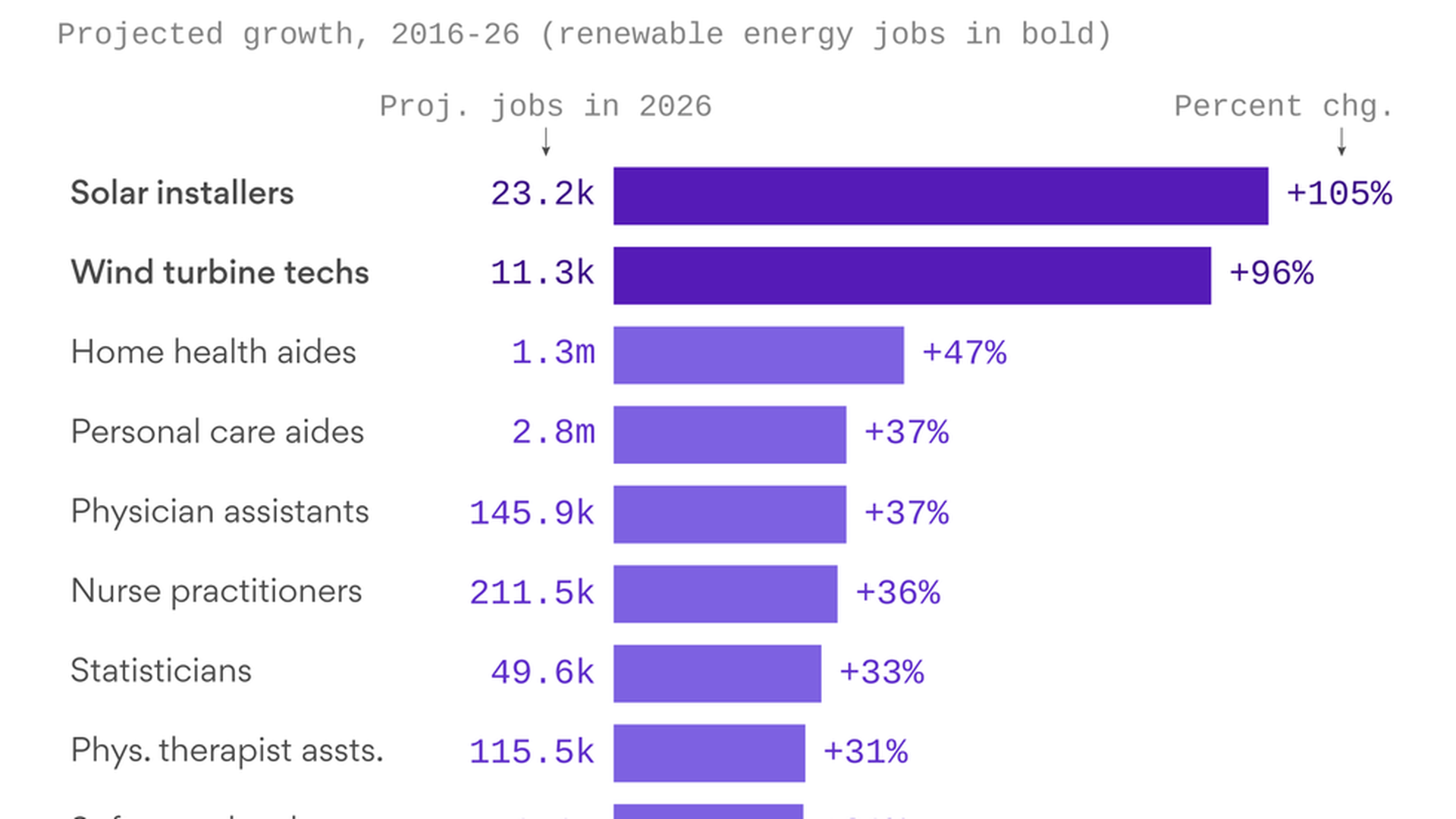 Why it matters, per Axios' Ben Geman: This data is ammunition for those who say the Trump Administration should avoid policies — like new tariffs on solar panel imports — that would undercut sectors that are poised to become even larger parts of the U.S. economy.