Axios Pro Rata
June 08, 2021
🎧 Axios Re:Cap focuses on how West Virginia's two senators, Joe Manchin (D) and Shelley Moore Capito (R), have become central to America's legislative future. Take a listen.
Top of the Morning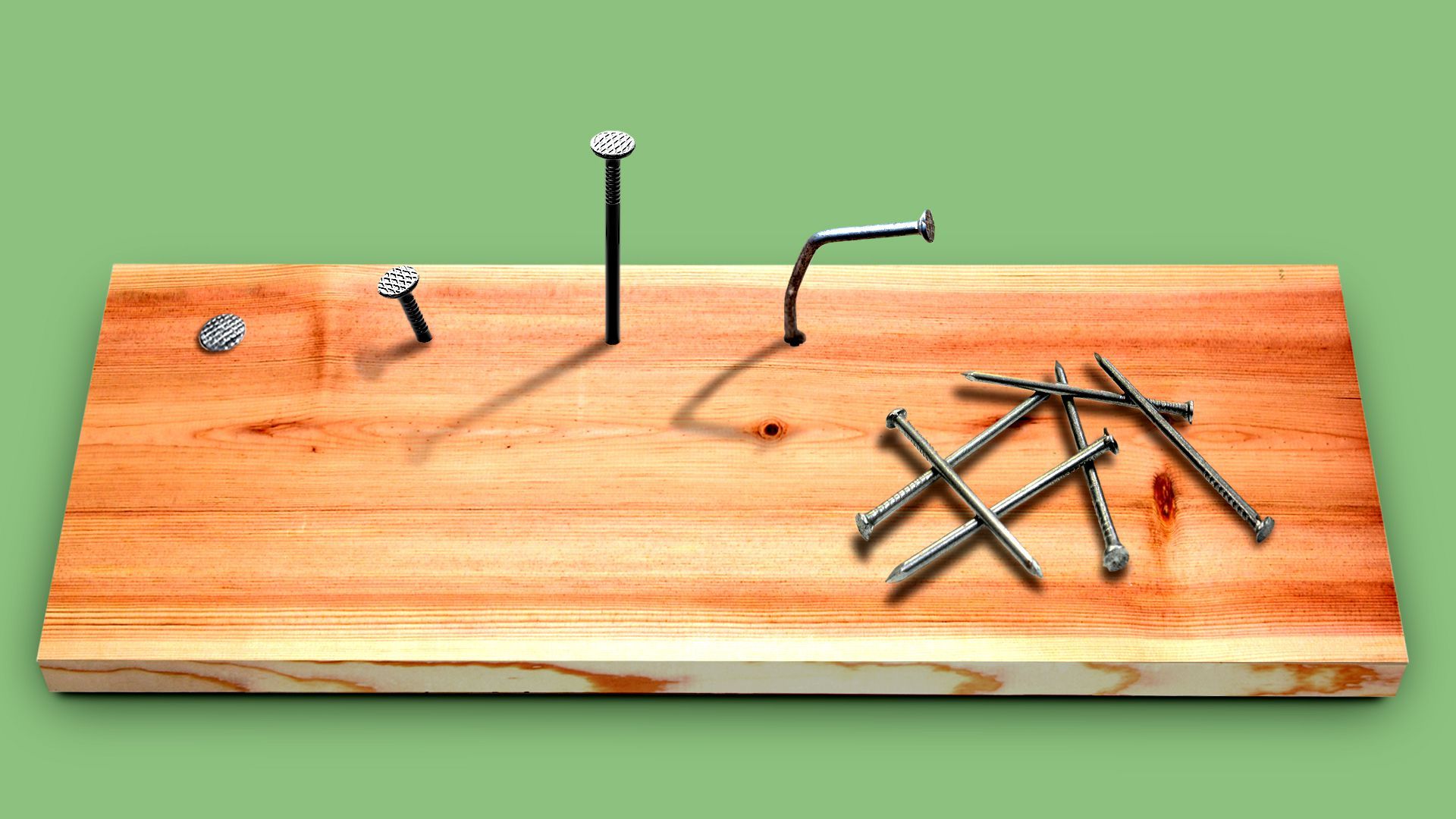 Katerra, a Silicon Valley construction tech startup that had raised around $2 billion from firms like SoftBank, has filed for Chapter 11 bankruptcy protection.
Why it matters: This was ultimately about the folly of pattern-matching, a pervasive VC technique whereby the same sorts of founders get both funded and forgiven.
Katerra was co-founded and led by Michael Marks, the former Flextronics CEO who had sat on the boards of such companies as Schlumberger and SanDisk. He also co-founded private equity firm Riverwood Capital and was a partner with KKR.
The basic idea was to make building components off-site, with Katerra eventually booking billions of dollars in project orders.
What went wrong: The best breakdown I've seen came from Cory Weinberg at The Information, who was first to report that the board was presented with "intentionally misstated" financial reports, after Katerra had fallen short of projected performance.
Per Weinberg: "According to interviews with 30 former employees and investors, Marks presided over a company that repeatedly stumbled on construction projects and failed to address warning signs that the business was failing."
A Katerra investor tells me that Marks kept getting the benefit of the doubt because of his track record. "This is a guy who's run giant companies and sat on major corporate boards. He can't be hiding the ball, or not able to find it. Right?"
Another investor added: "The vision was solid. The execution was not, and the execution was the part I was less worried about because of Marks and his experience with big, complex businesses like Flextronics."
The music eventually ended for Marks, who was fired last year as the SEC opened an investigation into Katerra's financials.
Contributing factors: SoftBank's largesse didn't help matters, particularly as it encouraged Marks to engage in a WeWork-style expansion that would lead to dozens of office leases and three corporate jets.
SoftBank also decided not to step up this year with new cash once its primary lender, SoftBank-backed Greensill, filed for its own bankruptcy.
That meant Katerra couldn't get its construction projects bonded, which proved to be the proverbial straw.
The bottom line: It's understandable that investors pattern-match, just as it's reasonable for prospective employers to lean on résumés. But there's also a certain amount of intellectual laziness to it, and VCs get paid handsomely to spot the next revolution — as opposed to just replays of the last one.
This issue came up in the past few days when Snowflake CEO Frank Slootman said, and then apologized for saying, that while employee diversity is important, it shouldn't "override" merit.
Not only was the either/or framing a false choice, but it failed to recognize that pattern-matching (for investing and hiring) has often resulted in homogeneity overriding merit.
Katerra's failure should be a warning signal and a wake-up call.
The BFD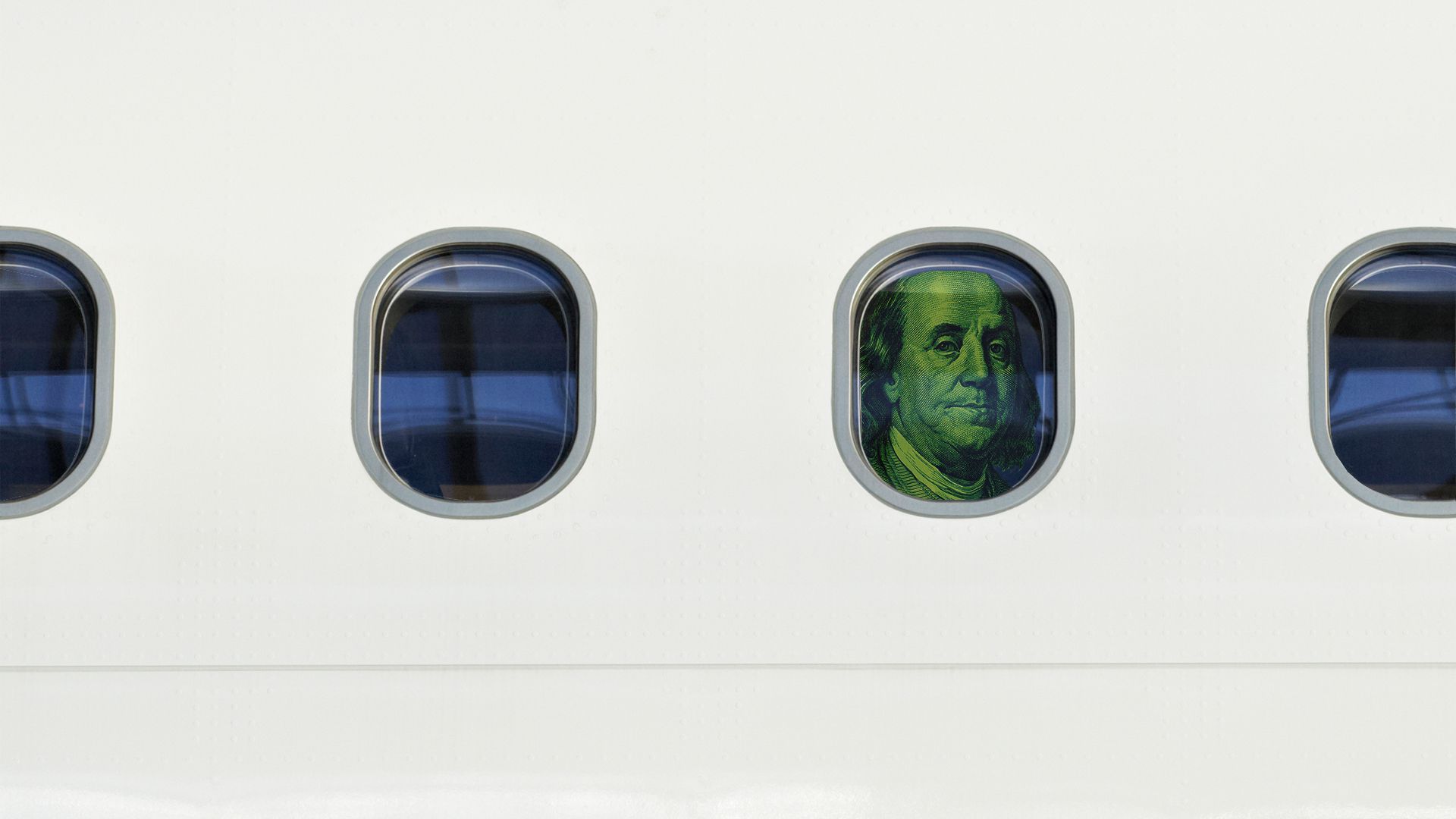 Clear Secure, the New York-based biometric identity company known for its airport security lines, filed for an IPO.
Why it's the BFD: This reflects the post-pandemic travel boom, even if business travel isn't expected to fully recover for years.
Details: Clear plans to list on the NYSE (YOU) and reports a $9.3 million net loss on $231 million in revenue for 2020. Shareholders include T. Rowe Price, General Atlantic, Delta Air Lines and Durable Capital Partners.
The bottom line: This is the latest chapter in a very long comeback story for Clear, which was launched in the aughts and went bankrupt before its current owners bought the assets in 2010 for just $6 million.
Venture Capital Deals
• Nubank, a Brazilian challenger bank, raised $750 million in new Series G funding (total round is $1.15b) at a $30 billion valuation led by Berkshire Hathaway. http://axios.link/jEM2
🚀 Relativity Space, a 3D-printed rocket startup, raised $650 million in Series E funding at a $4.2 billion valuation. Fidelity led, and was joined by BlackRock, Centricus, Coatue, Soroban Capital and insiders like Baillie Gifford, K5 Global, Tiger Global, Tribe Capital and XN. http://axios.link/4whS
• Hesai, a Shanghai-based lidar developer, raised over $300 million in Series D funding. Hillhouse Capital led, and was joined by Xiomai, Meituan and Citic PE. http://axios.link/41xb
• LetsGetChecked, a New York-based at-home medical testing company, raised $150 million in Series D funding. Casdin Capital led, and was joined by CommonFund Capital, Illumina Ventures, Optum Ventures, Transformation Capital, HLM Venture Partners, Qiming Venture Partners USA and Rory McIlroy. http://axios.link/4aOq
• Whatfix, a San Jose, Calif.-based provider of digital adoption solutions, raised $90 million in Series D funding. SoftBank Vision Fund 2 led, and was joined by Eight Roads Ventures, Sequoia Capital India, Dragoneer, F-Prime Capital and Cisco. www.whatfix.com
• Airbase, a San Francisco-based spend management platform for SMBs, raised $60 million in Series B funding at a $600 million valuation. Menlo Ventures led, and was joined by Craft Ventures and insiders Bain Capital Ventures, First Round Capital, Quiet Capital, Webb Investment Network and BoxGroup. www.airbasecom
• Simulate, a New York-based nutrition tech startup, raised $50 million in Series B funding. Seven Seen Six led, and was joined by NOMO Ventures, McCain Foods, Imaginary Ventures, Day One Ventures and Chris and Crystal Sacca. http://axios.link/b32L
• Overhaul, an Austin, Texas-based supply chain visibility and security solution, raised $35 million in Series B funding. Macquarie Capital led, and was joined by Edison Partners and Avanta Ventures. www.over-haul.com
• Briq, a Santa Barbara, Calif.-based fintech platform for the construction industry, raised $30 million in Series B finding. Tiger Global led, and was joined by Eniac Ventures and Blackhorn Ventures. http://axios.link/bIzg
🚑 Mendel, a San Jose, Calif.-based AI platform for health data, raised $18 million in Series A funding. DCM led, and was joined by OliveTree, Zola Global, MTVLP, Launch Capital, SOSV and Bootstrap Labs. http://axios.link/ki81
• Certifical, a Jersey City, N.J.-based provider of certificate of insurance and compliance management software, raised $5.8 million in Series a funding. IA Capital led, and was joined by Nationwide, Cofounders Capital, Fin VC and Cameron Ventures. www.certifical.com
• Extracker, a San Francisco-based construction project management startup, raised $5.3 million in Series A funding led by Jackson Square Ventures. http://axios.link/Q0KF
• Airfocus, a German product management platform, raised $5 million in Series A funding. Xange led, and was joined by Nauta Capital. http://axios.link/ZcqL
• YourBase, a Redmond, Wash.-based provider of developer productivity solutions, raised $5 million in seed funding. Lightspeed Venture Partners led, and was joined by Unusual Ventures and Fathom Capital. www.yourbase.io
Private Equity Deals
• Angeles Equity Partners acquired Primus Aerospace, a Lakewood, Colo-based maker of aerospace, defense and space components. www.primusaero.com
⚡ Apollo Global Management agreed to buy a majority stake in Midland, Texas-based gas transport company Tops from Black Bay Energy Capital for less than $1 billion, per Bloomberg. http://axios.link/e0ba
• Bain Capital and Crosspoint Capital Partners agreed to buy Seattle-based cyber analytics company ExtraHop Networks for $900 million. ExtraHop had raised around $76 million in VC funding, plus got a PPP loan, from backers like Madrona Venture Group, Meritech Capital Partners and TCV. http://axios.link/ZFRC
🎾 CVC Capital Partners is in talks to invest $600 million for a 15% stake in One Tennis, a group that would manage media and data rights for pro men's and women's tennis, per the FT. http://axios.link/rnyL
• Eloomi, a Copenhagen-based provider of people development software, raised $55 million from Great Hill Partners. www.eloomi.com
• Hicks Equity Partners agreed to buy Nashville-based television network Great American Country from Discovery (Nasdaq: DISCA) for around $90 million. http://axios.link/qGQo
⚡ Independence Energy, owned by KKR, is in talks for a $5.5 billion merger with Contango Oil & Gas, per Bloomberg. The combined company would be based in Houston, and would plan to go public. http://axios.link/oiBj
🚑 Periscope Equity acquired MAS Medical Staffing, a Londonderry, N.H.-based agency serving long-term care facilities. www.masmedicalstaffing.com
• Stackline, a Seattle-based provider of sub-based e-commerce tools, raised $130 million from TA Associates. www.stackline.com
Public Offerings
🚑 Convey Health, a Ft. Lauderdale, Fla.-based provider of Medicare-focused software and services, set IPO terms to 13.3 million shares at $14-$16. It would have a $1.1 billion fully diluted valuation, were it to price in the middle, and plans to list on the NYSE (CVY). Convey is owned by TPG and reports a $1 million net loss on $83 million in revenue for Q1 2021. http://axios.link/Boi6
🚑 Janux Therapeutics, a La Jolla, Calif.-based cancer biotech focused on T-cell engagers, set IPO terms to 9.5 million shares at $15-$17. The pre-revenue company would have a $652 million fully diluted value, were it to price in the middle, and plans to list on the Nasdaq (JANX). Janux raised around $200 million from firms like Avalon Ventures (28.9% pre-IPO stake), RA Capital (20.1%), Bregua Corp. (12.9%), OrbiMed (9.1%) and Correlation Ventures (9%). http://axios.link/uMPE
• Torrid, a City of Industry, Calif.-based plus-sized women's fashion retailer owned by Sycamore Partners, filed for an IPO. It had previously filed in 2017 before pulling two years later, plans to list on the NYE (CURV) and reports $25 million of profit on $794 million in revenue for the year ending Jan. 20, 2021. http://axios.link/zKVf
• WalkMe, an Israeli digital adoption platform for enterprises, set IPO terms to 9.3 million shares at $29-$32. It would have a $2.9 billion fully diluted value, were it to price in the middle, and reports a $45 million net loss on $148 million in revenue for 2020. WalkMe plans to list on the Nasdaq (WKME) and raised over $250 million from firms like Insight Partners (31.9% pre-IPO stake), Greenspring Associates (14.1%), Scale Venture Partners (12.9%), Gemini Israel (10.5%) and Mangrove Capital Partners (8.6%). http://axios.link/H7e5
SPAC Stuff
• PropertyGuru, a Singapore-based online property listings firm, is in talks to go public at around a $2 billion valuation via Bridgetown 2 Holdings (Nasdaq: BTNB), a SPAC formed by Richard Li and Peter Thiel, per Bloomberg. PropertyGuru backers include KKR and TPG. http://axios.link/Y1n4
🚑 ARCH Venture Partners, Deerfield Management and Section 32 filed confidential IPO papers for a SPAC that will focus on medical diagnostics, per Axios. http://axios.link/MRS5
• PHP Ventures Acquisition, a SPAC focused on African consumer businesses, filed for a $50 million IPO. http://axios.link/rH8D
Liquidity Events
• Abry Partners agreed to sell Sentry Data Systems, a Deerfield Beach, Fla.-based provider of pharmacy procurement, compliance and utilization SaaS, to Craneware (AIM: CRW) for $400 million. www.sentryds.com
• Lightspeed (NYSE: LSPD) made bought Ecwid, an Encinitas, Calif.-based e-commerce platform, for $325 million in cash and stock. It also bought NuOrder, a Los Angeles-based B2B ecommerce platform, for $212.5 million in cash. Ecwid was owned by Morgan Stanley Expansion Capital, PeakSpan Capital and Trestle Partners. NuOrder had raised around $80 million from firms like Greycroft, Argentum Group and Brighton Park Capital. http://axios.link/sGy0
• TA Associates hired Morgan Stanley to find a buyer for Confluence Technologies, a Pittsburgh-based investment data and analytics company that could fetch around $1 billion, per Barron's. http://axios.link/wafZ
More M&A
⚡ Raizan, a Brazilian joint venture of Royal Dutch Shell and Cosan, agreed to buy Shell's Brazilian lubricants business. http://axios.link/NrU6
Fundraising
• Version One raised $70 million for its fourth early-stage fund and $30 million for its second opportunities fund. http://axios.link/POQ7
It's Personnel
• Christopher Dawe has left Goldman Sachs to lead a new growth equity investing effort at JPMorgan Chase. It also named Osei Van Horne (ex-Wells Fargo) as head of sustainable growth equity investing. http://axios.link/83UB
• Justin Wexler rejoined WndrCo as a VP. He was with the firm until leaving in 2019 to get his MBA. http://axios.link/pOHB
Final Numbers
🙏 Thanks for reading Axios Pro Rata! Please ask your friends, colleagues and TSA agents to sign up.