https://www.axios.com/newsletters/axios-pro-rata-177c3975-58a4-442b-9bb1-d366c1367624.html?chunk=0#story0
Top of the Morning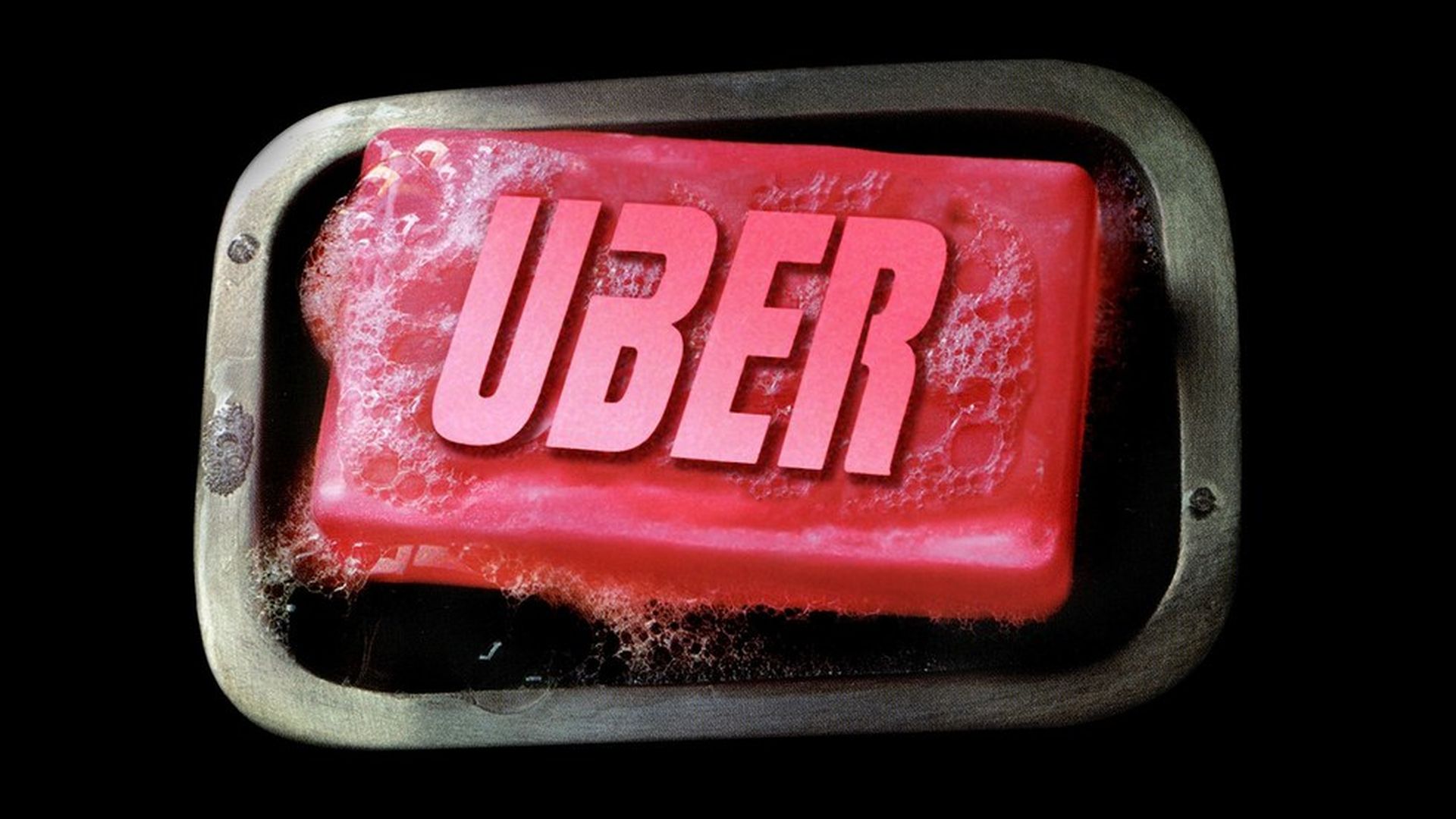 The Uber situation has somehow devolved even further since last Friday morning, when we already knew that Benchmark had sued former CEO Travis Kalanick for fraud.
Axios scooped just hours later that a group of small outside investors (led by Shervin Pishevar) asked Benchmark to both leave the board and divest enough shares so as to no longer have board appointment rights (including a claim that it had enough investor interest to buy Benchmark's stock at the latest valuation, which would value the bucket north of $6 billion).
Uber's board — minus Kalanick and Benchmark — later issued a "can't we all just get along" statement, while the NY Times reported yesterday that the board also is proceeding with preliminary secondary offer talks. Not only from SoftBank, but also the Pishevar group and a third bid from Dragoneer and General Atlantic (the latter of which may have the best chance of reconciling the warring factions). This is all still very fluid, but some thoughts:
Hold them horses: Just because Uber's board is entertaining secondary offers (i.e., willing to waive transfer restrictions), that doesn't mean it will find takers. Particularly at a discount, as sources on both sides of the divide say the company's core business continues to grow the top-line and shrink the loss line. And, as we mentioned Friday, Benchmark could have added legal troubles from other Uber shareholders if it were to sell in any way that could increase Kalanick's influence. So could Uber if it tried forcing sales at a discount to the latest 409(a) valuation of $41 per share. In the end, this could just become insiders like Garrett Camp and Ryan Graves taking some money off the table, while the key combatants remain fully engaged.
Breakdown: Deal talks are mostly for secondaries, but both SoftBank and Dragoneer's discounted offers would include a little bit of primary investment at the current valuation (read: help backers like Saudi PIF save face).
Feedback: I suggested that the past week could represent the end of venture capital's "founder friendly" era. Fred Wilson disagrees.
Timing: Remember that Uber said it would have a new CEO in the chair by Labor Day. That's two weeks from right now.
Casting: This is going to make a fantastic book, and perhaps an even better movie. So who should portray key players? My early picks include Colin Farrell for Kalanick, Meryl Streep for Arianna Huffington and Bob Einstein for Bill Gurley. Send me your picks!
• Secondary stuff: We reported last month that Lexington Partners had agreed to what could have been a massive stapled secondary with British buyout shop BC Partners, including the purchase of up to €1.2 billion in LP stakes and up to a €600 million commitment for BC's new fund (BC Partners X). Lexington formally announced the secondary piece this morning, but it only came out to around €850 million – suggesting that fewer existing BC limited partners were interested in selling than had been anticipated (particularly given the secondary offer's 114% premium on NAV).
• M&A protectionism: The European Commission next month is expected to announce tougher screening for foreign takeovers of European companies, per the FT, "as it seeks to address mounting concerns about a surge of Chinese investment into the bloc's high-tech manufacturing, energy and infrastructure sectors." The move comes as China itself is taking a tougher regulatory look at domestic purchases of foreign assets and seemingly increased scrutiny by CFIUS in the U.S.
Key number: Fewer than half of the EU's 28 nation members have formal systems to determine if a potential takeover could pose a threat to national security or other public policy interests.
Tardy trade war: President Trump today is expected to formally direct U.S. Trade Representative Robert Lighthizer to go after China on issues of IP theft and the way U.S. companies are forced to share technology with Chinese firms. This was the announcement that had been expected earlier this month, but which got delayed while the U.S. and China were negotiating on North Korea sanctions. More here.
https://www.axios.com/newsletters/axios-pro-rata-177c3975-58a4-442b-9bb1-d366c1367624.html?chunk=1#story1
The BFD
Protocol Labs has raised around $193 million via an initial coin offering, for a pre-launch distributed computer memory storage project called "Filecoin Network." This comes on top of a pre-ICO raise of around $52 million from venture firms — Andreessen Horowitz, Sequoia Capital, Union Square Ventures and Winklevoss Capital — while the ICO itself had to be temporarily suspended due to overwhelming volume in its initial hour.
Why it's the BFD: This already is the largest-ever ICO, if the pre-sale is included. But the offering suspension also reflects the tech challenges faced by this latest/greatest tool for capital-raising, and the size is sure to only increase SEC scrutiny.
Market size: We've already seen over $1.3 billion in ICO volume so far this year, excluding ongoing offerings like Filecoin, according to Smith & Crown.
Bottom line: "Filecoin initiative is designed to allow users to exchange empty storage space on their computers for tokens. Users can earn tokens for contributing space on their hard drives, or can use tokens to buy space from other users. The way the public sale was orchestrated, the earliest investors would get the lowest price. This appears to have contributed to the rush in the first hour, as investors tried to get in and get the lower prices. — Paul Vigna, WSJ
https://www.axios.com/newsletters/axios-pro-rata-177c3975-58a4-442b-9bb1-d366c1367624.html?chunk=2#story2
Venture Capital Deals
• Zuoyebang, a Chinese online K-12 homework help company spun out of Baidu (Nasdaq: BIDU), has raised $150 million in Series C funding. H Capital led the round, and was joined by Tiger Global Management, Sequoia Capital, Legend Capital, GGV Capital and Xianghe Capital. http://bit.ly/2vBpVn0
• IMS New Media Group, a Chinese social media marketing company, has raised around $90 million in Series C funding from Sina Weibo, Morgan Stanley, China Merchants Bank, CSC Financial and SAIF Partners. http://bit.ly/2wItND2
• Er Geng, a Chinese provider of short-form video content, has raised around $14 million in Series A funding. Yunfeng Capital led the round, and was joined by Source Code Capital. http://bit.ly/2w5Fupy
• Dragos, a Fulton, Md.-based provider of cybersecurity solutions for industrial control system networks, has raised $9 million in new VC funding led by Allegis Capital. http://wapo.st/2uUDagE
• FilmTrack, a Studio City, Calif.-based provider of end-to-end media and entertainment rights management solutions, has raised $5.5 million in Series C funding from Insight Venture Partners. www.filmtrack.net
• Losant IoT, a Cincinnati-based enterprise Internet of Things platform, has raised around $4.5 million in new VC funding from backers like CincyTech, per an SEC filing. www.losant.com
https://www.axios.com/newsletters/axios-pro-rata-177c3975-58a4-442b-9bb1-d366c1367624.html?chunk=3#story3
Private Equity Deals
• Ardian has acquired Dynamic Technologies, an Italian manufacturer of tubing for the automotive industry. No financial terms were disclosed. Lincoln International managed the process.
🚑 SK Capital has agreed to acquire Perrigo API, the active pharma ingredients business of Perrigo Co. (NYSE: PRGO) for $110 million in cash. http://bit.ly/2uGwNOX
• TPG Capital has agreed to acquire Transplace, a Frisco, Texas-based provider of transportation management services, from Greenbriar Equity Group. No financial terms were disclosed. www.transplace.com
• Yellow Wood Partners has acquired Freeman Beauty, a Los Angeles-based beauty products company, from Champlain Capital. No financial terms were disclosed. http://bit.ly/2w3a1oA
https://www.axios.com/newsletters/axios-pro-rata-177c3975-58a4-442b-9bb1-d366c1367624.html?chunk=4#story4
Public Offerings
• Only one company, a blank-check acquisition issuer called Capitol Investment Corp. IV, is slated to price an IPO on U.S. exchanges this week. http://bit.ly/2wWXDmi
https://www.axios.com/newsletters/axios-pro-rata-177c3975-58a4-442b-9bb1-d366c1367624.html?chunk=5#story5
Liquidity Events
🚑 Fosun Pharmaceutical Group and Shanghai Pharmaceuticals reportedly are among those that submitted non-binding bids for between a 20% and 30% stake in Arbor Pharmaceuticals, an Atlanta-based specialty drugmaker backed by KKR. The deal could value Arbor at around $3 billion. https://bloom.bg/2wWAhNX
⛽ Oaktree Capital Group is exploring a sale for Spanish wind power company Eolia Renovables de Inversiones, which could be valued north of €1 billion, according to Bloomberg. https://bloom.bg/2w5JExG
https://www.axios.com/newsletters/axios-pro-rata-177c3975-58a4-442b-9bb1-d366c1367624.html?chunk=6#story6
More M&A
⛽ Andeavor Logistics (NYSE: ANDX) has agreed to acquire rival Western Refining Logistics (NYSE: WNRL) for $1.5 billion in stock, or $22.28 per share (6.4% premium on Friday's closing price). http://reut.rs/2vAT9T7
• Danone (Paris: DANO) stock rose on Monday, following a NY Post report that the company could soon get a takeover offer from a rival food company like Kraft or Coca-Cola. Danone has a current market cap of around €41 billion, and an enterprise value approaching €60 billion. http://nyp.st/2vxjSjj
• DX Group (AIM: DX) has ended talks to acquire the newspaper distribution unit of Scotland's John Menzies (LSE: MNZS), after failing to agree on terms. http://on.ft.com/2w395Rb
🚑 Google has acquired Seattle-based health monitoring startup Senosis Health, according to GeekWire. http://bit.ly/2uSW9ID
https://www.axios.com/newsletters/axios-pro-rata-177c3975-58a4-442b-9bb1-d366c1367624.html?chunk=7#story7
Fundraising
• Quest Venture Partners is raising up to $40 million for its third fund, per an SEC filing. www.questvp.com
https://www.axios.com/newsletters/axios-pro-rata-177c3975-58a4-442b-9bb1-d366c1367624.html?chunk=8#story8
It's Personnel
• Stephanie Hannon, former CTO for Hillary Clinton's presidential campaign and a former Google and Facebook product manager, has joined Greylock Partners as an executive-in-residence. www.greylock.com
• David Leeney has joined private equity firm LightBay Capital as a managing director and head of business development. He previously was head of global origination with Gores Group. www.lightbaycapital.com
https://www.axios.com/newsletters/axios-pro-rata-177c3975-58a4-442b-9bb1-d366c1367624.html?chunk=9#story9
Final Numbers