Axios Pro Rata
May 29, 2020
📱 Please be sure to download the new Axios app for Apple iOS and Android, and subscribe to the Pro Rata channel. It's the fastest and most efficient way to get these newsletters, and I tend to update it throughout the day with news, tips and alerts.
Top of the Morning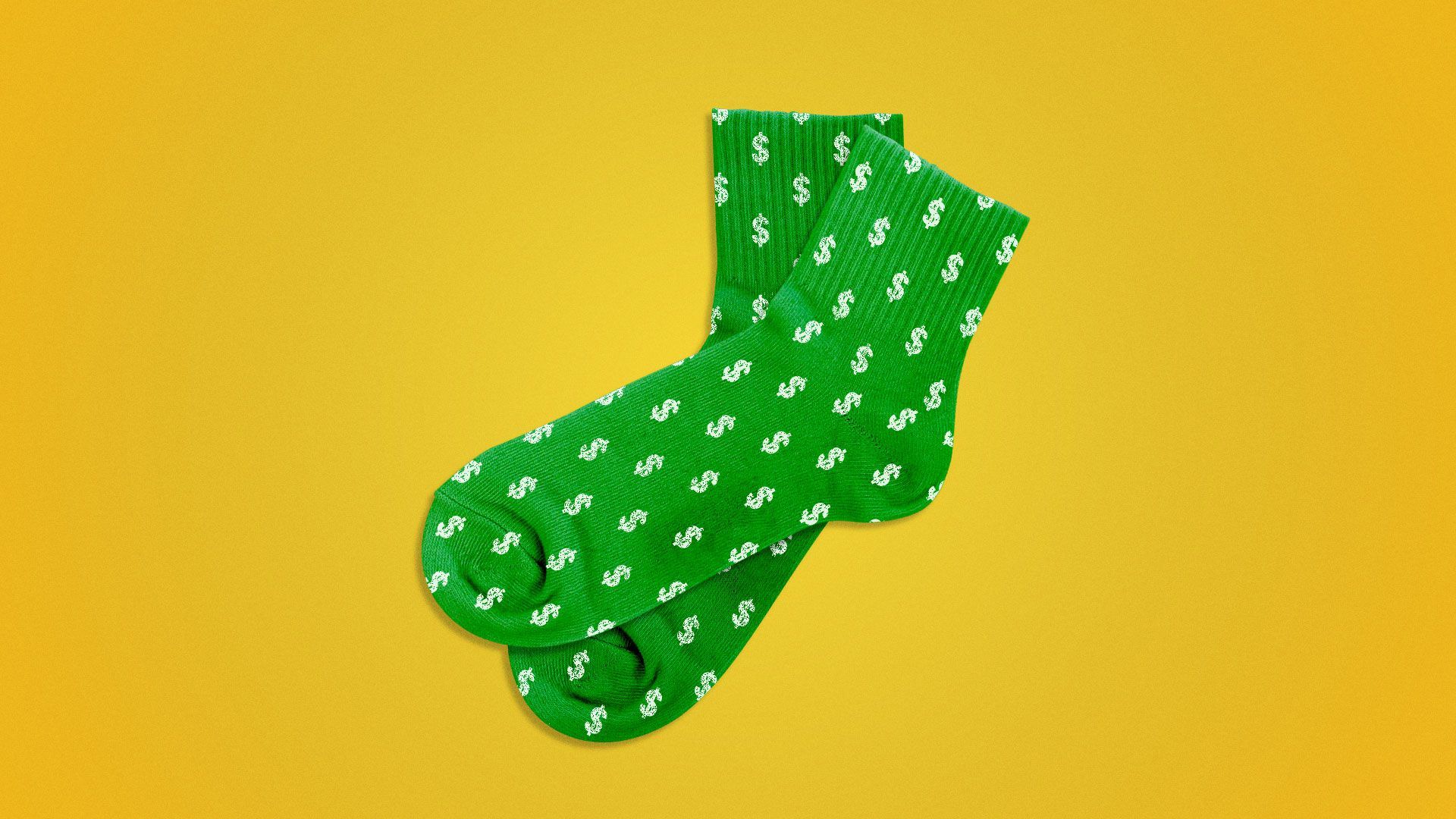 Siren, a maker of "smart socks" designed for early detection of diabetic ulcers, yesterday announced nearly $12 million in venture funding led by Anathem Ventures.
This plays into the burgeoning remote health care trend, as people at risk of diabetic ulcers typically require regular foot temperature checks from podiatrists.
It's also a twist on a recent VC legal drama between Anathem founder Crystal McKellar and her former firm, Mithril Capital.
The company: Siren continuously monitors the temperature on the bottoms of a user's feet, and transmits that data to an app that's available to both the patient and physician.
The connected "visits" are reimbursable under Medicare, and basically act as an early warning system to stave off something that can result in hospitalizations and, at worst, amputations.
Expect to see a surge in these sorts of deals. Including from Anathem, which just backed FocusMotion, a connected recovery system for patients who've undergone orthopedic surgery.
The legal drama: McKellar previously was general counsel for Mithril, a growth equity firm co-founded by Peter Thiel. She also was a whistleblower, informing a Mithril portfolio company and the FBI about alleged financial misconduct.
Mithril sued McKellar, whom some of you might remember as "Becky Slater" from The Wonder Years. She countersued.
The two sides quietly dismissed their complaints, although a California court document suggests they subsequently entered arbitration.
Notable in McKellar's complaint was a claim that Peter Thiel was horrified by the goings-on at Mithril, going so far as to consider shutting the firm down.
Thiel hasn't publicly commented on the dispute, but the Siren deal might hint at his sentiments. His better-known firm, Founders Fund, was an existing Siren investor and re-upped in this new round, knowing that McKellar was lead investor via Anathem.
McKellar tells Axios: "My parents raised me to do the right thing always, and when you witness your employer engaging in fraud you've got to do something to protect your investors. ... Peter is great. I have a ton of respect for him and am thrilled to be investing alongside him."
The BFD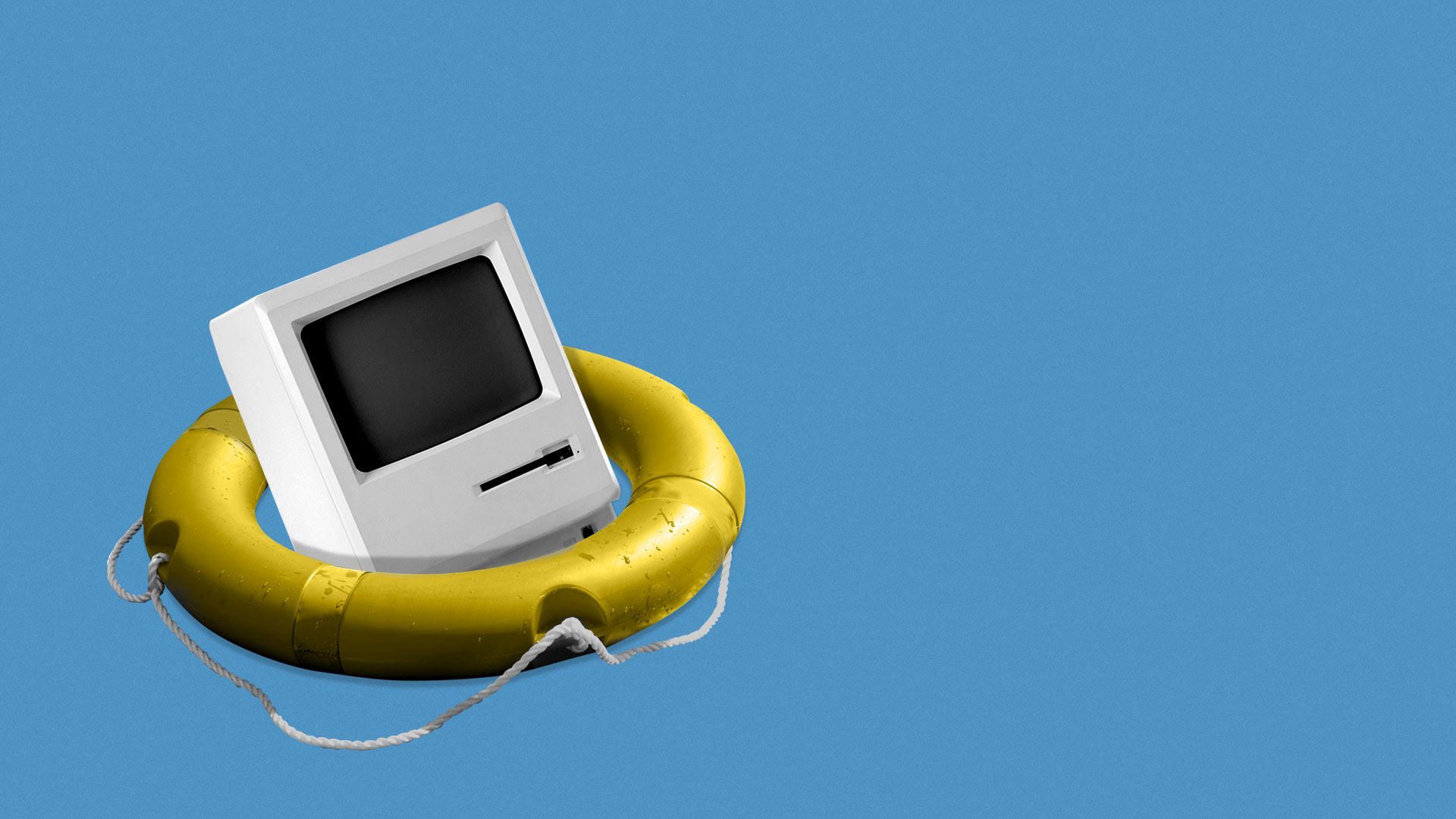 Cisco Systems (Nasdaq: CSCO) agreed to buy ThousandEyes, a San Francisco-based IT performance management platform. No financial terms were disclosed, but Bloomberg put the price tag at around $1 billion.
Why it's the BFD: This is a pandemic-related merger on the upside, with the company accelerating its sale process due to concerns that it could struggle to meet added demand for its services.
ROI: ThousandEyes had raised around $110 million in VC funding, most recently at a $620 million valuation. Shareholders include GV, Thomvest Ventures, Salesforce Ventures, Sequoia Capital, Sutter Hill Ventures, and Tenaya Capital.
The bottom line: "ThousandEyes has made a name for itself with its service that watches pretty much the whole internet to help companies figure out the source of performance problems of websites and web-based apps. For instance, it can determine if an outage is the company's fault or that of its service providers." — Julie Bort, Business Insider
Also...
The U.S. Senate this week again failed to vote on an extension to the PPP "covered period," which is set to begin expiring for early loan recipients.
The House yesterday voted in favor of an extension to 24 weeks by a count of 417-1, whereas the Senate has been dithering on an extension to 16 weeks.
There had been optimism that the Senate would vote this week via a pro forma session, particularly given that this issue has broad bipartisan support, but now the can has been kicked into next week (at the earliest).
Many early loan recipients are now reaching the end of their forgivable spending period, which means they might lay off employees who could be paid were the Senate to do its job.
• Trump vs. Twitter: One thing to think about is that the legal resolution could have a major impact on any entrepreneur thinking about launching a startup with user-generated content (or on any investors in such a company). Twitter and Facebook have the financial resources to defend themselves from liability lawsuits — but most startups would not.
• Now you see him… Rony Abovitz is out as CEO of Magic Leap, the augmented reality company he co-founded in 2011 and for which he helped raise over $3 billion (including $350 million just last week). No word yet on if the CEO shakeup was a condition of the new financing, or if a new CEO has even been picked.
Also worth noting that the Delaware stock authorization filing for the new funding is perhaps the most inscrutable one of these I've ever seen. Nearly impossible to make sense of (and I doublechecked with someone who looks at these for a living). That said, it is signed by Abovitz.
Pro Rata for Kids
This weekend's project is for your kids to design a treehouse. Specifically, the coolest treehouse ever. If they're fortunate enough to have a real one, then add something to it. For everyone else, drawings, Legos, etc. What makes yours better than all the rest?
Per usual, please send me pics of what they create.
Yesterday's project was for your kid(s) to create their own space ships: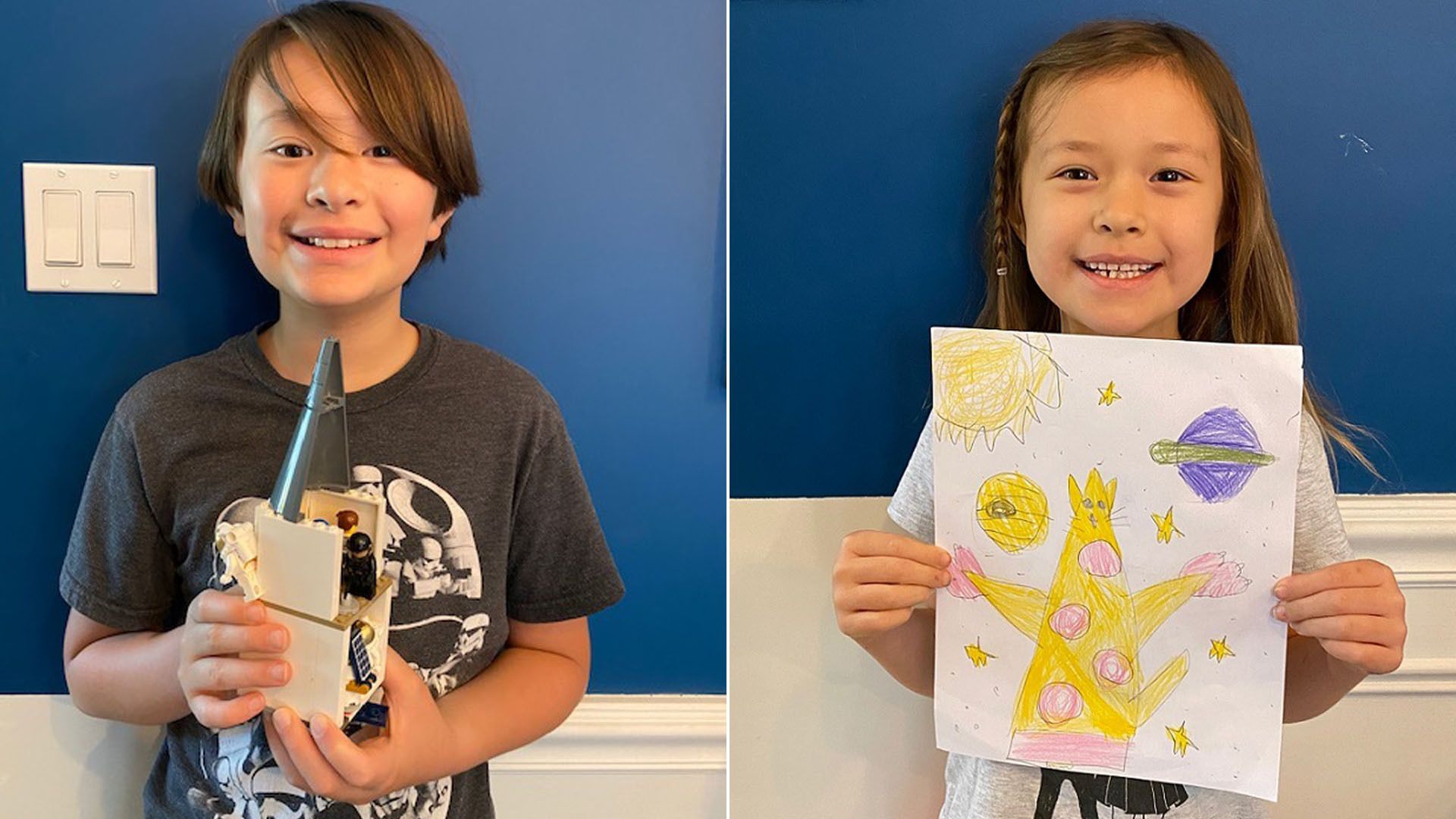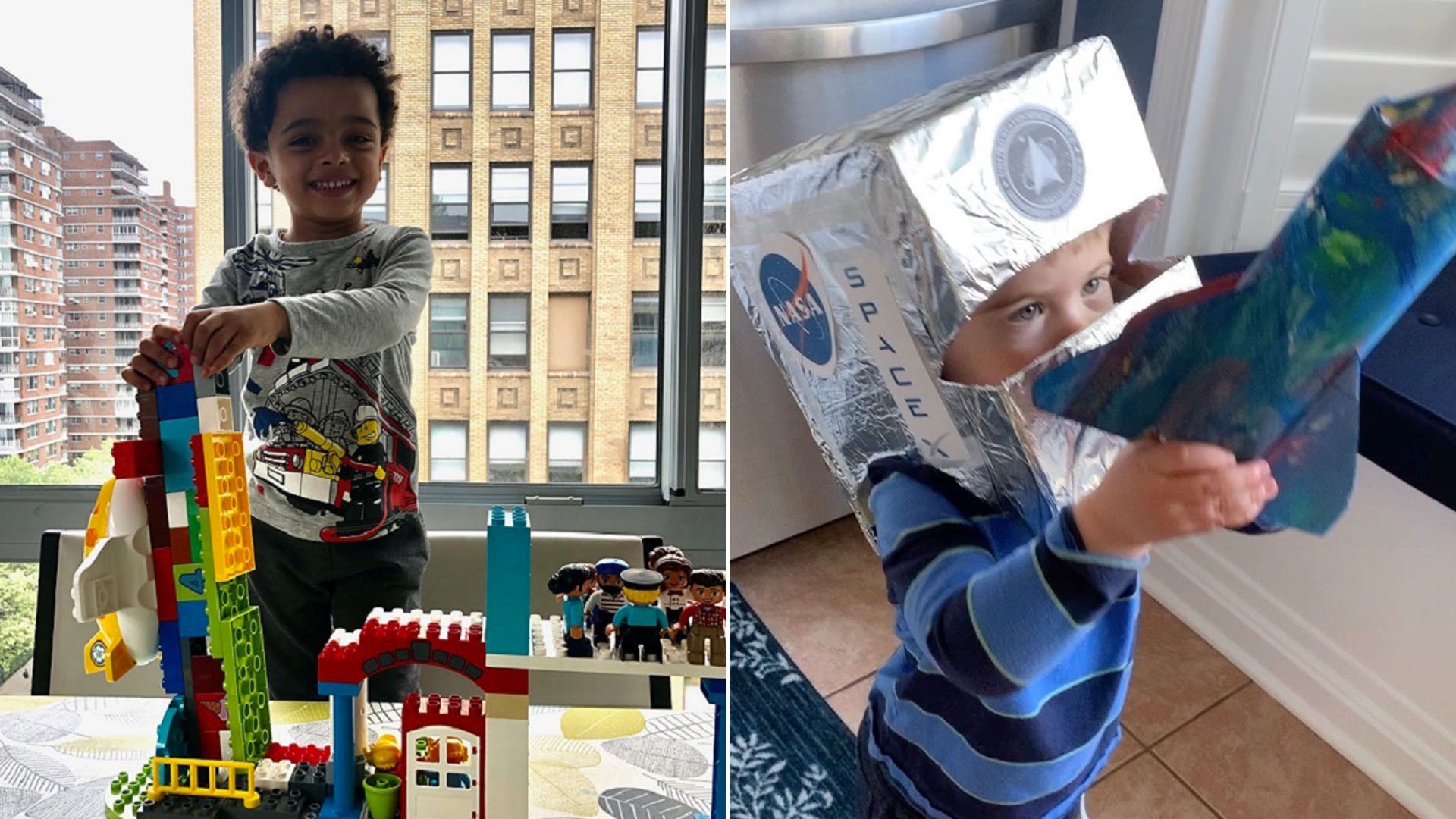 Venture Capital Deals
• Vesta, a Lake Oswego, Ore.-based provider of payment fraud solutions, raised $125 million from Goldfinch Partners. www.trustvesta.com
🚑 Gingko Bioworks, a Boston-based DNA design startup that is working on large-scale COVID-19 testing, raised $70 million in new funding from Illumina and return backers General Atlantic and Viking Global Investors. http://axios.link/U3D7
🚑 Palvella Therapeutics, a Wayne, Penn.-based biotech focused on rare genetic diseases without approved treatments, raised $45 million in Series C funding from CAM Capital, Samsara BioCapital, BVF Partners, Adams Street Partners, Opaleye Management, Ligand Pharma, Agent Capital, BioAdvance, and Nolan Capital. www.palvellatx.com
• Starling Bank, a British digital challenger bank, raised £40 million co-led by existing backers JTC and Merian Chrysalis Investment Co., per TechCrunch. http://axios.link/4suz
🚑 Tia Health, a San Francisco-based provider of women's health telehealth and clinical services, raised $24 million. Threshold Ventures led, and was joined by Acme Ventures, Define Homebrew, Compound and John Doerr. http://axios.link/xWsK
🚑 Varient Bio, a New York-based biotech that studies "the genes of people from understudied populations who are outliers for medically relevant traits," raised $16 million led by Lux Capital. www.varientbio.com
🚑 Repare Therapeutics, a Montreal-based precision oncology startup, raised $15 million in equity funding from Bristol Myers Squibb (NYSE: BMY), as part of a larger strategic partnership that includes another $50 million upfront and upwards of $3 billion in licensing fees. http://axios.link/nIUS
• Belvo, a startup that seeks to become the Plaid of Latin America, raised $10 million co-led by Founders Fund and Kaszek. http://axios.link/wiNq
🚑 Orbita, a Boston-based provider of voice and chatbots for healthcare, raised $9 million in Series A funding. Philips Health Technology Ventures and HealthX Ventures co-led, and were joined by Cultivation Capital and Newark Venture Partners. http://axios.link/XzGh
• Commerce Layer, an Italian headless e-commerce platform, raised $6 million led by Benchmark. http://axios.link/tUr1
• Caraway, a New York-based direct-to-consumer cookware startup, raised $5.3 million in seed funding from such backers as Republic Labs, Springdale Ventures, Wesray Social, Bridge Investments, WTI, CompanyFirst, G9 Ventures, and Andy Dunn. http://axios.link/f7N2
Private Equity Deals
• Didi Chuxing confirmed that it raised over $500 million for its autonomous driving subsidiary, led by SoftBank Vision Fund 2.
Note: SBVF2 doesn't really exist yet, in terms of outside commitments. Right now, capital attributed to it is coming via SoftBank's balance sheet.
• Guru Capital of Switzerland acquired ETX Capital, a provider of multi-asset CFDs and spread betting products, from JRJ Group. www.etxcapital.com
• Clayton, Dubilier & Rice agreed to acquire a 25% stake in British building materials supplier SIG (LSE: SHI), as part of a £150 million raise. http://axios.link/mtqA
• KKR is preparing to provide between €150 million and €200 million in new loans to Selecta, the Swiss vending machine operator it acquired in 2015, per Reuters. http://axios.link/M9lk
🚑 LLR Partners acquired a majority stake in TrueLearn, a Mooresville, N.C.-based provider of online study tools for medical licensing, from Kian Capital. http://axios.link/IFg3
Public Offerings
🎵 Big Hit Entertainment, the music label of K-pop band BTS, filed for a Korea IPO that could value the company at upwards of $5 billion. http://axios.link/fg7k
• Industrious, a New York-based co-working space operator, has begun interviewing banks for an IPO, per Bloomberg. The company has raised around $220 million from firms like Riverwood Capital, Maplewood Partners, Outlook Ventures, Schechter Private Capital, Alrai Capital, Wells Fargo, Fifth Wall, and Brookfield Property Partners. http://axios.link/ymGg
More M&A
• Temasek is in talks to invest at least $400 million into Singapore-based shipping company Pacific International Lines, per Bloomberg. http://axios.link/wz53
Fundraising
🚑 DCVC is raising upwards of $275 million for its second bio-focused fund, per an SEC filing. www.dcvc.com
• IK Investment Partners raised 2.85 billion for its ninth flagship buyout fund. http://axios.link/qEnF
• Investcorp raised €340 million for its second Italian distressed debt fund. http://axios.link/CaRh
• KKR raised $4 billion for credit opportunities created by recent market volatility, calling it a "dislocation" fund. www.kkr.com
It's Personnel
• Robin Clifford is stepping down as head of private equity for the New Jersey Division of Investment. No word yet on her future plans.
Final Numbers: Expected change in fund NAV from 12/19 to 3/20
🙏 Thanks for reading Axios Pro Rata! Please ask your friends, colleagues, and junior astronauts to sign up.