Axios Pro Rata
May 04, 2021
Top of the Morning
Tiger Global is talking to investors about raising $10 billion for a new growth equity fund, just one month after raising $6.7 billion for its last one, Axios has learned from multiple sources.
Why it matters: Tiger's investment pace is unprecedented, which means we have no idea how it's going to play out.
You might be thinking: "Ummm ... what about SoftBank Vision Fund?" Yes, it might have put more money to work in a short period of time, befitting a $100 billion fund, but it was in a much smaller number of companies. Tiger differentiated by diversification.
Details: Tiger is premarketing the new fund, its 15th, with plans to hold a first close in October and a final close next March. It may need to accelerate that timeline, though, as it's already called around 60% of its Fund XIV commitments.
The firm has become a constant presence atop the "VC Deals" section of this newsletter, leading the day's largest round. Or sometimes several of them, as it did today (Kajabi and Vast Data).
According to a recent story in The Information, Tiger averaged four deals per week during the first quarter.
The bottom line: Tiger was one of the first hedge fund manages to dive deep into growth-stage tech investing, but is now taking it to heights that make many of its rivals dizzy. And, for limited partners, they'll be asked for more support before really knowing how its most recent support performed.
The BFD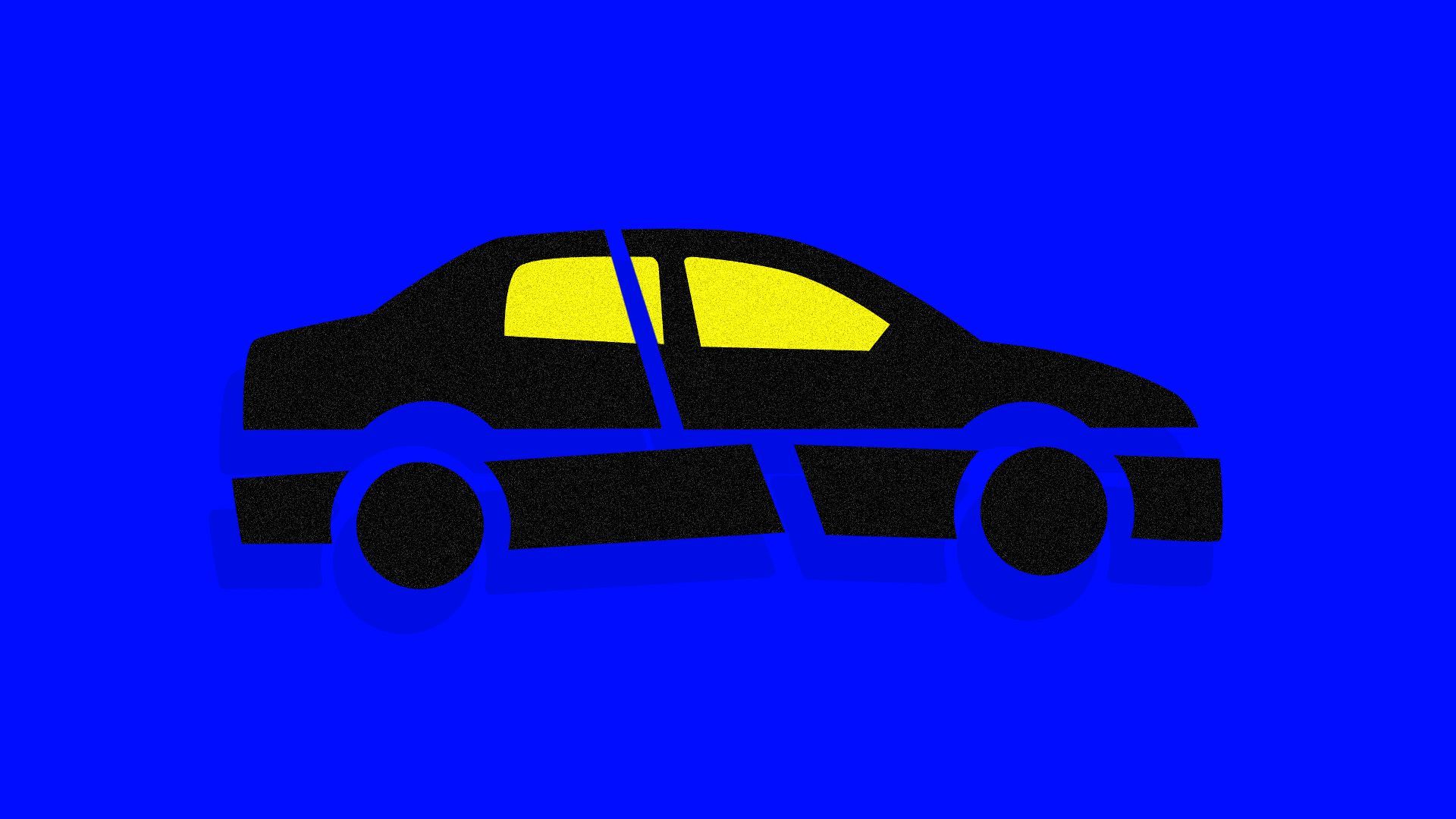 AEye, a Dublin, Calif.-based lidar technology developer, amended terms of its SPAC merger with CF Finance Acquisition Corp III (Nasdaq: CFAC), dropping the implied valuation to $1.52 billion from $2 billion.
Why it's the BFD: It's a reminder that SPAC deals can't stand apart from sector trends, even if the broader SPAC bucket should be uncorrelated. Shares of rival lidar developers Luminar and Ouster have both fallen by double digits since their post-SPAC debuts.
$$ history: AEye has raised over $90 million from firms like Kleiner Perkins, Intel Capital, Airbus Ventures, Taiwania Capital and Tychee Partners.
Bottom line: "Lidar is one of several perception technologies self-driving cars can use to see the road, but so far none of them can do everything automakers need. Argo AI, which is developing self-driving technology for Ford and Volkswagen, just announced it's switching to an in-house lidar system, while Tesla says it won't use lidar at all." — Joann Muller, Axios
Venture Capital Deals
• Kajabi, an Irvine, Calif.-based e-commerce platform for knowledge-based businesses, raised $550 million at a valuation north of $2 billion. Tiger Global led, and was joined by TPG, Tidemark, Owl Rock and Meritech Capital Partners. Insider Spectrum Equity remains the company's largest outside investor. http://axios.link/J9O9
• Acronis, a Swiss data protection and cybersecurity company, raised more than $250 million led by CVC Capital Partners at a valuation north of $2.5 billion. It previously raised $170 million from firms like Goldman Sachs, Delta-V Capital, Insight Partners and Almaz Capital. www.acronis.com
🚑 Oxford Nanopore, a British developer of a portable genome sequencer, raised £195 million at a £2.48 billion valuation, ahead of an expected 2021 IPO. Backers include IP Group, Wellington Management, Temasek, M&G Investments and Nikon. http://axios.link/FrTq
⚡ Solid Power, a Louisville, Ky.-based developer of solid state batteries, raised $130 million in Series B funding. Ford and BMW co-led, and were joined by Volta Energy Technologies. http://axios.link/mrau
• Vast Data, a New York-based storage software provider, raised $83 million in Series D funding at a $3.7 billion valuation. Tiger Global led, and was joined by insiders like Nvidia. www.vastdata.com
• Workboard, a Redwood City, Calif.-based OKR platform, raised $75 million in Series D funding. SoftBank Vision Fund 2 led, and was joined by Capital One Ventures, SVB Capital and insiders Andreessen Horowitz, GGV Capital, Workday Ventures and M12. www.workboard.com
• Genies, a Los Angeles-based avatar platform, raised $65 million in Series B funding. Bond Capital led, and was joined by NEA, Breyer Capital, Tull Investment Group, NetEase, Dapper Labs and Coinbase Ventures. http://axios.link/ATYf
• Locusview, an Israeli digital construction management platform for energy, telecom and water, raised $64 million in Series A funding. Israel Growth Partners led, and was joined by insiders Leumi Partners, Clal Insurance and Discount Capital. http://axios.link/jvU8
🚑 Oculis, a Swiss developer of ophthalmic treatments, raised $57 million in Series C funding. BVCF Management and Hyfinity Investments co-led, and were joined by VI Partners, Wille AG and insiders Bay City Capital, Brunnur Ventures, EarlyBird, funds managed by Tekla Capital Management, Pivotal bioVenture Partners, Nan Fung Life Sciences, Novartis and Silfurberg. www.oculis.com
• Persona, a San Francisco-based identity infrastructure startup, raised $50 million in Series B funding. Index Ventures led, and was joined by insider Coatue. www.withpersona.com
• Recount Media, a political media startup co-founded by John Battelle and John Heilemann, raised $18 million in Series B funding, per Axios. Foundry Group led, and was joined by Union Square Ventures, Alumni Ventures, Burda Principal Investments, True Ventures and Correlation Ventures. http://axios.link/VBrD
🚑 Neuroelectrics, a developer of brain stimulation technologies and therapies, raised $17.5 million in Series A funding led by Morningside Ventures. It has offices in Barcelona and Cambridge, Mass. www.neuroelectrics.com
• Fluence Technologies, a Toronto-based provider of financial close and consolidation software for mid-sized companies, raised US$10 million in Series A funding from Banneker Partners. www.fluencetech.com
• Thentia, a Toronto-based platform for licensing and data management, raised US$10 million in Series B funding. Spring Mountain Capital led, and was joined by insider BDC Capital. www.thentia.com
🚑 Alife Health, a San Francisco-based fertility tech startup, raised $9.5 million in seed funding. Lux Capital led, and was joined by Amplo, IA Ventures and Springbank Collective. http://axios.link/ZmQw
• RTFKT, a Salt Lake City-based provider of digital sneakers and accessories for gamers, raised $8 million in Series A funding led by Andreessen Horowitz. http://axios.link/mMF2
• Carry1st, a South African mobile games publishing platform, raised $6 million in Series A funding. Konvoy Ventures led, and was joined by Riot Games, Raine Ventures, AET Fund/Akatsuki and TTV Capital. www.carry1st.com
🚑 Cumulus Neuroscience, a Belfast-based biomarker platform for developing CNS therapies, raised £6 million. Dementia Discovery Fund led, and was joined by LifeArc and the UK Future Fund. www.brainwavebank.com
• Graviti, a Mexico City-based buy-now-pay-later startup focused on home appliances, raised $2.5 million in seed funding. Active Capital led, and was joined by Mucker Capita and Clocktower Technology Ventures. http://axios.link/ZDRR
Private Equity Deals
• Brentwood Associates acquired a majority stake in Watermill Express, a Brighton, Colo.-based provider of drive-thru drinking water and ice refill stations. www.watermillexpress.com
• Butterfly acquired a majority stake in Pete and Gerry's Organics, a Lebanon, N.H.-based maker of free-range and pasture-raised eggs. www.peteandgerrys.com
• Crest Rock Partners invested in Jelecos, an Omaha, Neb.-based AWS consultant. www.jelecos.com
• CVC Capital Partners and CDPQ agreed to buy a majority stake in the international subsidiaries business of BlueFocus, a listed Chinese provider of marketing and brand management services. www.bluefocusgroup.com
🐶 Prairie Dog, a Grand Prairie, Texas-based portfolio company of Kinderhook Industries, acquired Himalayan Corp., a Mukilteo, Wash.-based maker of hard cheese dog chews. www.himalayan.pet
• One Equity Partners agreed to acquire the North American operations of AMECO, a Greenville, S.C.-based provider of construction equipment, scaffolding and related solutions, from Fluor Corp. (NYSE: FLR) for $73 million. www.ameco.com
Public Offerings
• MeinAuto, a German online car dealer backed by HgCapital, plans to raise up to €515 million in its Frankfurt IPO. http://axios.link/CqiF
SPAC Stuff
• Catalyst Partners Acquisition, an enterprise software SPAC sponsored by General Catalyst, cut its proposed IPO size from $400 million to $300 million. http://axios.link/7t1O
🚑 Summit Healthcare Acquisition, a SPAC led by Bo Tan (ex-CEO of 3S Bio), filed for a $200 million IPO. http://axios.link/2ZsW
Liquidity Events
• Better Collective (Stockholm: BETCO) agreed to buy Action Network, a New York-based provider of sports betting information, for $240 million. Action Network had raised over $17 million from firms like Chernin Group, RSE Ventures and Bitkraft. http://axios.link/AuIM
• Twitter (NYSE: TWTR) agreed to buy Scroll, a Brooklyn-based online content management platform that had raised $10 million from firms like Union Square Ventures and Gannett, OATV, NY Times, Uncork Capital, Founder Collective and Axel Springer. http://axios.link/cnQG
More M&A
• AAMP Global, a British vehicle engineering and manufacturing firm, acquired M2M in Motion, a Lombard, Ill.-based provider of fleet management solutions. www.m2mfleetmotion.com
• Babcock International (LSE: BAB) is prepping a sale process for its rail business and parts of its aerial emergency services unit, per the FT. http://axios.link/wbcg
• Cordiant Digital Infrastructure bought Czech telecom and tech infrastructure firm České Radiokomunikace from Macquarie Asset Management. http://axios.link/d7cH
• Epic Games, the maker of Fortnite, acquired Quebec-based artist portfolio community ArtStation. http://axios.link/hLpc
• InVivo, a French agricultural cooperative, agreed to buy family-owned Soufflet for around €2.3 billion. http://axios.link/WkXr
Fundraising
• KKR, which reported Q1 earnings this morning, raised $18.5 billion for its 13th North American buyout fund. http://axios.link/Mhdj
• Quad Partners, a New York-based PE firm focused on midmarket education companies, raised $388 million for its fourth fund. www.quadpartners.com
It's Personnel
• William Bell joined KKR as a managing director, per his LinkedIn. He previously led corporate development for Nuveen. www.kkr.com
• Michael Doppelt joined Churchill Asset Management as managing director of biz dev and fundraising. He previously led fundraising and IR for Constitution Capital Partners. http://axios.link/JZk3
• Jeremy Fox joined Fifth Wall, a prop-tech VC firm, as a partner. He previously was a managing director with Credit Suisse. http://axios.link/2vTd
• Jomayra Herrera joined Reach Capital, a VC firm focused on education and the future of work, as a partner. She previously was with Cowboy Ventures. www.reachcapital.com
• Jake Stuvier joined M2O Private Fund Advisors as a principal. He's a former reporter for Private Equity Insider who previously was with Evercore. http://axios.link/uT2q
Final Flashback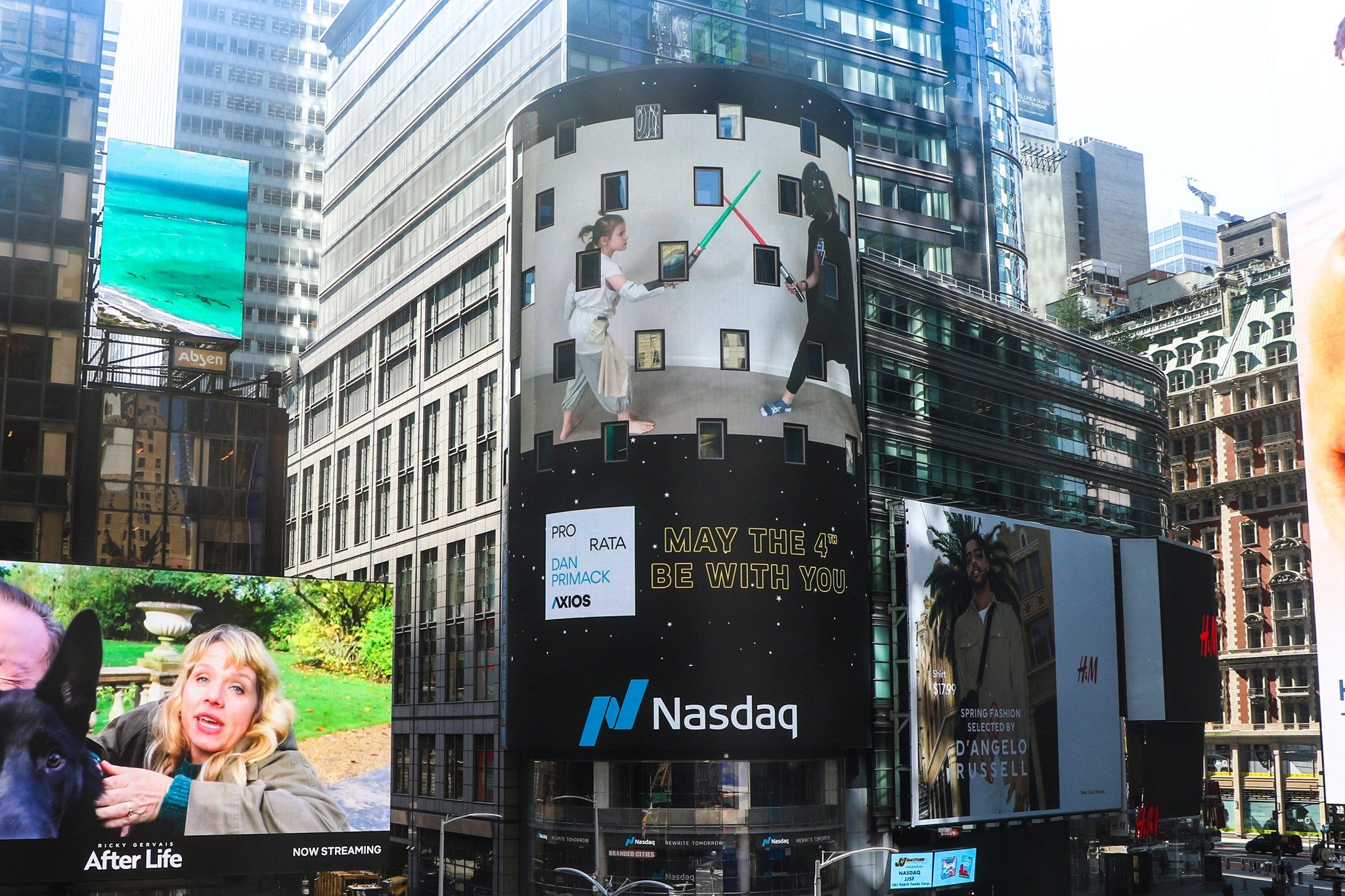 Hard to believe a whole year has gone by. I miss Pro Rata for Kids, and getting your photos each day, but I don't miss the reason it was created...
✔️ Thanks for reading Axios Pro Rata! Please ask your friends, colleagues and Wookies to sign up.
📚 Recommended reading: Seth Levine, a partner with VC firm Foundry Group, today is out with a new book about how entrepreneurship has been redefined by Silicon Valley in ways that are dangerous to the broader economy. In short, he argues that American entrepreneurship is dying. Check it out.