Axios Pro Rata
May 30, 2019
Thanks for reading Axios Pro Rata. If this was forwarded to you, please subscribe.
Top of the Morning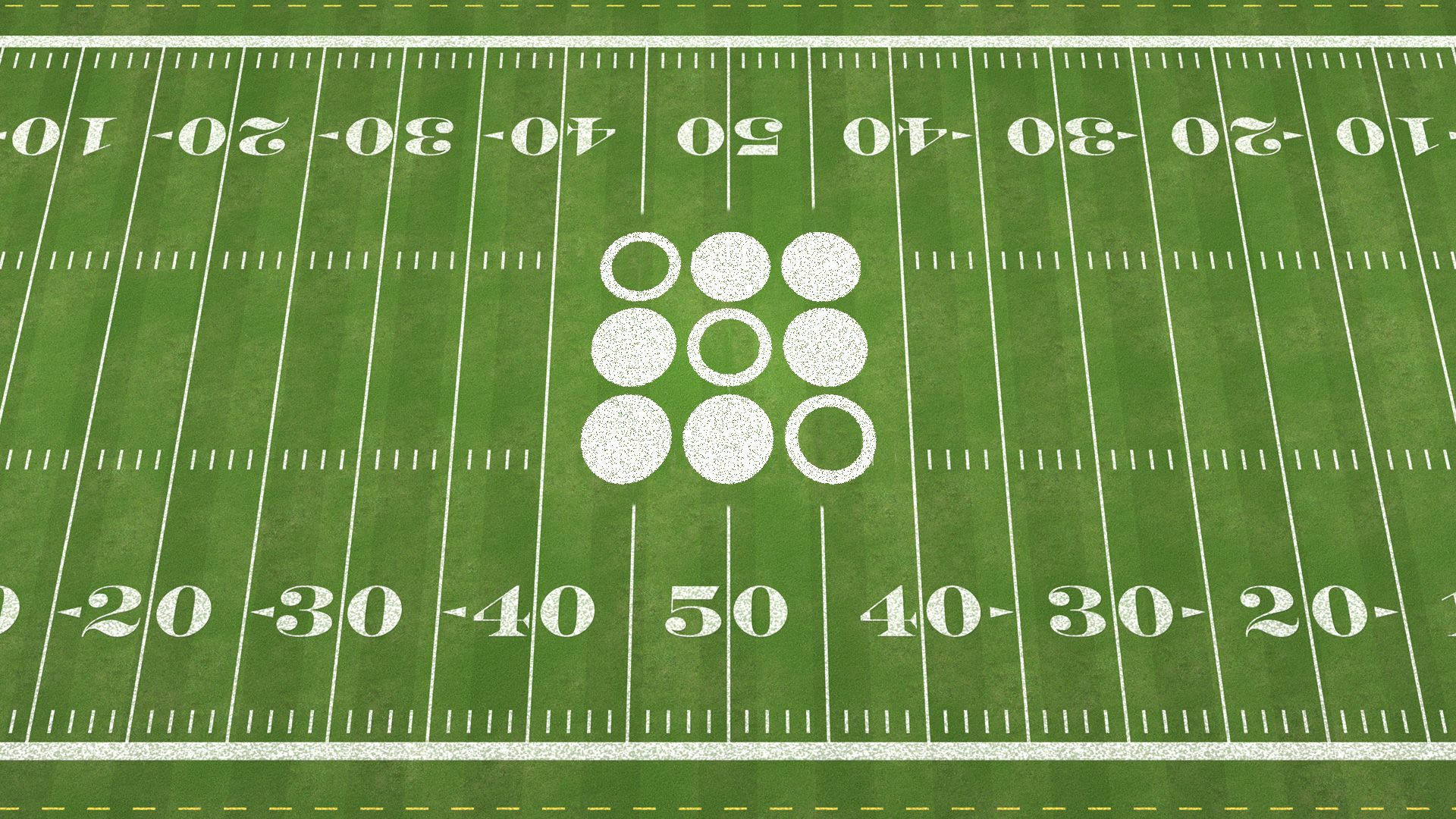 Yesterday was pretty hectic for the PR team over at personal finance upstart Sofi.
First, the company announced over $500 million in new equity funding led by Qatar Investment Authority at a $4.3 billion pre-money valuation. Existings investors Silver Lake and SoftBank also participated, as did SoFi CEO Anthony Noto.
Second, there were reports that SoFi is finalizing a 20-year, $400 million naming rights deal with the Los Angeles stadium that will house the NFL's Rams and Chargers.
The fundraise
It's a down round. Not only from the Series G infusion in 2017, but also from the Series F round in 2015.
We know this based on a Delaware stock authorization filing uncovered by Prime Unicorn Index.
SoFi didn't really need the money, given that it already had a balance sheet of around $1.7 billion.
So why raise a seemingly unnecessary down round?
Qatar Investment Authority had been trying to invest since at least 2017, and SoFi felt it made sense to further diversify its deep pockets.
Extra balance sheet heft is a hedge against a market downturn, particularly if SoFi can't so easily find buyers for its loans.
Online lending is a very challenged business, judging by either other companies' share prices (LendingClub, OnDeck, etc) or SoFi's own loan volume (which has decreased, even though margins are said to be up). Plus, student loan refi isn't much of a repeat customer business.

So the extra cash will help SoFi continue to expand new products like deposit, investing and crypto — with a belief that college loan refi will eventually become a feature product, but not the company's core product.
The stadium
The reports have not yet been confirmed by the company, the teams or the league. But I've been told that they are directionally correct.
If it's really $20 million per year for 20 years, it seems to be a fair price.

The best comp is MetLife Stadium, given that it's also in a major media market and houses two NFL teams.
That deal, signed in 2011, was for between $17 and $20 million per year, for 25 years.

Opinions on the prudence of companies paying anything to put their brands on stadiums are as varied as opinions on the prudence of taxpayers shelling out for stadiums that are supposed to spur economic development.

If it comes through, SoFi would be the first privately-held tech company with its name on a major U.S. sports stadium.
The BFD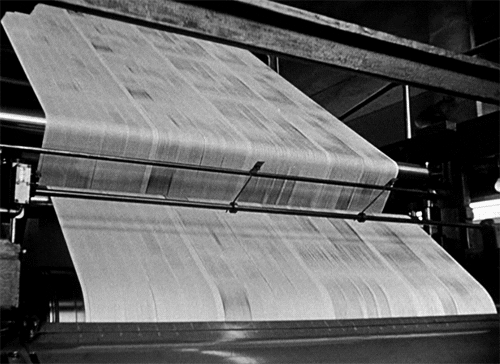 KKR is in talks to take German publisher Axel Springer private, likely via a public tender offer in partnership with CEO Mathias Doepfner and Friede Springer (widow of founder Axel Springer). The news sent shares soaring, putting the company's market cap at around $6.6 billion.
Why it's the BFD: Because private equity has spent more than a decade avoiding legacy print media, unable to financially engineer its way around busted ad and subscription models. And the transition to digital —where Axel Springer now generates around three-quarters of its revenue — hasn't proven much more appealing. This transaction, plus the recent PE-backed deal for Sports Illustrated, could signal a trend reversal.
Bottom line: "A buyout of minority investors would see Axel Springer join Bertelsmann in being shielded from the scrutiny of public markets. With KKR on board, it could also make it easier for the company to fund acquisitions and capitalize on a bout of turmoil and retrenchment in the digital media industry." — Aaron Kirchfeld, Bloomberg
Venture Capital Deals
• Dashlane, a New York-based provider of credential and digital identity management software, raised $110 million in Series D funding. Sequoia Capital led, and was joined by return backers Rho Ventures, FirstMark Capital and Bessemer Venture Partners. http://axios.link/QMWB
🚑 Thrive Earlier Detection, a Cambridge, Mass.-based startup focused on integrating earlier cancer detection into routine medical care, raised $110 million in Series A funding. Third Rock Ventures led, and was joined by Section 32, Casdin Capital, Biomatics Capital, BlueCross BlueShield Venture Partners, Invus, Exact Sciences, Cowin Venture, Camden Partners and Gamma 3 LLC. www.thrivedetect.com
• SmartRecruiters, a San Francisco-based recruiting platform, raised $50 million in Series D funding. Insight Partners led, and was joined by Mayfield and Rembrandt Venture Partners. http://axios.link/n1CK
🚑 EndoGastric Solutions, a Redmond, Wash.-based developer of an incisionless procedural therapy for gastro-reflux disease, raised $45 million in Series I funding from Accelmed. It previously raised over $260 million. http://axios.link/3TiV
🚑 Whole Biome, a San Francisco-based microbiome startup, raised $35 million in Series B funding. Sequoia Capital led, and was joined by fellow insiders True Ventures, Khosla Ventures, Mayo Foundation and AME Cloud Ventures. www.wholebiome.com
• Kurly, a South Korean online grocer, raised $25 million in new Series D funding (round total $113m) from Hillhouse Capital. Existing backers include Global Venture Partners and Sequoia Capital China. http://axios.link/IdT1
• OwnBackup, an Israeli provider of cloud-to-cloud backup and restore vendor solutions, raised $23 million in Series C funding. Insight Partners and Vertex Ventures co-led, and were joined by return backers Innovation Endeavors, Orzyn Capital and Salesforce Ventures. www.ownbackup.com
• Equalum, an enterprise data movement management startup, raised $18 million in Series B funding. Planven led, and was joined by United Ventures and return backers Innovation Endeavors and GE Ventures. http://axios.link/dcCg
🚑 Welkin Health, a San Francisco-based provider of patient relationship management software, raised $17.5 million in Series B funding. Altos Ventures led, and was joined by return backers Thrive Capital, Red Swan Ventures and Asset Management Ventures. http://axios.link/HunK
• Mission, a Los Angeles-based provider of AWS managed services and consulting, raised $15 million from Great Hill Partners. http://axios.link/2nYB
• eSUB Construction, a San Diego-based provider of field data collection and project management software for contractors, raised $12 million in Series B funding. Catalyst Investors led, and was joined by return backer Revolution Ventures. http://axios.link/GegY
• XStream Trucking, a Redwood City, Calif.-based developer of connected hardware for commercial vehicles, raised $10.5 million in Series A funding. Autotech Ventures and Calibrate Ventures co-led, and were joined by seed backers Uncork Capital, Root Ventures, FusionX and Tandem Capital. http://axios.link/4Uqz
• Sitetracker, a Palo Alto-based project, asset and work management platform for infrastructure companies, raised $10 million in new Series B funding from Energize Ventures (round total $34m). www.sitetracker.com
• ChargeAfter, an Israeli provider of customer credit and financing solutions for retailers, raised $8 million in Series A funding. Propel Venture Partners led, and was joined by Pico Ventures, Plug and Play and Synchrony. http://axios.link/hAvT
• Yapily, a London-based maker of an API for connecting enterprises to banks, raised $5.4 million in seed funding co-led by HV Holtzbrinck Ventures and LocalGlobe. http://axios.link/VLbJ
• Pico, a CRM for media companies, raised $4.5 million in seed funding. Precursor Ventures and Stripe co-led, and were joined by Bloomberg Beta, Village Global and Axel Springer. http://axios.link/D0Go
Private Equity Deals
• Aberdeen Standard Investments agreed to buy the Carlsbad, Calif. desalination plant for more than $1 billion from an affiliate of Stonepeak Infrastructure Partners and Brookfield Infrastructure Partners, per Bloomberg. http://axios.link/03gQ
• Crestview Partners acquired Concours Mold, a Canadian maker of steel molds and tooling for the automotive and consumer sectors. www.concoursmold.com
• Genstar Capital acquired Prometheus Group, a Raleigh, N.C.-based provider of plant maintenance operations and optimization software, from Francisco Partners for over $1 billion. www.prometheusgroup.com
🚑 Golden Gate Capital agreed to buy a 51% stake in hospital billing software company Ensemble Health Partners from Bon Secours Mercy Health for a reported $1.2 billion. http://axios.link/robE
• Insight Partners acquired a majority stake in Boston-based Recorded Future for $780 million in cash, the highest-ever price for a threat intel firm. Recorded Future had raised nearly $60 million from Insight, Reed Elsevier Ventures, GV, In-Q-Tel, Accomplice VC, MassMutual Ventures, IA Ventures and Balderton Capital. http://axios.link/WRSK
🚑 New Mountain Capital invested in W20, a San Francisco-based provider of marketing communications to the healthcare sector. Sellers include Mountaingate Capital. www.w2ogroup.com
• Smith-Cooper International, a Commerce, Calif.-based portfolio company of Tailwind Capital Partners, completed its purchase of Exeter, N.H.-based pipe fittings company Anvil International from One Equity Partners. www.anvilintl.com
• Sovos, a Wilmington, Mass.-based tax software company owned by HgCapital, agreed to buy Foriba, an Istanbul-based provider of invoice application software. www.fitsolutions.com.tr
• Thoma Bravo agreed to acquire a majority stake in Cority, a Toronto-based provider of environmental, health, safety and quality software, from Norwest Venture Partners (which maintains a minority stake). http://axios.link/axrA
Public Offerings
🚑 Hansoh Pharmaceutical, a Chinese drugmaker, plans to raise up to $1 billion in a Hong Kong IPO, and already has secured $344 million in buyside commitments from investors like GIC and Boyu Capital. http://axios.link/4ZdT
• Watches of Switzerland, a British watch retailer, raised £220 million in its London IPO, at a valuation of £647 million. http://axios.link/IIgY
Liquidity Events
• General Atlantic is in "advanced talks" to sell half its 50% stake in energy information provider Argus, which could be valued at around $2.5 billion, per the FT. http://axios.link/oTGf
⛽ NGP Energy Capital is considering a sale process for Oilfield Water Logistics, a Dallas-based water-gathering and transport company that could fetch at least $600 million, per Bloomberg. http://axios.link/OphL
• Palo Alto Networks (NYSE: PANW) agreed to buy Twistlock, a Portland, Ore.-based container security startup, for $410 million in cash. Twistlock had raised $62 million from TenEleven Ventures, Rally Ventures, YL Ventures, Iconiq and Dell Technologies Capital. http://axios.link/OAIm
• Palo Alto Networks also agreed to buy PureSec, an Israeli serverless security startup that had raised around $10 million from Square Peg Capital, TLV Partners and Entrée Capital. http://axios.link/lR5P
More M&A
• Cypress Semiconductor (Nasdaq: CY) is exploring a possible sale after receiving takeover interest, per Bloomberg. The San Jose, Calif.-based chipmaker has a $6.3 billion market cap. http://axios.link/Np3v
• FirstGroup (LSE: FGP) said it's seeking a buyer for Dallas-based bus operator Greyhound. http://axios.link/nFFP
⛽ Ithaca Energy, a subsidiary of Israel's Delek Group, agreed to buy most of Chevron's (NYSE: CVX) British North Sea oil and gas fields for $2 billion. http://axios.link/TZpS
• Morningstar (Nasdaq: MORN) agreed to buy credit-rating agency DBRS for $669 million. http://axios.link/XNDQ
Fundraising
• Adams Street Partners launched its debut private credit platform with $1.1 billion of capital (including leverage). www.adamsstreetpartners.com
• Brookfield Asset Management is raising $1 billion for a real estate development fund focused on U.S. opportunity zones, per Bloomberg. http://axios.link/flps
• East Ventures of Indonesia raised $200 million for its first growth fund. LPs include SoftBank, Pavilion CapitaI and Indies Capital. http://axios.link/vNO3
• Warburg Pincus is seeking to raise $4.25 billion for its second China and Southeast Asia fund, per the WSJ. http://axios.link/CmXV
It's Personnel
• Institutional Venture Partners promoted Tom Loverro to general partner. www.ivp.com
• Terry Kelly, former president of TA Instruments, joined SFW Capital Partners as an operating partner. www.sfwcap.com
Final Numbers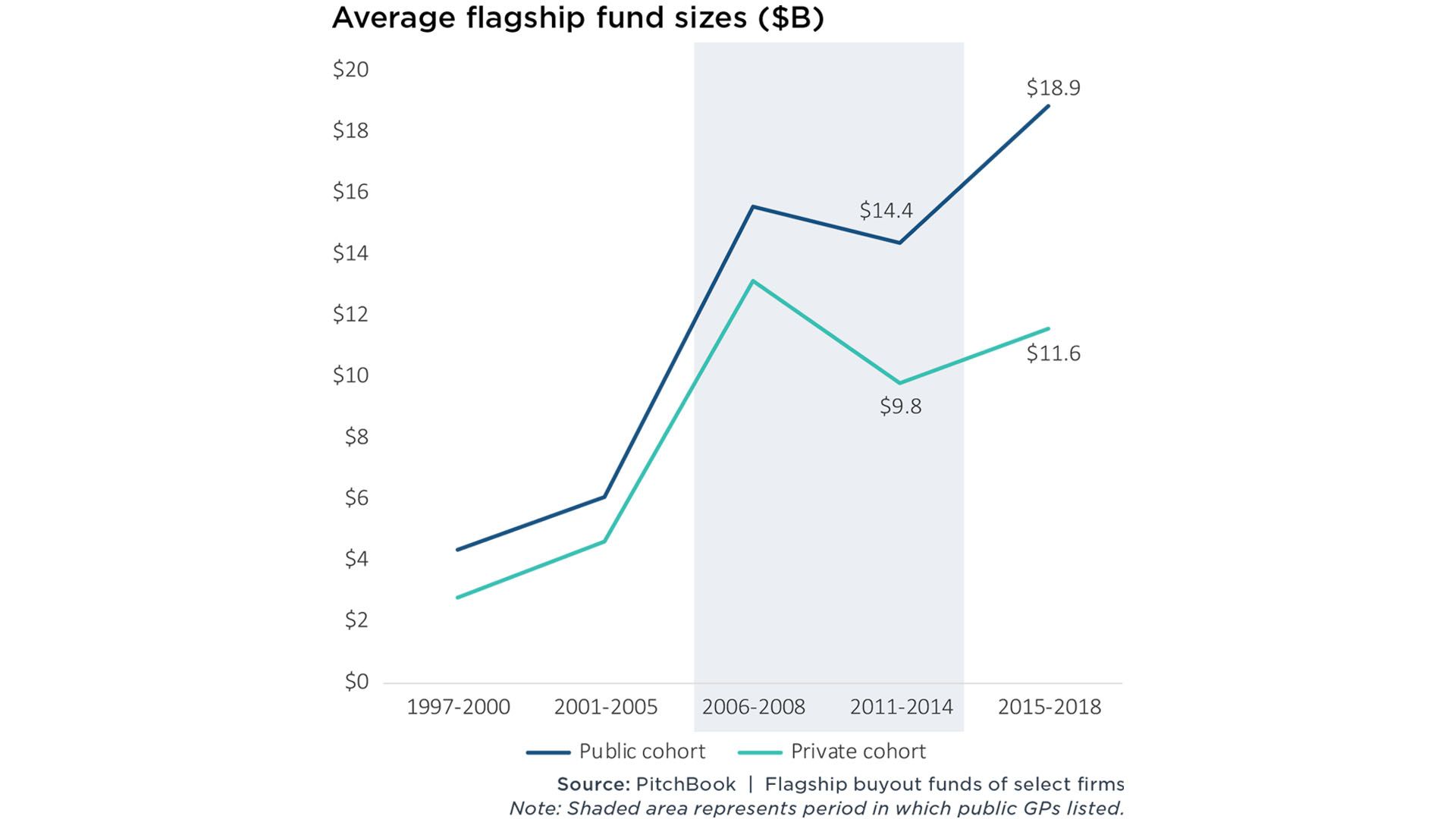 This chart compares flagship fundraising efforts of four publicly-traded buyout firms with four privately-held peers.
The publicly-traded firms were Apollo, Blackstone, Carlyle and KKR.
The privately-held firms were Advent International, Bain Capital, TPG Capital and Warburg Pincus.
The bottom line, per PitchBook:
"The four largest US-based public PE firms have been seeking steeper step-ups for their flagship buyout funds than their privately held peers, appearing to show more aggressive fundraising tactics after going public."
🎧 Pro Rata Podcast gets TurboTaxed, digging into what Intuit knows (and shares) about its users. Plus, federal efforts to create a free tax filing system. Listen here.