Axios Pro Rata
March 12, 2019
Top of the Morning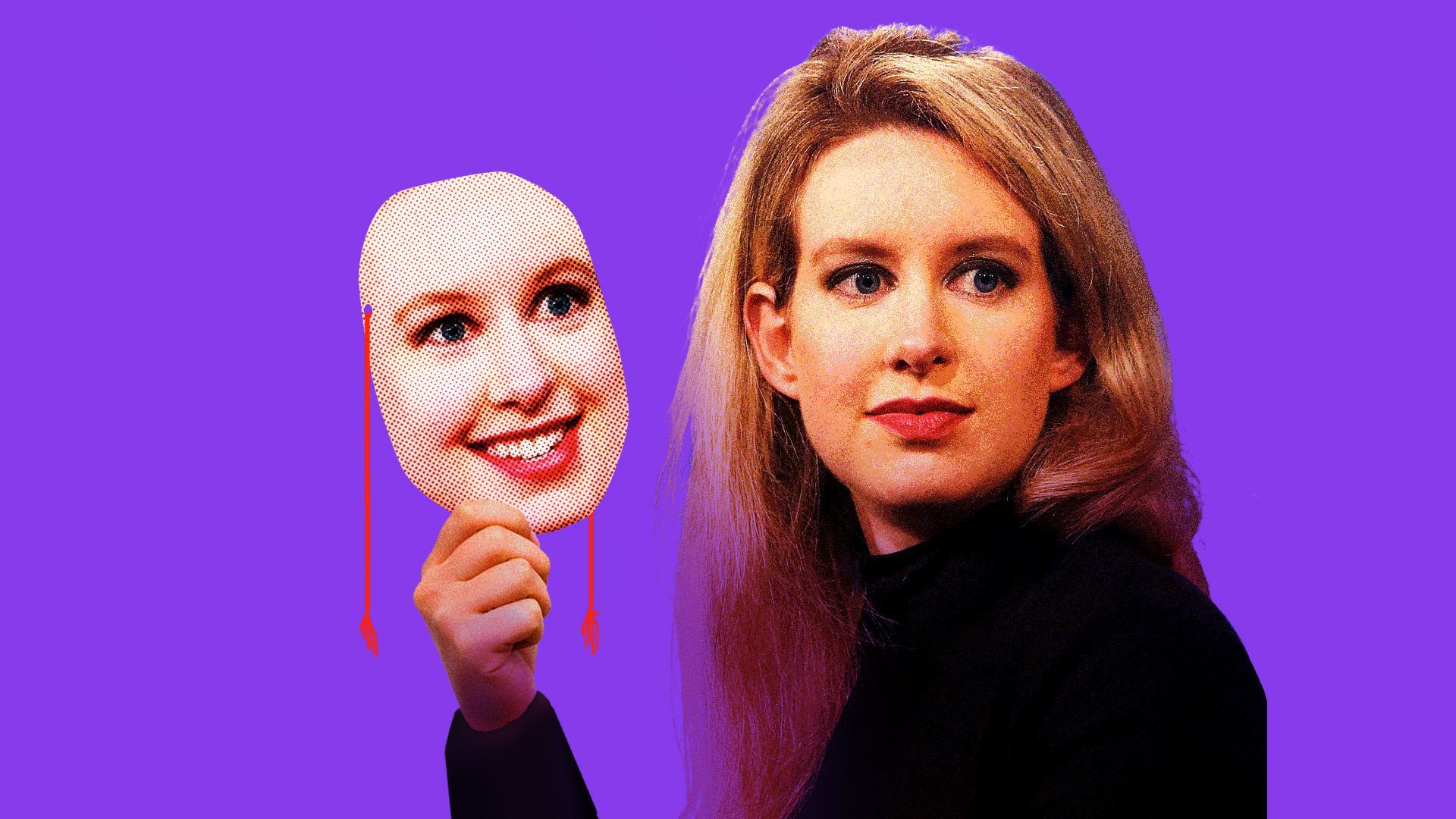 Last night I watched a screener copy of The Inventor, an upcoming HBO documentary from Alex Gibney on the rise and fall of Elizabeth Holmes and her blood-testing company, Theranos.
Gibney is the real deal, having previously done well-received docs on Enron and Scientology. Last night he participated in a panel discussion with Axios' Ina Fried, and you can find highlights here.
Bottom line: It's a smart summary of what happened, but it doesn't present much new information for those who've followed the saga (let alone those who read the brilliant Bad Blood by John Carreyrou, who appears in the doc). Still worth a watch, particularly for some of the previously-unheard audio.
A few things that jumped out:
A reminder that Thomas Edison, for whom Theranos' blood-testing machine was named, was Silicon Valley's original "fake it 'til you make it' entrepreneur.
James Mattis, the former Theranos director who later served as President Trump's Secretary of Defense, was asked by The New Yorker's Ken Auletta to describe Elizabeth Holmes. The first word he used was "integrity."

More from Aueltta, who also spoke to Theranos directors like Henry Kissinger and George Schultz: "They were talking about her as if she were Beethoven."

Tim Draper makes a brief appearance, highlighted by his purple tie with gold Bitcoin logos.
The widow of Ian Gibbons, a Theranos biochemist who killed himself before testifying at a trial that would have threatened Holmes' claim to key patents, said that she never heard from Holmes or the company, save for a request to return confidential documents (which she did).
Carreyrou provided audio of his initial meeting with Theranos attorneys, including David Boies and Heather King. Boies comes off as a hysterical bully.
The documentary's star may be Roger Parloff, my former Fortune colleague who wrote the first major magazine cover story on Holmes.

After reading the first WSJ story, Parloff thought: "All of the 'trade secret' stuff suddenly made sense. It wasn't a trade secret. It was a different type of secret."
Parloff later wrote a mea culpa titled How Theranos Misled Me. Holmes called to complain, specifically requesting that Parloff remove a line about being misled "intentionally." She then allegedly told him that she had never realized he would be writing a long profile in the first place, let alone a cover (even though he spent several days with her, and she sat for an extensive photo shoot).
"This was real lunacy. I realized there was something wrong with her mind."

Flashback: 3 reasons Theranos matters
🎧 The Pro Rata Podcast has returned, with an episode focused on Elizabeth Warren's plans to break up big tech companies. Listen here.
We also posted a special episode featuring an interview with 2020 presidential candidate Pete Buttigieg. We discuss innovation, big tech monopolies, China's AI investments and more. Listen here.
You also can get Pro Rata podcasts via Apple devices, and other platforms like Google Play, Spotify, Amazon Alexa and Stitcher.
The BFD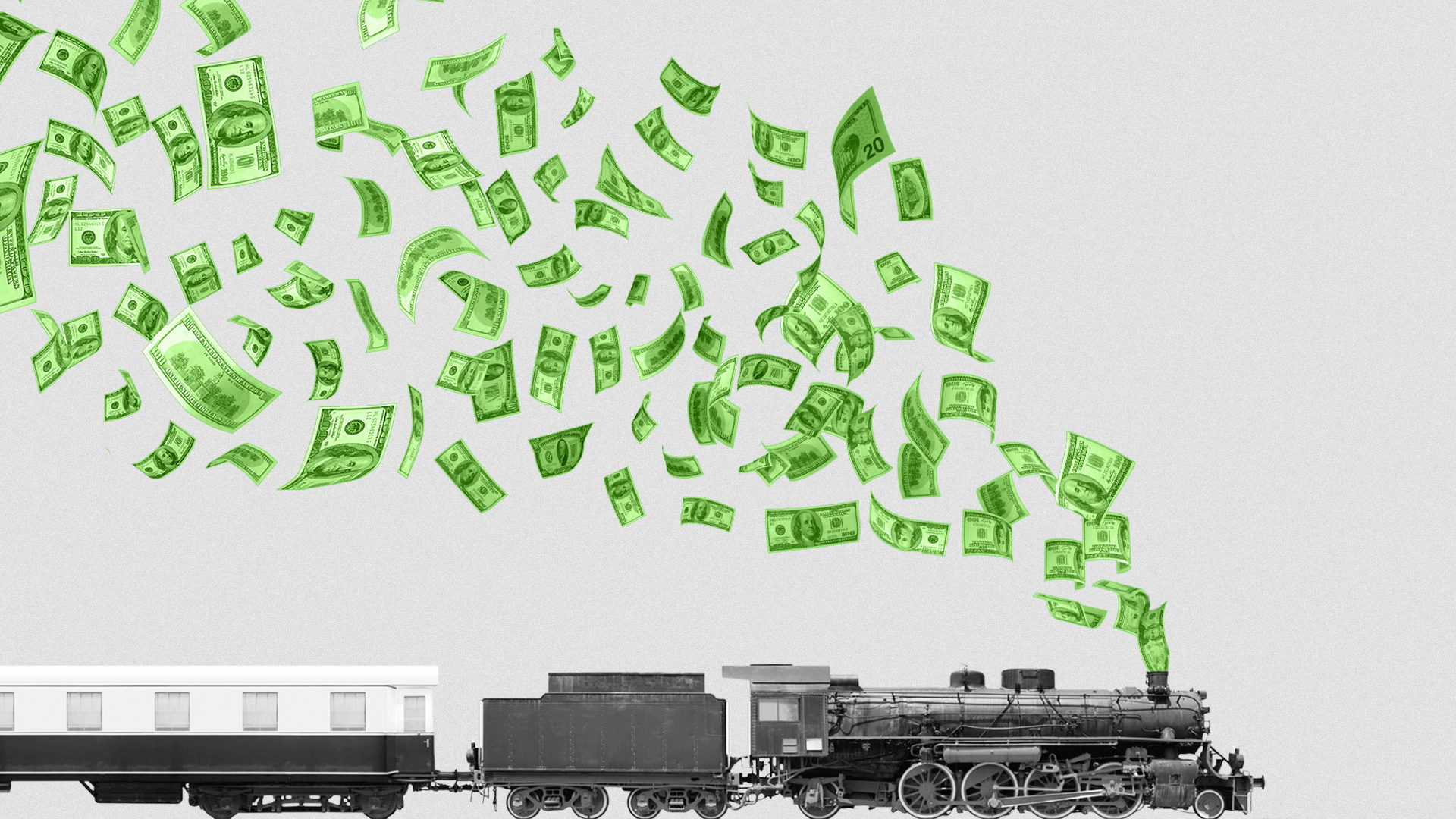 Genesee & Wyoming (NYSE: GWR), a Darien, Conn.-based freight railroad owner and leasor with a market cap of nearly $5 billion, is considering a sale of all or part of itself, per Bloomberg. Potential suitors include Brookfield Asset Management.
Why it's the BFD: Because this reflects how railroads have been winning back market share from trucking companies, which have been stymied by driver shortages and new driver regulations, plus the glut of capital raised for infrastructure funds (i.e. prospective buyers).
Pricing: The company's stock is up 16.9% so far in 2019, although over half of that came after yesterday's Bloomberg report. That said, it remains below trading levels from just last fall.
Bottom line: "Genesee & Wyoming has a history of deals with private investors. In 2012, Carlyle Group agreed to invest as much as $800 million in the company to enable it to acquire RailAmerica. In 2016, Genesee & Wyoming bought Glencore Rail and concurrently sold a 49% stake in that business to Macquarie Infrastructure." — Gillian Tan & Scott Deveau, Bloomberg
Venture Capital Deals
• Impact, a Santa Barbara, Calif.-based provider of partnership automation solutions, raised $75 million in new funding. Providence Strategic Growth led, and was joined by return backer Silversmith Capital Partners. www.impact.com
🚑 InventisBio, a Shanghai-based biotech startup focused on cancer and metabolic diseases, raised $70 million in Series C funding. Advantech Capital and CMBI co-led, and were joined by Pudong Innotek and return backers Lilly Asia Venture and OrbiMed Asia. http://axios.link/V2YM
🚑 Dental Monitoring, a Paris-based provider of remote dental and orthodontic monitoring systems, raised €45 million from Vitruvian Partners. http://axios.link/6Cg8
🚑 HealthJoy, a Chicago-based employee benefits platform, raised $12.5 million in Series B funding. USVP led, and was joined by Epic Ventures, Chicago Ventures and Sidekick Ventures. http://axios.link/BSsY
• StellaService, a New York-based customer feedback platform for online retailers, raised $11 million from Harbert Growth Partners and Zendesk. http://axios.link/x1mP
• Fairygodboss, a New York-based career community for women, raised $10 million in Series A funding co-led by GSV Accelerate and Signal Peak Ventures. http://axios.link/E2vm
• Livly, a Chicago-based developer of digital transformation solutions for multi-family rentals, raised $10 million in seed funding co-led by Pritzker Group VC, Navitas Capital and JLL Spark. www.livly.io
🚑 Unmind, a UK-based provider of a mental health platform for companies, raised £3 million led by Felix Capital. http://axios.link/Azzz
🚑 Olio, a Carmel, Ind.-based online collaboration platform for hospitals and physicians, raised $2.5 million in seed funding led by Innovatemap Ventures. www.olio.health
Private Equity Deals
• Harren Equity Partners invested in Velosio, a Columbus, Ohio-based provider of business management software. http://axios.link/TwzB
• The Hilb Group, a Richmond, Va.-based portfolio company of ABRY Partners, has acquired Marsh-Kemp Insurance Agency, a Worcester, Mass.-based home, auto and business insurance broker. www.hilbgroup.com
🚑 ProPharma Group, an Overland Park, Kan.-based portfolio company of Linden Capital Partners, acquired Southwood Research, a UK-based provider of pre-approval regulatory science services. www.propharmagroup.com
• Tibco Software, a Palo Alto-based portfolio company of Vista Equity Partners, acquired SnappyData, an Indian in-memory data platform. http://axios.link/xb9r
• Tribus Aerospace, a Wilmington, Del.-based portfolio company of Shorehill Capital, acquired Midwest Precision, an Eastlake, Ohio-based precision manufacturer of complex components for markets like aerospace, defense and energy. www.tribusaerospace.com
Liquidity Events
• F5 Networks (Nasdaq: FFIV) agreed to buy NGIX, a San Francisco-based provider of an open-source web server, for around $670 million. NGIX had raised around $84 million from firms like NEA, Goldman Sachs, Runa Capital, Index Ventures and e.Ventures. http://axios.link/ST4a
• News Corp. (Nasdaq: NWSA) has expressed takeover interest in Acuris, the UK-based financial news and data business formerly known as MergerMarket, per the FT. The company is being sold by BC Partners with an asking price north of 1 billion, with other potential suitors including Axel Springer, KKR, EQT, Hellman & Friedman, S&P Global, Moody's and Fitch. http://axios.link/MhO1
More M&A
🚑 Fujifilm agreed to buy the Danish biologics manufacturing operations of Biogen (Nasdaq: BIIB) for around $890 million. http://axios.link/K5XR
• Harvest Health & Recreation (CNXS: HARV) agreed to buy Chicago-based cannabis cultivator Verano Holdings for around $850 million, in what would be the largest U.S. pot deal to date. http://axios.link/Zdyi
• Temasek agreed to buy a 30% stake in Danish engineering firm Haldor Topsoe at an enterprise value of around $1.5 billion, per Reuters. http://axios.link/S0gJ
Fundraising
• 137 Ventures raised $210 million for its fourth fund focused on providing liquidity options to early employees of tech startups. It also hired Ching Wu (ex-Canvas Ventures) as an operating partner and head of investor relations, and promoted Andrew Hansen to COO and CFO. www.137ventures.com
• Five Arrows Principal, the European private equity arm of Rothschild & Co., raised €1.25 billion for its third fund. http://axios.link/55Ul
It's Personnel
• Rob Delaney joined Carrick Capital Partners as a vice president. He was with Accenture before receiving his MBA from Harvard. www.carrickcapitalpartners.com
Final Numbers
Go deeper: Small biz owners are more optimistic, but signal profit pain