November 30, 2022
🐪 It's Wednesday, and we're here to get you over the hump.
Situational awareness: The Sixers visit the surging Cleveland Cavaliers tonight in a matchup of two of the better teams in the Eastern Conference.
Today's newsletter is 860 words, a 3.5-minute read.
1 big thing: Philly's senior homelessness crisis
Philadelphia housing experts warn that a staggering number of seniors are finding themselves homeless later in life.
State of play: In fiscal year 2021, the city reported that more than 3,100 older adults spent time at Philadelphia shelters.
Pathways to Housing executive director Bill Maroon told Axios that nearly 16% of the 500 people the local housing advocacy group has helped shelter were 65 and older.
Why it matters: The organization expects that number to double over the next five years as more older folks leave the workplace.
Philadelphia also cautioned in a report last year that the population of adults aged 55+ experiencing homelessness is expected to grow as Baby Boomers and Gen Xers age.
"It's a major issue that I don't think a lot of people are paying attention to," Maroon said.
Between the lines: Those aged 65 and older make up roughly 13% of the more than 350,000 Philadelphians living below the poverty level, the highest percentage in at least five years, according to the latest U.S. census data.
The big picture: Health care institutions and advocacy organizations are preparing for a wave of people who will reach retirement age in the next few years and compete over already-limited resources for aging Americans, Axios' Naheed Rajwani-Dharsi reports
An estimated 10,000 people turn 65 every day in the U.S., and the population of older adults is expected to double over the next few decades.
Zoom in: Local advocates told Axios that Philly's affordable housing crisis is making it more difficult to find homes for seniors, particularly those living with disabilities.
"They're aging in place, or they don't have a place to age," said Nora Dowd Eisenhower, of the Mayor's Commission on Aging.
Now hiring: New job openings
2. Stat du jour: Philly's disqualified votes
More than 2,600 Philadelphia mail-in ballots didn't count in this month's midterm election because they were undated or incorrectly dated.
The majority came from voters living in communities of color.
The big picture: Flawed ballots were more likely to come from neighborhoods with higher than average nonwhite populations in Philadelphia, as well as in Allegheny and Erie counties, according to an analysis by Voterbeat and Spotlight PA.
How it works: The news organizations examined lists of voters who submitted the flawed ballots in the three areas and compared them with the state's official list of registered voters.
Racial demographics weren't available for individuals, so the outlets used census data by ZIP code to identify communities with higher minority populations.
Context: The state Supreme Court ruled earlier this month that undated and incorrectly dated ballots wouldn't be counted in the Nov. 8 election.
A coalition of voting rights advocates, including state ACLU and NAACP groups, filed a lawsuit against Pennsylvania in federal court prior to the election asking to have such ballots counted statewide.
What they're saying: Philadelphia City Commissioner Lisa Deeley told Axios she disagreed with the high court decision but was bound by it.
"Those voices should be heard. The city commissioners will be actively trying to assist any and all efforts to get these ballots counted. I am hopeful that we will prevail," she said.
3. News Market
🗳️ Two-term City Councilwoman Helen Gym resigned yesterday ahead of an anticipated run for mayor. Her resignation came a day after four new members were sworn in. Gym said "seismic change" is possible for the city. (Inquirer)
🎁 Vendors at the Made in Philadelphia Holiday Market want more security after police said two suspects gained access to the Philly Makers tent in Dilworth Park last week. Authorities haven't said whether anything was taken. Artists argue their livelihood depends on being able to sell their work during the holiday event. (6ABC)
🗞️ Al Día News Media, a bilingual weekly started three decades ago by Hernan Guaracao, is shifting its coverage to adapt to an increasingly digital world. The outlet has hired a half-dozen more journalists over the last year, bolstering its staffing to 15. (Inquirer)
🪴 Did that marijuana-infused edible make you hungry for art offerings? Here's a look at the trippiest murals across Philadelphia. (Billy Penn)
4. 🎨 1 cool thing to go: A floating arts barge
Philadelphia Contemporary is keeping artistic dreams afloat.
Driving the news: The arts organization is planning to build a two-story, 15,000-square-foot gallery that will float on the Delaware River, first reported by Rising Real Estate.
The floating gallery is being designed by the firm Atkin Olshin Schade Architects and will be constructed on a barge that will be moored between Cherry and Race streets.
The building will be powered by solar panels and house a lobby, guest services, galleries, performances spaces, classrooms, a cafe and more.
Timeline: Wooder Ice reports that design, permitting and construction could take more than two years to complete.
What they're saying: Harry Philbrick of Philadelphia Contemporary told Axios the new digs will serve as permanent headquarters for the "nomadic" organization.
"The Philadelphia Contemporary team is engaged in fundraising efforts to bring this vision to life, while continuing to put on free programming around the city," he said.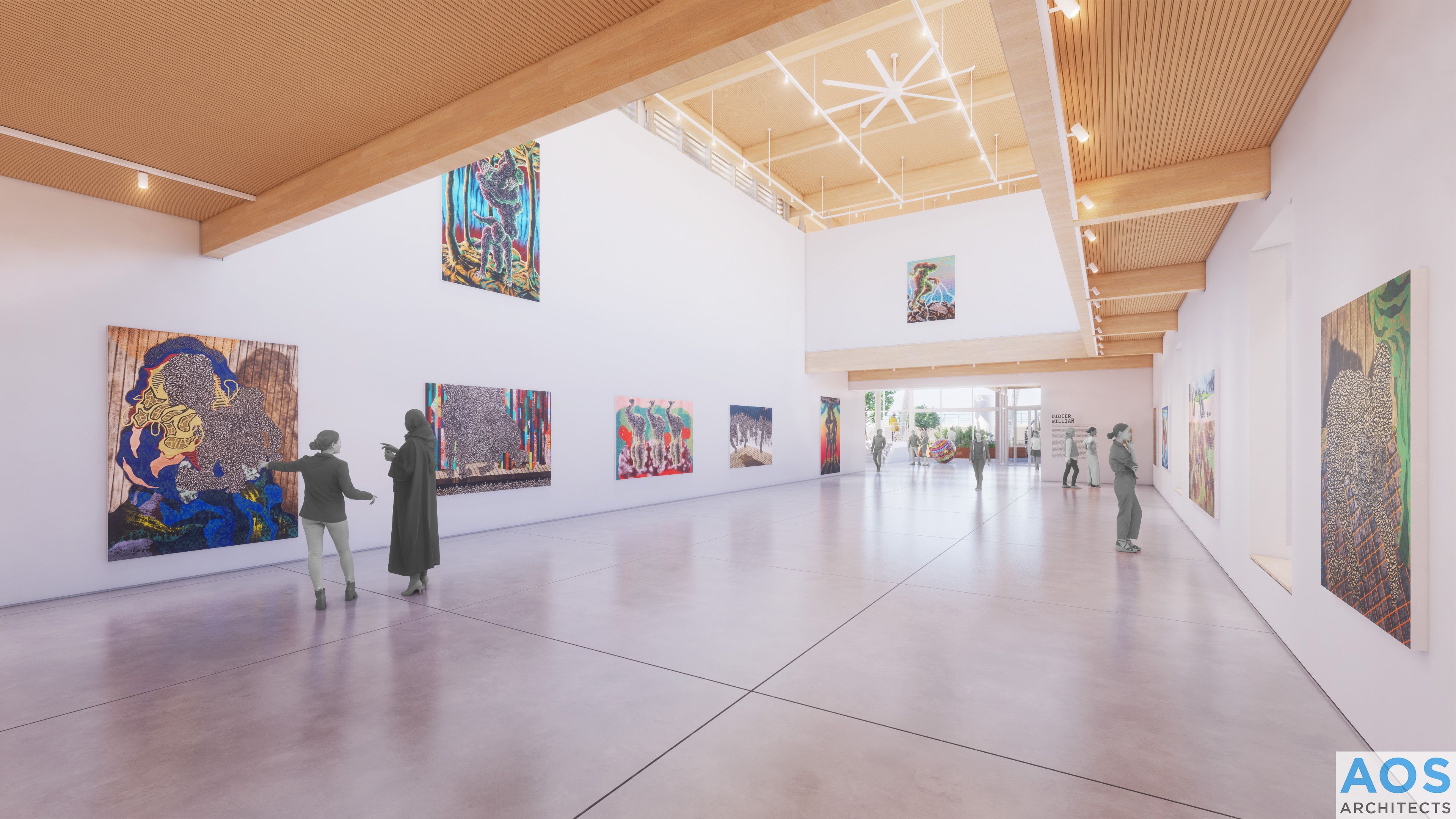 🧠 Isaac is seeking creative inspiration.
🏝 Mike is out of office.
Today's newsletter was edited by Alexa Mencia.