Axios Navigate
March 12, 2021
Welcome back! Thanks for reading. Feels like spring, eh?
Breaking: Lordstown Motors' newly issued stock is down 20% after short seller Hindenburg Research released a report claiming it "misled investors on both its demand and production capabilities," CNBC reports.
Smart Brevity count: 1,541 words, a 6-minute read.
1 big thing: The rise of the COVID jet set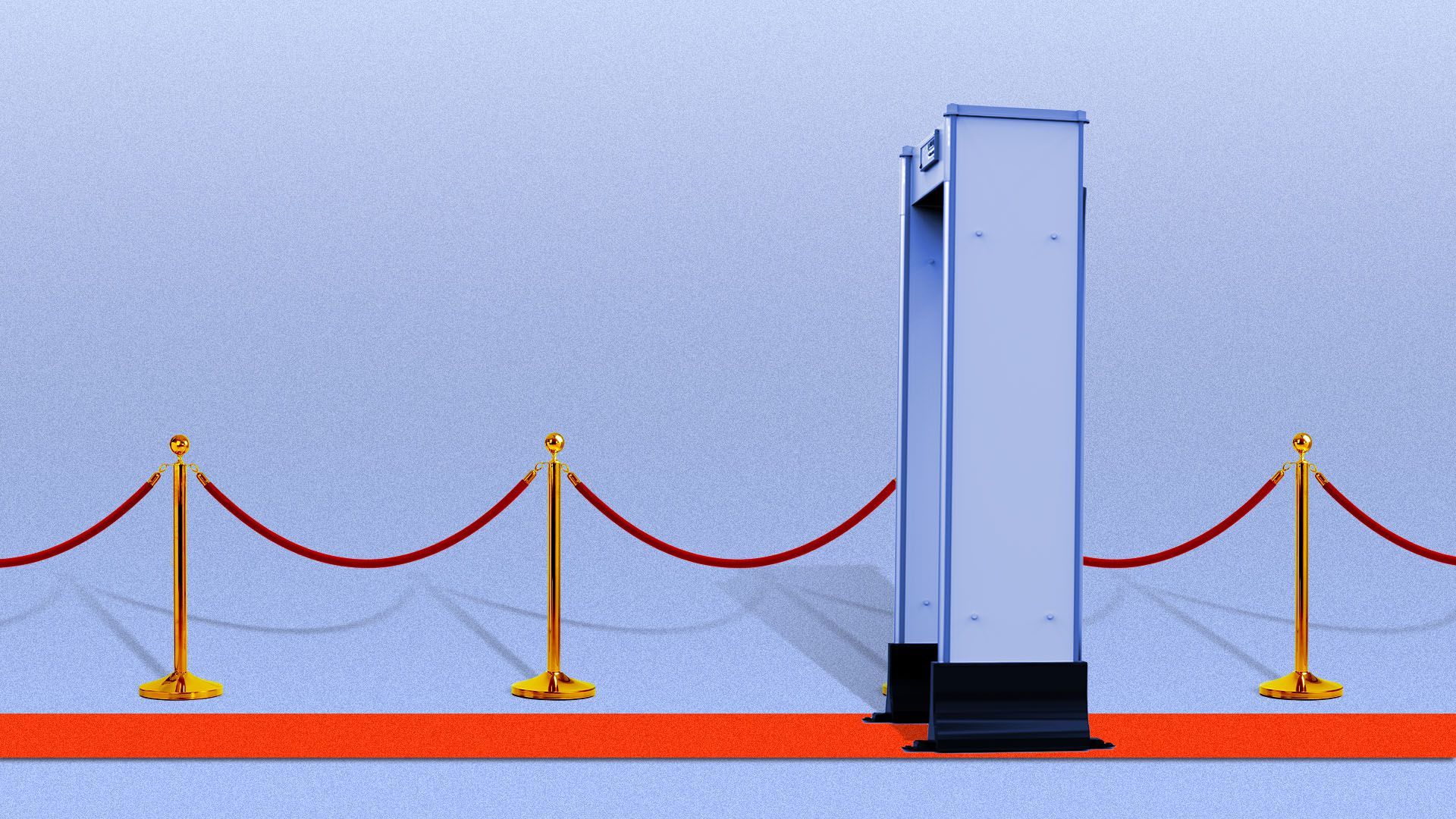 Commercial airlines might be struggling, but small private jets are busier than ever, especially in Florida and other Sunbelt destinations.
The big picture: Untethered to their homes and offices during the pandemic, the wealthy are escaping to vacation homes and ski resorts — and paying handsomely to avoid commercial flights.
The private COVID getaways helped offset a collapse in corporate flights over the past year.
Now private jet companies are hoping those leisure travelers will be hooked on the convenience even after the pandemic subsides.
Why it matters: Layered on top of a resumption in corporate flights, the leisure boom could mean a big growth spurt ahead for the typically stable private aviation sector.
Driving the news: Investors see plenty of promise in private jet travel, otherwise known as business aviation, and experts predict more consolidation ahead for the fragmented industry. A few examples:
Wheels Up, an on-demand service that matches fliers with available aircraft, is going public in a SPAC deal that values the company at $2 billion — more than twice its 2019 value.
Vista Global, parent of subscription-based XO jet service, is acquiring Apollo Jets, a leading air charter provider.
Aero Technologies, a "semi-private" luxury jet startup from Uber co-founder Garrett Camp, raised $20 million in Series A funding earlier this month. It's offering $1,250 one-way flights from Los Angeles to Aspen and plans to add more routes soon.
Between the lines: Small planes — four to seven passengers — are the busiest, with fourth quarter departures down only about 10% from pre-pandemic levels, according to David Wireman, head of Alix Partners' aviation practice. "That's people flying their families around."
Flights on larger jets — the 10- or more seaters used by corporations — are down as much as 26%. Commercial airlines, by comparison, are still seeing passenger traffic 55% below pre-pandemic levels.
"We went from being a bit of luxury to now being a utility," Sentient Jet CEO Andrew Collins tells Axios. His company sold $450 million worth of its pre-paid Jet Cards in 2020, 50% more than usual.
The intrigue: It hasn't yet translated into increased deliveries for plane manufacturers, but sales of preowned business jets soared 13% in 2020, notes independent aviation consultant Brian Foley.
What to watch: Innovations like the on-demand apps that have made booking a private flight almost as easy as hailing an Uber will continue, predicts Wireman.
Yes, but: The popularity could be short-lived for those whose wallets stretched in order to book private planes in 2020, counters Foley.
"I feel that as soon as the airlines are perceived as safe again, a lot of those people will run back and look for their Economy Plus upgrade."
2. Commercial air travel still hasn't recovered
Passenger traffic at U.S. airports remains far below normal, but growing vaccination rates and an improving economy are leading to pent-up demand for travel, experts say.
Where it stands: A year into the pandemic, domestic air travel is 55% below pre-pandemic levels, while international travel is down 71%.
Delta Air Lines is the only U.S. carrier still blocking middle seats as a way to limit capacity (through April).
Meanwhile, Emirates Air now lets Economy Class customers pay $55 per empty seat to avoid sitting next to a stranger.
What to watch: Surveys show there's a growing willingness to travel once the virus is contained, according to the International Air Transport Association.
But government quarantines are "a showstopper," says the group's CEO, Alexandre de Juniac.
Global airlines are pushing for countries to enact a standardized digital health pass that would allow travelers to present their vaccine or COVID-19 testing status before boarding.
Over 130 countries today require a negative COVID test to fly.
3. Tesla's "full self-driving" double talk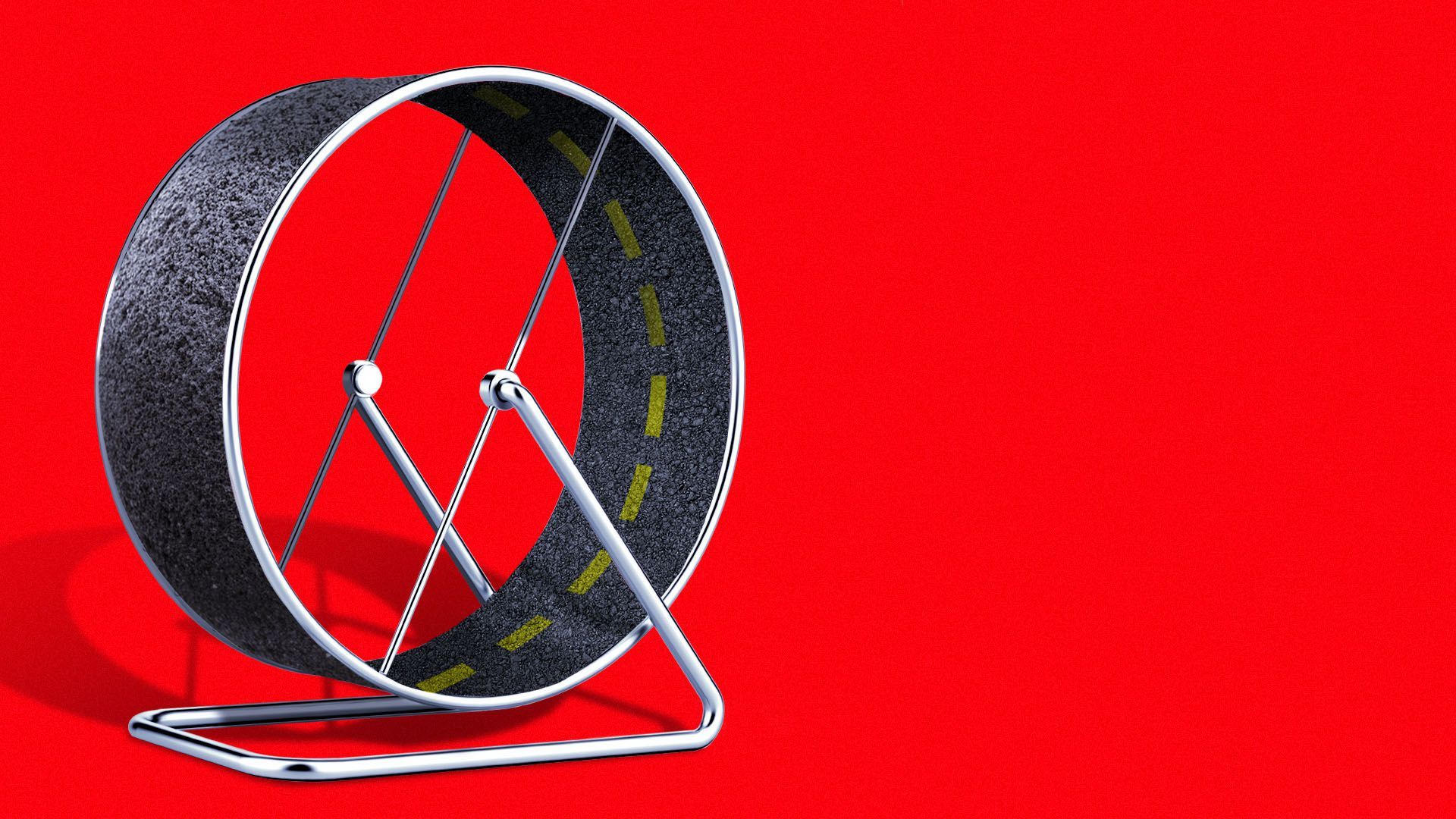 Tesla recently told California regulators that the "Full Self-Driving" beta software it's testing with select customers doesn't make them autonomous — nor will it any time soon.
Why it matters: The company is charging $10,000 extra for the not-really-self-driving, might-arrive-someday addition to its standard Autopilot adaptive cruise-control and lane-keeping feature.
Meanwhile, CEO Elon Musk is selling investors on the notion that its full self-driving tech will enable Teslas to become money-generating robotaxis.
My thought bubble: Tesla has one message for customers and investors, and another one for legal authorities.
Catch up fast: Legal transparency website PlainSite this week released a year's worth of correspondence between Tesla lawyers and the California Department of Motor Vehicles, which regulates autonomous vehicles.
The agency had been pressing Tesla for details about the technology's evolving capability since late 2019 while reminding the company that it does not have a permit to deploy autonomous vehicles in California.
Details: In one November 2020 letter, Tesla emphasized that its FSD beta software had limited functionality.
The software is "not capable of recognizing or responding" to "static objects and road debris, emergency vehicles, construction zones, large uncontrolled intersections with multiple incoming ways, occlusions, adverse weather, complicated or adversarial vehicles in the driving path, and unmapped roads."
In a December follow-up, Tesla reiterated that its FSD capability, including a City Streets pilot feature, did not make the vehicles autonomous.
The kicker: Even when fully released to all customers, the FSD system "will continue to be an SAE Level 2, advanced driver-assistance feature."
Translation: Tesla's "full self-driving" system isn't designed to drive itself, and an attentive human driver must always be in control.
What they're saying: The DMV told Forbes it continues to gather information on the rollout of Tesla's software but would not comment on whether the agency thinks the company's "full self-driving" terminology is misleading for customers.
Consumer groups and safety advocates have repeatedly hit Tesla for overselling the capabilities of its Autopilot feature, including the "full self-driving" option.
The bottom line: Musk's already-missed goal to have a million Tesla robotaxis on the road by 2020 seems less likely than ever.
4. Waymo study: Robot drivers would avoid crashes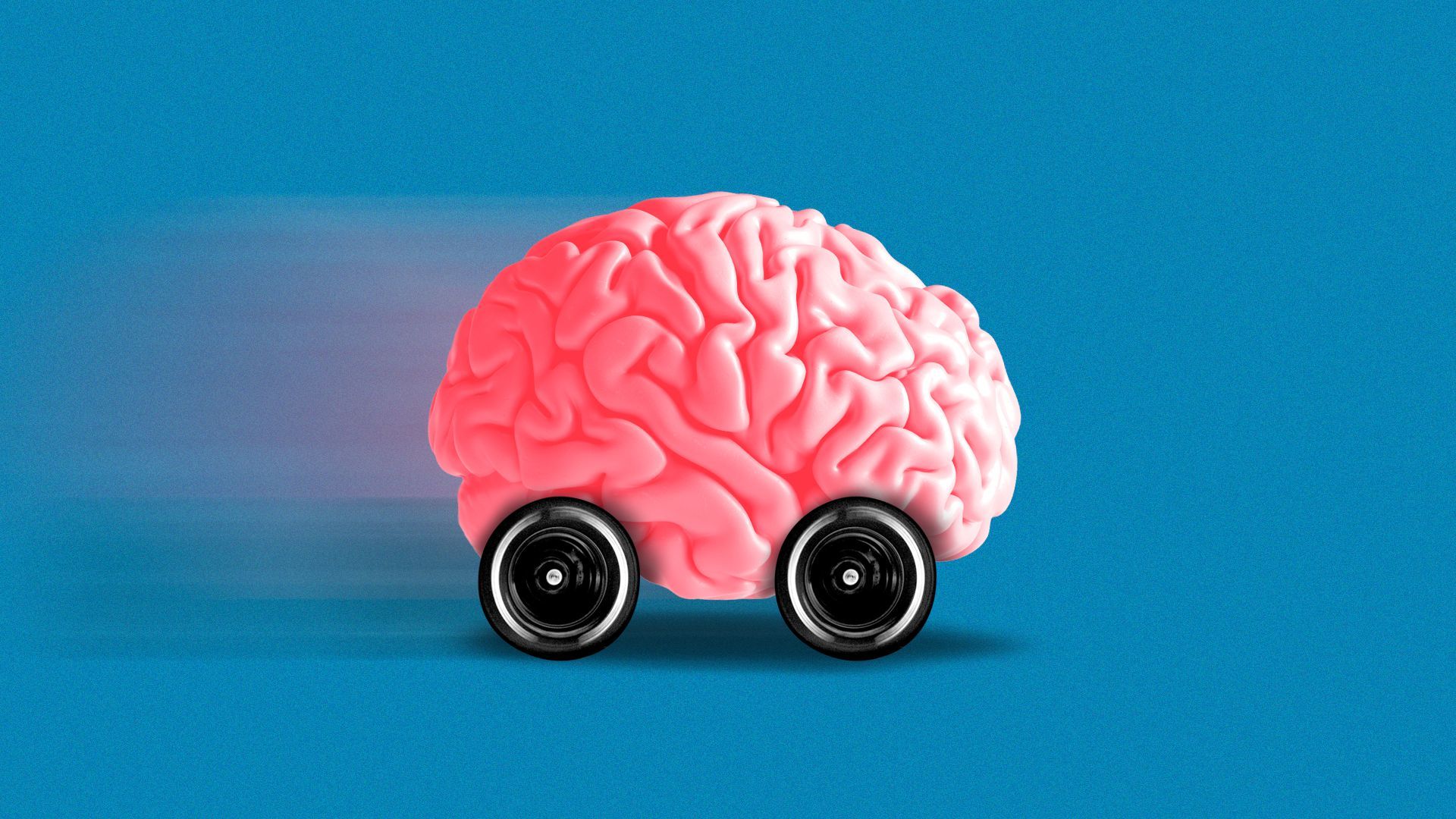 Waymo, which pointedly stopped using the term "self-driving" to describe its technology this year, has released a study intended to prove that its robot drivers are safer than humans.
Why it matters: With about 40,000 Americans dying in vehicle accidents every year, AV operators are trying to convince consumers and regulators that autonomous vehicles would make the roads safer.
What they did: Waymo, which operates a limited driverless taxi service near Phoenix, reconstructed 72 fatal accidents that occurred over the past decade in its geo-fenced operating area.
It then fed the data from those real-life crashes into its simulation system, and substituted the "Waymo driver" for the human driver.
What they found: Waymo's autonomous technology avoided or mitigated collisions in almost all cases.
When the Waymo driver replaced the "instigator" of the accident — a drunk driver speeding through a red light, for example — the crash was avoided because the robotaxi is engineered to obey the law.
When the Waymo driver replaced "the responder" — someone reacting to a bad driver — its perception systems anticipated the situation earlier and responded to avoid it.
The few instances where the Waymo driver couldn't avoid the accident was where it was struck from behind.
Waymo explains more in this blog post.
Be smart: Waymo's research is helpful, but not definitive.
A study last year by the Insurance Institute for Highway Safety found that autonomous systems — because they can see better than humans — can be expected to prevent about one-third of highway crashes.
The other two-thirds are caused by "predicting" or "deciding" errors, and AVs can't avoid these if they drive too much like humans.
Instead, they must be specifically programmed not just to obey laws but also to prioritize safety over speed and convenience.
That could mean intentionally crawling through high pedestrian traffic or in low-visibility conditions.
The bottom line: AVs could be safer — and slower.
5. Driving the news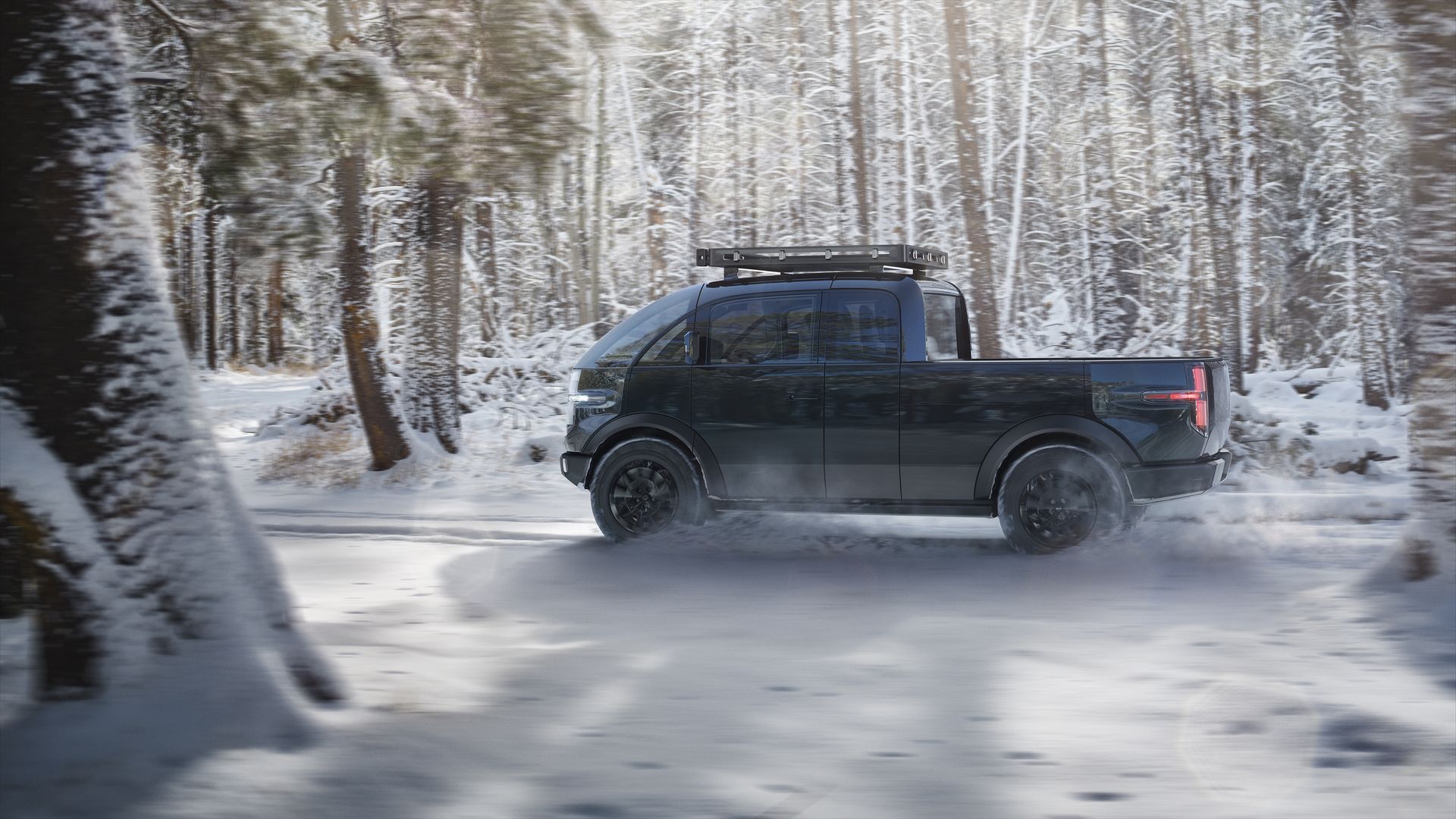 Canoo unveils what might be the world's cutest electric pickup (Peter Valdes-Dapena — CNN Business)
Why it matters: With no engine under the hood, electric vehicles free designers to reimagine cabin space and utility, and that's what the EV startup Canoo did with its cab-forward truck design.
LG to invest $4.5 billion to expand battery capacity in U.S. (Gabrielle Coppola and Heesu Lee — Bloomberg)
Details: The Korean battery maker said it will build two factories and hire 10,000 workers by 2025 to meet growing demand for electric vehicles. That's in addition to two joint venture battery factories it's planning with GM.
The 20 women who've changed the automotive world (Paul Eisenstein — The Detroit Bureau)
Why it matters: In honor of International Women's Day, these are 20 of the most important women in the auto industry, from Bertha Benz and actress Hedy Lamarr to GM CEO Mary Barra.
6. What I'm driving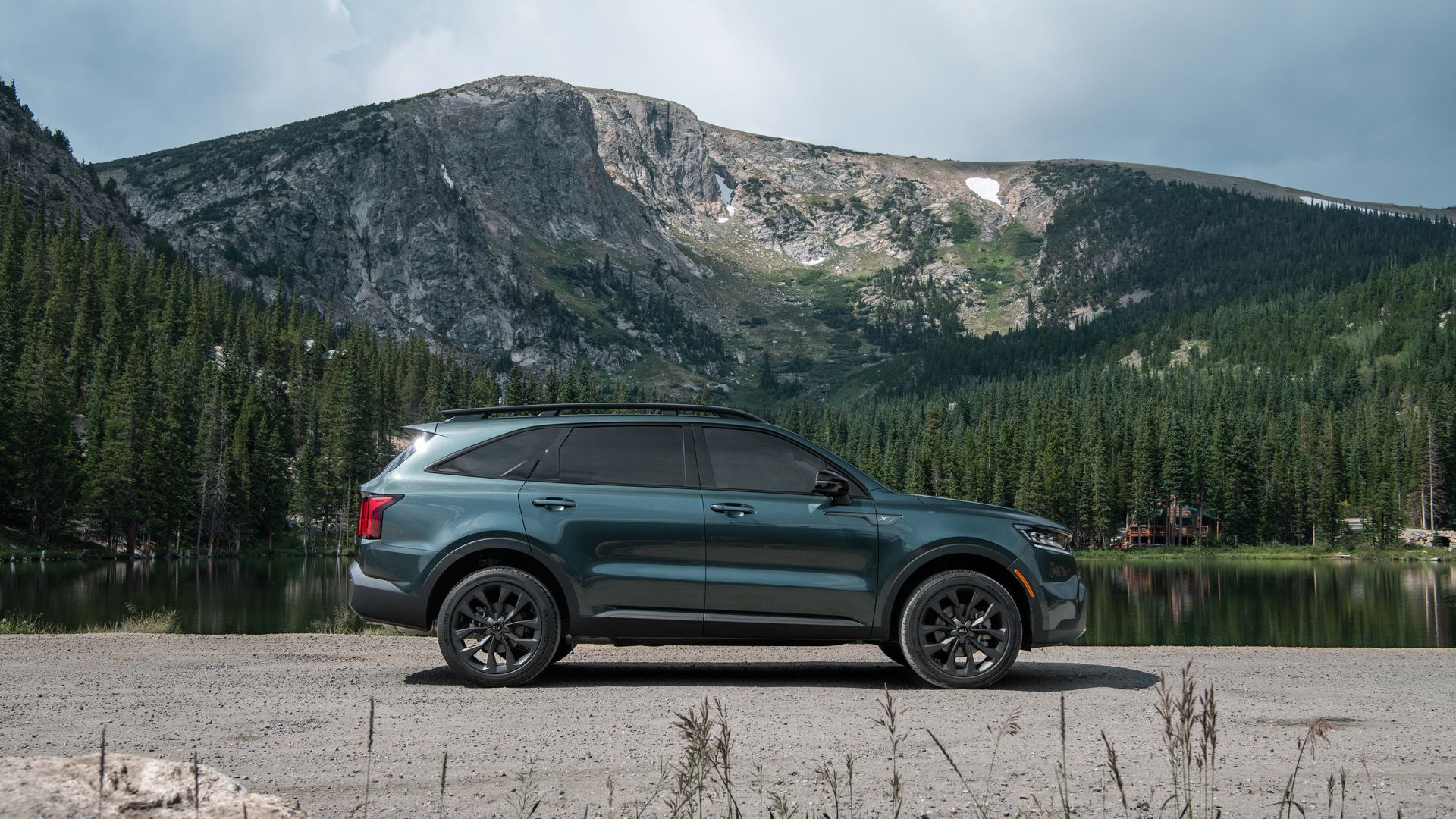 Kia's new mid-sized 2021 Sorento is one of the most affordable three-row SUVs on the market.
The big picture: The new Sorento is handsome inside and out, a solid family car that fits in between Kia's outstanding Telluride and compact Sportage.
It offers two very capable four-cylinder engine choices and a 37-mpg hybrid option. A plug-in hybrid, with 261 horsepower and 30 miles of gas-free driving in-town, will come later.
What you'll pay: Prices for the Sorento start at $29,390 (before the $1,170 destination charge) and top out at $42,590 for the all-wheel-drive X-Line model I drove.
The Sorento Hybrid begins at $33,590.
Tech features: It comes standard with an 8-inch touchscreen or an optional 10.3-inch touchscreen and a wireless charging pad for your phone.
Four cameras provide a 360-degree view around the vehicle to help in tight parking situations.
Cameras also project a live video of blind spots when turning.
Two cool new features: A Kia app on your phone helps locate your car using the car's cameras to capture images of its surroundings.
The app can also provide "last mile" walking directions to the driver's final destination.