Axios Navigate
December 11, 2020
Happy Friday! If you haven't shipped your holiday gifts yet, you might find yourself competing with vaccine deliveries. Read on.
Today's Smart Brevity count: 1,370 words, a 5-minute read.
1 big thing: Delivering holiday gifts — and vaccines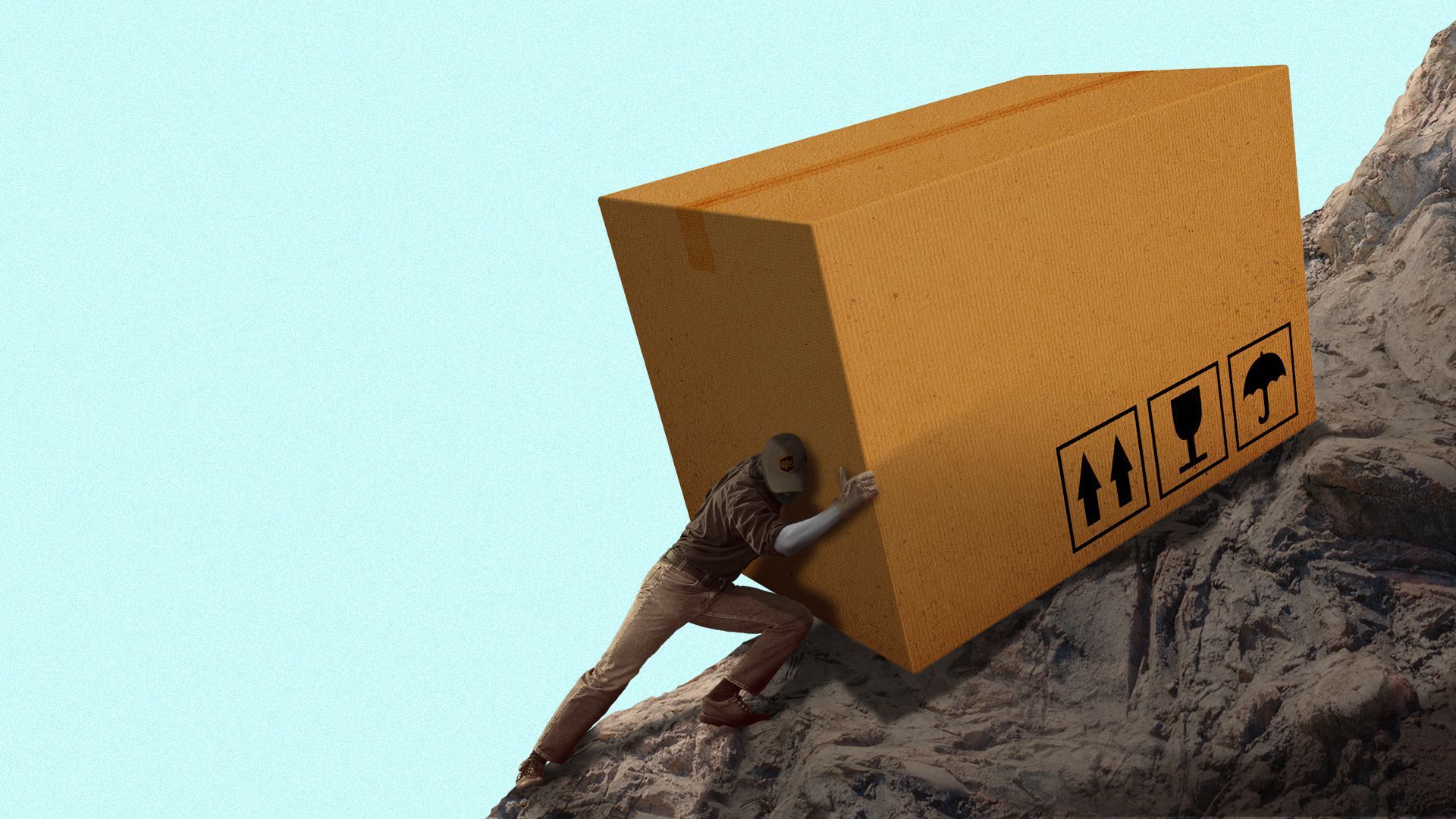 This year, delivery companies are facing two heavy lifts at once: meeting unprecedented demand for holiday shipping while orchestrating complex logistics for COVID-19 vaccine distribution.
Why it matters: Even with big investments in technology, infrastructure and new hires, the networks of experienced shipping giants like UPS and FedEx can only handle so much capacity — and 2020 is testing those limits.
If their systems get overloaded, something has to give, and it's likely to be that last-minute gift you ordered.
"Customers need to realize that [companies] are required to — and should — give priority to the vaccine over your Christmas gift because there's a life being lost every minute if that vaccine is delayed," said Satish Jindel, president of ShipMatrix, a logistics data and consulting firm.
FedEx's regional president of the Americas, Richard W. Smith, tells Axios via email that delivering the vaccine is "among the most important work in the history of our company."
Where it stands: So far, the companies' advance preparation this year is paying off.
On-time deliveries are running well ahead of last year's snowy holiday season, per ShipMatrix, despite the pandemic challenges.
For the two weeks of Nov. 22 through Dec. 5, including Thanksgiving and Cyber Monday, UPS achieved 96% on-time delivery; FedEx was at 95%, and the U.S. Postal Service was at roughly 93%.
"UPS is running one of the most successful peak holiday shipping seasons ever," the company's new CEO Carol Tomé said this week in a statement.
Zoom in: A big reason for UPS' success so far is that it has been working closely with customers to align their shipping needs with its network capacity — and sticking to those plans.
When e-commerce surged earlier this year, UPS added "peak" surcharges for some big customers like Amazon and Best Buy.
More recently, it imposed shipping limitations on big retailers like Macy's and Gap to prevent them from overloading UPS facilities.
What's next: It all gets more complicated as soon as the vaccines are ready for shipping. Through Operation Warp Speed, UPS is providing logistics support for eight of the 10 leading vaccines currently in clinical trials.
The company has already mapped out supply routes for each of the vaccines, and reserved capacity in its air network, operating hubs and ground operations.
It also added new technology like proprietary sensor tags that track and monitor the status — including temperature — of every package in its network.
UPS will monitor all vaccine shipments from a new 24/7 command center, which collects data and monitors temperature at its customers' sites.
"We started working on this when the vaccine companies started working on their clinical trials," Kate Gutmann, senior vice president of the UPS Healthcare and Life Sciences unit, tells Axios in an interview.
How it works: In the case of Pfizer and BioNTech's vaccine, kits containing syringes and PPE are already being delivered to dosing sites now. The vaccine comes next — maintained at super-cold temperatures — followed by extra dry ice shipments to replenish dosing sites.
UPS will deliver vaccines in the eastern half of the U.S. and FedEx will handle the western half.
UPS created a vast "freezer farm" for -80°C storage at its logistics hub in Louisville, where it will also produce more than 24,000 pounds of dry ice per day.
Each day UPS will deliver a 40-pound box of dry ice to all Pfizer dosing sites that lack their own freezer capacity.
The bottom line: The pandemic has shipping companies performing a high-stakes juggling act that's testing their resilience.
2. Self-driving cars are still a mirage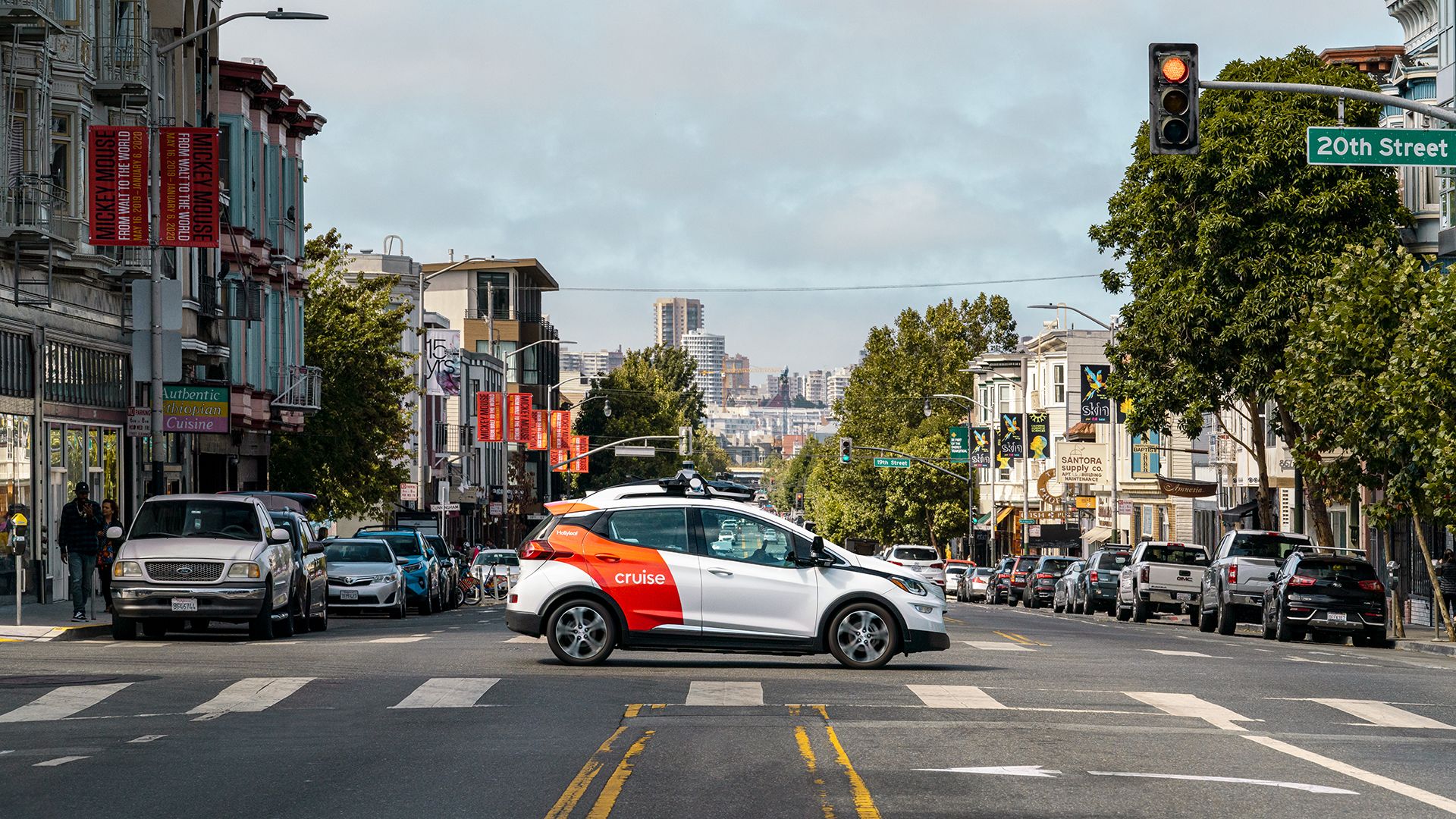 Cruise this week touted its first fully driverless vehicle tests in San Francisco, two days after Uber sold its autonomous vehicle unit to a rival.
Why it matters: Neither development was quite what it seemed, however, reminding us that self-driving cars are still a long way from commercialization.
Driving the news: Cruise, the self-driving tech firm backed by General Motors and Honda, shared video of its first tests with no one behind the wheel.
"What we're witnessing here is the move of real self-driving out of the R&D lab and on to the path to being a commercial product that everyone can use," Cruise CEO Dan Ammann told reporters.
Reality check: The featured test occurred at night, in a quiet residential neighborhood, with no other cars on the road except those parked along the side of the street.
An operator in the passenger seat held a "kill switch" but had no access to the traditional driver controls, a Cruise spokesperson tells Axios.
Ammann said the driverless testing would start small, and expand to more cars, in more neighborhoods, in 2021.
Earlier in the week, Uber said it was handing its self-driving project to Aurora and would invest $400 million in the Silicon Valley startup.
After sinking hundreds of millions of dollars into the AV unit — which had been plagued with safety and legal problems from the start — Uber is essentially paying Aurora to take over the project, the New York Times observed.
By partnering with Aurora, and taking a stake in the company, Uber is keeping some chips on the table for a future robotaxi service, however.
Aurora's current focus is on self-driving trucks, but it likely sees potential business with Toyota, which had backed Uber's AV project.
What to watch: Two other AV companies, Zoox and Canoo, are going to reveal new self-driving vehicles next week.
3. Hyundai's sprint toward future mobility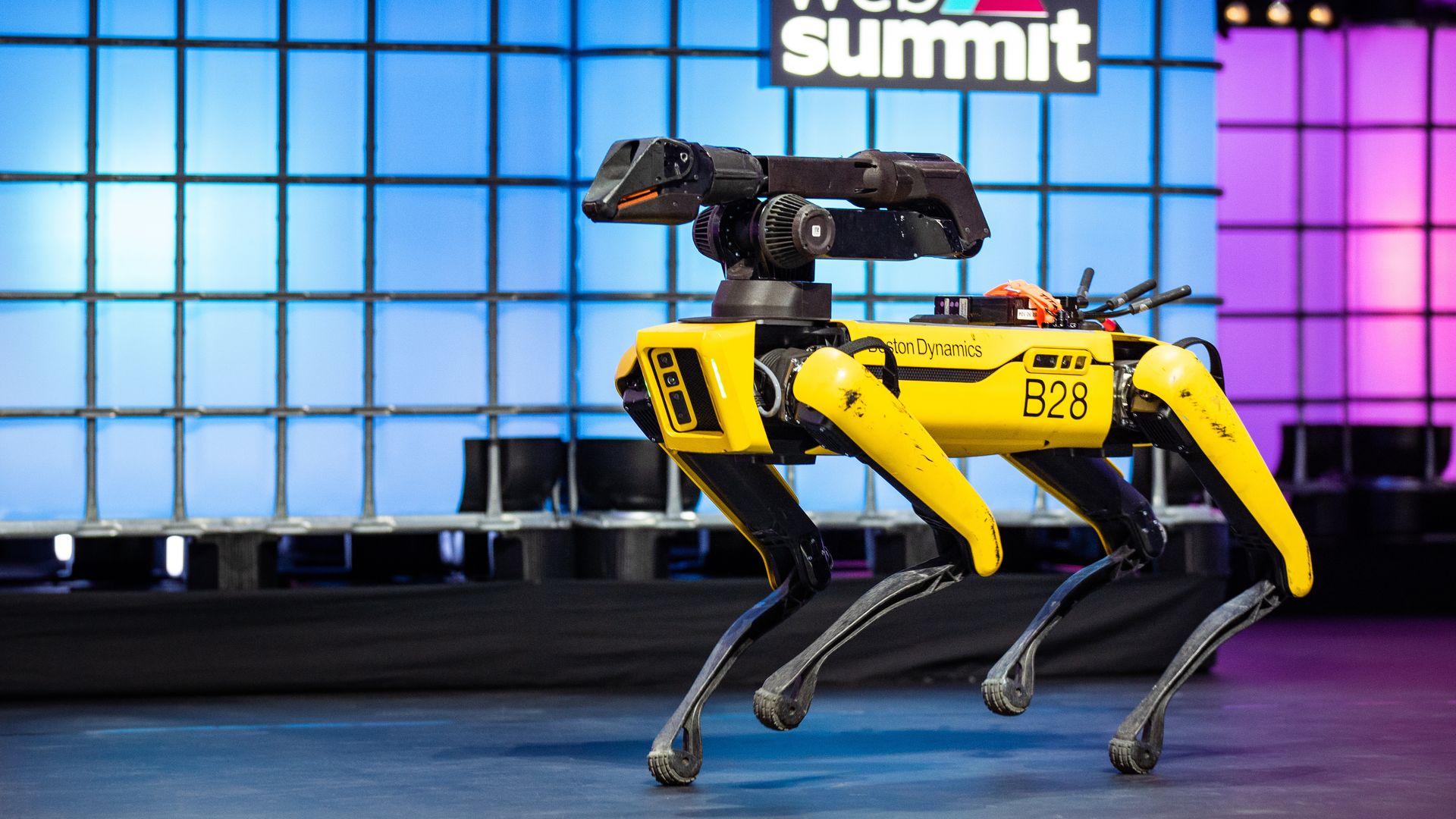 Hyundai continues to make aggressive moves as it races to catch up on electric, self-driving cars and other mobility technologies.
The latest: The Korean industrial giant and its chairman agreed to buy an 80% stake in Boston Dynamics — maker of Spot, a four-legged, dog-like robot — from SoftBank.
Hyundai could use the robotic technology in its factories, and to continue development of its self-driving cars, drones and delivery robots, analysts told CNBC.
The big picture: It's the latest in a flurry of deals by Hyundai, which wants to transform itself into a mobility service provider.
At an investor day Thursday in Seoul, Hyundai updated its 2025 strategy to accelerate electrification, lay the foundation for mobility as a service, and boost its commitment to hydrogen fuel cells.
The detailed plan includes a new dedicated fuel cell brand, HTWO, and the rollout of Level 3 autonomous vehicles — hands-free, eyes-off-the-road under certain circumstances — by 2022.
The company plans to invest $55 billion by 2025 to support long-term growth.
4. Driving the conversation
'Existential peril': Mass transit faces huge service cuts across U.S. (Christina Goldbaum and Will Wright — New York Times)
Why it matters: Reliable transportation is key to reviving the economy, but if transportation agencies collapse from the effects of the pandemic, it will hurt low-income subway and bus riders the most.
China flight attendants advised to wear diapers for Covid protection (Lilit Marcus — CNN)
The big picture: On a long-haul flight, it's hard to avoid a trip to the bathroom. But there are other solutions. Japanese airline ANA is testing a new hands-free lavatory door passengers can open with their elbow. And Boeing introduced a "self-cleaning lavatory" that would use UV light to clean after every use.
British electric vehicle maker to open HQ in Charlotte, bringing 150 jobs (Danielle Chemtob — Charlotte Observer)
Why it matters: UK-based Arrival, backed by UPS and Hyundai, is developing electric delivery trucks. Its first U.S. microfactory will open soon in nearby Rock Hill, N.C.
Lidar startup Innoviz to go public in $1.4 billion SPAC deal (Gabrielle Coppola, Gillian Tan and Eliza Ronalds-Hannon — Bloomberg)
Why it matters: The Israeli startup is the fourth lidar-focused firm to go public through a blank-check company this year.
5. What I'm driving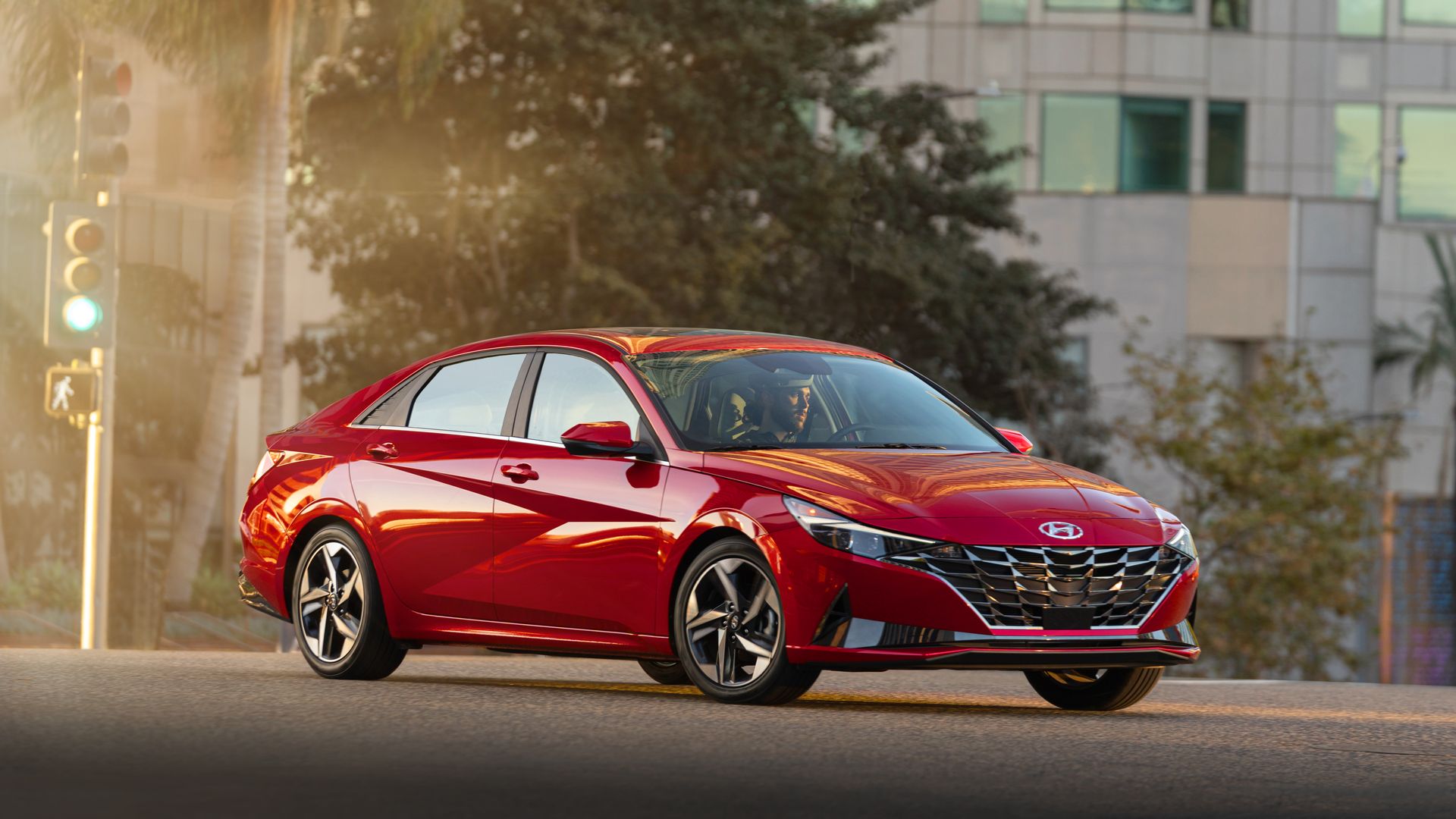 This week I'm driving the 2021 Hyundai Elantra, a sharp-looking compact that's now available in a 50-mpg hybrid, too.
The big picture: This is the seventh-generation Elantra, and it raises the bar not just with its sporty design. It's also the first in the segment to offer wireless Apple Carplay and Android Auto, and to let drivers unlock, start and drive the car using their (Android-only) smartphone instead of a physical key.
The $25,450 Limited edition even comes with natural language voice commands, something more typical for luxury cars.
Driver-assistance technology: Carmakers are rightly making safety and assisted-driving features standard on even their least expensive models.
The Elantra has forward-collision avoidance, blind-spot monitoring, rear cross-traffic alert, lane-keeping assist, and driver-attention monitor as standard equipment.
Hyundai's Safe Exit Alert — which prevents occupants from opening a door into a cyclist's path when parallel parked — is also standard.
Adaptive cruise control, automatic braking and a highway drive assist feature are available in higher trim levels.
The bottom line: As small cars go, the Hyundai Elantra has always been one of my favorites. And that's still true with the 2021 model.