Axios Navigate
March 19, 2021
Happy Friday! Today we're exploring relief for the airline industry and how vaccine passports might help reopen international travel. Plus, meet the electric car that is blowing the doors off Tesla in China.
Today's Smart Brevity count: 1,537 words, a 6-minute read.
1 big thing: Rethinking the airline rescue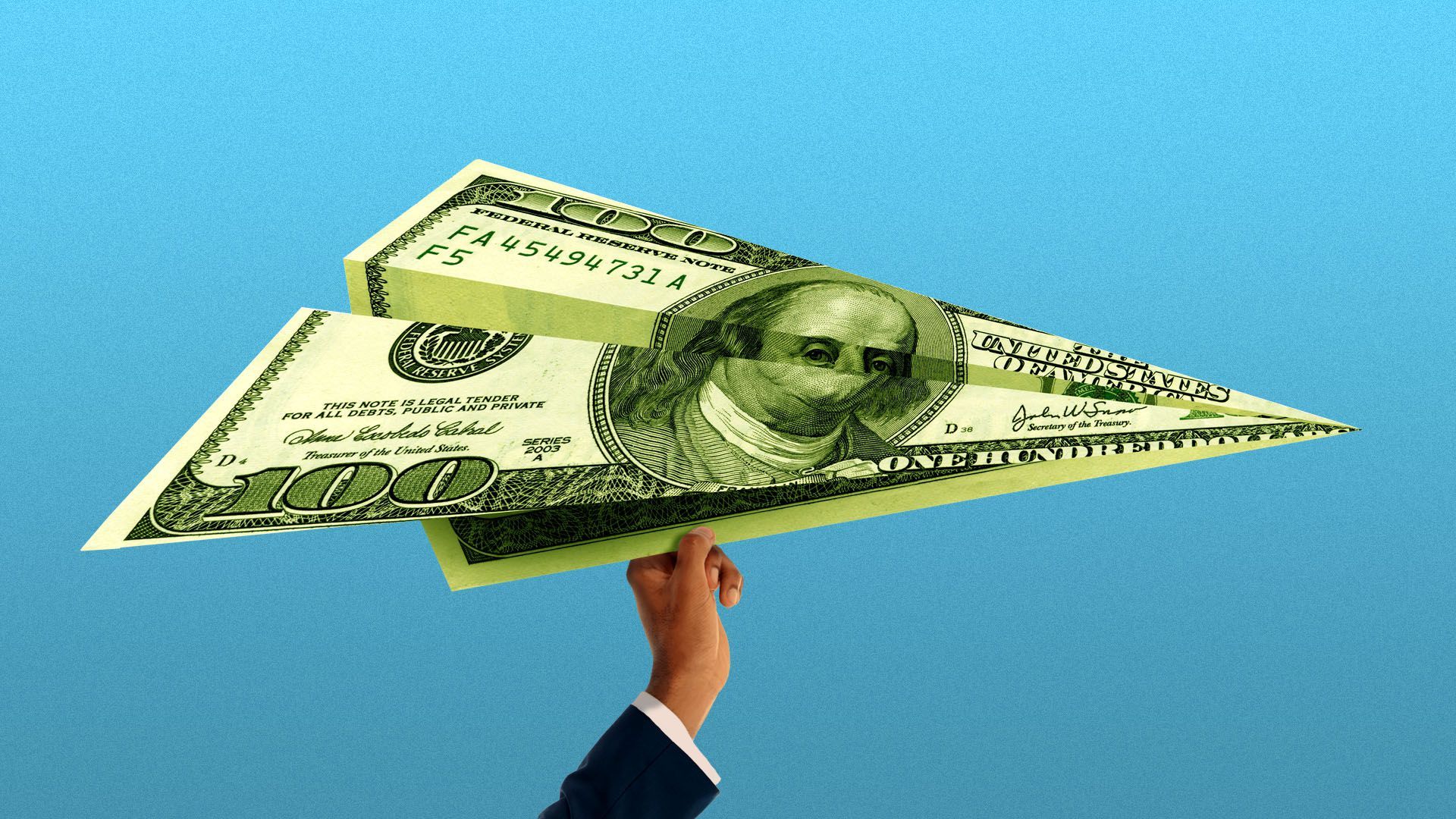 The trouble with government bailouts is you never really know whether they were necessary, and that's likely to be the case with the U.S. airline industry, too.
Why it matters: One year into the pandemic, it's not clear whether the $54 billion the U.S. Treasury used to prop up airlines during the pandemic was the right move, or just an expensive gift to a politically favored industry.
A piece this week in the New York Times makes the case that since airline stocks are soaring, "we socialized the airline industry's losses and largely privatized the gains."
But the flip side is that the uniquely structured "payroll support program" helped stave off worse unemployment and kept airlines afloat so they can help jump-start the economy once the health crisis is over.
Where it stands: Investors are no doubt happy. Airline stocks are 2.5 times higher than their pandemic trough and have recovered almost all their losses. But that doesn't mean the companies are healthy.
Revenue for the top seven airlines is down 67% from a year ago, and U.S. passenger airlines collectively are burning cash at a rate of $150 million a day, according to Airlines for America.
They've added $60 billion in new debt over the past 12 months, and analysts say it will take years to pay down their current $170 billion debt load, limiting future growth.
Driving the news: The $1.9 trillion American Rescue Plan signed last week by President Biden includes a new $14 billion round of aid for airlines to extend paychecks until Sept. 30. That brings the total payroll support fund to $54 billion.
That is about the same amount that taxpayers pumped into General Motors during the carmaker's 2009 bankruptcy, but with one big difference: The government took a 61% stake in GM as part of the restructuring.
In the case of airlines, Treasury is demanding just 30% of the money be repaid (and taking warrants in each company); the rest is a "pass-through" grant to workers to avert layoffs.
What they're saying: Steven Rattner, former head of the Obama Auto Task Force, called the airline bailout "the ultimate corporate welfare" and said "it violates every principle we established with the auto bailout."
The restructuring of the auto industry, he said, was designed so that "everyone took a haircut" — shareholders, bondholders, employees, executives and even car dealers.
The other side: "This was not a bailout. This was a relief program. We had the power to focus the relief from the ground up rather than top down," said Sara Nelson, president of the Association of Flight Attendants-CWA, AFL-CIO.
By making sure the money was used exclusively for worker salaries — and not for stock buybacks or executive pay — the program averted layoffs that would have been more costly to taxpayers, she said.
That's because airline employees still paid taxes and spent money to help the economy, rather than soaking up enhanced unemployment benefits, she said.
Compass Lexecon, an economic consulting firm retained by Airlines for America, digs into the numbers here to back up the industry's case.
The bottom line: Air travel remains 50% below normal, but as vaccinations increase, there are growing signs of pent-up demand, which could spark a recovery as early as this summer.
Bonus chart: Why airline investors are happy
2. Europe tiptoes toward reopening travel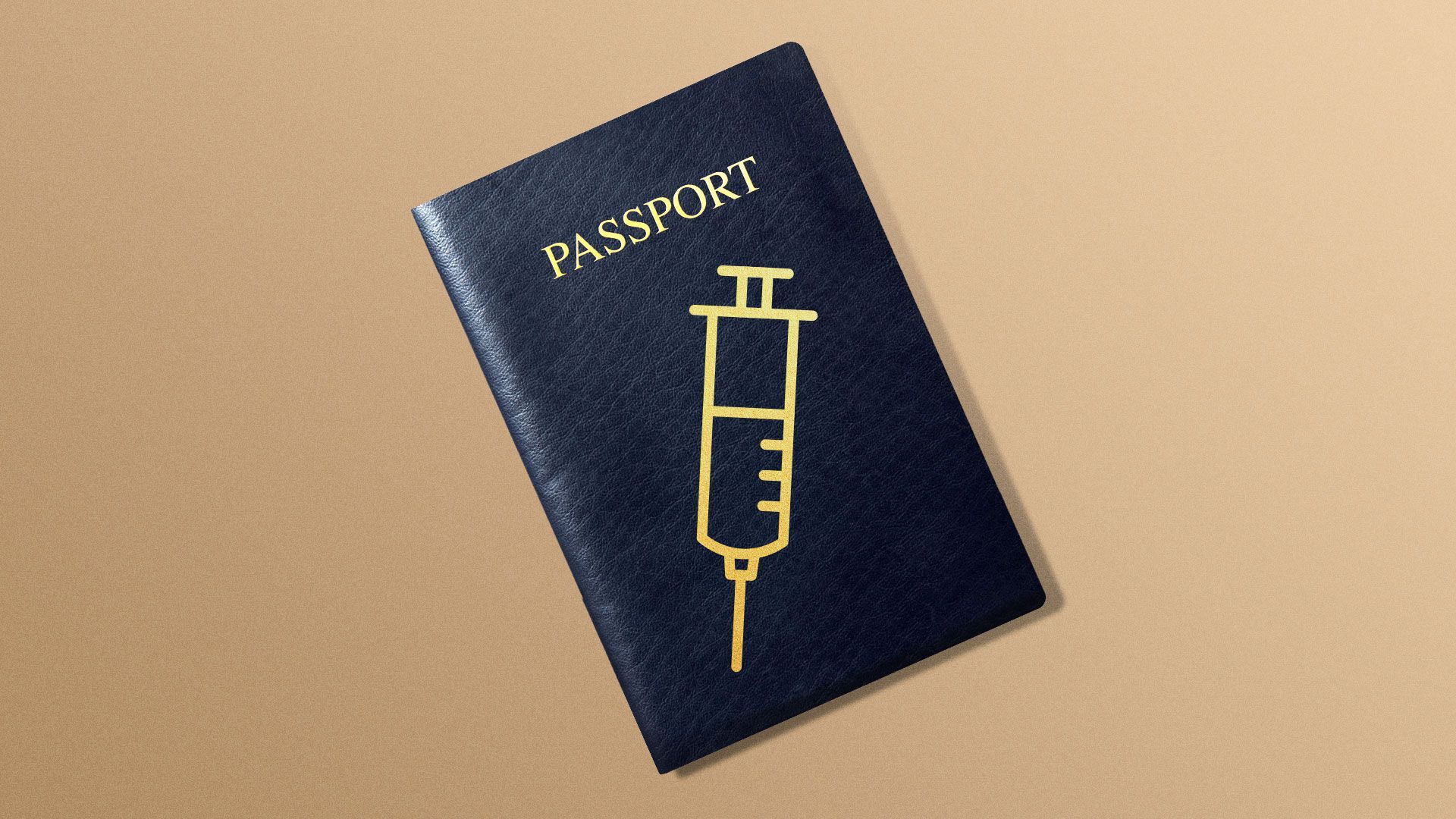 The EU unveiled its proposal for vaccine passports this week, offering the most detailed picture yet of how international travel might resume in the coming months, Axios' David Lawler writes.
Why it matters: People are desperate to travel, and tourism-reliant countries like Greece are desperate to receive them. Vaccines should provide a path out of closed borders and mandatory quarantines, but there's no universal way to track who has actually been vaccinated.
Driving the news: The EU "Green Certificate" — available in digital or paper form — would allow all EU residents to prove that they've been vaccinated, recently tested negative, or already recovered from COVID-19. The aim is to roll out the passports before the summer travel season.
The European Commission suggests that those who've had an EU-approved vaccine be free to cross borders without any quarantine requirements.
People from outside the EU, including Americans, could also potentially benefit from the system when traveling to Europe.
3. A politically charged battery fight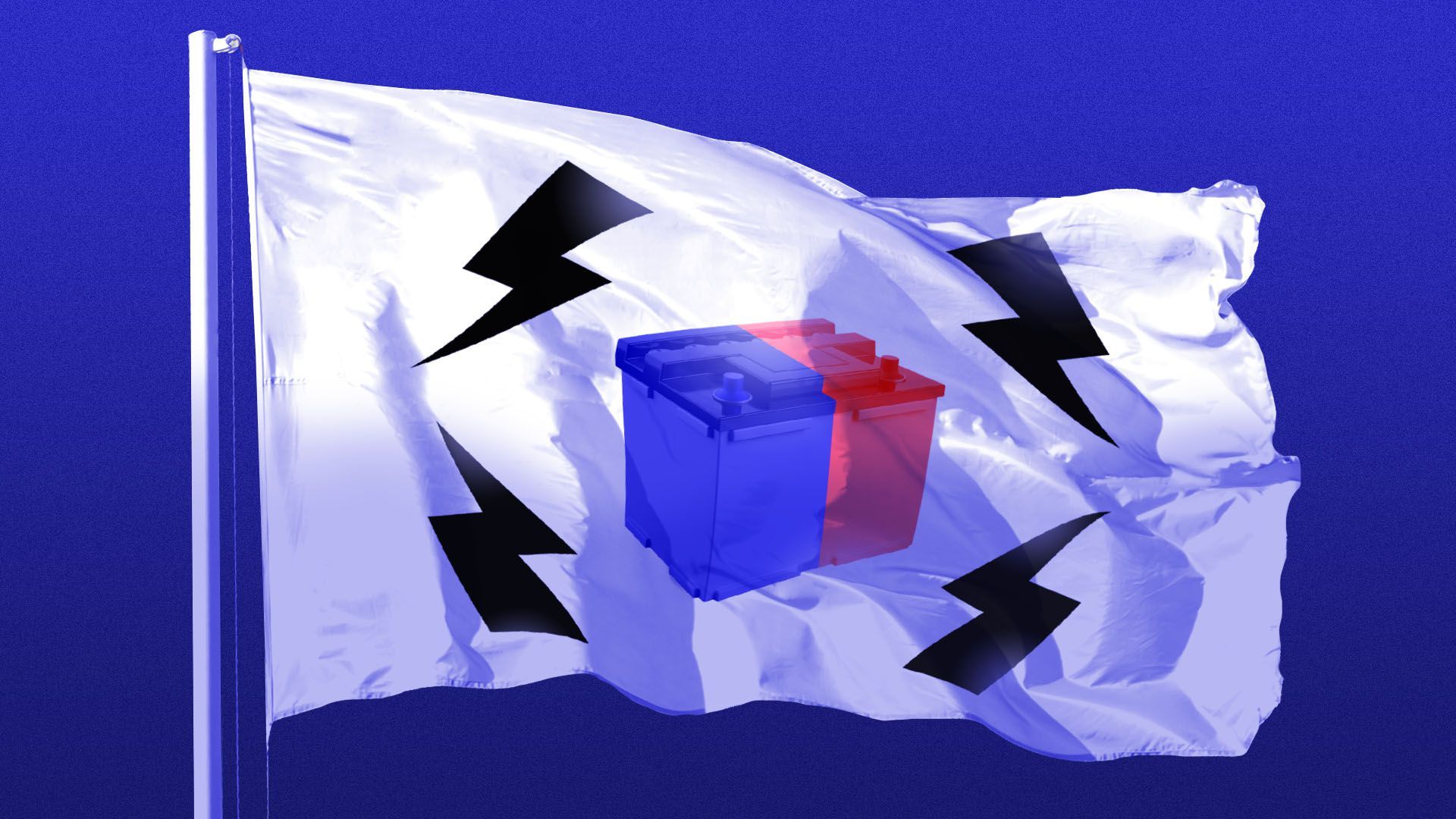 A battle over trade secrets between two Korean electric vehicle battery makers has become a political headache for the Biden administration.
Catch up fast: LG Chem accused a rival, SK Innovation, of stealing its EV battery technology and hiding the evidence.
Last month, the U.S. International Trade Commission sided with LG Chem, restricting SK from importing critical components for lithium-ion batteries for 10 years (with some temporary exceptions).
SK now says it might have to halt construction of a $2.6 billion battery plant in Georgia — erasing the promise of 2,600 clean energy jobs that came with it — unless Biden intervenes.
Why it matters: Presidential vetoes of ITC decisions are rare, but Biden is under pressure to protect green sector jobs in the newly Democratic state — especially because SK's batteries would power U.S.-built EVs from Ford and Volkswagen. He's also trying to strengthen U.S. supply chains for EVs.
What's happening: The lobbying effort is heating up. Georgia Gov. Brian Kemp, a Republican, and Sen. Raphael Warnock, a Democrat, have urged the White House to protect jobs in their state.
This week LG responded with a newspaper ad in Georgia accusing SK of "trying to hold Georgia hostage" while dangling the prospect of building its own battery plant there.
LG already has a big presence in Michigan and Ohio — two other important swing states — and announced a $4.5 billion U.S. expansion last week.
What to watch: The case will be reviewed by newly sworn-in U.S. Trade Representative Katherine Tai.
Even if the ITC's ruling is overturned, the dispute will continue in a Delaware district court, where LG has filed a similar complaint.
Meanwhile, construction on the SK factory in Commerce, Georgia, continues.
4. The EV that is blowing the doors off Tesla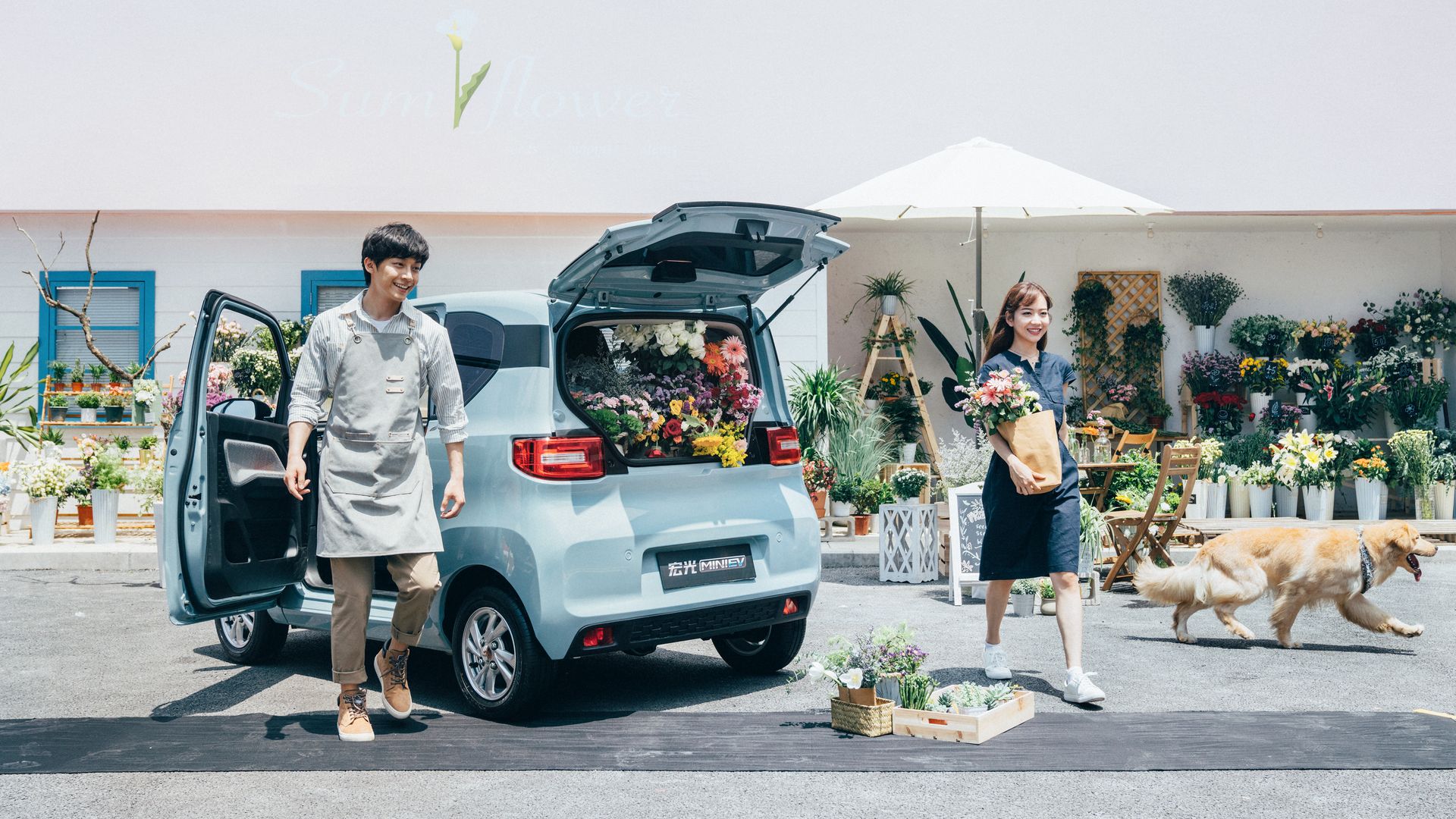 The hottest-selling electric vehicle on the planet isn't the Tesla Model 3 anymore. It was toppled in January by a pint-sized Chinese model called the Hong Guang Mini EV, reports China Daily.
Details: The four-seat city cars are flying out of showrooms thanks mostly to their irresistible starting price: $4,500, writes China auto expert Michael Dunne, CEO of the advisory firm ZoZoGo.
Customers have purchased 200,000 Hong Guang Mini EVs since production began last summer.
The success has surprised even its manufacturer, SGMW, a joint venture between General Motors, Shanghai Automotive Industry, and Wuling Motors.
They had anticipated selling about 3,000 a month, but in January sales topped 36,000.
It's tight for four, and clearly lags Tesla on battery range (105 miles) and performance (top speed is 62 mph). But its convenience and low price are appealing to Chinese consumers.
Buyers are mostly younger women in smaller cities, and the company is now marketing them not as cars, but more like designer clothing, a Wuling executive tells China Daily.
It has introduced fun new colors and also plans plans to unveil co-branded vehicles with big names like Disney and Nike.
5. Driving the conversation
Can shared mobility survive the pandemic? (David Zipper — Bloomberg City Lab)
The big picture: COVID-19 made the idea of piling into a car full of strangers a lot less appealing. That will make the future of urban transportation that much harder to solve.
Chinese auto giant SAIC Motor plans to use Luminar sensors in high-tech line of vehicles (Laura Kolodny — CNBC)
Why it matters: The deal marks the newly public Luminar's first foray into China. Its lidar and software will enable automated highway driving and other safety features in SAIC's new R brand of vehicles coming in 2022.
Cruise to buy self-driving car rival Voyage (Joann Muller — Axios)
Why it matters: The self-driving car industry is consolidating as access to capital becomes more difficult and the timeline for autonomous vehicles stretches further into the future. Only a handful of leaders in the trillion-dollar market are likely to remain.
6. What I'm driving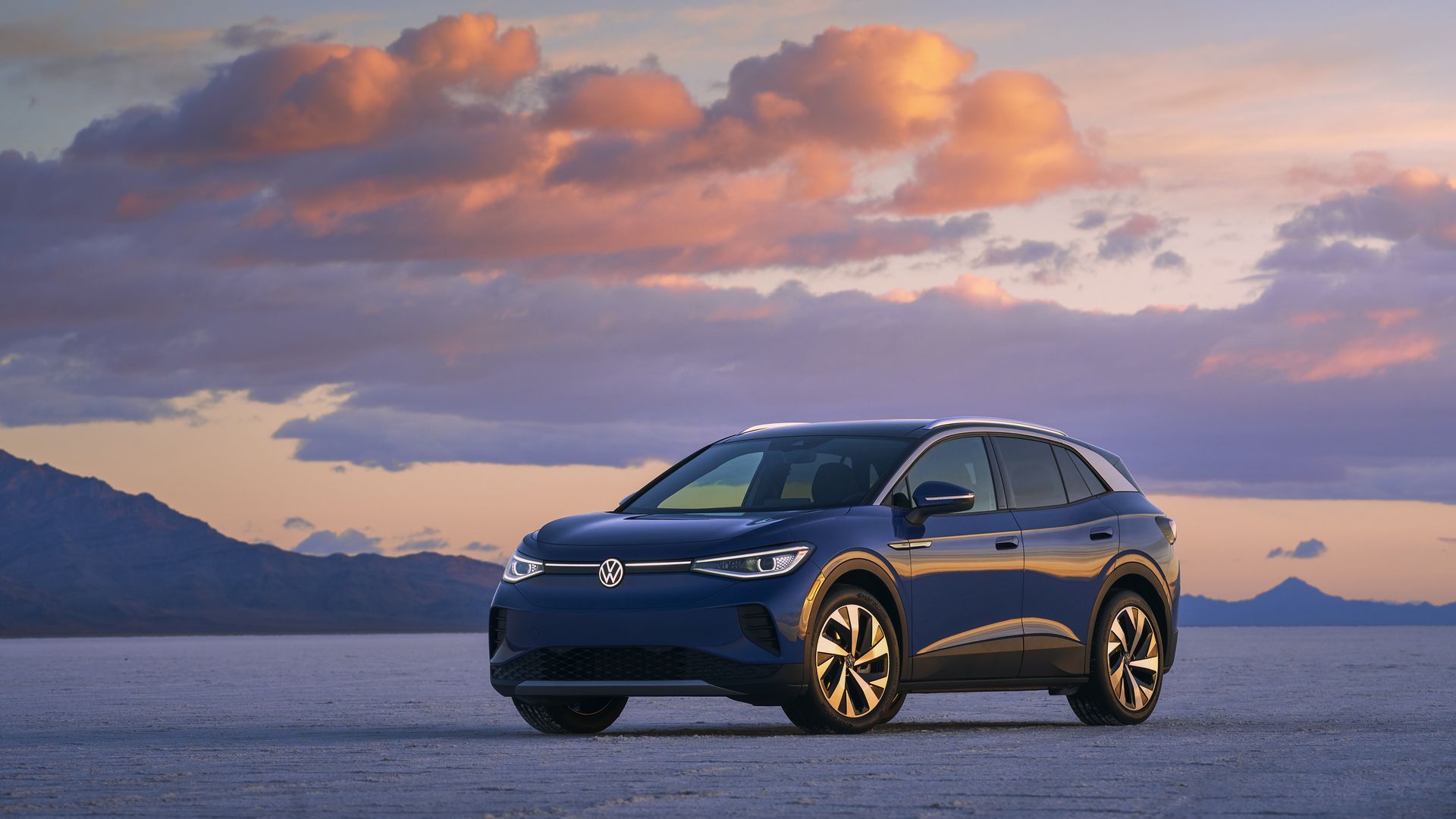 I'm inching closer to buying an electric vehicle. Volkswagen's new ID.4 could finally get me to take the plunge.
The big picture: The ID.4 isn't trying to compete with Tesla or any other EVs, which account for less than 3% of the U.S. market.
Instead, it's challenging the most popular gasoline-powered SUVs like the Toyota RAV4 and Honda CRV.
Yes, but: buyers will inevitably see the ID.4's 250-mile driving range as inferior to the 316-mile range in Tesla's Model Y.
VW does have a price advantage over Tesla, though: Buyers qualify for a $7,500 federal tax credit that Tesla already exhausted (unless Congress extends the incentives to further pump EV sales).
That brings the $39,995 starting price for an ID.4 down to $32,495, and potentially less if state tax credits are also available.
That includes three years of free fast-charging at Electrify America.
Driving impressions: I tested a well-equipped First Edition model priced at $43,995. It's smooth and quiet, like most EVs, and has a giant panoramic glass roof.
There's no starter button. If you've got the key fob on you, just depress the brake and it starts. Later, shift into park and exit the car, and it shuts off.
The gear shifter on the steering column is innovative: twist forward to drive, opposite for reverse. There's also a "brake" mode that allows one-pedal driving for more regenerative power.
Cool tech: The infotainment screen is controlled through haptic touch or voice commands — there are no buttons — but the voice feature could use improvement.
Say "Hello ID, I'm cold" and a light strip along the base of the windshield lights up. It even recognizes whether the driver or passenger is talking, and responds by turning up the heat on that side.
When using the ID.4's navigation system, the same lights point in the direction you need to turn.
The bottom line: The ID.4 is modern and fun to drive, and at that price, it's worth serious consideration if you're thinking electric.