September 27, 2022
Hey Miami! It's Tuesday.
Forecast: Heavy rain, possibility of a thunderstorm. High near 85.
🌀 Situational awareness: Ian has strengthened to a Category 3 hurricane and is approaching Florida. More on that below.
Today's newsletter is 946 words, a 3.5-minute read.
1 big thing: Police excessive force case nears settlement
Miami Beach is proposing to pay $119,000 to settle allegations of excessive force stemming from a July 2021 incident in which officers were captured on body camera and surveillance footage beating a South Beach tourist who was recording them on video.
Catch up fast: Five officers were arrested last year on charges they used excessive force during the arrest of two Black men at the Royal Palm Hotel in South Beach.
The incident started when police arrested Dalonta Crudup for allegedly striking an officer with his scooter and evading police. While Crudup was handcuffed, officers kicked him and slammed his head against the ground.
Khalid Vaughn, of New York, was recording the interaction on his cellphone when police then attacked and arrested him.
Another bystander, Sharif Cobb, was later arrested as he was recording police after Vaughn's arrest. He settled with the city for $65,000, his attorney told Axios.
One officer arrested pleaded guilty last July and retired, the Miami Herald reported. The other four remain suspended without pay, according to the city.
Between the lines: The arrests renewed scrutiny over how Miami Beach police treat Black tourists.
Vaughn and Cobb were arrested under a local law prohibiting bystanders from standing within 20 feet of officers with the "intent to impede, provoke or harass" them. Those charges were dropped.
After the incident, police suspended enforcement of the law to conduct additional officer training.
The latest: Miami Beach commissioners will vote Wednesday whether to authorize the settlement payment in Vaughn's lawsuit.
In a memo to the commission, city attorney Rafael Paz recommends approving the settlement to avoid further legal costs.
What they're saying: "I believe the City of Miami Beach recognized its responsibility for what occurred. The evidence against the officers came mainly from their own body-worn cameras," David Frankel, the attorney representing Vaughn and Cobb, wrote in an emailed statement to Axios.
Frankel added that his clients hope city officials will "make significant changes to prevent anything like this from occurring in the future."
2. Weak demand for third COVID booster
Floridians aren't rushing to get the updated COVID-19 boosters that were distributed statewide this month.
What's happening: A state health report released Friday shows that only 37,000 of Florida's 20 million eligible residents received the new bivalent vaccine, which is intended to target Omicron subvariants, the South Florida Sun-Sentinel reports.
Nationwide, less than 2% of eligible people have received the boosters, per NBC News.
Why it matters: If the rollout continues at this pace, some public health officials are predicting another uptick in COVID cases around Thanksgiving, the Sentinel reports.
What they're saying: "If we start to see a large uptick in cases, I think we're going to see a lot of people getting the [new COVID] vaccine," said David Dowdy, an infectious disease epidemiologist at Johns Hopkins Bloomberg School of Public Health, according to AP.
What to watch: Pfizer and BioNTech announced Monday that they're seeking emergency use authorization from the FDA for the updated boosters for children ages 5-11.
The move comes after Moderna requested authorization last week for children 6-17 years old.
3. Hurricane Ian forces evacuations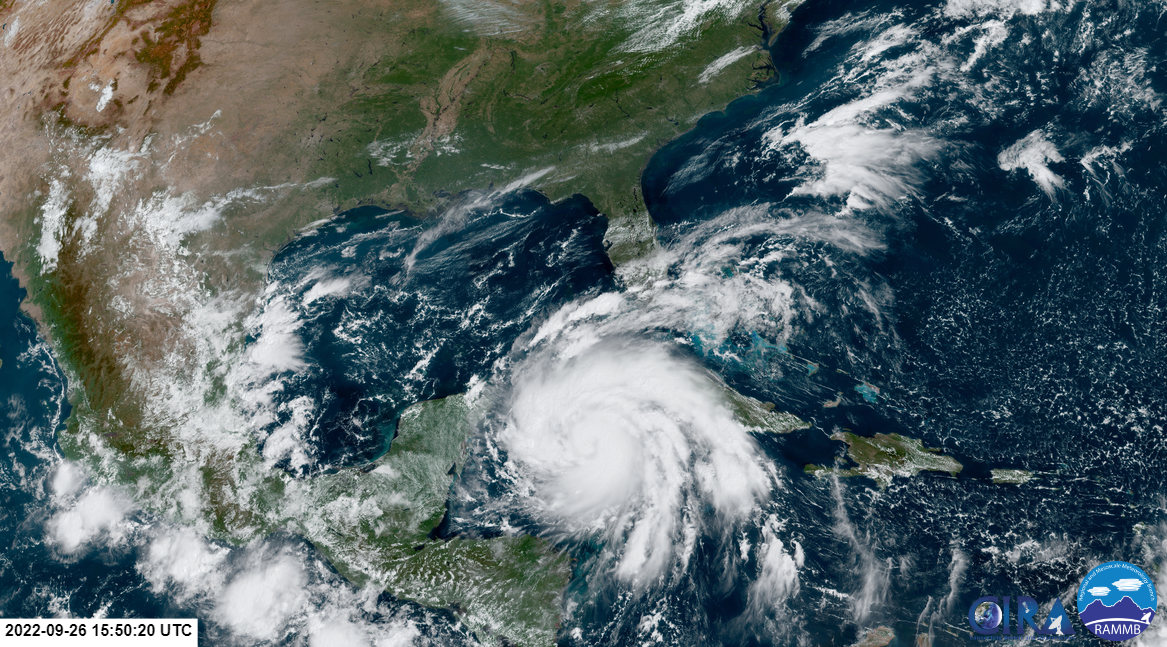 Evacuation orders are taking effect along parts of Florida's west coast as forecasters warn that Hurricane Ian could bring a "life-threatening" storm surge to the region this week.
Why it matters: Ian has intensified into a Category 3 storm and is expected to strengthen further as it tracks toward Florida today.
The latest: Orders to evacuate were issued Monday in Charlotte, Manatee, Pinellas and Hillsborough counties, the last of which includes the Tampa Bay area.
Zoom in: Miami-Dade Public Schools canceled all after-school activities and sports Tuesday "out of an abundance of caution." Classes and aftercare programs are taking place as normal.
NWS says South Florida could experience heavy rainfall and strong winds starting today.
Streets, parking lots and underpasses could become submerged as the storm passes through the area, the NWS warned, and roofs, porches, sheds and awnings could be damaged by the high winds.
Plus: South Florida could see more than a foot of storm surge flooding on top of king tide.
Of note: Rain associated with the outer bands of Hurricane Ian already caused some flooding in Brickell and Downtown Miami on Monday, according to videos posted to social media.
4. Cafecito: Your morning shot of news
Pete Antonacci, a political fixer and former prosecutor who most recently led Gov. Ron DeSantis' election crimes unit, died on Friday. He was 74. (Orlando Sentinel)
✈️ There's probably little the Federal Aviation Administration can do to stop DeSantis from sending more charter flights with migrants, experts say. (Politico)
🌀 Much of Puerto Rico remains without power and water a week after Hurricane Fiona crippled infrastructure on the island, which is still recovering from Hurricane Maria's destruction five years ago. (AP)
Take your career to the next level
5. ✏️ Play our neighborhood game
Have you ever quibbled with friends over where one neighborhood ends and another begins? Think you know your city better than other Axios readers?
Our visual storytelling team at Axios came up with a game where you can draw what you think are the boundaries for your neighborhood and compare your answers to those of other Axios readers.
How it works: Follow this link to the game on our website, click on Miami, and then hit play!
If you're not familiar with a neighborhood, you can skip it, and we'll choose a different one for you to draw.
At the end you can compare your answers to the average of other Axios readers to see how similar or different your guesses were.
Don't forget: You can download images of your results to share with friends and on social media.
💙 Consider supporting our mission-driven journalism by becoming a founding Axios Miami member.
Today's newsletter was edited by Alexa Mencia and copy edited by Rob Reinalda. and Yasmeen Altaji