We're back! Thanks to everyone for their food and beverage suggestions in Montreal and Charleston. I literally gained 12 pounds last week. Personal shoutouts and my favorites from each city are at the bottom of the newsletter.
Was this email forwarded to you? Sign up here. (Today's word count: 967 words, or < 4 minutes.)
Situational awareness:
Disney will open 25 stores inside select Target locations around the country on Oct. 4, with plans for 40 additional "shop-in-shops" by October 2020. (Reuters)
The U.S. and Japan agreed in principle on a trade deal that would cut Tokyo's tariffs on U.S. beef, pork and other agricultural exports and temporarily delay additional tariffs on Japanese autos. (Bloomberg)
Nomura downgraded its outlook on Hong Kong stocks Monday saying "the ongoing political tensions in HK are now affecting the key pillars of the economy." (Reuters)
1 big thing: The trade war may be too much for the Fed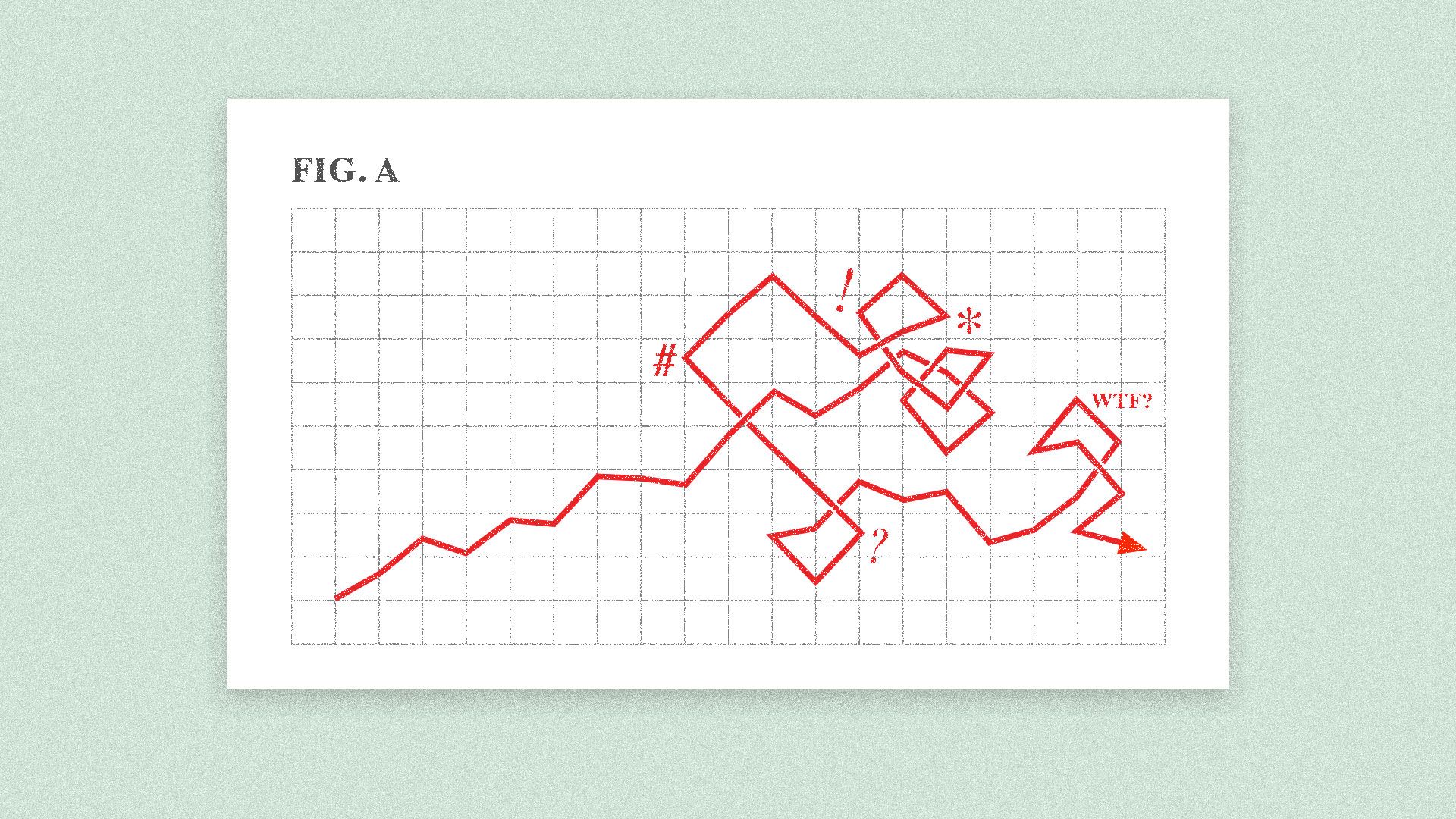 In his speech at Jackson Hole on Friday Fed Chair Jerome Powell effectively acknowledged that the world has reached the end of monetary policy as we know it.
While central banks could rest assured they had the tools to rein in inflation and unemployment in the old days, that's now uncertain in this new world.
Why it matters: Central bank policy was the biggest factor in pulling the global economy out of the financial crisis in 2009 and has been the primary force driving markets for the past decade.
Central banks are cutting interest rates at a pace not seen since the crisis in an attempt to stave off the global economic slowdown that's been picking up speed this year, but it may be futile.
The escalation of the trade war is exacerbating already troubled and highly indebted economies in Europe, Japan, China and elsewhere.
The big picture: Powell's speech was a daunting admission that the all-powerful Federal Reserve may be powerless to stop a recession if it reaches the U.S. — at least with its current box of tools.
There are "no recent precedents to guide any policy response to the current situation," Powell said Friday, referencing the trade war.
Between the lines: Worry about the waning impact of monetary policy was also recently voiced by former Treasury Secretary and National Economic Council head Larry Summers.
Summers notes in a piece with co-author Anna Stansbury that there are "strong reasons to believe that the capacity of lower interest rates to stimulate the economy has been attenuated — or even gone into reverse."
Worse, they argue that in recent years additional government spending also has proven less effective at boosting the economy.
The last word: "As we look back over the decade since the end of the financial crisis, we can again see fundamental economic changes that call for a reassessment of our policy framework," Powell said at Jackson Hole.
"To address this new normal, we are conducting a public review of our monetary policy strategy, tools, and communications — the first of its kind for the Federal Reserve ... and we are asking whether we should expand our toolkit."
2. The reason companies can't just leave China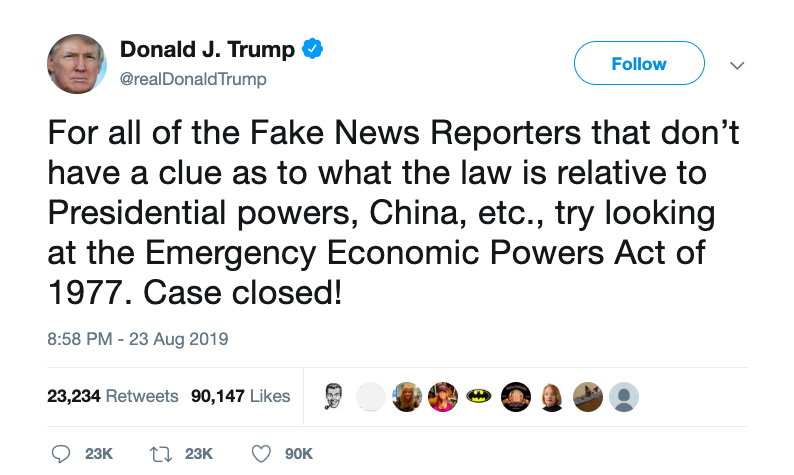 President Trump may be serious about trying to push U.S. companies out of China, but businesses have already seen that getting out is easier said than done.
Driving the news: In renewing his call for companies to leave China in recent tweets, Trump cited the International Emergency Economic Powers Act of 1977, a law that was passed to allow a president to isolate rogue or criminal regimes.
It has been used mainly to combat state-sponsored terrorists, drug traffickers and "pariah states like Iran, Syria and North Korea," the New York Times notes.
What's happening: U.S. companies have been trying to move out of China to avoid the tariffs, but China has simply cornered too many markets. Firms have been setting up shop in China for 3 decades and megacompanies like Boeing, Apple, Intel and Nvidia generate major chunks of their revenue there.
China also has developed a pipeline of engineers, data scientists and other specialists that is unrivaled even by developed countries like the U.S. and Western Europe.
Combined with its size and growing middle class, it's not a market that companies can just leave.
Be smart: Some manufacturers have tried moving to Vietnam, but have been stymied by a lack of specialized supply chains and Vietnam's tightening labor market, WSJ's Niharika Mandhana writes.
"You can't just shift your business to Vietnam and expect to find what you're looking for," Wing Xu, operations director for Omnidex Group, which helps make products for U.S-based McLanahan Corp., told Mandhana.
3. Millennials will soon hold most mortgage debt of any generation
Millennials are on pace to hold more average mortgage debt than any other generation, recent data from credit firm Experian shows. Millennials' average mortgage balance is growing at more than double the pace of Generation X, which currently holds the most debt.
4. What the Popeyes vs. Chick-fil-A battle is really about
The battle over who has the best chicken sandwich that has become a viral internet sensation boils down to a change in consumer eating habits. It's the result of the one constant in the post-financial crisis world: cash-strapped and overburdened people looking to save money.
The big picture: "To understand what's going on with Popeyes you have to first understand what's going on with chicken," Claire Suddath writes for Bloomberg Businessweek.
"[T]he average American eats about 10 pounds more chicken than they did a decade ago. This poultry boon has helped revitalize KFC and turn Chick-fil-A into the third-largest restaurant chain in the U.S., behind only McDonald's and Starbucks."
"Last year the average Chick-fil-A restaurant brought in about $4.6 million, more than three times that of the average KFC."
How we got here: Popeyes "has been doing fine in recent years, but Chick-fil-A was beating it at its own game. What did its competition primarily sell? Fried chicken sandwiches. Popeyes needed a sandwich. And it needed a fight," Suddath writes.
"The Popeyes sandwich soft-launched in select locations months ago. It had a brioche bun, a thick layer of pickles, and it came with either mayonnaise or a spicy Cajun sauce. Early customers often tweeted how much better it was than Chick-fil-A."
From there, social media took over and the rest, as they say, is history.
Thanks to Amitt Z. and Will C. for suggesting Joe Beef and Liverpool House in Montreal. The steak I had at Liverpool House was incredible.
The line at Schwartz's Deli was ridiculous, but I had poutine with smoked meat AND a smoked meat/smoked veal sandwich at The Main Deli across the street. Superb.
Much love to Tim R., Adam M., Josh L. and Parker G. for pointing me in the direction of Leon's in Charleston. The Bloody Mary oyster was life changing.
I couldn't get a table at Husk or 82 Queen, which many readers recommended, so I ended up at Poogan's Porch next door and it was maybe the best thing that's ever happened to me.
P.S. Bek B., I loved Charleston so much I came by to check out your condo, but you weren't there. I sent proof.