Was this email forwarded to you? Sign up here.
Situational awareness:
Xerox is considering a cash and stock bid to take over $27 billion PC and printer maker HP. (WSJ)
Tourists visiting mainland China can now download a version of the Alipay app to pay for things using QR codes as the country moves more fully away from cash. (Quartz)
A new study finds that prices on products purchased by the bottom income quintile have increased faster than those purchased by the top income quintile, leading to what researchers dubbed "inflation inequality." (The Atlantic)
(Today's Smart Brevity count: 1,088 words, ~ 4 minutes.)
1 big thing: Greece's incredible bond rally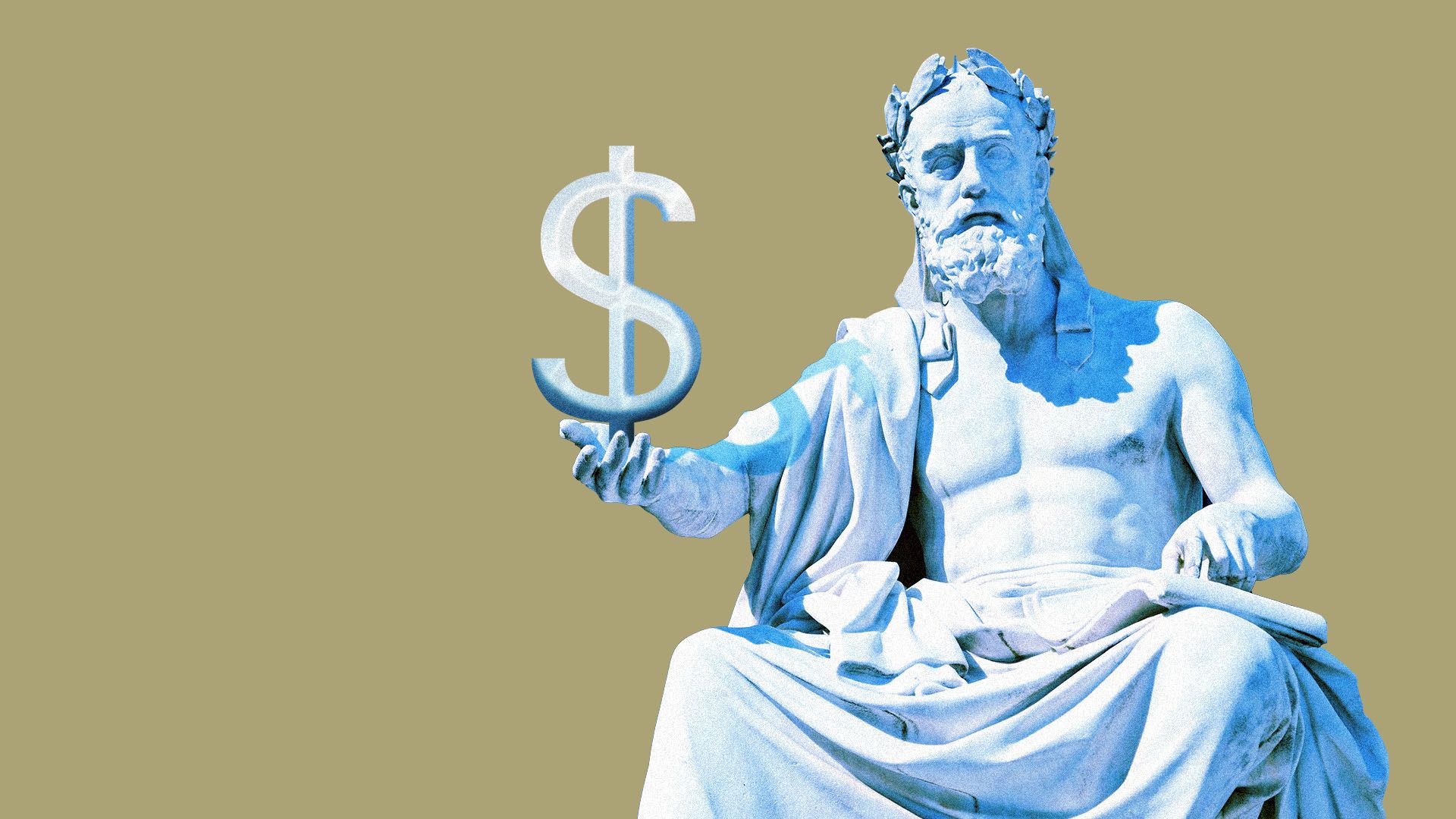 The S&P 500 has enjoyed a strong year and equities around the globe have delivered solid returns, but every one of the world's major stock markets has underperformed 2019's grand champ: Greek government debt.
Why it matters: Long-dated Greek sovereign bonds have been one of the best-performing assets in the world in 2019, having delivered returns more than double the S&P 500 through Tuesday.
Background: Left for dead after a near-collapse of the economy, a debt and currency crisis, and a series of bailouts as recently as 2015, Greece is now so attractive investors are demanding less of a premium to hold Greek government bonds than comparable debt from the United States.
What they're saying: "Greece appears to have put the bailout era behind it," Joseph Trevisani, senior analyst at FXStreet, tells Axios in an email.
"Athens exited the last bailout more than a year ago, ended capital controls on September 1st and received an outlook upgrade to positive from [ratings agency] DRBS. Since Greece is no longer the problem child of the EMU it's rates are moving lower to accompany the rest of the euro zone."
While the yield on Greek bonds is low by historical standards, it is still significantly higher than similar government bonds from other countries in the eurozone and is attracting major inflows thanks to investors' continued search for yield.
German 10-year government bonds have a yield of -0.31% and bonds from other European economies like France and Sweden hold negative yields out to 10 years as well.
What's happening: Thanks to the ECB's recently restarted bond-buying stimulus program, declining inflation and debt, and a new center-right government in the country, Greece's 10-year bonds have seen yields fall by more than 300 basis points year to date.
With the market's current appetite for risk, the bonds are poised to continue their outperformance, Marc Chandler, chief market strategist at Bannockburn Global Forex, tells Axios.
"Stocks are rallying ... risky assets in general have rallied. As that's happened Greece has rallied and it has these very favorable characteristics."
"A lot of investors have scar tissue around the Greek debt crisis, but there's a new group of investors in the market just looking to chase yield. They're saying, 'Let's lock it in and not worry about what happened 10 years ago.'"
Bonus: 65 basis points safer than risk-free
Greece's strong performance in 2019 comes after 12 rounds of tax increases, spending cuts and austerity reforms from 2010 to 2016 that triggered nationwide protests and a threat to leave the eurozone and euro currency.
The country received bailouts in 2010, 2012 and 2015 from the IMF and ECB, and took a 50% "haircut" on debt owed to private banks in 2011.
By the numbers:
Yields on Greece's 10-year note traded at 1.2% Tuesday — a far cry from their all-time high levels in March 2012 0f over 40% in the midst of the European debt crisis — and are now 65 basis points lower than yields on the U.S. 10-year Treasury note.
The real winner for investors has been Greek 20-year bonds, which have delivered a whopping 47% total return year-to-date, according to FactSet.
2. The U.S. services sector bounces back
The U.S. services sector roared back in October, with the ISM's non-manufacturing report jumping to 54.7, up from 52.6 the month before, and beating expectations.
The report's details also were strong:
Business Activity rose 1.8 points on the month to 57.0
Prices Paid fell 3.4 points to 56.6
New Orders was two higher at 55.6
Employment added 3.4 points, up to 53.7
Why it matters: The services sector makes up almost 70% of the U.S. economy and has been consistently trending lower, following the manufacturing sector for most of this year.
October's pickup, combined with an improvement in ISM's manufacturing reading, suggests the data may have hit a floor.
3. Wall Street is no place for unicorns
Shares of Uber closed down almost 10% on Tuesday even though the company beat analysts' expectations on earnings and revenue.
It was the latest dollop of bad news for this year's crop of tech unicorns, which have largely fallen flat since going public, despite their mammoth private valuations.
What's happening: After years of ravenous buying, Wall Street turned bearish on new unprofitable companies and even investors' newfound risk appetite hasn't been enough to reverse the trend.
By the numbers: An S&P index tracking U.S. companies worth over $1 billion that have IPO'd or spun off within the last five years, has underperformed the S&P 500 by nearly 12% over the last 6 months.
With Beyond Meat no longer among their ranks, those unprofitable U.S. companies have had a median stock return of 0% this year, Reuters reported Monday.
The big picture: Before this year, unprofitable had been exactly what investors wanted.
In 2018, 81% of companies to IPO had negative 12-month trailing earnings on the day they went public, according to an analysis from University of Florida professor Jay Ritter.
This year, 80% of companies that had IPOs reported negative earnings in the 12 months ahead of their launch, analysis from ratings agency S&P Global shows.
"Had not WeWork and Endeavor pulled their IPOs in recent weeks, the figure would have been on track for the highest reading ever," S&P's director of index investment strategy Chris Bennett wrote in October.
The bottom line: Bennett notes there have been growing "signs of trouble in tech paradise, with Uber and Lyft's post-IPO struggles and WeWork's 'failure to launch' highlighting the potential challenge of transferring private valuations onto the public stage."
4. UBS issues a warning on earnings
Investors have cheered largely better-than-expected company earnings in the third quarter, but those beats are masking an ugly truth, UBS investment bank equity strategists wrote in a note to clients Tuesday.
The big picture: "There is NO debate on S&P 500 forward earnings: a contraction appears imminent."
"Indeed, earnings expectations are already contracting in the S&P 400 Midcap and S&P 600 Smallcap indices. Meanwhile, forward earnings growth has slowed from a peak year-over-year growth rate of 23% in September of 2018 to less than 1% today."
Between the lines: There were only 68 companies in the S&P 500 with negative forward earnings at the beginning of the year but today 164 S&P 500 companies are predicting lower earnings — almost a third of the companies in the index.
"The most troubling part of all this is that it appears unlikely that the earnings picture will improve anytime soon."
5. Americans are getting smarter about credit cards
U.S. consumers are getting more responsible with credit cards, data shows. Though Americans increased spending in the second quarter, they are opening fewer new accounts and fewer people with bad credit are getting credit cards.
The American Bankers Association's November report also found that the number of credit card holders who pay off their balance in full rose to 31.1% in Q2, the highest level since ABA began keeping track in 2008.
The share of credit card holders carrying a monthly balance fell to 43.2%, the lowest level in two years.
Editor's note: Story number 4 was clarified to show the equity strategists were from UBS investment bank (not UBS). Also, the third item has been corrected to reference the S&P U.S. IPO & Spinoff Index (not the S&P U.S. Spinoff Index).