January 07, 2019
Welcome to the inaugural edition of Axios Markets. I'd like this to be a conversation, rather than a lecture, so please be in touch — [email protected] and my colleague here in New York City, Courtenay Brown, [email protected].
A little about me: I'm originally from Denver but don't ski, speak four languages (English, Spanish, Portuguese and French — in that order of fluency), consider both fixed income and FX more interesting than equities, and know that Tupac Shakur is the greatest rapper who has ever lived.
#Breaking this morning:
"New Trump administration policies aimed at curbing China's access to American innovation have all but halted Chinese investment in U.S. technology startups." (Reuters)
Activist investor Starboard has taken a 1.7% stake in Dollar Tree and "is pushing the retailer to sell its Family Dollar business and tweak its pricing model... At the center of the criticism has been Dollar Tree's slow progress integrating and turning around Family Dollar, which it bought for $9 billion in 2015."(WSJ)
A top Chinese official "unexpectedly attended the first day of talks aimed at resolving the trade dispute between the world's two biggest economies... China had previously said the talks would be led by a lower-ranking official." (Bloomberg)
1 big thing: Revenge of the savers
A 12-month certificate of deposit at some U.S. banks now pays more than a 10-year U.S. Treasury note.
Northeast Bank's ableBanking offers a rate of 2.90% on its 12-month CD. That's almost 25 basis points more than the 10-year U.S. Treasury yield late Friday.
Iberiabank's VirtualBank offers a yield of 2.46% even on a 6-month CD.
Why it matters: Since the financial crisis, Americans looking to earn money by saving rather than investing have been out of luck as interest rates available at banks have hovered at close to zero. But those days are over. At least for now.
Traditional savings accounts, which are FDIC insured up to $250,000 and are about the most liquid instruments on the planet, are starting to offer rates competitive with U.S. Treasuries. CIT Bank is offering a 2.45% interest rate for accounts with a minimum investment of just $100. Goldman Sachs' Marcus and BBVA Compass are both offering 2.25% on savings accounts, with a $1 minimum for Marcus.
Any positive numbers look attractive in light of the fact that the S&P 500 lost 6.2% in 2018.
"For those that are seeking out top-yielding accounts this is the first time in a decade that you've been able to earn a return on your investment that's above the rate of inflation. You're talking about preserving the buying power of your money, which is really a big deal."
— Greg McBride, chief financial analyst at Bankrate.com.
Our thought bubble: With increased volatility in the stock market, and with the knowledge that a 12-month CD would have outperformed the S&P by a full 8 percentage points (!!!) in 2018, expect more managers to start singing the praises of cash. This could in turn pull more money out of the stock market.
The Goldman Sachs economic research team noted in its most recent 2019 preview that they remain underweight bonds and overweight cash, "which in USD terms has become increasingly attractive."
Bonus chart: 1-year CDs surpass 10-year Treasuries
2. Business optimism is still high, but showing stress
Confidence about the state of the global economy is falling fast, but investors largely remain convinced that business will be good in the U.S.
Most business leaders — 73% of those at midsize companies and 55% at small companies — remain optimistic about the national economy. But that's down 16 and 8 percentage points, respectively, from a year ago, according to the annual JPMorgan Chase Business Leaders Outlook.
The biggest drop was in optimism about the global economy, which fell 30 points from 2018 to this year among midsize business leaders. In 2019, just 39% of business leaders at midsize businesses are optimistic about the outlook for the world's economic prospects.
But, but, but: When it comes to their own business, leaders are signaling strength. A full 91% of small and midsize companies said they plan to maintain or increase their capital expenditures this year. Further, 81% of midsize companies expect their revenue/sales to increase in 2019 and 74% expect higher profits. Among small businesses, 60% expect revenue/sales growth and 58% expect to see higher profits.
Our thought bubble: Business confidence rose to all-time high levels in 2018, particularly among small businesses. Surveys from CNBC and the National Federation of Independent Businesses, both showed record reports of optimism last year. So, those numbers pulling back a bit shouldn't be that much of a surprise.
3. No one believes the Fed
The Federal Reserve has forecast raising U.S. interest rates twice this year but Fed fund futures rates show almost no one is betting they'll go through with it.
It's not unheard of for market participants to doubt the Federal Reserve's expected rate hike path. In 2016, after the Fed raised interest rates for the first time in a decade and projected four hikes, Fed funds futures prices showed traders betting on zero hikes. (They were wrong, and the Fed raised rates thrice.)
Still, this is a little different, because the market is pricing in an interest rate cut for 2019, which hasn't been suggested or even hinted at by anyone on the Fed's rate setting committee.
Why it matters: The moves in the Fed funds futures market suggest investors are positioning for a major economic event that forces the Fed's hand.
4. AOC only wants 39.7% of your income
There's been a lot of talk about new House Rep. Alexandria Ocasio-Cortez's proposal to raise tax rates as high as 70% on America's wealthiest citizens.
Be smart: Here's what she actually said during her interview with "60 Minutes" on Sunday
"You know, you look at our tax rates back in the '60s and when you have a progressive tax rate system, your tax rate, you know, let's say, from zero to $75,000 may be 10% or 15%, etc ... But once you get to, like, the tippy tops, on your 10 millionth dollar, sometimes you see tax rates as high as 60 or 70 percent. That doesn't mean all $10 million are taxed at an extremely high rate, but it means that as you climb up this ladder you should be contributing more."
Go deeper: A full plan would presumably have new tax brackets, but since Ocasio-Cortez only provides a couple examples in her response, we'll work with the current tax plan, cap the current highest tax bracket of 37% at $500,001-$10,000,000 and add a presumed tax bracket starting at $10,000,001 that's taxed at 70%.
Why it matters: An American making $11 million per year filing as single would pay $4,365,687 in taxes under the United States' marginal tax code rather than $7,700,000, which would be paid if the tax rate were a flat 70%, as some have suggested. That's a difference of more than $3.3 million annually.
The difference for someone making an additional $1 million of income ($11 million instead of $10 million) under Ocasio-Cortez's plan would be about $330,000 in taxes.
Reality check: One could also assume that like in the '60s and '70s (and today), America's ultra rich would find ways to dodge much of that onerous tax bill should this highly improbable proposal ever become law.
Bonus reality check: Ocasio-Cortez has been a member of Congress for less than a week so maybe we can dial back talking about her tax plans for a bit.
5. The stock market may be overreacting a bit
U.S. stocks went on a torrid rally after Friday's bodybuilder-strong jobs report, but the reaction likely has more to do with a bounceback from a historically bad December than the jobs data.
The big picture: As our Courtenay Brown writes, the strong job gains are indicative of a healthy labor market, but it's a lagging indicator. More forward-looking data points, such as Thursday's Institute for Supply Management's manufacturing data have raised red flags about the health of the economy.
Be smart: That red flag may be a bit of a red herring. As Greg Ip of the Wall Street Journal points out:
"Thursday's stock market drop was fueled by a steep drop in the [ISM] purchasing-managers' index ... But the index has long looked suspiciously high running well ahead of a similar index compiled by IHS Markit... A report by IHS found that starting in June 2017, the ISM index began to systematically overstate growth in both industrial production and new factory orders. Its December drop may simply be a return to normal."
6. A failed Sears bid
Chairman Eddie Lampert and co. are apparently playing hardball with rights to the Sears Twitter handle.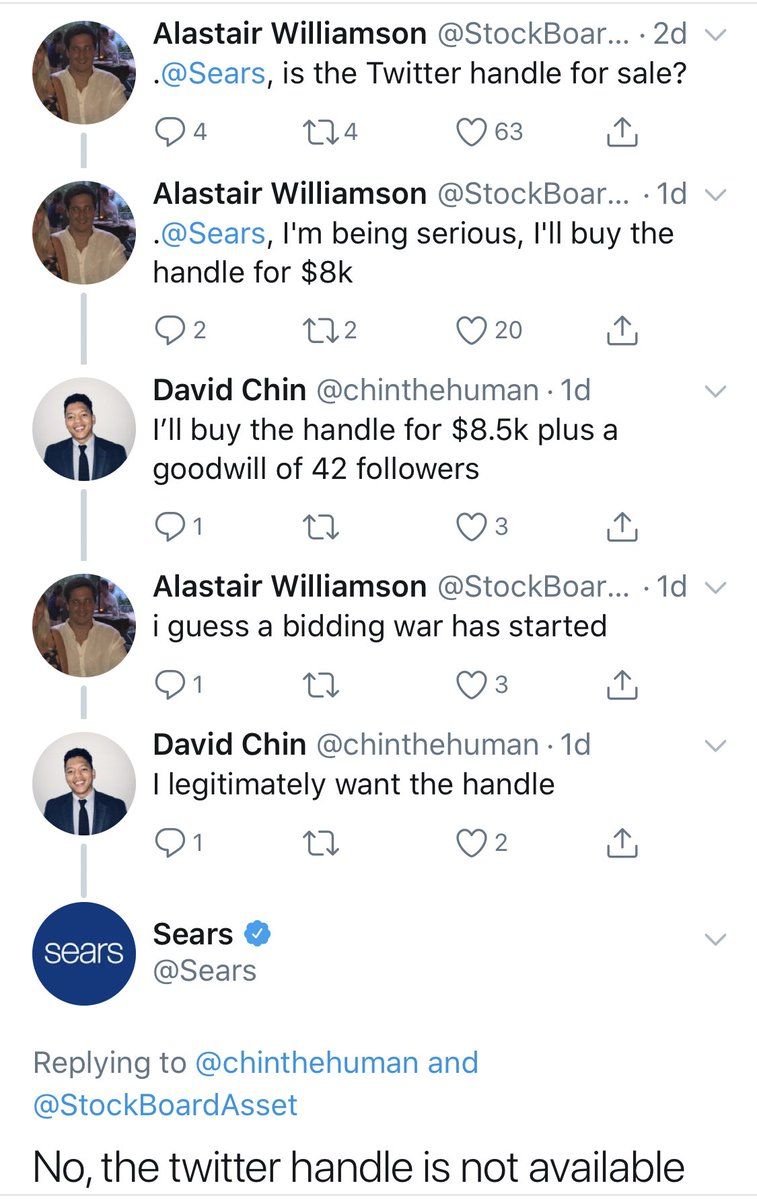 Thanks for reading. Catch me on "MSNBC Live with Stephanie Ruhle" today at 9:30 am.