Axios Markets
June 06, 2019
Was this email forwarded to you? Sign up here. (Smart Brevity count: 1,235 words / <5 min.)
Situational awareness:
"It has become clear that the political conditions in France do not currently exist for such a combination to proceed successfully," Fiat-Chrysler said in a statement withdrawing its merger proposal with French automaker Renault. (CNBC)
U.S. crude futures fell into a bear market Wednesday, sinking more than 20% from their April peak. (WSJ)
The ECB will announce its interest rate policy decision this morning. (Bloomberg)
1 big thing: Too much money (and too few places to invest it)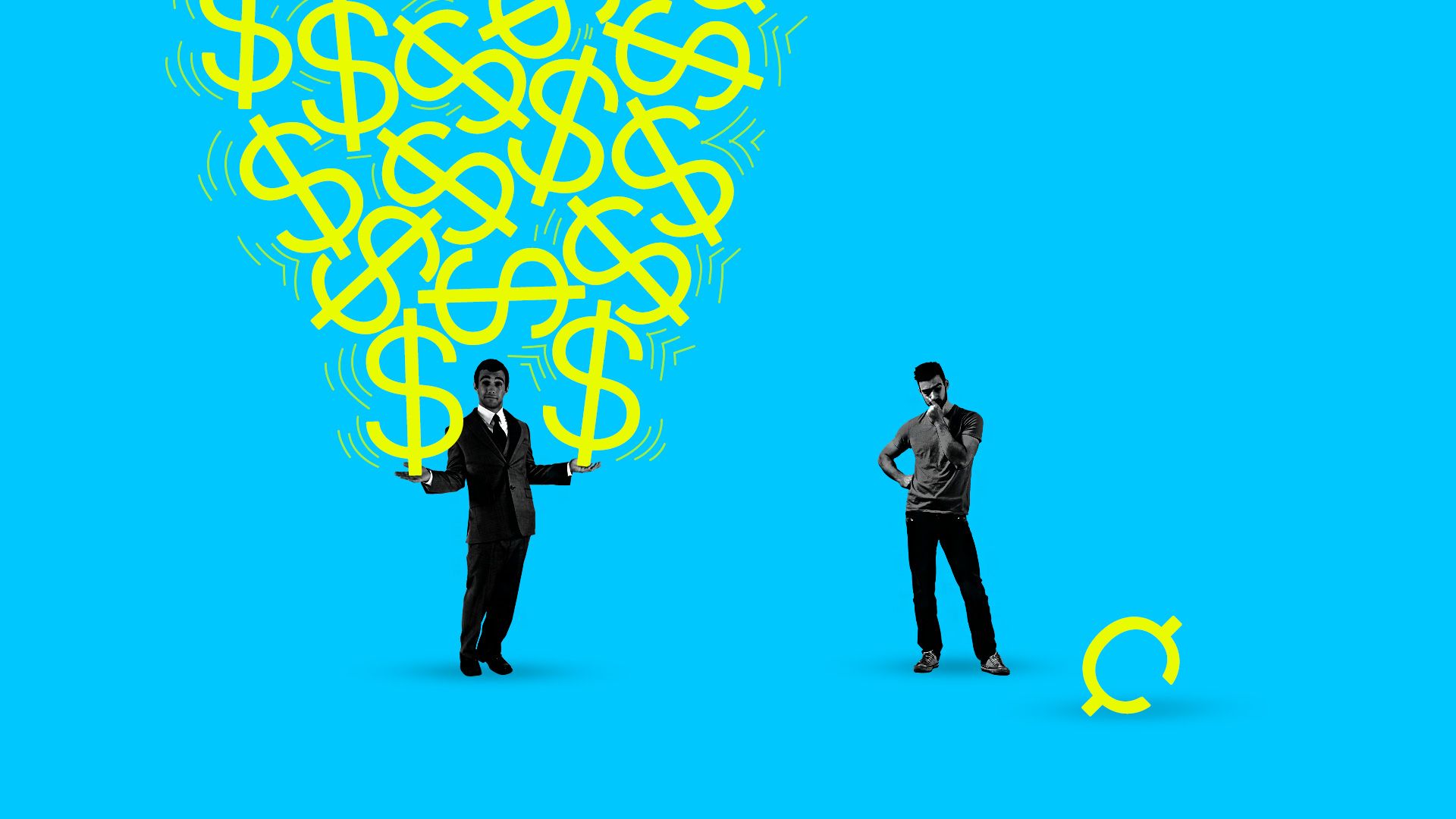 A truly bizarre trend is having an impact on the economy — wealthy people and corporations have so much money they literally don't know what to do with it.
Why it matters: At a time when growing income inequality is fueling voter discontent and underpinning an array of social movements, the top 1% of earners and big companies are holding record levels of unused cash.
The big picture: U.S. companies raked in a record $2.3 trillion in corporate profits last year, while the country's total wealth increased by $6 trillion to $98.2 trillion (40% of which went to those with wealth over $100,000).
So, where is all the money going? The IMF notes large companies around the world are overwhelmingly and uniformly choosing not to reinvest much of it into their businesses. They're hoarding it in cash and buying back stock.
Wealthy households and individuals are pouring cash into the financial markets, but that hasn't come close to accounting for all the new money. The top 1% of U.S. households are holding a record $303.9 billion of cash, a quantum leap from the under $15 billion they held just before the financial crisis.
How we got here:
The Fed's quantitative easing program pushed the cost of borrowing money to next to nothing for nearly a decade, allowing companies to splurge on debt for mergers and acquisitions and to boost revenue.
At the same time, globalization allowed them to reduce labor costs, meaning that gains effectively were returned as profit and used by public companies to boost stock prices.
Between the lines: These factors, combined with legislative policies that have consistently favored business owners over workers, eroded unions and reduced employees ability to demand higher wages.
The Tax Cut and Jobs Act — i.e., the Trump tax cut — exacerbated these issues, slashing the share of U.S. taxes that companies paid to its lowest level in at least half a century and provided companies even more capital for buybacks, dividends and executive compensation.
The end result is money that would previously have been split between businesses, workers and the government for projects like schools, health care and infrastructure is instead sitting in corporate accounts earning little to no return.
Bonus: Labor's shrinking share of profits
Dating back to the 1940s corporate profits and labor rose and fell together, reflecting the general growth of the economy, note economists at the St. Louis Fed. "The past decade and a half seems to be different, though. Never have corporate profits outgrown employee compensation so clearly and for so long."
What's happening: Capital Economics chief economist Neil Shearing says the change has to do with a shift in incentives for decision makers at large companies.
"There are a whole raft of structural shifts in the developed world over the last 30 years that have weakened the power of unions ... and basically shifted more of the share of income of labor to corporates and rather than being used for investment it's just jacked up share prices."
"If you get to a world of more equal distribution of labor it ... would be terrible for the stock market, but it would help to address some of the more social, distributional type issues."
2. A potential omen for jobs growth
Axios' Courtenay Brown writes: The private sector added just 27,000 jobs in May — the fewest since the economic expansion began — according to the ADP employment report. The number was way below economists' expectations of 173,000 job gains and a steep drop-off from April's 275,000 increase in jobs.
What's happening: Small businesses — which ADP counts as companies that employ up to 49 people — saw the steepest decline in employment, with payrolls dropping by 52,000, continuing a pattern of pain for smaller companies.
Why it matters: "Smaller firms are more likely to accelerate or slow their hiring decisions in response to economic developments," Luke Tilley, chief economist at Wilmington Trust, tells Axios.
Small businesses also are struggling to fill open positions and don't have the resources to compete with larger firms for talent, Mark Zandi, chief economist at Moody's Analytics, tells Axios.
What to watch: Zandi told reporters that Friday's jobs report — which, unlike the ADP report, includes government workers — might be more "juiced up" relative to the ADP number as the government ramps up hiring for the 2020 census.
3. SEC's new financial adviser rule gets mixed reviews
The SEC passed Regulation Best Interest, a new rule requiring stockbrokers and financial advisers to act in the best interest of their clients.
However, there are some caveats. The rule does not require brokers to recommend the lowest-cost mutual funds or other types of products, something the financial industry opposed. Critics also are wary of the lack of enforcement mechanisms.
Reactions were incredibly mixed, with even SEC officials delivering strongly worded rebukes of the decision.
What they're saying:
SEC chairman Jay Clayton: "Regulation Best Interest will substantially enhance the broker-dealer standard of conduct."
SEC commissioner Robert Jackson, the lone vote against the proposal in a 3-1 decision: "Regulation Best Interest lowers the bar we set in last year's proposal." It's a "weak mix of measures" that does not even define the term best interest.
Investment Company Institute president and CEO Paul Schott Stevens: "Regulation Best Interest will better serve investor interests by ensuring investors are afforded strong protections when they receive recommendations from broker-dealers."
Christine Lazaro, president of Public Investors Arbitration Bar Association: "With the new rule, investors are left believing that their brokers will do what is best for them, when in fact, their brokers may still be influenced by insidious conflicts of interest."
John Lukanski, a partner at law firm Reed Smith, told Financial Planning: "My overall sense is that there is this promise of clarity, but in reality we are going to get a bunch of chaos."
4. Kars4Kids gears up for another marketing blitz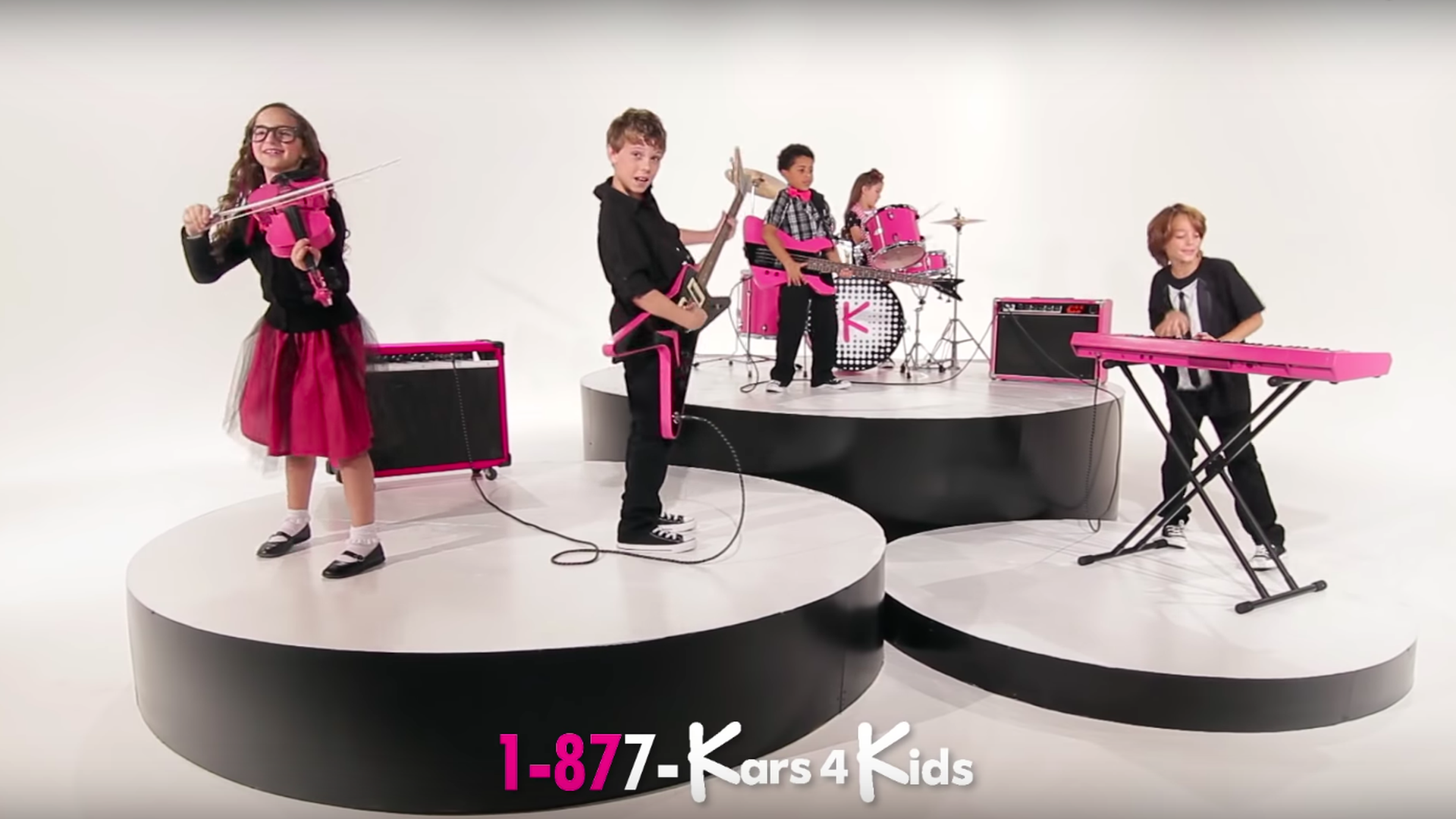 They're baaa-aack, Courtenay writes. Kars4Kids has cast another commercial, and the iconic jingle that has drawn such ire will likely remain the same, as the controversial nonprofit gears up for a new marketing push.
Why it matters: Kars4Kids owes a lot of its success to TV and radio advertising. But most people don't know that the charity's primary goal is to encourage secular Jews to become more religious, which it does through a summer camp in the Catskills and other programs.
A 2017 review by Minnesota found that despite soliciting car donations across the country, the proceeds overwhelmingly benefit children in the Northeast.
Lori Swanson, the former Minnesota attorney general who conducted the investigation, told Axios that the charity should be more upfront about its limited focus "so people can make informed choices about where their money is going."
Other attorneys general have investigated Kars4Kids and faulted it for neglecting to say in its commercials what the charity does or who benefits.
Driving the news: Kars4Kids has cast 5 children for a new commercial, but Wendy Kirwan, the charity's director of public relations, says there are no concrete plans for when it will be shot. Any new ad will just "update the visuals" while everything else will remain the same.
Background:
The charity gives about half of its funds to Oorah, an affiliated organization that shares the same chief executive as Kars4Kids.
Kars4Kids has also been criticized for investing in failed real estate projects.
The bottom line: Kirwan says the charity does not plan to be more explicit about its cause in any future commercials.