Was this email forwarded to you? Sign up here.
Situational awareness:
The civil lawsuit brought against China's Huawei has become a criminal investigation for allegedly stealing trade secrets from U.S. business partners, including T-Mobile (WSJ)
Apple will cut back on hiring, CEO Tim Cook said in a letter to employees earlier this month, because of slowing iPhone sales (Bloomberg)
S&P downgraded PG&E's credit rating to 'D,' making it the third ratings downgrade in just 16 days for the utility company (Reuters)
1 big thing: The world's slow drift from the dollar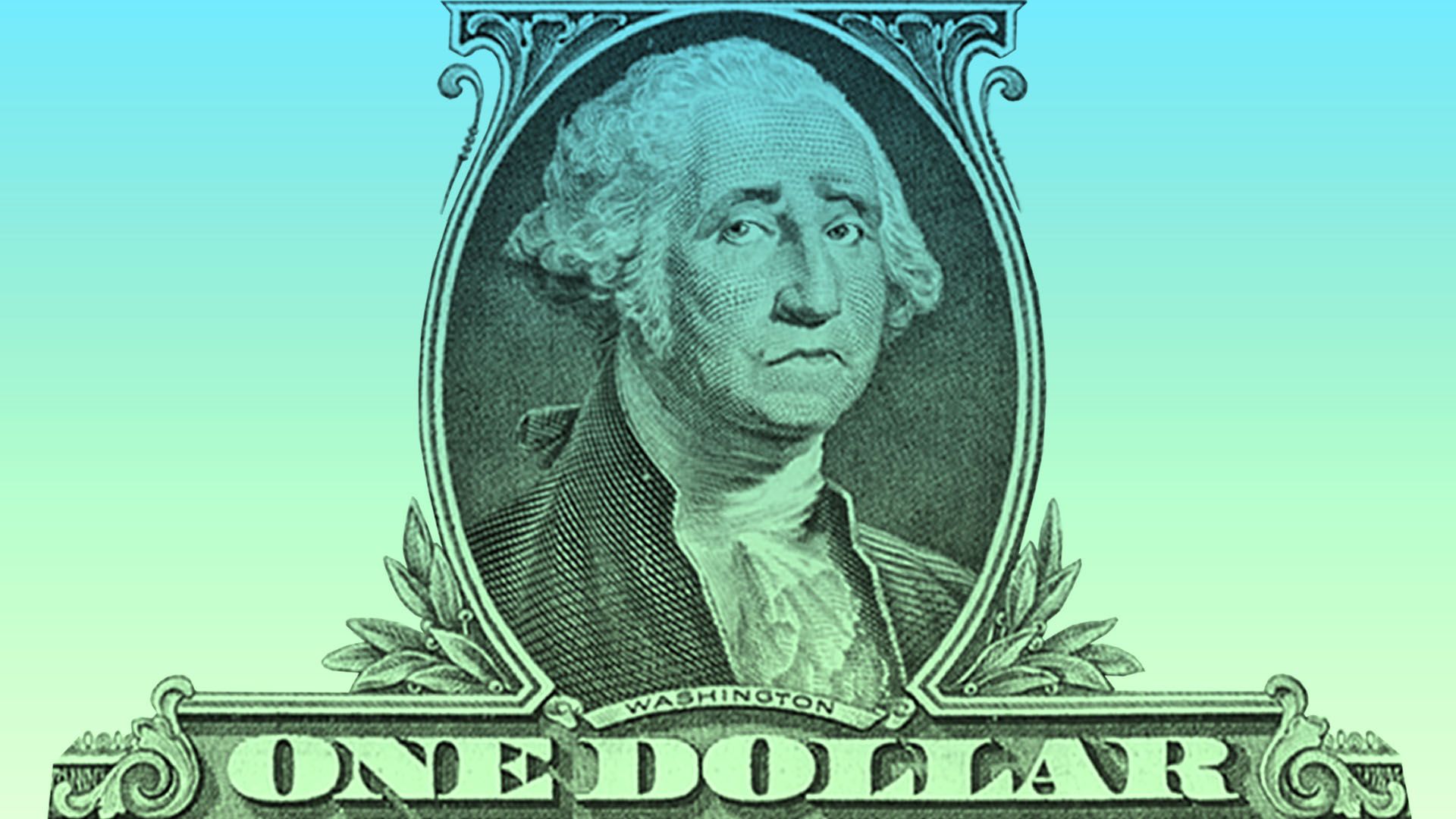 As the longest U.S. government shutdown on record drags into its 27th day, questions are again rising about the dollar's status as the world's reserve funding currency.
Bank of England governor Mark Carney said recently that "ultimately we will have reserve currencies other than the U.S. dollar."
This isn't a new idea. China's central bank in 2009 called for a global move away from the dollar after the market turbulence caused by the U.S.-induced global financial crisis. The People's Bank of China renewed those calls in 2013 after that year's U.S. government shutdown.
What they're saying: "There's a disconnect there, increasingly so, as the U.S. is less dominant in terms of the total economic pie in the world," John Hardy, head of FX strategy at Saxo Bank in Copenhagen, told me in June.
Carney further addressed the disconnect last week during a Q&A session, noting "the evolution of the global financial system is currently lagging behind that of the global economy."
Movement away from the dollar also has been taking place organically over the last few years. The most recent IMF data shows the dollar's share of currency reserves is at the lowest level in nearly 5 years, and has fallen for 8 of the last 10 quarters — though the dollar still accounts for more than 60% of global reserves.
Given the glacial pace of countries adopting new currencies, analysts agree it will likely be a while before the greenback loses its golden status.
Between the lines: However, the dollar's recent strength and President Trump's unpredictable and often market-moving antics have driven the issue back to the forefront. It's been 75 years since the Bretton Woods Agreement that made the dollar the world's funding currency, and drastic action could make moving away from the greenback a priority for some of the world's central bankers.
More Carney: "For example, emerging-market economies' share of global activity is now 60%, but their share of global financial assets lags behind at around one-third."
Half of international trade was meanwhile invoiced in U.S. dollars, even though the U.S. share of international trade was only some 10%, Carney added.
1 sad thing: RIP Jack Bogle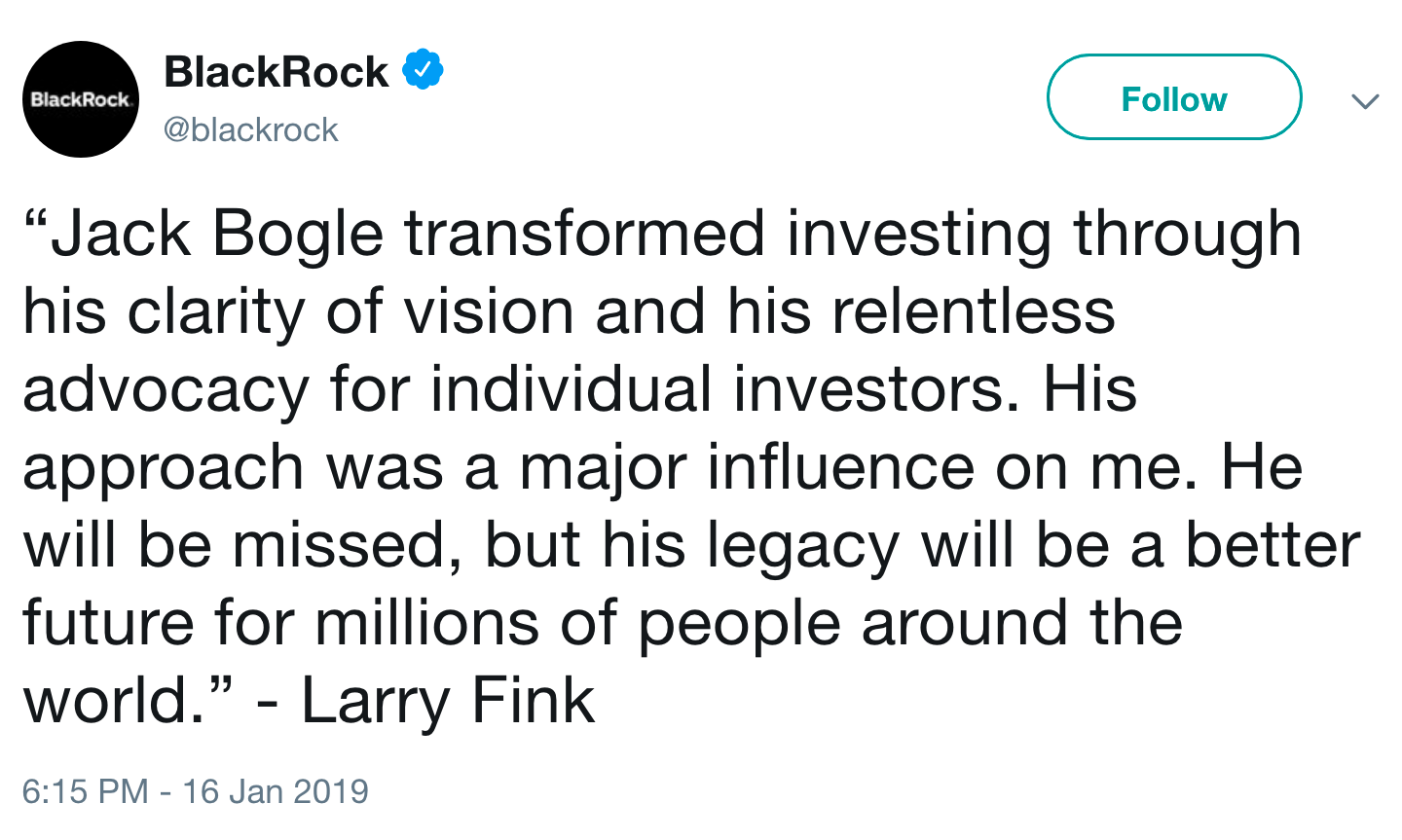 Screenshot of Blackrock's Twitter feed.
A true legend, and a man who personally saved me thousands of dollars, passed away on Wednesday. The legendary Jack Bogle, who founded Vanguard Group and created the world's first index fund, died at the age of 89.
Be smart: "Invest as efficiently as you can, using low-cost funds that can be bought and held for a lifetime. Don't go chasing past performance, but buy broad stock index and bond index funds, with your bond percentage roughly equaling your age," he told Reuters in 2012. "Most of all, you have to be disciplined and you have to save, even if you hate our current financial system. Because if you don't save, then you're guaranteed to end up with nothing."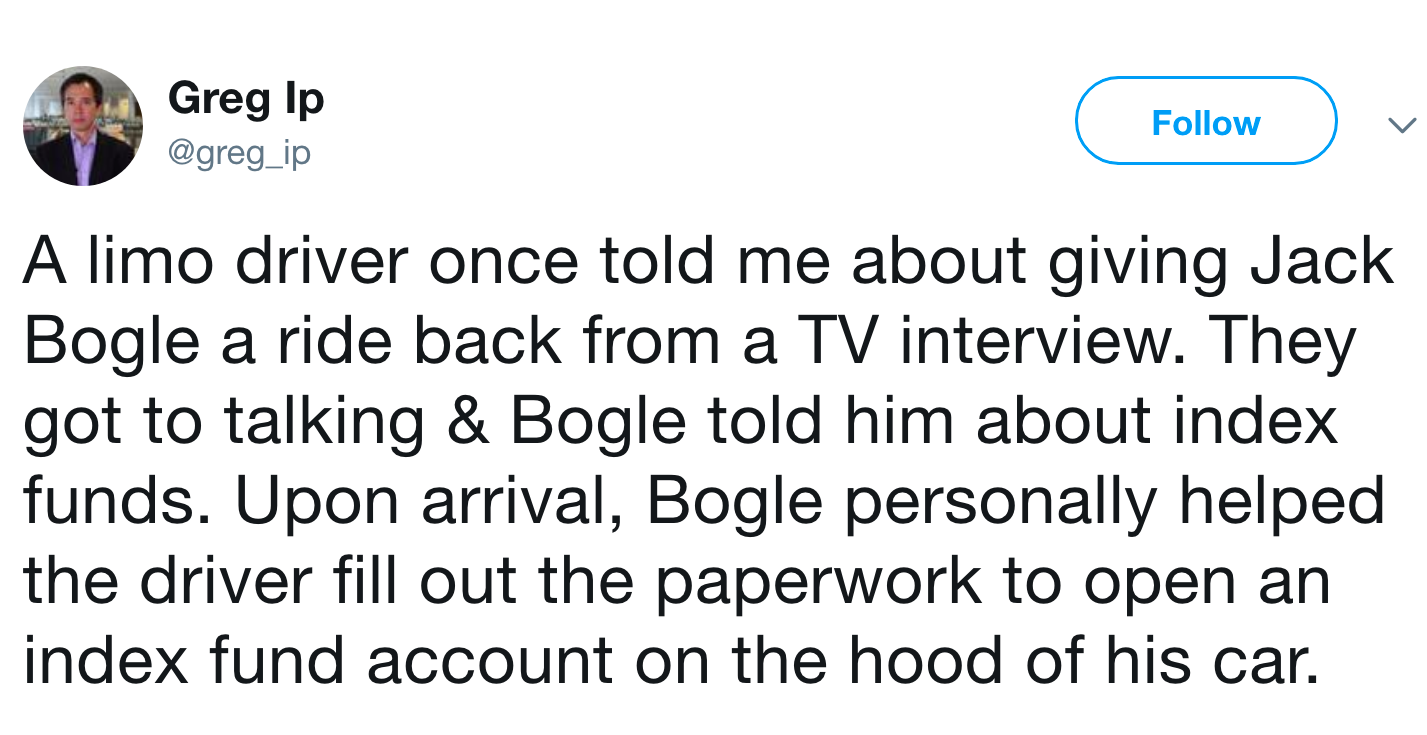 Screenshot of Greg Ip's Twitter feed.
2. How the stock market stole Nordstrom's Christmas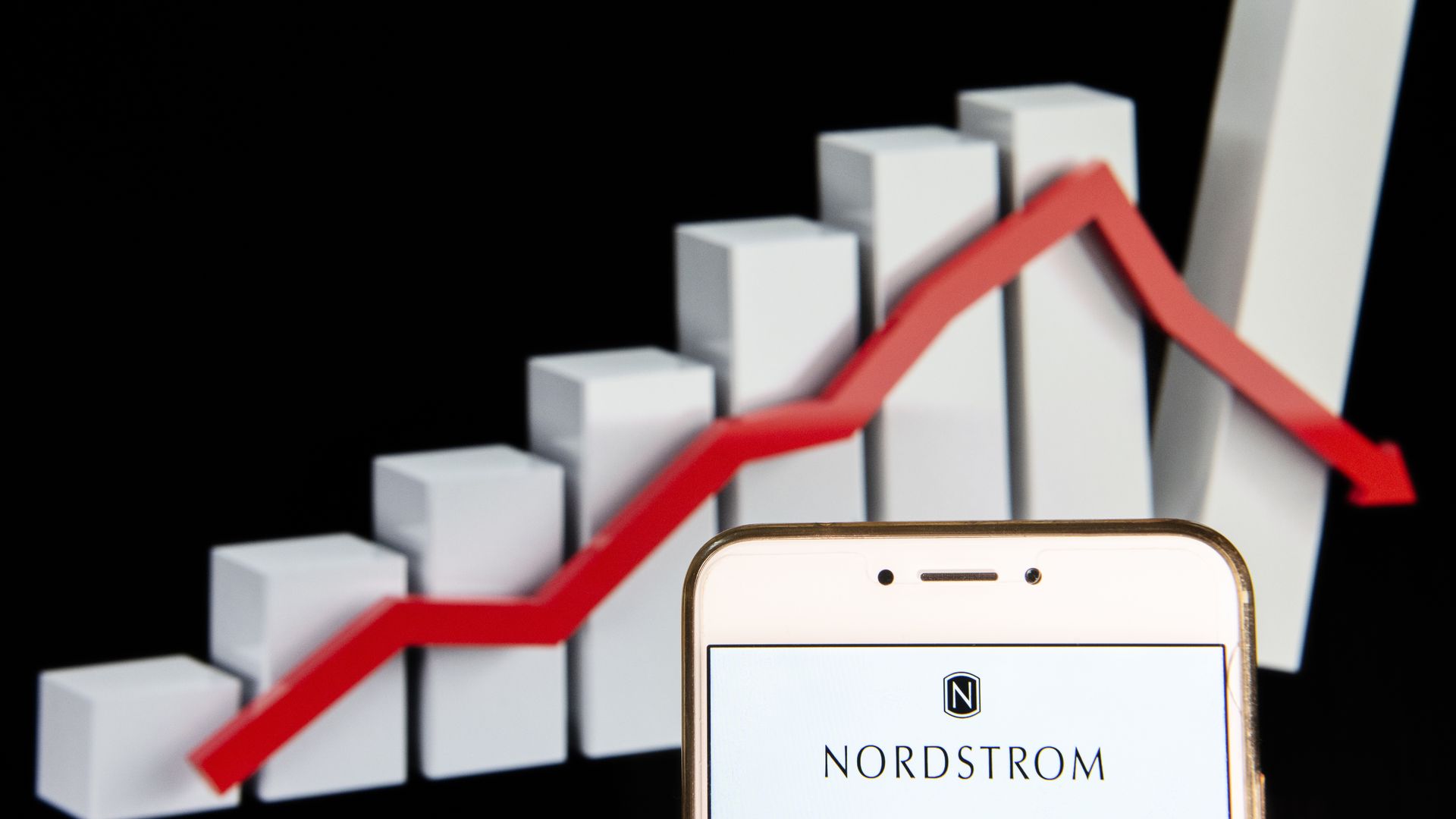 Nordstrom, one of the few retail market bright spots in 2018, announced earnings and guidance on Wednesday that were unimpressive.
The company projected earnings per share for fiscal 2018 will fall to the lower end of its $3.27 to $3.37 range and noted weakness in its full-price stores, where same-store sales rose by 0.3%.
It will resort to promotions to unload the excess inventory. Nordstrom's stock fell 5% as a result.
There may be more disappointment in store for luxury retailers, according to Goldman Sachs economist Daan Struyven.
Struyven argues that 2018's stock market losses will have a "meaningful effect on the spending of wealthy households," and that "spending on luxury goods largely purchased by wealthy households is highly sensitive to stock prices."
In fact, he predicts it could take half a percentage point off U.S. GDP growth in 2019, with overall tighter financial conditions knocking off 1%.
The bottom line: "While the share of equities owned by the wealthiest households has risen over the last three decades, equity holdings have more than tripled as a share of disposable income at the aggregate level and have also risen substantially for middle and upper-middle wealth groups. Therefore, a 1% move in stock prices now has a much larger impact on wealth levels for most groups."
3. The Fed says student loans are smothering the housing market
Buying a house is a terrible investment. That said, a new paper from the Federal Reserve posits the reason young people are buying less than in generations past is not that they're smarter and savvier, but that they are more indebted.
What they're saying: "We estimate that roughly 20 percent of the decline in homeownership among young adults can be attributed to their increased student loan debts since 2005.
The reduction in home buyers "represents over 400,000 young individuals who would have owned a home in 2014 had it not been for the rise in debt."
"We found that a $1,000 increase in student loan debt ... causes a 1 to 2 percentage point drop in the homeownership rate for student loan borrowers during their late 20s and early 30s."
Yes, but: The Fed argued that student loan debt was an important but not "central cause" of the reduction in home buying. Researchers largely put the onus on tighter bank lending standards.
The bigger picture: The Fed also focused on additional harms from increased student debt.
"We show that higher student loan debt early in life leads to a lower credit score later in life, all else equal."
4. Peak Economic Policy Uncertainty
What it means: The GEPU Index is a GDP-weighted average of national economy (E), policy (P) and uncertainty (U) indexes for 20 countries, including Australia, Brazil, China, Germany, Japan and the U.S.
Each national EPU index reflects the relative frequency of newspaper articles in each country that contain a trio of terms pertaining to each of the EPU metrics. In other words, the index creators explain, "each monthly national EPU index value is proportional to the share of own-country newspaper articles that discuss economic policy uncertainty in that month."
The biggest source of EPU in 2018-2019 has been China.
5. Former Fed chairs and Nobel economists unite for carbon tax
America's leading economic establishment has penned a Wall Street Journal op-ed in support of taxing carbon dioxide emissions, eliminating other regulations and returning the resulting money to consumers in the form of a recurring dividend check, Axios' Amy Harder writes.
Why it matters: The increasing consensus among economists that the best thing to do with any money raised with a carbon tax is to return it to Americans is a significant policy marker as Washington debates to what degree, if at all, it will address Earth's rising temperatures.
Details: All 4 living former Federal Reserve chairs, nearly 30 Nobel economists and all but 1 former chair of the White House's Council of Economic Advisers have signed onto a statement laying out their support for a carbon-tax policy — one that has been gaining support from Big Oil companies, environmental groups and others across the political spectrum.
The plan includes a tax on carbon emissions that rises over time, with the proceeds sent back to Americans via quarterly dividend checks.
The op-ed published Wednesday says a sufficiently rising carbon tax would "replace the need for various carbon regulations that are less efficient."
But, but, but: Despite economic agreement behind a carbon tax, the politics around it have long been toxic in Washington, and elsewhere too. Voters in Washington state, one of the most progressive in the nation, rejected a ballot measure pricing CO2 emissions after a $30 million campaign by oil companies.
President Trump and most elected Republicans continue to ignore or dismiss climate change.
Go deeper:
Days without a factual error: 2
#BigLeague