Axios Markets
August 08, 2019
Markets is coming to you today from sunny Miami where I am attending the National Association of Black Journalists annual convention. Please send me food and beverage tips — [email protected].
Was this email forwarded to you? Sign up here. (Smart Brevity word count: 1,190 words / <5 minutes.)
Situational awareness:
Broadcom is nearing a deal to buy Symantec's enterprise business that could be announced by Thursday. The deal may value the Symantec division as high as $10 billion. (WSJ)
SoulCycle and Equinox distanced themselves from billionaire Stephen Ross, an investor in both gyms, because of his upcoming $250,000-a-plate fundraising lunch for President Donald Trump. (Bloomberg)
Lyft shares rose as much as 13% in post-market trading after the company reported strong earnings, but surrendered those gains after announcing share lock-ups would expire on Aug. 19, rather than the previously scheduled date in September. (CNBC)
1 big thing: The buyback slowdown could spell trouble

After buying back more than $1 trillion of their own stock last year, public companies are slowing their share repurchases in 2019, and that will add to troubles for the market and the economy.
Why it matters: Buybacks have been a major catalyst for the market's rise in recent years and remain an important driver of higher prices, as earnings growth has slowed and investors have become net sellers of equities.
With the trade war weighing on business spending and confidence and earnings growth expected to weaken into negative territory for companies in both the second and third quarters this year, the stock market's legs look increasingly fragile.
By the numbers: The record buyback binge in 2018 accounted for almost half of stocks' EPS growth, the highest share since 2007.
S&P reported earlier this year that Q1 2019 was the first quarter in 7 that the pace of buybacks slowed.
That theme has continued through the year, as the 4-week average pace of buybacks has fallen 30% from 2018's pace as of this week, data from Bank of America Merrill Lynch shows.
What they're saying: In a recent note to clients, BAML strategists said they see late 2018 as "the turning point in this cycle of expanding debt balance sheets, buying growth and rewarding shareholders."
"Investors have grown less enamored with buybacks," Jill Carey Hall, equity and quant strategist at Bank of America Securities, tells Axios in an email. "Stocks doing the biggest buybacks had outperformed for much of the earlier part of this cycle, but over the last few years those doing the biggest buybacks have actually underperformed."
The big picture: Companies are preparing for the economy to slow and want to pare debt and hold cash in the event of a downturn.
"More companies are concerned there's a recession coming next year, and they've decided to preserve capital," Bernard Baumohl, chief global economist at the Economic Outlook Group, tells Axios.
He argues the reduction in buybacks is a much smaller worry than the trade war, which has dampened his previously bullish outlook for the market and the overall economy.
In June, Baumohl said 2019 looked to be the middle of "the first game of a double header" for the economic expansion, but he now says his firm sees a 50% chance of a recession in 2020.
Bonus: Buybacks are slowing, but they're not stopping
The buyback math is simple, David Lebovitz, global market strategist at J.P. Morgan Asset Management, tells Axios.
"The way to explain [less buyback spending] really comes back to what's happening with underlying corporate profitability, and we've seen a pretty significant slowdown in the pace of earnings growth so far in 2019."
"Because there's less money coming through the door, the pace of buybacks has slowed."
Yes, but: This is not the death of share buybacks, by a long shot, Lebovitz adds.
"From a pure economic growth standpoint, last year U.S. growth was juiced by fiscal stimulus and tax cuts. That allowed us to grow well above trend. The back half of this year into next year ... we're just not getting that gasoline poured on the fire."
The bottom line: Uncertainty about the Fed's interest rate outlook and the trade war aren't helping, either.
"When CFOs are looking at the next 12 months, it is kind of difficult for them to put their finger exactly on what nominal demand is going to look like, and at the same time we're not getting that same support from fiscal policy."
2. A great day for safe havens
The stock market rebounded Wednesday, with major U.S. indexes finishing the day slightly higher or little moved from where they opened, but prices on safe-haven assets like gold, the Japanese yen and U.S. government debt continued to rise.
What happened: Gold prices rose to a 6-year high, above $1,500 per troy ounce, while the yen broke through 106 per dollar, nearing a 5-month high, and U.S. Treasury prices rose, taking down yields on the benchmark 10-year note below 1.6% in early trading.
But, but, but: Stock traders are still buying the dip. When President Trump again escalated the trade war by threatening new tariffs on China last week, Bank of America Merrill Lynch strategists said investors were "big net buyers" of U.S. equities. The bank saw its second highest equity net inflows on record.
Be smart: The continued momentum of assets seen as safe has heated up and looks poised to continue.
Investors have been buying bonds and diving into money market funds all year, with the recent pickup in the trade war and expectations for lower central bank interest rates around the globe driving further purchases.
Negative yields have not sapped investor appetite at all. Deutsche Bank says $15 trillion of bonds around the globe now charge buyers to invest, rather than paying them.
3. Investors are snapping up houses at a record pace
The housing market slump continues, and one little-discussed driver has been the increasing share of housing owned by investors who are looking for financial gains rather than a place to live.
Details: Private equity firms, real estate speculators and other investors made up more than 11% of U.S. homebuyers in 2018, the highest percentage on record and significantly higher than the level seen before the 2008 housing crash, according to recent data from CoreLogic.
Not only has the investor share of homes risen to a record high, but investors are taking an even greater share — also a record high — of so-called starter homes, or the smaller, more affordable houses that typically attract lower-income and first-time buyers.
The big picture: The supply of starter homes is already historically low and with prices continuing to rise and young potential buyers more indebted than ever, there's little sign that the struggles in the housing market will correct in the near-term, analysts say, even with low mortgage rates.
4. Funding had not been secured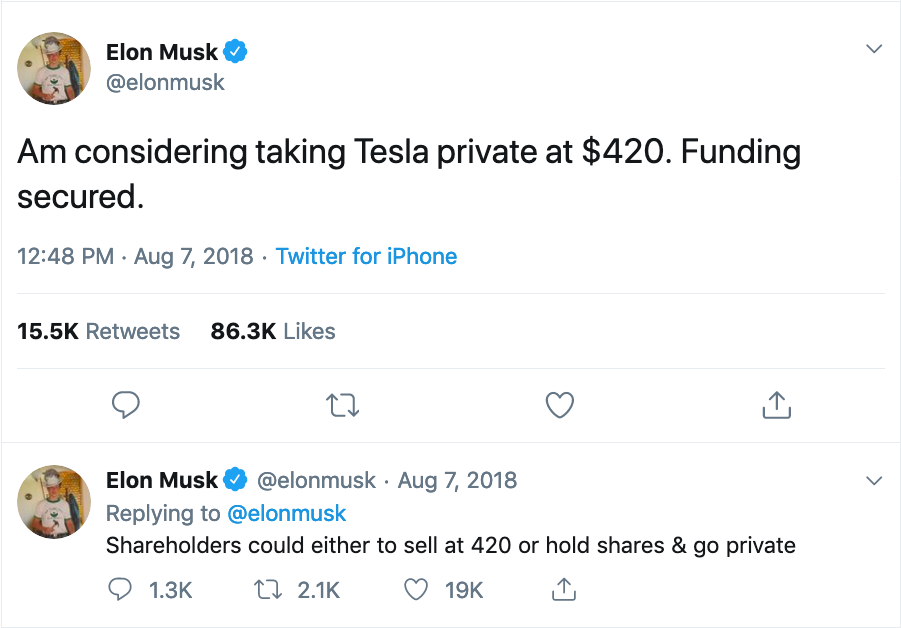 Wednesday marked 1 year since Tesla CEO Elon Musk told the world he was thinking of taking Tesla private and had funding secured to do so.
How'd that work out for him? The tweet almost immediately resulted in shareholder lawsuits and scrutiny from the SEC that ended in $40 million in fines and a settlement.
Musk was forced to step down as Tesla's chairman and have his tweets approved by a committee of company directors (later strengthened to pre-approval of certain tweets by lawyers, after Musk was deemed to have violated the original agreement).
In the year since Musk's infamous tweet, not only has funding still not been secured, Tesla largely has failed to deliver the profitability Musk promised, Quartz's Michael J. Coren notes.
Bloomberg's Liam Denning points out that despite dropping 39% since the tweet, Tesla's stock still "sports a triple-digit forward earnings multiple — indeed, it stands at 669 times today versus a mere 281 back then."