Axios Markets
September 11, 2019
I'm headed to the World Trade Center memorial today. Maybe I'll see you there.
Was this email forwarded to you? Sign up here. (Today's Smart Brevity: 1,161 words, ~ 4 minutes.)
Situational awareness:
1 big thing: Popeyes' chicken sandwich and the future of fast food
The popularity of the recently unveiled — and more recently shelved — Popeyes chicken sandwich was unlike anything KeyBanc Capital Markets equity research analyst Eric Gonzalez had ever seen.
What it means: For the short time in August that it was available, Gonzalez estimates Popeyes' store traffic doubled and about 1,000 chicken sandwiches were sold in each store every day, accounting for about 30% of total sales.
"Just to give you an idea of how much ahead of expectations this was ... a good [limited-time offer] gives you a 2 to 3 point same stores sales lift. You'd take that all day long," Gonzalez tells Axios.
"This was 30% of sales. This blew them away, blew away their expectations. And it's not even on the map. I spoke to a franchisee who said the best he could remember was 15–20% on a crawfish deal in the '90s."
Between the lines: The big win was a tribute to the sandwich's great taste and a wildly successful social media campaign that generated $65 million in earned media value in just 2 weeks, according to Apex Marketing Group.
Unfortunately, Popeyes has been unable to cash in on that earned media over the past 2 weeks, since the chain managed to sell out of chicken sandwiches in the midst of a mass U.S. oversupply of chicken.
Fortunately, the restaurant is at the heart of 2 bullish trends: a growing American appetite for chicken and a roaring fast food sector.
By the numbers: Quick service and fast-casual restaurants — including traditional fast food and pricier chains like Chipotle and Shake Shack — outperformed the S&P by 14% year-to-date through the end of July and by 27% over the last 12 months, note Goldman analysts led by Katherine Fogertey.
Americans have been consistently eating more chicken, with U.S. consumers tripling their chicken consumption since 1960, while beef and pork have declined notably.
The big picture: Fast food restaurants have been offering chicken items for years, but the success of Chick-fil-A, which generated $10 billion in total sales last year to become the third most popular fast food chain in the U.S. — and Popeyes' breakout new sandwich — have others looking to add more poultry to their menus.
McDonald's and other competitors in the quick-service fast food industry are expected to roll out similar sandwiches starting next month, Gonzalez says.
Be smart: Goldman's research team estimates 70% of the industry's sales growth over the past 5 years can be explained by consumers' rising wages, lower gas prices and a boost from third-party apps like Grubhub and Uber Eats.
High-quality breaded chicken sandwiches could be the industry's new cash cow.
Bonus: Chicken is closing the gap
Popeyes only makes up a small portion of profits for owner Restaurant Brands International, which is anchored by Canadian behemoth Tim Hortons and Burger King, but the success of its chicken sandwich could change the calculus for the brand, as Popeyes already is growing faster than both.
The big picture: Chicken has been an increasing share of Americans' diets since the 1980s when doctors began warning that eating too much saturated fat from red meat could increase the risk of heart disease.
For the first time ever, more poultry than red meat was eaten by U.S. consumers per capita last year, with chicken almost closing the gap with a combination of beef, pork, veal and mutton/lamb by itself.
The intrigue: Chicken also has become much less expensive in recent years, driving a surge in buying from cash-strapped U.S. workers who have seen the costs of health care, education and housing skyrocket while their paychecks have stayed roughly the same.
"In 1960 a pound of chicken cost half as much as a pound of beef. This ratio has now fallen to one-third," the Economist notes.
"The proliferation of antibiotics in industrial agriculture allows farmers to keep chickens in denser and dirtier conditions than ever before. A study by Martin Zuidhof from the University of Alberta found that the average broiler chicken, raised for meat, weighed 4.2kg at 56 days of age in 2005, up from just 0.9kg in 1957."
2. September is notoriously rough for stock market
"September is known as a rough month historically, but it is interesting to note that the majority of the weakness tends to happen late in the month," LPL Financial senior market strategist Ryan Detrick tells Axios.
"One potential reason for this seasonal weakness is institutions sell stocks to get losers off their books ahead of the fourth quarter."
3. Census: Household income hasn't budged since '99
Tuesday's U.S. Census data shows gains in wages and declines in poverty for U.S. citizens, but there were reasons to be sour on the data.
"At first glance, it would appear that median income [$63,179 in 2018] was higher than every year prior to 2017," the Census Bureau says in a note accompanying the data's release.
But the agency cautions recent estimates reflect changes implemented to the survey and analysts point out that wages haven't moved much since 1999.
Reality check: "Considering that the U.S. economy grew by an inflation-adjusted 48% over the same period, that is more than striking," WSJ's Justin Lahart writes.
Poverty is dropping. The number of people living in poverty fell by 1.4 million.
But median income is growing slowly. "Median household incomes rose only 0.9% in 2018, compared with 1.8% in 2017. In 2016 and 2015, median household incomes grew much faster, at 3.1% and 5.1%, respectively," analysts at the Economic Policy Institute note.
What they're saying:
"Household income growth significantly slowed again in 2018, following a marked deceleration in 2017. While any reduction in poverty or increase in income is a step in the right direction, most families have just barely made up the ground lost over the past decade," EPI senior economist Elise Gould said in a release.
"We've seen a lot of gains in employment among lower-income and lower-education groups ... but it is precisely those groups that are vulnerable to layoffs if economic activity slows," Marianne Wanamaker, an economist and former member of Trump's Council of Economic Advisers, told the Washington Post.
4. Apple's underwhelming iPhone event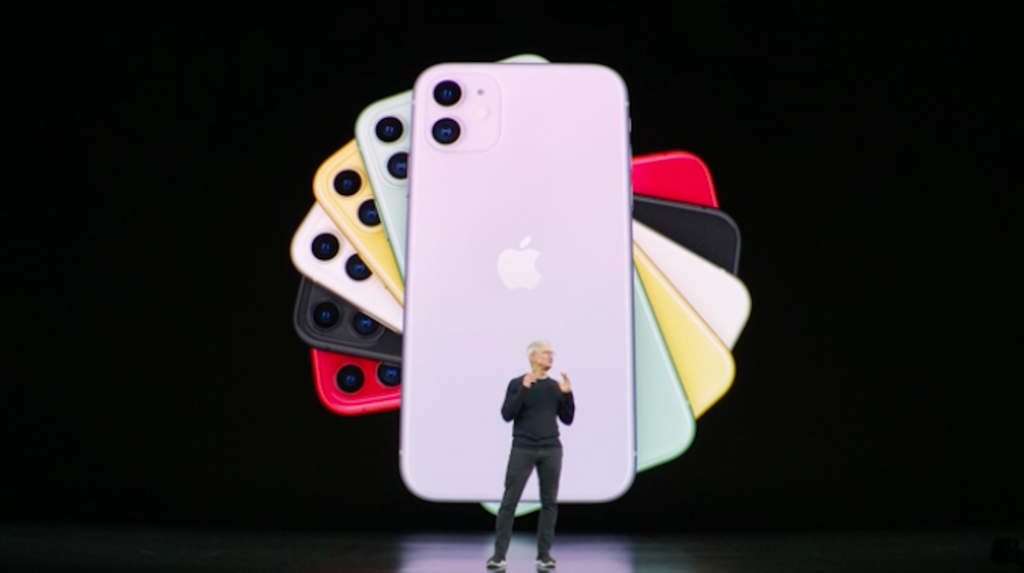 Axios' Ina Fried writes: Apple delivered exactly the iPhones everyone expected on Tuesday — and that's kind of the problem.
Between the lines: Instead of "one more thing," Apple's event was more like "none more thing."
Not only were there no big surprises, there were actually some disappointments, as the company didn't announce its expected new item-finder tags or add a widely rumored sleep-tracking feature to its Apple Watch.
Why it matters: Apple isn't alone in offering slower innovation in the smartphone market, but the company is uniquely dependent on smartphone sales for its overall business.
Driving the news: Apple did deliver some solid improvements to the iPhone, adding additional rear cameras to its mid-line and top-line phones (the iPhone 11 has 2, and the iPhone 11 Pro has 3).
It also shaved a little bit from the entry-level price. Apple isn't known for low prices, but has been known to cut them when it introduces new products that are fairly similar to their predecessors.
The bottom line: The iPhone 11 offers a couple nice improvements, especially if it can deliver on its promise of significantly improved battery life on the iPhone 11 Pro. But it's far from clear if the company did enough to prompt those weighing an upgrade to buy a new phone.