Was this email forwarded to you? Sign up here.
Situational awareness:
The Federal Reserve is examining Deutsche Bank's handling of billions of dollars in suspicious transactions from Denmark's Danske Bank, in what could be one of the biggest money-laundering scandals ever. (Bloomberg)
Elliott Management is urging eBay to restructure itself, including separating both StubHub and Classifieds from its core Marketplace platform. (Axios)
1 big thing: Corporations are fleeing global chaos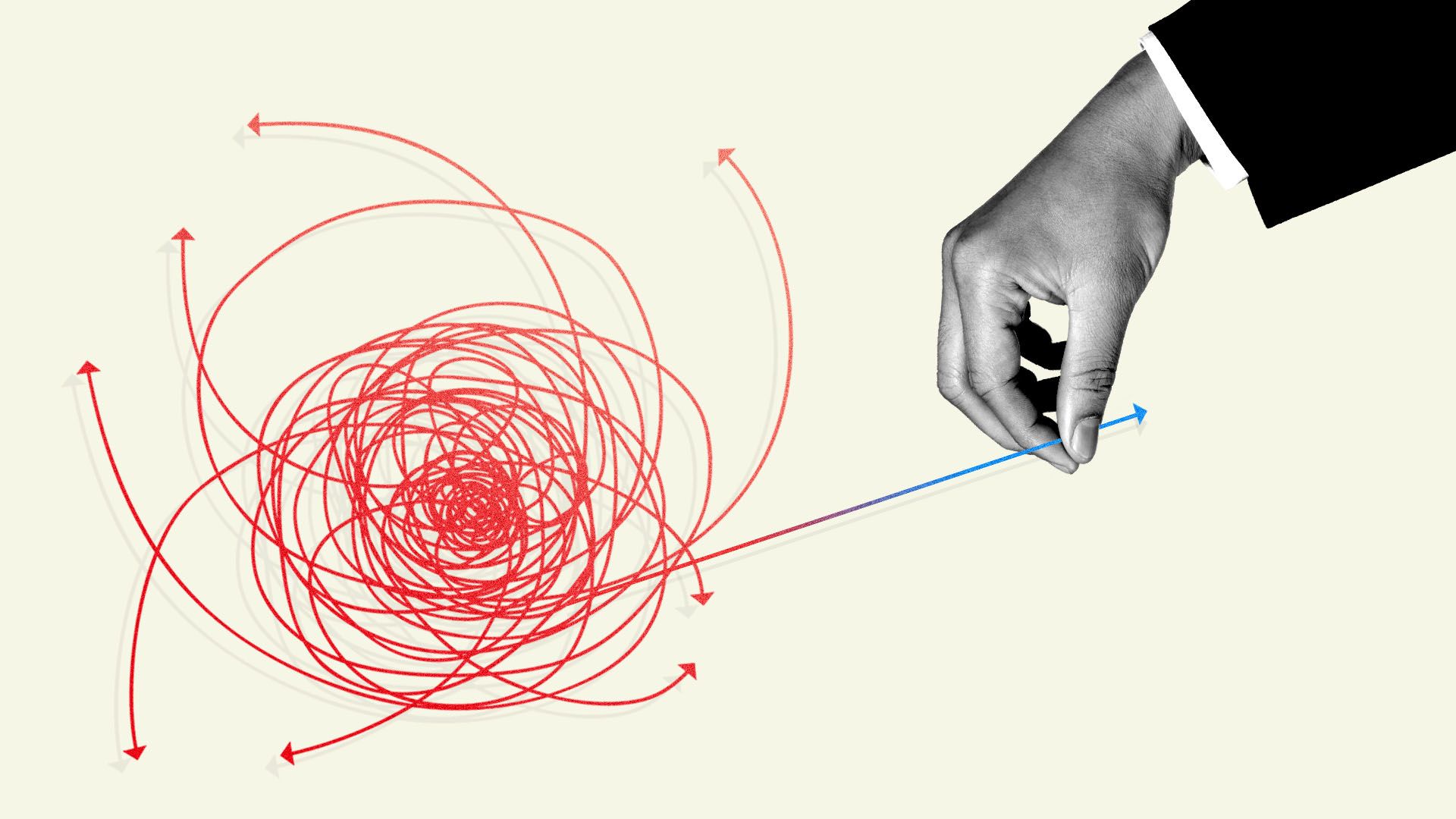 Companies around the world are changing their tunes and addresses — uprooting supply chains and moving their headquarters to get ahead of unsettled global chaos, Axios' Courtenay Brown writes.
Driving the news: Dyson said Tuesday it would move its headquarters from the U.K. to Singapore — not because of Brexit, according to its founder, leading Brexit advocate Sir James Dyson, but to "future-proof" the business.
That may be, but the company is part of a growing pattern.
Japan-based Panasonic executive Laurent Abadie said the company would shift its EU headquarters out of the UK to Amsterdam, citing "Brexit-related concerns like access to free flow of goods and people."
Steve Madden said last year on an earnings call with analysts that it was "aggressively shifting production out of China" and said the company will source 16% of its tariffed goods from countries other than China.
Foxconn, Apple's biggest iPhone supplier, is looking to push production out of China and into India — a move that could "lower prices by allowing Apple to avoid a tariff that adds 20% to devices imported from China."
Unilever sought to move its headquarters to Rotterdam from London last year, but met strong resistance from shareholders.
Watch this space: More than half of the 48 financial services companies in EY's Brexit tracker said they are considering moving some of their operations and or staff out of the UK, thanks to Brexit uncertainty.
Why it matters: "Those are big calls," Carlos Gutierrez, a former Commerce secretary and former CEO of Kellogg who now chairs Albright Stonebridge Group, tells Axios. "Moving a supply chain is a big investment, and putting together a supply chain is a big investment to start with."
"I doubt these companies will go back," even if tensions ease, Gutierrez said.
Be smart: Behind the scenes firms are continuing to plan for a "'no-deal' scenario," Omar Ali, UK Financial Services Leader at EY, wrote in the company's Brexit tracker report. "The closer we get to March 29 without a deal, the more assets will be transferred and headcount hired locally or relocated."
1 bonus chart: Brexit mentions
Chief executives ramped up talk about Brexit in the 3rd quarter, as the deadline for the U.K. to leave the EU inches closer.
Still, "Brexit" doesn't even crack the top 5 of most mentioned issues. It falls behind "tax reform," "trade/tariffs," "Congress," "financial regulations" and "administration."
2. China won't cut U.S. Treasury holdings
While some had suggested China could cut its purchases of U.S. Treasury bonds as a way to retaliate or escalate its trade war with the U.S., the vice chairman of the China Securities Regulatory Commission (CSRC) said such a move is unlikely.
What they're saying: Fang Xinghai told a World Economic Forum panel in Davos, Switzerland, that he doesn't think his country "will in any way significantly reduce its investment into the U.S. government bond market."
China is America's largest foreign creditor, holding more than $1.1 trillion of Treasuries.
Market participants have told Axios in recent weeks that strong U.S. Treasury note auctions could be due to China making a sizeable return to the market, as direct bidders — a group made up of foreign buyers and U.S. institutions that don't do business directly with the Federal Reserve — have taken home particularly large slices of recent bond deals.
Worth noting: We don't know for certain whether the Chinese have been buying more Treasuries. The CFTC, which tracks international Treasury buying, has been closed due to the government shutdown, with the last report in December showing October's data.
3. Consumer sentiment was really bad in January
The University of Michigan's consumer sentiment index fell 8% in January, to 90.7, the lowest reading since October 2016 and the biggest drop since September 2015. It missed expectations by a mile, with economists anticipating a reading of 97.0.
Beyond the headline number: Measures of consumer sentiment, views on current economic conditions and economic expectations all reversed course from December, turning negative on a month-over-month and year-over-year basis.
According to the survey, economists estimate the U.S. government shutdown, which began Dec. 22, is subtracting as much as 0.2% from quarterly GDP growth every week.
"What you have now is not much more upside being seen, you see a lot more downside with the political agenda and trade conflicts, and no promise or hope for anything else like infrastructure," PwC global chairman Bob Moritz told CNBC on Tuesday.
4. 'The Lost Data of Pause-lantis'
There is no end in sight to the government shutdown, and that is adding a new level of uncertainty to decisions by market participants and more importantly by the Federal Reserve.
Betaween the lines: At what point does the shutdown start to impact the Fed?
The Fed is expected to pause its rate hiking cycle until at least June.
But if the shutdown continues much longer, the loss of Commerce Department data could put the central bank's ability to asses the economy in doubt.
According to BMO Capital Markets rate strategist Ian Lyngen, it's likely we're already there.
"A more amicable resolution [to the government shutdown] will take time (apparently more than 32 days) and at this point, be followed by a period of assessing how much actual damage has been done to the real economy.
"A traditional interpretation of events would suggest that since it's 'only temporary' and the data will ultimately be released, the government closure doesn't matter for the economy or monetary policy.
"That logic holds for a couple weeks around the holidays, but what about a couple months?
"Data collection becomes an issue at some point (i.e. now) and while reconstructing some series is feasible, the estimates needed for others might prove so cumbersome the eventual deluge of releases is made irrelevant. The passage of time will do the same; after all if reports are not back to 'reliable' until Mar/Apr, the Jan prints are effectively useless. Said differently, Powell may soon face the unenviable search for the 'Lost Data of Pause-lantis.'"
5. Opposing views on the housing market
December was a rough month for housing, writes the Wall Street Journal's Justin Lahart, looking at the 6.4% drop in existing home sales, and a January bounce may not happen.
"While a bounce can't be ruled out, the housing recovery's best days probably are behind it."
Go deeper: "The drop in home sales came despite a decline in mortgage rates," he writes.
Part of the problem was that the things that brought about the decline in rates — worries over the economy and tumbling stock prices — likely made would-be buyers nervous. And because it takes time to close on a house, the sales drop also probably reflected the higher rates in previous months.
The shutdown is also likely to make things worse in coming months.
"There are about 800,000 federal employees who are either furloughed or working without pay as a result of the government shutdown. Buying a home can't be top of mind for many of them."
On the other hand: Bank of America economist Michelle Meyer disagrees, writing in a note on Tuesday: "Don't believe the narratives of a housing collapse."
Meyer argues that the challenges facing the housing sector "should only be a slight drag on growth" and notes, "the recent decline in mortgage rates is well timed, ahead of the spring selling season."
"Sentiment among U.S. homebuilders rose last week for the first time in three months amid a decline in borrowing costs, even as home sales have slumped."
"We suspect that potential homebuyers who may have been scared from the market during the period of rising rates in the fall could see it as an opportunity to jump back in,"
Days without a factual error: 8
#Drippin