Axios Markets
October 16, 2019
Was this email forwarded to you? Sign up here. (Today's Smart Brevity count: 1,016 words, 4 minutes.)
Situational awareness:
Democratic presidential candidates said things in last night's debate. (Axios)
The British pound edged down from a 5-month high against the dollar as talks between U.K. and EU lawmakers look to have stalled. (Reuters)
MGM Resorts will sell its Circus Circus Las Vegas property for $825 million and separately will sell the Bellagio Hotel and Casino to Blackstone, and then lease back the property, in a $4.25 billion deal. (CNBC)
1 big thing: The global growth reversal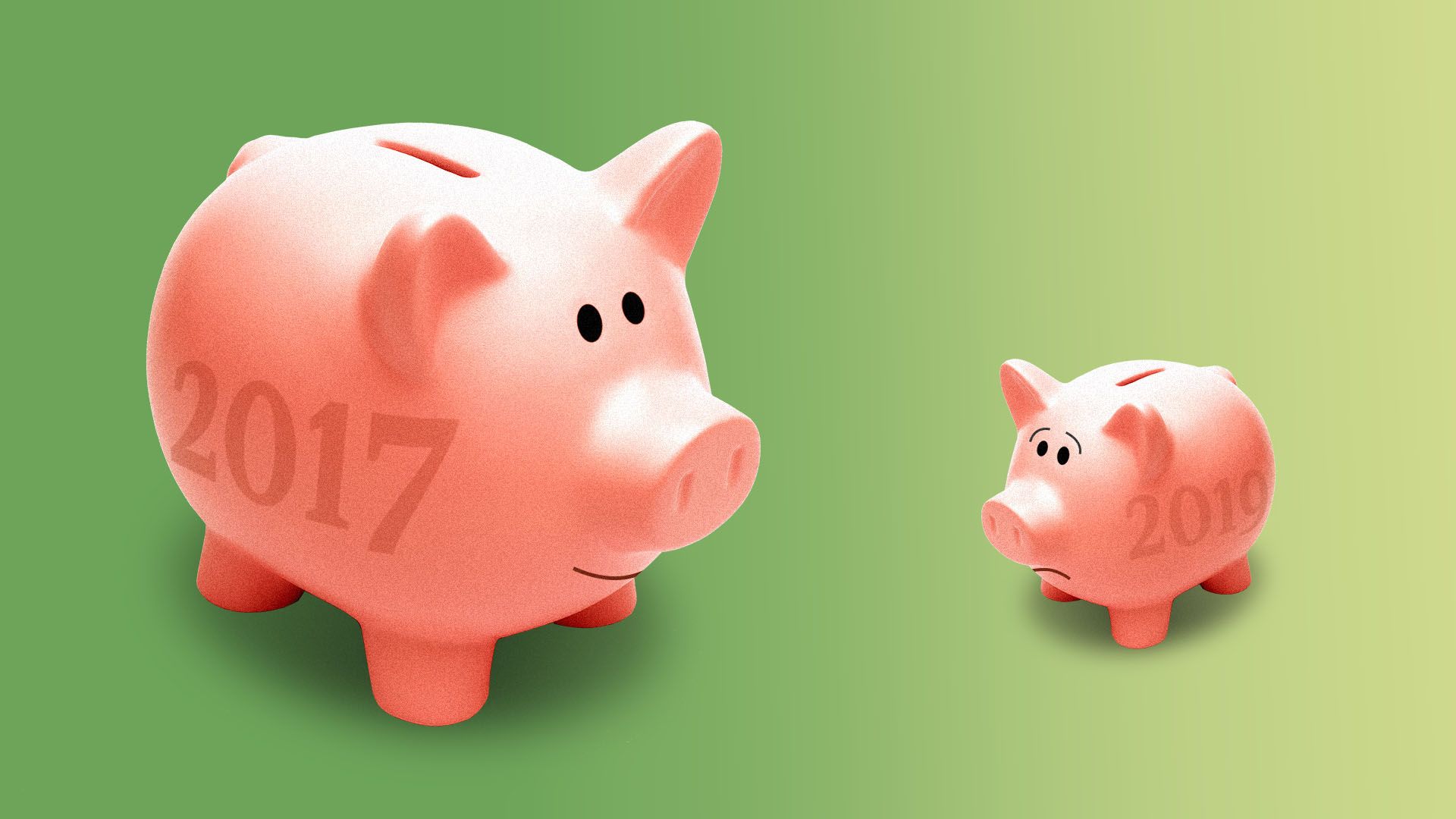 In January 2018, coming off of a year in which global growth rose to near 4%, then-IMF managing director Christine Lagarde said the global economy was experiencing "the broadest synchronized global growth upsurge since 2010" and that "all signs point to a continuous strengthening."
The latest: On Tuesday, the IMF said it expects global growth to slow to the weakest pace since the 2008 global financial crisis, noting the decline would be a significant drop from its 2017-18 levels.
It was the third time this year the organization has cut its growth projections and the fourth time since 2018 when the Fund anticipated the global economy would grow 3.9% this year.
What we're hearing: "With uncertainty about prospects for several of these countries, a projected slowdown in China and the United States, and prominent downside risks, a much more subdued pace of global activity could well materialize," IMF chief economist Gita Gopinath said at a press conference announcing the Fund's World Economic Outlook and revised projections.
The big picture: The biggest factor weighing on global growth is the U.S.-China trade war launched by President Trump in April 2018, which Gopinath and the IMF expect will cost the world 0.8% in GDP losses this year.
Even its latest watered-down growth predictions are optimistic and rely on some against-the-grain expectations: that Brexit will be resolved in an orderly fashion, the U.S.-China trade war will wind down and other geopolitical conflicts will cool.
Watch this space: The 3% number is particularly important because Gopinath projects that if growth were to slow to 2.5%, "that's a scenario where several countries are in recession."
Threat level: The global economy already is in "a synchronized slowdown," IMF managing director Kristalina Georgieva said at a recent news conference.
The bottom line: To keep the global economy from falling into a recession, "policymakers must undo the trade barriers put in place with durable agreements, rein in geopolitical tensions, and reduce domestic policy uncertainty," Gopinath said.
There are few who expect that to happen in the near future.
2. Outlook for the phase 1 trade deal darkens
The outlook for a meaningful U.S.-China trade deal continues to deteriorate, as the U.S. House of Representatives passed a bill supporting protesters in Hong Kong and China reportedly backtracked on part of the deal it agreed to last week.
Details: The House bill would require an annual review of whether Hong Kong is truly separate from Beijing to the point that it justifies the special trading status it receives under U.S. law and would implement sanctions against officials "responsible for undermining fundamental freedoms and autonomy in Hong Kong."
Chinese officials unsurprisingly did not take the news well, accusing the U.S. of a "political plot" to thwart China's development.
The Chinese Ministry of Foreign Affairs said that it would take strong measures against the U.S. if the bill passed.
On the agriculture front, Bloomberg reported that Chinese officials are seeking a rollback of $50 billion in tariffs before agreeing to raise purchases of U.S. agriculture to the $40-$50 billion range President Trump said was agreed to in the so-called phase 1 trade deal.
China is willing to start buying more U.S. agricultural products immediately as part of the trade deal agreed to in principle last week, but is unlikely to reach $40 billion to $50 billion without sanctions relief, the report said, citing unnamed sources.
3. Global uncertainty hits a 20-year high
Uncertainty over both global trade and the global economy is at its highest point in more than 20 years, the Institute of International Finance reports, citing the latest readings of the World Uncertainty Index.
"It is a striking exhibit," IIF deputy director Emre Tiftik tells Axios in an email. "Trade uncertainty is implicitly included in the global uncertainty. However, its weight in the global uncertainty is small. And one can conclude that the sharp rise in trade uncertainty is a major factor keeping global uncertainty at elevated levels."
What it means: The index tracks the frequency of the word "uncertainty" in the quarterly Economist Intelligence Unit country reports. The World Uncertainty Index has spiked after the 9/11 attack, SARS outbreak and following the second Gulf War, the Euro debt crisis, El Niño, European border crisis, U.K. Brexit vote and the 2016 U.S. election.
4. Bank earnings and health care stocks look healthy
The Dow turned positive for October after solid earnings from some of the biggest U.S. banks and surprisingly solid earnings from health care companies. Both sectors have lagged the market this year.
What happened: Bank CEOs, including JPMorgan's Jamie Dimon and Citigroup's Michael Corbat, continued to tout the strength of the U.S. consumer.
Shares of JPMorgan Chase rose 3% after its revenue and earnings rose more than expected.
Wells Fargo rose 1.7% after a surprise increase in revenue, though its third-quarter profits fell more than expected.
Citigroup gained 1.4% after reporting quarterly sales and profits that beat expectations.
Goldman Sachs managed to see a 0.3% increase in its share price despite a 26% decline in profit from the year before.
Health care giant UnitedHealth Group and consumer health bellwether Johnson&Johnson both topped analyst expectations and raised their full-year profit guidance.
The big picture: The S&P closed 1% higher and the Nasdaq gained 1.24% after the positive earnings news.
5. Top manager lost $3B in Q3 betting on Argentina, Treasury yields
Argentina's "Macrisis," which has sent its currency spiraling lower and cut the value of its bonds by more than half their value, and the implosion of U.S. Treasury yields cost Franklin Templeton's flagship $100 billion Global Bond Fund $3 billion in the third quarter, public filings data show.
What happened: The fund, managed by Michael Hasenstab, was heavily invested in Argentinian local-currency bonds, which defaulted in August, and a huge short position on U.S. Treasuries, which have seen prices rise significantly, Bloomberg reported.
"It's not the first time Hasenstab, who oversees more than $100 billion and made his name staking large sums on contrarian trades, has been wrong-footed. But he's rarely been caught in two poorly-performing bets at the same time. Morningstar Inc. said in August it would stick to its top analyst rating for his fund despite the barrage of bad news because of its track record of picking winners in the long term."
The fund has returned 2.4% in the past three years, Bloomberg data show.
6. Peter Navarro made up an economist he quoted in his books
"Those who know Navarro well, [Greg] Autry says, were fully aware that Ron Vara was a phony source who often popped up in his books. He said Vara was Navarro's 'alter ego,' an 'everyman character' who dispenses cutesy business aphorisms as well as dire warnings about Chinese food."
Top Trump administration economic adviser Peter Navarro made up an economist he has quoted regularly in his books named Ron Vara, Tom Bartlett writes in The Chronicle of Higher Education.
That Ron Vara happens to be an anagram of Navarro's last name is one of many interesting details about the character who Navarro once wrote placed short bets against the stocks of 2 nuclear power-reliant companies literally 2 days before the worst nuclear disaster in human history at Chernobyl.
Oh, there's more: Navarro similarly quoted Leslie LeBon when writing about the dangers of China, who a Google book search revealed is his wife.
Go deeper: Trump's 'China Muse' Has an Imaginary Friend