Welcome back. It was quite a weekend. Was this email forwarded to you? Sign up here. (Today's Smart Brevity count: 1,141 words, 4.5 minutes.)
"In the future days, which we seek to make secure, we look forward to a world founded upon four essential human freedoms." - See who said it and why it matters at the bottom.
1 big thing: Markets seek safety after a weekend of threats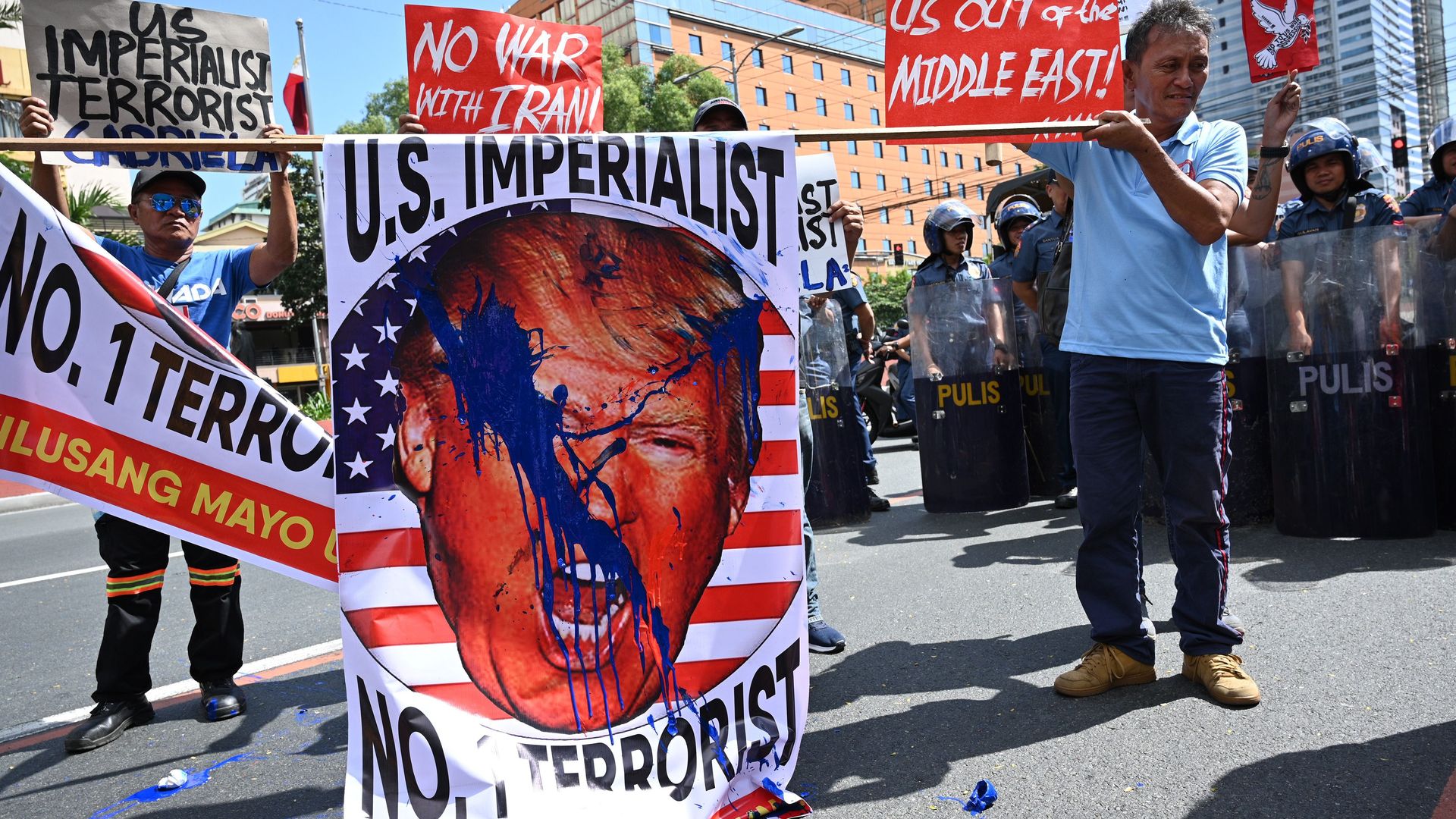 The price of gold hit its highest in nearly seven years, oil hit a four-month peak and stocks were in the red across Asia and Europe, with Gulf stocks from Kuwait and Saudi Arabia well off and S&P futures lower, as tensions between the U.S. and Iran ratcheted up over the weekend.
Safe-haven assets like U.S. Treasuries and the Japanese yen also saw buying, with the dollar touching its weakest in three months against the yen.
What happened: President Trump warned in a tweet that if Iran retaliated for the killing of General Qasem Soleimani last week it would face "very hard and very fast" attacks on 52 targets.
His threat followed one from Iranian leadership that the U.S. would face "severe retaliation" and a decision by Iraq's parliament asking U.S. and other foreign troops to leave the country after Soleimani was killed in a U.S. airstrike near Baghdad.
Perhaps most notably, Iran said it would no longer restrict its uranium enrichment, increasing the threat it could develop a nuclear weapon.
Yes, but: While the war of words has many on edge and fearing the worst, for financial markets much of the reaction seen since Friday's airstrike will be short-lived, if history is a guide.
A hedge-fund analysis from Kensho cited by CNBC found that crude prices see a positive change more than 80% of the time in the month following major Middle East crisis events, along with a temporary bump for gold, with stocks as the next most successful short-term asset classes.
Over a three-month horizon, data show that stocks and oil continue to rise, while safe-haven assets like Treasuries fall and gold is flat.
What to watch: The attack on Soleimani and coming fallout will most acutely impact the oil market, analysts say.
"The risk of further escalation has clearly gone up - given the direct attack on Iran, Iran's threat of retaliation and Trump's desire to look tough - posing the threat of higher oil prices," Shane Oliver, chief economist at AMP Capital, told Reuters.
"Historically, though, oil prices need to double to pose a severe threat to global growth and we are long way from that."
2. Catch up quick
Italy, Germany and other European governments are bailing out struggling banks, skirting regulations meant to keep public money out of the private system. (WSJ)
Multiple former Wells Fargo executives could be indicted this month and already are under criminal investigation in connection with the bank's fake-account scandal. (American Banker)
Federal regulators are considering mandatory flight-simulator training before U.S. pilots can fly Boeing's 737 MAX jets again. (WSJ)
"It seems implausible to me that the Fed will be able to stop their repo operations by the end of January," said Mark Cabana, head of U.S. rates strategy at BofA Securities. (Reuters)
3. Farmers hoping for more "Trump money" in 2020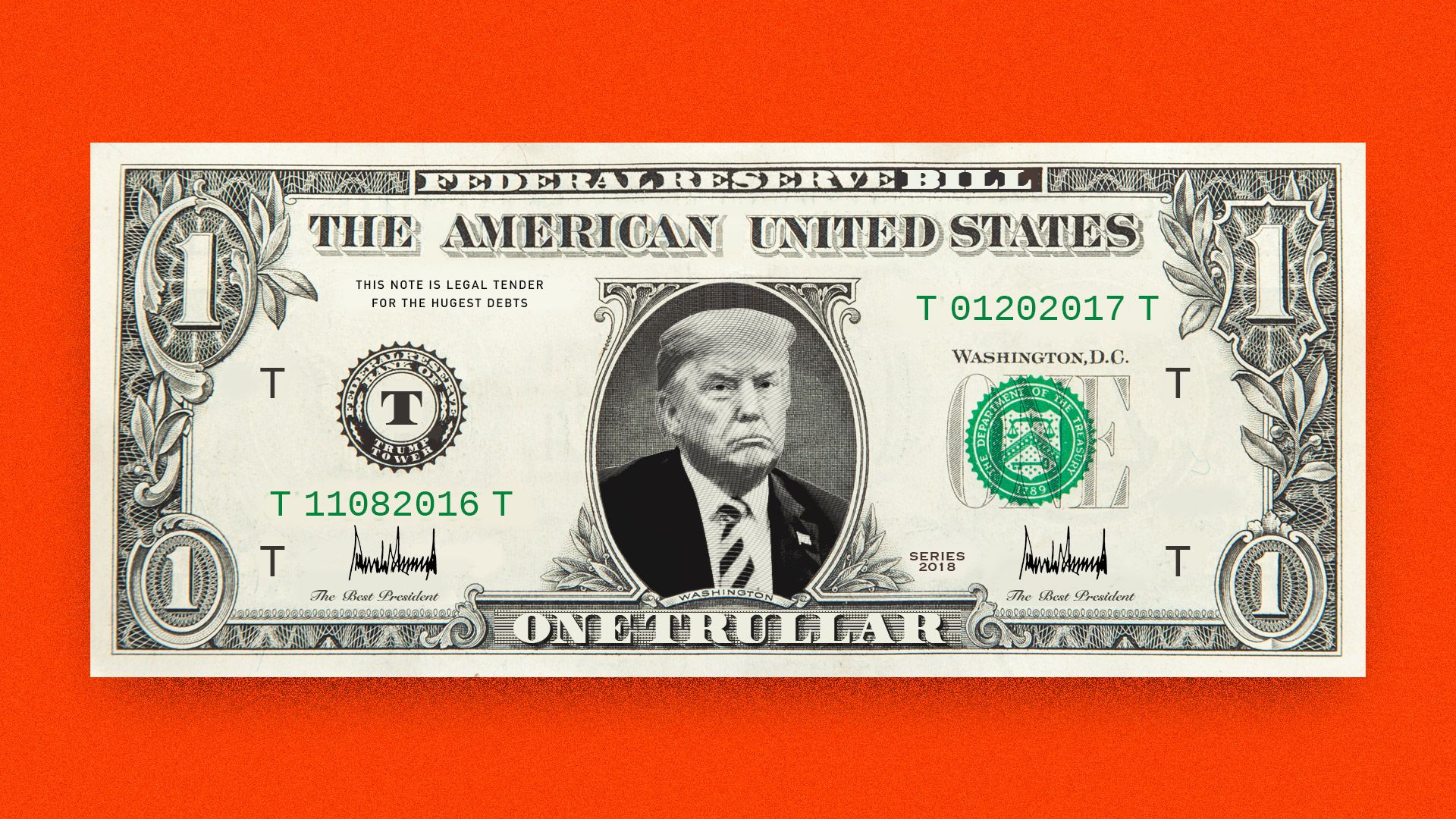 U.S. farmers have been given a bit of a lifeline by the "phase one" U.S.-China trade deal, but without concrete specifics on what China will purchase there remains some worry about how they will be able to support themselves and their farms in 2020.
Background: Farmers had a rough 2019, even with a hefty subsidy package provided to them by the Trump administration as relief from the trade war.
Chapter 12 bankruptcies rose 24% over the previous year, and farm debt is projected to hit a record high $416 billion.
Overall, farm income increased last year, but without the $14.5 billion tranche of farm subsidies delivered by the government, U.S. farm income would have fallen by about $5 billion from its already low 2018 level.
Why it matters: It was the highest level of subsidies in 14 years, and "definitely not the normal," Farm Bureau chief economist John Newton told Axios in November.
What's next: It's unclear whether U.S. farmers will get more government aid in 2020, but experts say more farmers are becoming financially dependent on the subsidies, Beth Burger of the Columbus Dispatch wrote in November.
"'Trump money' is what we call it," Missouri farmer Robert Henry told NPR of the package that totaled $28 billion over two years. "It helped a lot."
"If the government doesn't pay us, we're done," North Dakota farmer Justin Sherlock told Reuters last week.
The big picture: Many are unsure of what crops to plant because no specific details have yet been released on the deal, Reuters reported, noting that farmers in export-dependent regions say they can't continue to sell their crops for below the cost of production without additional subsidies.
Between the lines: It's hard to handicap the odds of a third round of farm subsidies because the Trump administration essentially pulled the money for the first two rounds "out of thin air," NPR's Dan Charles reported.
"[The USDA] decided that an old law authorizing a USDA program called the Commodity Credit Corp. already gave it the authority to spend this money."
The bottom line: The world's agriculture supply chains have already changed and American farmers aren't entirely sure where they fit or what products China will be buying.
China has deepened ties with Brazil and Argentina, and its need for U.S. exports like soy and sorghum to feed livestock is waning because of a deadly pig disease experts estimate has killed about half the world's largest hog herd.
4. Dissecting the U.S. manufacturing divergence
The IHS Markit and ISM manufacturing indexes diverged sharply again in December, with ISM's gauge showing the worst manufacturing report in a decade and Markit's showing a solid reading well above 50, which is the line separating expansion from contraction.
What's happening: One reason for this divergence, highlighted by IHS Markit's chief business economist Chris Williamson in a recent blog, may be that IHS explicitly tells respondents to "confine their reporting to US facilities/factories."
"ISM data could therefore be more heavily influenced by global conditions facing ... US-owned companies than the IHS Markit data," Williamson writes.
State of play: Markit's global manufacturing index and the overwhelming majority of its indexes outside the U.S. declined sharply in December, but the U.S. held firm, dipping just 0.2 points from November's total.
What it means: Markit's gauge may more accurately reflect the situation in the U.S. However, because global supply chains are so interconnected, the situation for American manufacturing companies may be as dire as the ISM's survey suggests.
5. Earnings expected to grow in Q4 for the first time since 2018
Given the way S&P 500 earnings have beaten estimates over the past few years it is likely the index will report earnings growth in the fourth quarter — the first and only quarter of growth last year.
Between the lines: John Butters, FactSet's senior earnings analyst, said in a note that on average nearly three quarters of S&P 500 companies' actual earnings have exceeded estimates by about 5%.
"As a result, from the end of the quarter through the end of the earnings season, the earnings growth rate has typically increased by 3.6 percentage points on average (over the past five years) due to the number and magnitude of positive earnings surprises."
Therefore, Butters estimates, it's likely actual Q4 earnings will come in at around 2.1%.
6. What to watch this week
This week's big ticket item is obviously the government's nonfarm payrolls report on Friday, which will show whether the U.S. economy was able to continue November's strong job gain of more than 250,000 or whether job growth slowed back to trend, below 200k.
Economists are expecting the U.S. added a slow and steady 150,000 jobs last month, but they had similar expectations going into November.
Census hiring has still not had a major impact on the numbers, and December's report will determine whether the mining, retail, utilities, transportation and information sectors end the year with net job gains or job losses.
On Jan. 6, 1941, President Franklin D. Roosevelt delivered his "Four Freedoms" speech.
"The first is freedom of speech and expression — everywhere in the world. The second is freedoms of every person to worship god in his own way — everywhere in the world. The third is freedom from want … everywhere in the world. The fourth is freedom from fear … anywhere in the world. That is no vision of a distant millennium. It is a definite basis for a kind of world attainable in our own time and generation."