Axios Markets
February 05, 2021
Happy Jobs Report Day! Economists project the U.S. added 100,000 jobs last month, rebounding from December's 140,000 decline, which was the first drop since jobs declined by 20 million in April.
Was this email forwarded to you? Sign up here. (Today's Smart Brevity count: 1,213 words, 4.6 minutes.)
📖 Trivia: This country is the birthplace of author Edwidge Danticat, who has been awarded the National Book Award, the International Fiaiano Prize, the Carnegie Medal for Excellence in Fiction and the MacArthur Genius Grant, among many others.
In her best-known work, she wrote: "Love is like the rain. It comes in a drizzle sometimes. Then it starts pouring and if you're not careful it will drown you."
1 big thing: China looks to take its digital currency global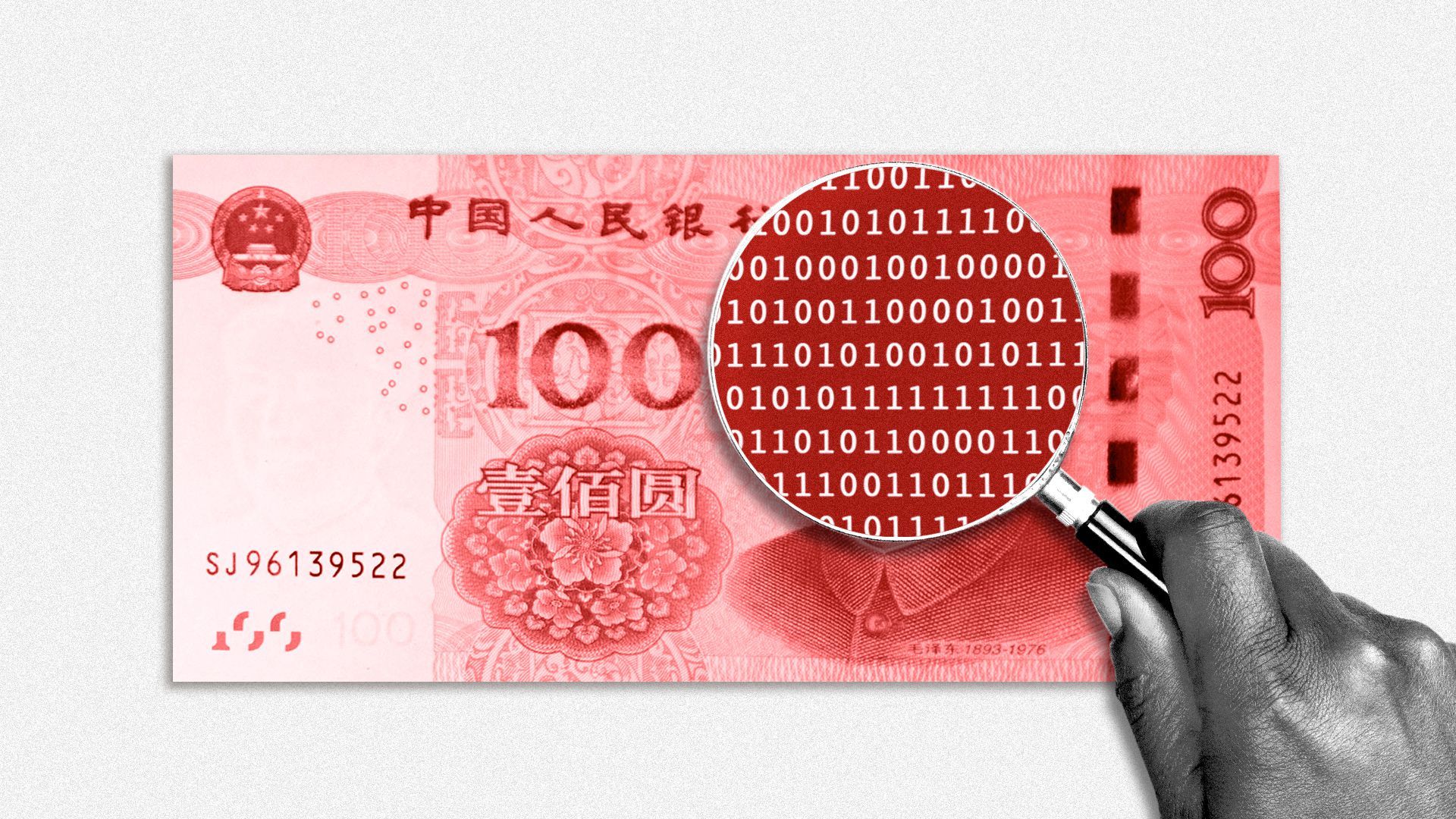 China appears to have taken another major step in its quest to move the world away from the dollar and position itself as a major power in the world's financial markets.
What happened: China's central bank has set up a partnership with SWIFT, the global system for cross-border payments, through its digital currency research institute and clearing center.
Why it matters: The move has sparked "speculation over the central bank's pursuit of promoting the global use of its digital currency," China's state-operated Global Times wrote on Thursday. 
The big picture: China is far ahead of the U.S. in the development of a central bank-backed digital currency and as such could be far ahead in the future of global payments and financial settlement.
If China can cement the yuan as the world's favored digital currency, it could displace the dollar and provide China with the immense global privileges that have been enjoyed by the U.S. since the end of World War II.
Be smart: The lack of financial transactions in and broad use of its currency is the greatest detriment to China amassing global power.
The country has been opening up its financial markets and now has mainland stocks listed on top international exchanges like MSCI and its government bonds have been added to the global benchmark Bloomberg and JPMorgan bond indexes.
In 2020, China drew double the amount of foreign capital to its yuan-denominated government bonds as the year before.
On the other side: The ability of the U.S. to borrow money at will in international debt markets and to impose sanctions on countries it sees as hostile are both largely dependent on the dollar's status as the world's funding currency.
The use of the SWIFT system is a major conduit to imposing sanctions.
Where it stands: Federal Reserve governor Lael Brainard said in a speech in August that the Fed was working to build and test a "hypothetical" central bank digital currency, noting that CBDCs "present opportunities but also risks associated with privacy, illicit activity, and financial stability."
European Central Bank president Christine Lagarde was similarly ambivalent about the development of a CBDC in January, saying it was "going to take a good chunk of time to make sure it's safe," adding, "I would hope that it's no more than five (years)."
China has already rolled out tests of its digital yuan in several Chinese cities, testing payments with real customers in real stores.
Yes, but: Axios China writer Bethany Allen-Ebrahimian points out that having the first-mover advantage isn't necessarily an advantage in implementing digital currencies because technologies are changing so rapidly.
2. Catch up quick
Chinese coffee chain Luckin Coffee filed for Chapter 15 bankruptcy in the U.S., less than a year after acknowledging that more than a quarter of its business may have been faked. (Bloomberg)
GameStop shares rose 15% in premarket trading after Robinhood removed all restrictions on trading stocks. (CNBC)
Snap and Unity Software in reporting fourth-quarter earnings Thursday both warned of the likely negative upcoming impact from Apple's privacy changes that will make targeted advertising less effective. (CNBC)
"The fallout from a Fed that has encouraged investors into buying horribly overpriced assets will be every bit as difficult as coming off the gold standard in the early 1970s or tackling runaway inflation in the early 1980s." (Bloomberg)
3. U.S. bankruptcies hit 15-year low
Total U.S. bankruptcy filings fell to their lowest level since February 2006 last month as massive liquidity and eager bond investors helped prop up businesses throughout the country.
By the numbers: January saw just 32,298 filings, a 6% decline from December, and a 44% decrease from January 2020, according to data from legal services company Epiq.
Between the lines: "Out of court solutions, available liquidity, and general uncertainty has caused a significant pause in Chapter 11 filings this past month," said Deirdre O'Connor, senior managing director of corporate restructuring at Epiq.
"We appear to be suspended in an air bubble at the moment."
What's happening: Despite the economy's struggles, big businesses have been able to borrow money through credit markets thanks to a massive surge of liquidity and backing from the Fed, which is expected to step in and buy more bonds should markets tighten.
This has created a feeding frenzy among bond investors that led to record bond sales in 2020 and allowed even companies with junk ratings to raise substantial capital.
But, but, but: Small businesses have not fared as well as their larger counterparts. Many don't file for bankruptcy when they go out of business, and one in three respondents to a recently released survey by the Fed said that without additional government assistance they would not survive.
Further, the Fed's January senior loan officer survey found that even as credit markets have opened, many banks continued to tighten their lending standards for commercial and industrial loans in the last three months of 2020.
4. At least 1M have filed for unemployment every week for 46 weeks
More than 1 million Americans filed first-time unemployment claims for the 46th consecutive week last week, the Labor Department reported.
Why it matters: There is no historical precedent for the ongoing rate of job losses in the U.S.
The country is now just six weeks from going a full year with more than a million people filing for unemployment every week.
Prior to the coronavirus pandemic, the U.S. had seen 1 million unemployment claims reported just once in the history of the Labor Department's data — the week ending Jan. 9, 1982, when 1,073,500 claims were filed.
The intrigue: While the unemployment rate has continued to decline since the middle of 2020, the number of companies reporting layoffs has been increasing in recent months as has the number of people filing for unemployment benefits.
Job cuts in January increased from December, which saw an increase from November, according to the latest report from outplacement firm Challenger, Gray & Christmas.
The firm counted 2.3 million job cuts in 2020, but only about half were due to the coronavirus pandemic.
The last word: "It's hard to understate the extreme disruption that is still ongoing in the labor market," MacroPolicy Perspectives president Julia Coronado tells Axios.
"For almost a year initial claims for unemployment benefits have exceeded the highest levels seen in the Great Recession."
"Net job creation has slowed ... and it is way too soon to settle into a slower pace of job creation given the deep hole we are still in. At this rate, it will take many years just to restore what was lost let alone add new jobs for a growing population."
5. Who to root for in the Super Bowl
Equity investors with no dog in the fight on Super Bowl Sunday should cheer for the Tampa Bay Buccaneers, as the team has historically delivered the best S&P 500 returns after winning the Super Bowl.
Of note: This is clearly a very small sample size and is not in any way meant to draw an actual correlation between which team wins the Super Bowl and how the stock market performs in a given year.
Also of note: Football has been empirically linked to the degenerative brain disease C.T.E., which causes aggression and impulse control problems as well as dementia.
It has been found to cause long-term negative mental deterioration and has been discovered in many former players who killed themselves and/or their loved ones.
Many of the men who play in the game on Sunday will have their lives cut short, endure a future of chronic pain and destabilizing mental illness, or otherwise become a burden on their families.
The NFL paid $765 million in 2013 to settle with a group of former players who suffered from Alzheimer's, CTE and dementia after years of denying the correlation between football and chronic brain injuries.
Thanks for reading!
Trivia: This country is the birthplace of Edwidge Danticat, who has been awarded the National Book Award, the International Fiaiano Prize, the Carnegie Medal for Excellence in Fiction and the MacArthur Genius Grant, among many others.
In her best-known work, she wrote: "Love is like the rain. It comes in a drizzle sometimes. Then it starts pouring and if you're not careful it will drown you."
Answer: Haiti. Danticat earned an MFA from Brown and received honorary doctorates from Smith and Yale.