Was this email forwarded to you? Sign up here. (Smart Brevity count: 1,169 words / <5 minutes.)
Situational awareness:
1 big thing: Facebook spoils the cryptocurrency party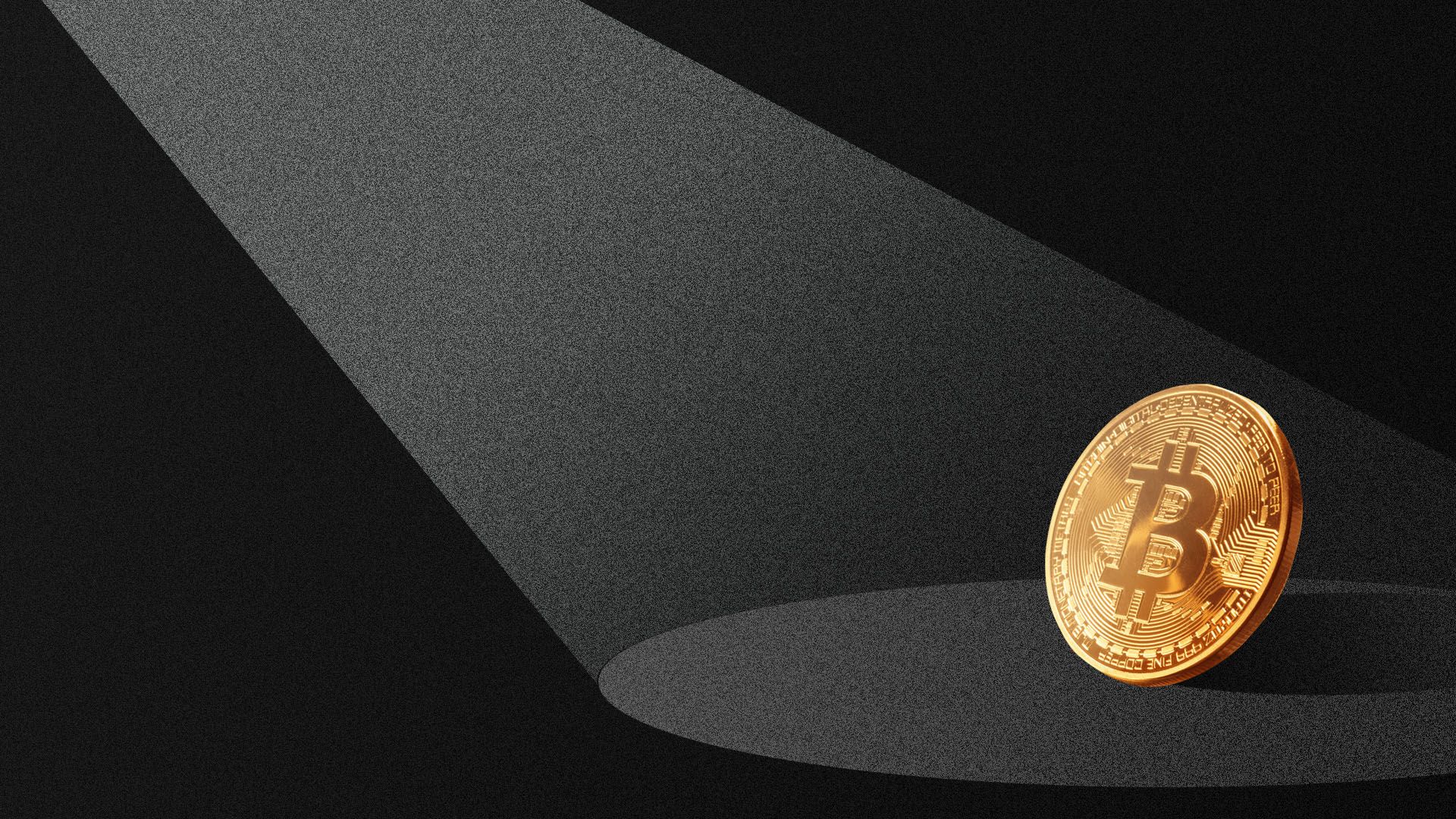 Thanks to Facebook entering the space, the grown ups have come in to turn on the lights and throw cold water on the cryptocurrency party.
Driving the news: Following President Trump's Twitter condemnation of crypto as "not money" and "based on thin air" Thursday, Treasury Secretary Steve Mnuchin on Monday said the U.S. government had "very serious concerns" about crypto's growth and its potential use in money laundering and financing terrorism.
The big picture: Facebook's dive into cryptocurrency with its Libra project has put digital payments squarely in the bullseye of government regulators, just as Bitcoin and other cryptos had started to rebound in value.
Bitcoin rose as high as $13,000 a coin last week, but since Trump's tweet has fallen in value by close to 20%. It even briefly dipped below $10,000 early Monday, touching a 2-week low, data from Coindesk showed.
Cryptocurrencies had largely flown under the regulatory radar for much of their existence, and Wall Street had effectively bailed out of further engagement in March. But the combination of anonymous peer-to-peer currency creation joined with a lightning rod like Facebook created an unholy union that just about everyone could find a reason not to like.
"People don't trust Facebook right now," Sen. Sherrod Brown told Bloomberg News on Friday. "They've earned that mistrust or distrust — from the 2016 election to how they've rolled out Libra. And we're watching."
Brown added that Facebook's entrance into the space has created a bipartisan skepticism, and fresh hunger for more investigation.
Democrats on the House Financial Services Committee have reportedly circulated a proposal to prevent big tech companies from functioning as financial institutions or issuing digital currencies.
The big picture: Global central banks recently have been contemplating issuing digital currencies and creating regulations around the broader digital payment space — though as incoming ECB head Christine Lagarde said in March, that would exclude cryptocurrencies, which are created by users on a blockchain outside the auspices of monetary authorities.
Without a market or monetary policy solution, the federal government is pushing to regulate crypto and taking an increasingly hard line.
What's next? David Marcus, co-creator of Libra, released a statement to the Senate banking committee saying Facebook would work closely with regulators before launching the currency, and promised it would not compete with central banks. He's expected to address members of Congress today.
2. Manufacturing jobs take another hit
The headline reading of July's Empire Manufacturing Index gained back about half of the decline from the month before, rising to 4.3, from -8.6 in June. However, the details of the report "were not very good," notes DRW Trading rates analyst Lou Brien, particularly the "notably weak" employment picture, which showed its lowest reading since September 2016.
The index, which tracks the number of firms that say they've added workers against the number that say they have reduced their workforce fell to -9.6 this month.
It was the third weakest reading in a decade.
Further, as Pantheon Macroeconomics chief economist Ian Shepherdson notes, the rebound in the headline number came largely from improved sentiment based on the fact that tariffs on Mexico were not implemented.
3. Consumer health in focus with today's retail sales report
June's retail sales report out this morning will be the last major piece of the consumer spending picture for Q2. Bullish analysts hope it will continue the rebound from late 2018 and early 2019 when the sector looked to be in trouble.
While manufacturing has been a major source of uncertainty globally and in the U.S. all year, the services and consumer side of the economy has been strong.
In May, retail sales rose by a solid 0.5% from the month before, and economists surveyed by the Wall Street Journal expect a 0.1% increase when the Commerce Department releases June's retail sales figures at 8:30am.
4. Central banks are cutting rates around the world
With the Fed universally expected to cut U.S. interest rates this month, central banks around the globe are doing the same, and an increasing number of policymakers aren't even waiting for Powell to make the announcement.
What's happening: Analysts expect the South African Reserve Bank, Bank of Korea and Bank Indonesia to lower rates at their respective policy meetings on Thursday.
Why it matters: The central banks represent 3 of the world's largest emerging market countries and their actions send a clear signal that even with global debt rising to new highs, especially in EM, policymakers are prioritizing easy money and stimulus.
The expected cuts follow lower rates in India and a host of other emerging countries that have cut rates in recent weeks.
Australia and New Zealand also made recent rate cuts, and markets already have priced in lower rates from the ECB, meaning the overwhelming majority of the world has or is expected to cut rates soon.
Why you'll hear about this again: The Fed's rate cuts were expected to help weaken the dollar, which President Trump and U.S. businesses have complained about since 2018. However, with central banks around the globe following suit, the dollar could continue its outperformance, especially as uncertainty from Brexit, Japan and the U.S.-China trade war weigh on sentiment and boost the dollar's safe-haven appeal.
5. Retail investors need a reality check
A new survey of 9,100 retail investors in 25 countries from investment bank Natixis finds that many are in need of a "reality check."
What they said:
While 62% say they know the difference between active and passive investments, just 69% said index funds, which are designed to track markets and replicate the returns of broad indexes, would give them returns "comparable to the market."
Only 49% are aware that index funds are generally cheaper than actively managed funds.
60% say index funds are less risky, and 64% believe index funds will help minimize losses.
Retail bond investors were especially confused.
30% of investors correctly recognize the price of bonds decreases when interest rates rise.
9% correctly recognize that rising rates mean the income from bonds in the future increases.
Just 2% of investors correctly understand both — that when interest rates rise, the price of bonds decrease and income received from bonds issued in the future increases.
Between the lines: The survey also showed retail investors feel especially confident in their return expectations, with long-term return expectations rising to 10.9% (above inflation) from 9.8% in 2018. A contingent of U.S. financial advisors also surveyed by Natixis in 2018 think an annual return of 6.3% is realistic.
Of note: In the U.S., Natixis surveyed 750 investors with a minimum of $100,000 of investable assets.
Editor's note: The top story has been updated to correct the spelling of Sen. Sherrod Brown's first name.