Axios Markets
February 11, 2021
Happy Friday eve! Was this email forwarded to you? Sign up here. (Today's Smart Brevity count: 1,079 words, 4 minutes.)
🛩 Trivia: Born in Columbus, Georgia, Eugene Bullard became the first African-American pilot to serve in the Armed Forces, working as an air gunner for the French Army. After previously working professionally as a jazz drummer, a boxer and a spy, he served in which two American wars?
1 big thing: Central banks' new stance sparks inflation fears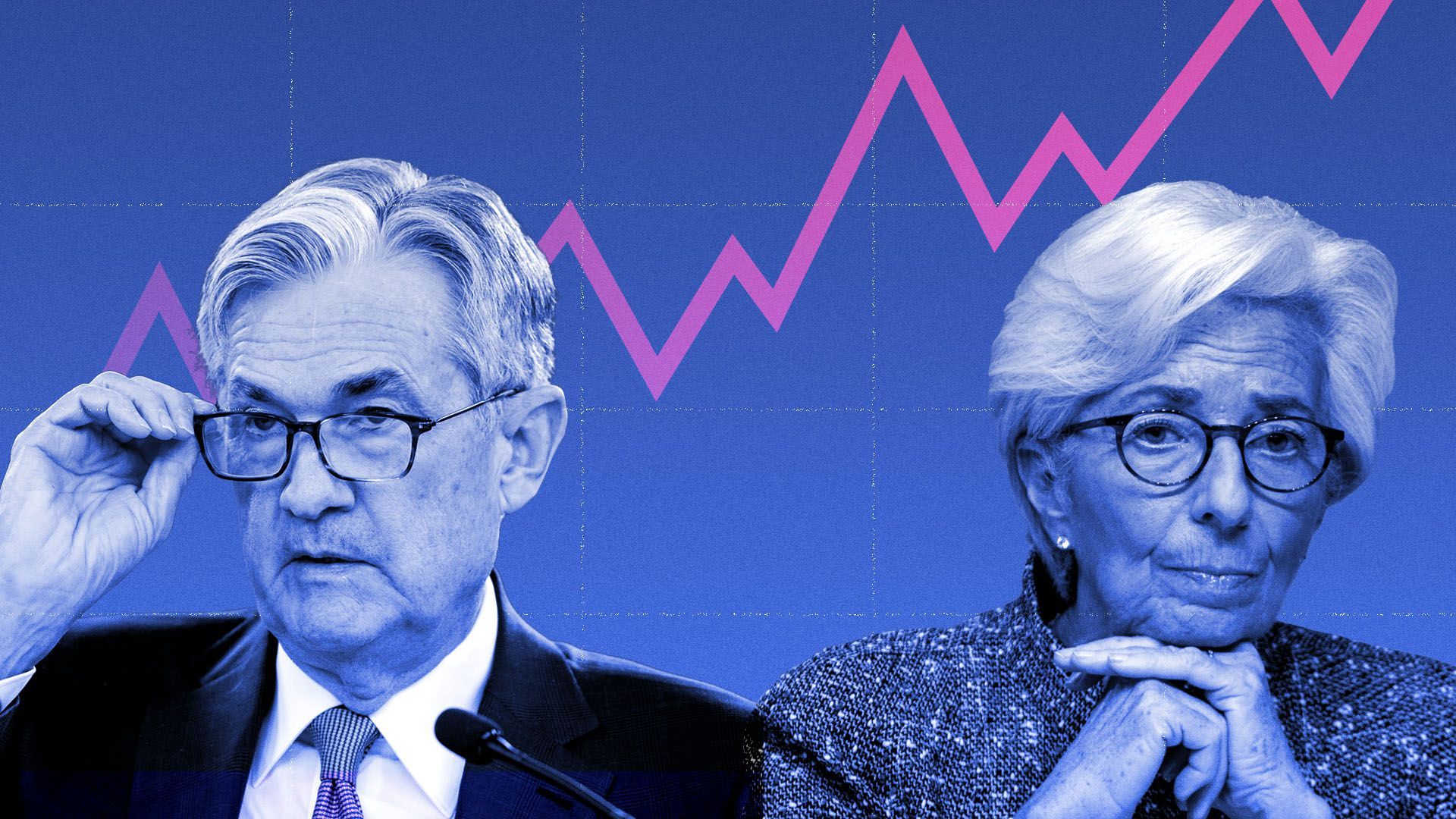 Two of the world's foremost central bankers reinforced their positions on the potential for damaging inflation in the wake of the coronavirus pandemic on Wednesday, saying in no uncertain terms that they simply don't see it.
Why it matters: This is exactly what former Treasury Secretary Lawrence Summers warned about in his recent op-ed in the Washington Post, citing the potential for "inflationary pressures of a kind we have not seen in a generation, with consequences for the value of the dollar and financial stability."
What they're saying: "I don't think we are worrying about reflation and it's going to be a while before we worry about inflation," European Central Bank president Christine Lagarde said in a webcast interview. "If you consider how far we are from our goal…we are very far away."
"As we look forward, we will probably see an increase in [inflation] readings. That is not going to mean very much. It will not be larger or persistent," Fed chair Jerome Powell said during a separate webcast interview hours later.
What it means: Previous central bank leaders were primordially concerned with the possibility of inflation creeping higher and would raise interest rates at the first sign of price pressures.
Having examined more than a decade of stubbornly low inflation, Powell and Lagarde — both central bank heads in their first term who are not trained macroeconomists — are turning their backs on the old way.
What he said: The proposed largess of spending "will be manageable if monetary and fiscal policy can be rapidly adjusted to address the problem," Summers wrote.
"But given the commitments the Fed has made, administration officials' dismissal of even the possibility of inflation, and the difficulties in mobilizing congressional support for tax increases or spending cuts, there is the risk of inflation expectations rising sharply."
Yes, but: Powell, Lagarde and other central bankers have said that if inflation does arise they have the tools necessary to bring it under control.
Yes, but, but: Given the choice between 1) raising rates to choke off inflation that would send the country into a recession or 2) letting inflation bubble up but keeping rates low to allow asset prices to continue booming and the job market to strengthen, central bankers' comments and actions in recent years have reasonably sowed doubt in critics like Summers that the former path would be pursued over the latter.
The last word: "Stimulus measures of the magnitude contemplated are steps into the unknown," Summers argued.
"For credibility, they need to be accompanied by clear statements that the consequences will be monitored closely and, if necessary, there will be the capacity and will to adjust policy quickly."
2. Catch up quick
The U.S. budget gap was five times higher in January than it was a year ago, thanks to big pandemic aid spending and assistance programs. (Bloomberg)
U.S. government plans to force the sale of TikTok's U.S. operations to a U.S. company have been shelved indefinitely. (WSJ)
Dating app Bumble raised $2.2 billion in its IPO, selling 50 million shares at $43, which was above the previous pricing range of $37 to $39. The company offered 5 million more shares than anticipated. (Renaissance Capital)
3. China's producer prices jump while consumer prices fall
Prices for Chinese consumers in January declined by 0.3% from last year, while prices for producers, or businesses, rose by 0.3%, data showed.
Why it matters: Rising prices for producers in China, the world's No. 1 trading nation, are often the result of increasing commodity costs and typically mean prices will rise for the rest of the world.
A decline in prices for consumers suggests the country's economic rebound from the coronavirus pandemic isn't materializing as strongly as hoped.
Details: PPI rose to its highest level since May 2019, while CPI fell to its lowest since November (however, November was the lowest reading since 2009).
In short: China's recovery has been uneven with its industrial and manufacturing sector outpacing consumer spending.
What they're saying: "PPI inflation continues the upward trend, suggesting that the manufacturing sector still outperforms," Hao Zhou, senior emerging markets economist at Commerzbank, told Bloomberg.
Consumer inflation momentum hasn't been as strong as expected, and "this split between consumption and manufacturing is likely to persist in the foreseeable future."
4. Biden considering Lisa Cook for open Fed seat
Axios' Hans Nichols writes: President Biden is considering nominating Lisa Cook, an economist at Michigan State University, to fill an open seat on the Federal Reserve Board, people familiar with the matter tell Axios.
Why it matters: The appointment would be historic, since Cook would be the first Black woman to join the Fed. It also would reveal both the new president's preferences for monetary policy and how he may reconstitute the Fed, including the chairmanship.
Chairman Jerome Powell's term is up in February 2022, but presidents typically announce a replacement, or whether to renominate the chair, the summer before the expiration. That would be this summer — plenty of time for the financial markets to adjust to the change.
The White House declined to comment and Cook did not respond to a request for comment.
Details: Cook's academic writing suggests she is a dove, meaning she's less concerned about inflation and more focused on improving labor market conditions.
She's also written about the broader effects of racial bias and how "discrimination inflicts a staggering cost on the entire economy."
Cook served as a senior economist at the Council of Economic Advisers under President Obama and was a member of Biden's transition team.
What we are watching: Biden will have an opportunity to nominate a vice chair for supervision when the term of the post's current occupant, Randal Quarles, expires in October.
He also will be able to replace Richard Clarida, the other vice chair, when his term ends in January 2022.
Lael Brainard, a current Fed governor who Biden considered for Treasury secretary, could be elevated to either position.
Cook also could be elevated to one of them, which would require a separate Senate confirmation vote.
5. Tilray has another huge day, stock now up 674% this year
Shares of medical cannabis company Tilray soared for the third straight day on Wednesday, jumping by 50.9% after a gain of 40.7% on Tuesday and 17% on Monday.
The big picture: While the entire cannabis sector is flying high thanks to expectations of U.S. legalization under President Biden, companies like Tilray and GW Pharmaceuticals, which are making major deals and acquisitions, are seeing their stock price soar to stratospheric levels.
Driving the news: On Tuesday, Tilray announced an agreement with Grow Pharma to import and distribute the company's medical cannabis products into the U.K.
By the numbers: Tilray's stock is now up 674% year to date — a little more than six weeks — and has risen 234% since the beginning of February.
Heads up: Korey Bauer, chief investment officer and portfolio manager at Foothill Capital Management, points out that cannabis company Aphria, which merged with Tilray in December, is trading at a significant discount to the terms of the deal.
Aphria shareholders will receive 0.8381 Tilray shares for each Aphria share they own, but Tilray shares are trading at more than twice the price of Aphria shares.
Thanks for reading!
Trivia: Born in Columbus, Georgia, Eugene Bullard became the first African-American pilot to serve in the Armed Forces, working as an air gunner for the French Army. After previously working professionally as a jazz drummer, a boxer and a spy, he served in which two American wars?
Answer: World War I and World War II.
Shout out to reader Martin Wolfson for bringing Bullard to my attention.