Axios Markets
March 29, 2019
Was this email forwarded to you? Sign up here.
Situational awareness:
1 big thing: Buybacks could exceed 2018's record high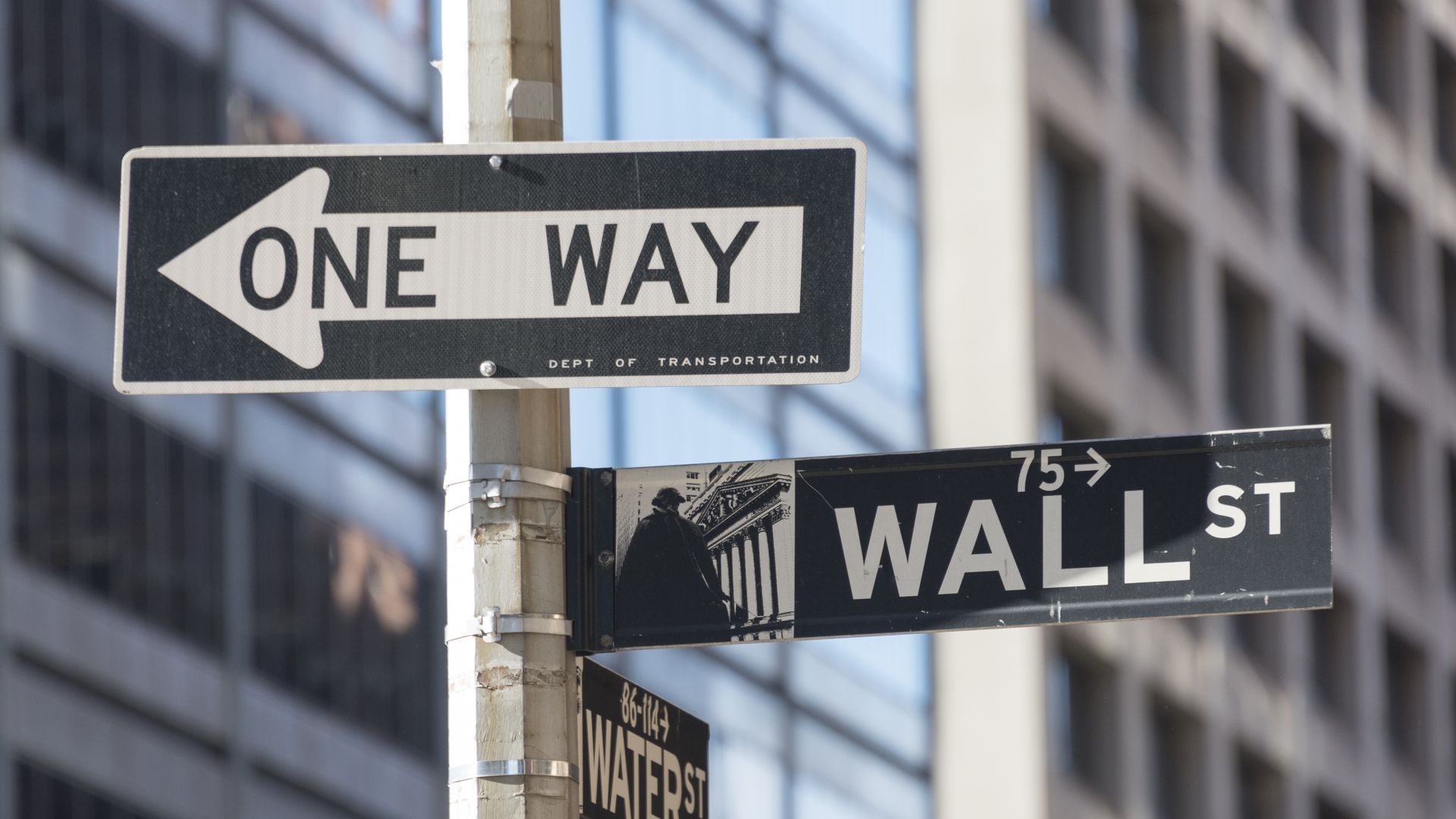 U.S. companies are on pace to buy back more of their shares than they did during 2018's record binge, data shows, despite — or perhaps because of — mounting political opposition.
Through March 15, American companies had bought $253 billion worth of their own stock, according to data compiled by Michael Schoonover, COO of asset manager Catalyst Funds.
That total is about $18 billion more than at the same period last year, when company stock buybacks passed the previous record by hundreds of billions of dollars.
Why it matters: Companies are continuing to choose buying back their stock to reduce the number of shares outstanding and boost prices over investing in long-term capital and labor expenditures. Last year, companies spent more buying back their own stock than on capex for the first time since 2008, according to Citigroup.
The big picture: Massive buybacks are likely a major reason equity prices and bond prices are both moving higher, shedding their historically inverse relationship.
The money companies are saving from tax cuts are turning almost directly into share buybacks, driving stocks higher.
Bond prices are rising because investors are positioning for an economic slowdown, and U.S. government bonds still offer significantly higher yields than other developed economies. (Plus, the Fed is still buying.)
What's next? The impact of the Tax Cut and Jobs Act on the real economy is expected to recede this year, but Schoonover tells Axios he is expecting it to continue to boost stock buybacks for years to come, as companies have already shown that's how they will use the tax cut windfall.
Further, as of September 2018, only $143 billion of the more than $2.5 trillion held overseas by U.S. companies had been repatriated to the U.S., which was a major part of the tax bill.
"As this money comes back, we expect a lot of it to go into buybacks," Schoonover said.
The bottom line: Last year was a wake-up call for companies that didn't turn their tax cut savings into buybacks and saw their share prices fall, Schoonover adds. Many have already shown they won't be making that mistake this year.
Bonus: They're catching up already
Through the first quarter of 2019, a number of industries have already seen buybacks that are as much as 40% or more of their full year total for 2018. The energy sector has bought back shares that total 71% of last year's spend.
"A number of industries didn't participate as actively in buybacks last year. These industries have been a lot more active this year," Michael Schoonover, COO at Catalyst Funds tells Axios.
"There are many traditionally large buyback announcers that didn't announce last year — some possibly because of trade war concerns or the buyback political backlash — that may show up this year. Home Depot was one of them. They announced a $15 billion program this February."
2. Global stocks have largely recovered from 2018's rough Q4
Today is the last trading day of the quarter and stocks around the globe have essentially recouped all losses from the final three months of 2018, Axios' Courtenay Brown writes.
The big picture: Not a single major index ended 2018 in the green but stocks have rebounded, despite intensified fears about a slowing global economy.
Bonus: The S&P 500 is on pace for the best quarterly percentage gain in nearly 10 years, per CNBC.
3. This week's housing data was bad, but economists aren't worried
There was a flurry of U.S. housing data this week that painted a negative picture of the economy, but showed signs for potential growth.
The bad news: Building permits fell for the second straight month and housing starts had their largest decline in 8 months, according to U.S. government data. Construction of single-family homes dropped to its lowest in more than 18 months.
Existing home sales rose 11.8% in February, but buyers signed 1% fewer contracts for existing homes, month-over-month, and pending contracts were 4.9% lower than a year earlier.
The Case-Shiller price index showed home prices rose 4.3% annually in January. However that was the weakest gain since April 2015.
What they're saying: Tendayi Kapfidze, chief economist at LendingTree, says the slowdown is actually a good thing.
"We do not see the housing market as a risk to the broader economy," he says. "When we look at prior housing cycles, continued acceleration in home sales and prices would have to come at the cost of increasing leverage; this is how we got in trouble before. Had the market slowed in an orderly fashion in 2003/2004, we may have saved the economy from the woes unleashed later in the decade."
He points out that homebuilder confidence readings show expectations of strong demand in the months ahead. However, the sub-index for buyer traffic fell to 44, indicating contraction.
The good news: U.S. mortgage rates had their biggest one-week drop in 10 years, with 30-year mortgage rates falling 22 basis points.
"The Federal Reserve's concern about the prospects for slowing economic growth caused investor jitters to drive down mortgage rates by the largest amount in over 10 years," said Freddie Mac's chief economist Sam Khater. "Despite negative outlooks by some, the economy continues to churn out jobs, which is great for housing demand. We have recently seen home sales start to recover and with this week's rate drop we expect a continued rise in purchase demand."
4. Another recession indicator is flashing, though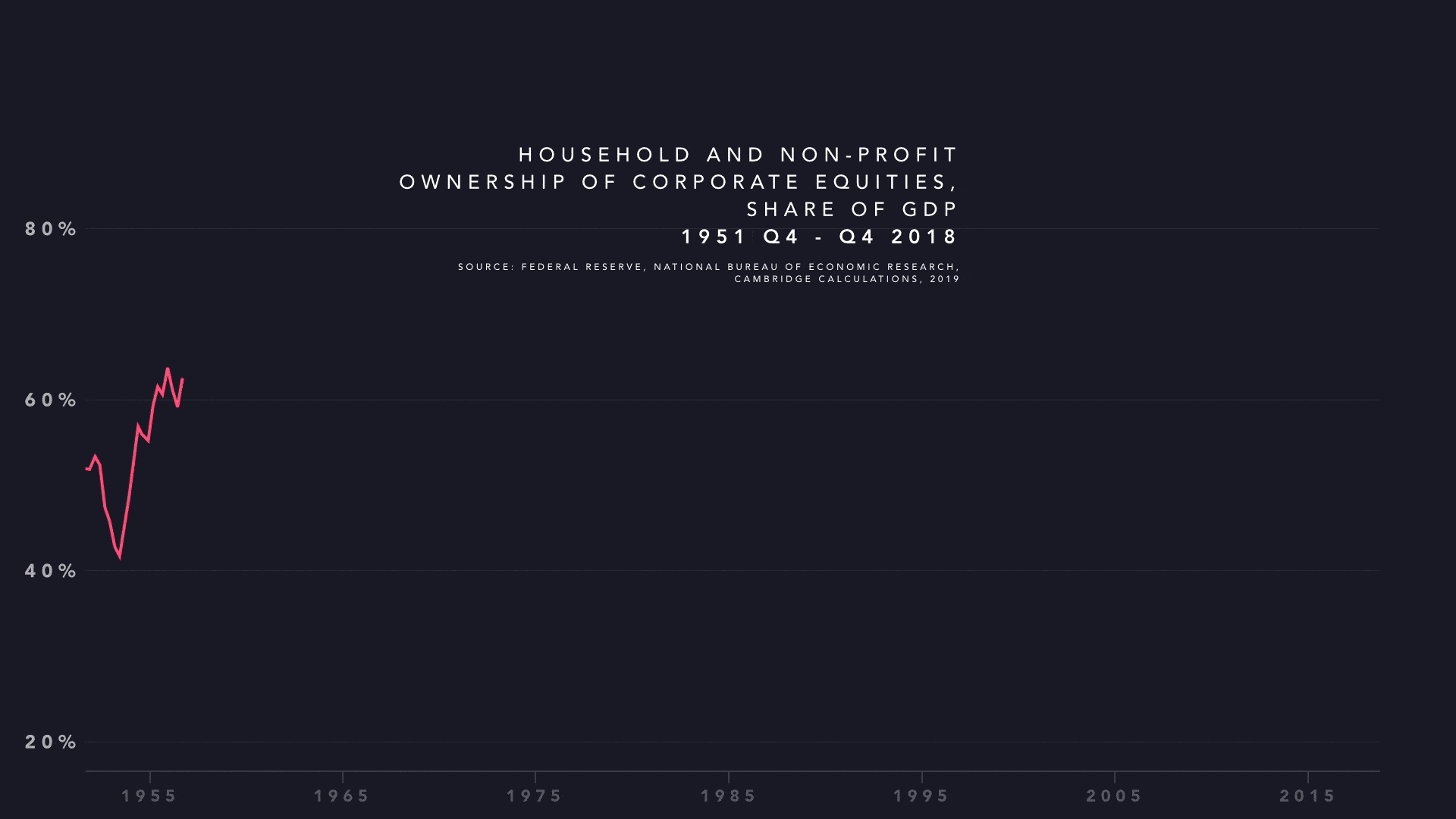 In addition to the inverted yield curve, there's another recession indicator Americans should be watching, analysts say.
The value of corporate equities that households and non-profits own as a share of U.S. GDP fell from its highs at the end of the year. It dropped in the last quarter of 2018 as equity prices fell and households sold shares.
Why it matters: While prices have largely climbed back, households are still holding off on buying. Much of 2019's pickup in stock prices has been driven by corporate buybacks.
Analysts at Bank of America Merrill Lynch said institutions, hedge funds and private clients have been selling equities for 9 weeks straight.
Deutsche Bank this week said its clients were rotating into bonds and out of equity funds.
The bottom line: "Sharp upward spikes in household equity valuations have often preceded recessions," Karl Schamotta, chief market strategist at Cambridge Global Payments, tells Axios.
"The value of U.S. household investment as a share of GDP tends to peak just before a recession, meaning that the average person is over-invested at the top, and under-invested at the bottom of each cycle."