Was this email forwarded to you? Sign up here.
Situational awareness:
Congressional negotiators reached a tentative deal to avert another partial government shutdown that contains $1.4 billion for a border fence rather than $5.7 billion for a border wall. (Bloomberg)
Nissan lowered its projections for vehicle sales and profit for the fiscal year ending March 31 and booked an $83 million charge to cover the costs of deferred compensation it promised to former Chairman Carlos Ghosn. (WSJ)
Former Federal Reserve Chairman Paul Volcker slammed the Trump administration's handling of U.S.-China relations in a rare interview with Ray Dalio. (YouTube)
1 big thing: All calm on the wage front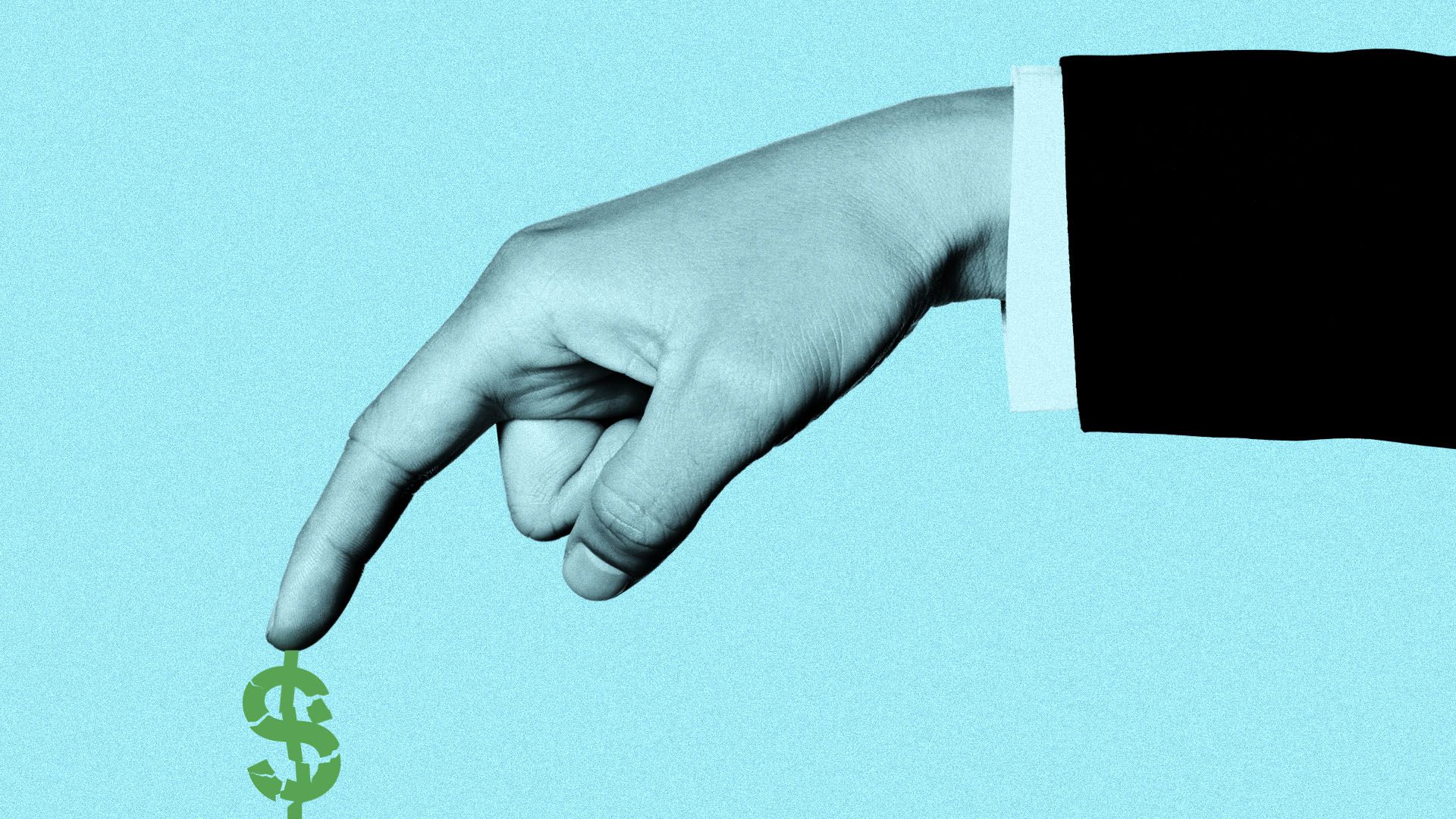 Wages are rising, employees are unionizing on social media and going on strike, and businesses are starting to worry about labor costs. But there's little reason for shareholders to fret and little reason for employees to be excited because the big picture hasn't changed.
What's happening: U.S. inflation figures due this week will likely show that wages continue to stagnate and inflation is holding in the 1.5%–2.5% range it has been in for most of the past 10 years.
"Real wages went up recently mostly because [real] inflation was zero," Bill Spriggs, chief economist at labor union AFL-CIO tells Axios. "And there are still a number of headwinds going forward that will keep prices in check."
Spriggs argues that significantly lower rates of unionization have hurt employee bargaining power and diminished the ability for higher union wages to set the standard. But he says the problem has also been that government has sided with business rather than labor over the past few decades, giving businesses an unassailable advantage.
That's good news for shareholders who rely on high margins to boost profits and returns.
As Brian Battle, director of trading at Performance Trust Capital Partners, notes businesses have many tools at their disposal to tackle rising employee wages and have shown themselves adept at using them. The most popular have been changing location and automation.
"Businesses are saying, 'We're not going to pay you more because we're moving to Texas' or 'We'll bring in a robot to replace you.'"
Yes, but: Firms also are dealing with a lack of pricing power. Companies like Amazon have largely kept companies from raising the prices of goods because customers can quickly and easily find substitutes online for a lower price.
(Discount stores like Dollar General, one of the few retailers seeing unequivocal success with more than 15,000 stores and a stock price that has risen more than 400% since its 2009 debut, are also abetting this trend.)
Of note: 17% of CEOs and CFOs in a December UBS survey said they expect labor costs to be a headwind, up from 14% in May and from 10% in November 2017. In the most recent NABE survey 58% of respondents reported rising labor costs, the highest on record, while just 19% reported higher prices charged to customers.
However, those same UBS survey respondents expect sales growth to accelerate and profits to rise.
Goldman Sachs points out that its economists expect net profit margins of 10.9% in 2019, down from their level a year ago. But last year's 11.2% profit margins were an all-time high.
1 bonus chart: Inflation is still not happening
The one thing that could change the low-pay, low-inflation dynamic, AFL-CIO's chief economist Bill Spriggs argues, is government intervention.
"Firms have decided, 'Why do I need to give you more than a 1 or 2% raise? The prices are running 1–2% higher, what's your problem?'" Spriggs said. "The other problem we have is low inflationary expectations make it very hard to re-inflate the economy — you just can't get out of the rut."
The economist who represents a labor union backing the fight for $15-an-hour minimum wage is certainly talking his book, but that doesn't necessarily mean he's wrong.
One side: There are strong arguments against minimum wage increases. Surveys like this one co-authored by a member of the conservative American Enterprise Institute highlight the fact that in states that raised the minimum wage by at least $1, wages for low-skilled workers fell.
The other side: After 40 years of no increase in real wages, even with cost-of-living fluctuations, Americans seem willing to take that risk. Ten states began 2019 with voter-backed minimum wage increases, joining 11 states that saw legislation to increase their minimum wage in 2018, and 12 states that raised the minimum wage through legislation the year prior.
Go deeper: Spain is taking a major step on this front, with lawmakers voting to increase its minimum wage 22%.
2. Main Street pares back its economic outlook
Small business optimism dropped for the fifth straight month in January, according to survey data from the strongly right-leaning National Federation of Independent Business.
"Half of the weakness came from softer expectations for real sales growth and business conditions in the second half of the year," the organization said in a media release.
More importantly, the survey reveals a host of worrisome numbers about the state of America's small businesses, Axios' Courtenay Brown reports.
Details: Expectations for the economy to improve dropped by 10 points, while expectations for real sales to increase fell by 7 points and plans to increase employment declined 4 points.
Only 20% of small business owners said the next 3 months would be a good time for business expansion. That number has been declining since August's read of 34%. (Those who said it wasn't a good time to expand business cited economic conditions, while those who were uncertain about expansion plans blamed the "political climate.")
Not as many businesses are planning long-term projects and spending. The number of owners who planned capital expenditures within the next few months remained essentially flat at 26%, after falling 4 points in December.
Fewer owners are expecting higher sales in the next 3 months. The number has fallen consecutively since September, but remains above pre-election levels.
Why it matters: In lieu of economic data delayed by the shutdown, economists are paying closer attention to sentiment surveys which have increasingly been pointing to serious concerns about what's ahead for the economy.
The NFIB survey follows the weakest University of Michigan consumer sentiment index in more than 2 years and a January Conference Board Consumer Confidence Index that showed consumers' future expectations for the economy had the largest 3-month decline in 7 years.
Still: The small business optimism index has dropped off since the 2016 election, but remains within range of historic highs.
The percentage of owners who reported paying workers higher wages is just one point below the record high seen in September.
Firms are hiring, though the number of business owners said finding quality workers was their "single most important business problem" remains near a record high.
Respondents also said borrowing conditions remained easy.
Go deeper: America's economic data divergence isn't going away
3. "Every single recovery in earnings ... translated into profits"
"From 2010 to 2018 the U.S. economy recovered and moved closer to full employment. And as the economy recovered obviously earnings for companies picked up, so earnings followed the economy.
"What is different and what is interesting is that over that period of time costs for American companies didn't go up, and costs didn't go up initially because there was a lot of unemployment. But even when unemployment began to decline we were still operating in a highly globalized environment where if anybody was bidding up salaries their job would immediately be outsourced to India or something. So labor costs for companies in America were low.
"In addition to that, the other element of cost for an American company is obviously the cost of capital, i.e., what it costs to borrow money. Because of [quantitative easing] working capital costs were pretty much zero as well because interest rates were so low through QE. That means that over that entire time period, from 2010 onwards, American earnings were going up with costs remaining rock bottom.
"That meant that every single recovery in earnings essentially translated into profits.
"American companies took those profits and said, 'I'm going to use that to buy back my shares.' The effect of this was to generate this enormous equity rally, and it was predicated to a very large extent on economic weakness keeping labor costs low and QE keeping capital costs low."
— Jan Dehn, global head of research, Ashmore Group
4. When Amazon bought Eero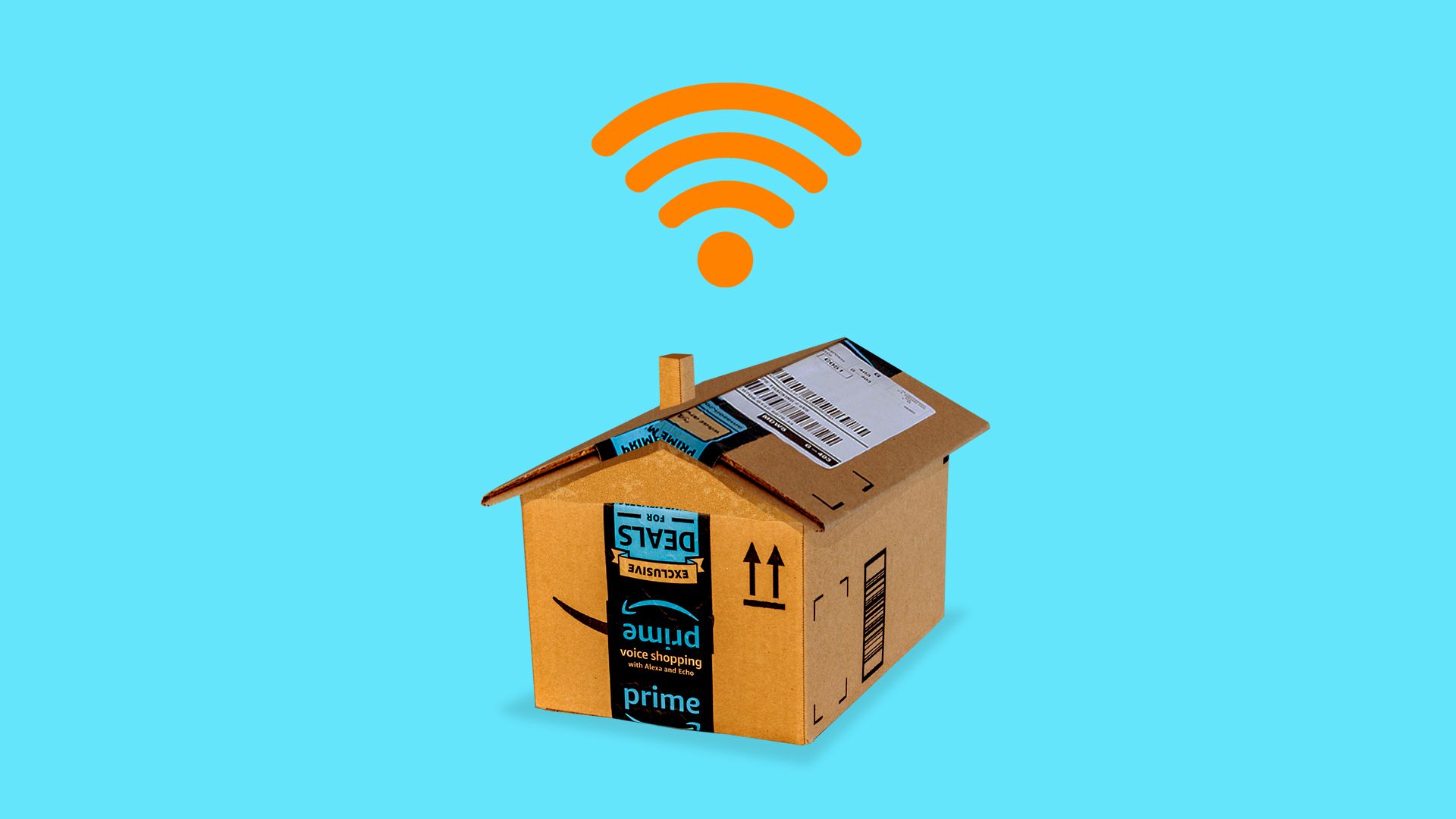 Amazon's purchase of hardware startup Eero isn't hard to explain: The company's smart home ambitions depend on fast, reliable Wi-Fi throughout the home, and Eero's mesh routers help deliver that, Axios' Ina Fried writes.
The company's stock is up more than 35% from where it began 2018, but is still trailing its September highs when it briefly became a trillion-dollar company.
Why it matters: Amazon is putting all the pieces together for a comprehensive smart-home system, with Alexa's voice presiding over constellations of Echo speakers, Blink home security systems and Ring smart doorbells, all now owned by Amazon.
The big picture: Although this deal alone isn't likely to raise significant antitrust scrutiny, it's yet another example of Amazon expanding its reach into new areas.
Some Eero customers also expressed dismay that the details of their home network setups, previously in the hands of a small startup, could be used for broader purposes by Amazon. (Eero tweeted that it "does not track customers' internet activity and this policy will not change with the acquisition.")
History lesson: Amazon previously invested in Eero rival Luma though its Alexa Fund.
What they're saying:
Quartz's Mike Murphy: "My parents' house has @geteero, @ring and @amazonecho in it. They have a Prime account and shop at Whole Foods on occasion. Jeff Bezos controls suburbia now."
The bottom line: Whatever Amazon paid (and it's not saying), it can recoup not just by selling Eero's networking gear but also by ensuring the reliable networks its customers need to use other Amazon products and services.
History: Lewis Latimer was an inventor and draftsman best known for creating the carbon filament inside of light bulbs. The carbon filament allowed the bulbs to burn for longer than Thomas Edison's paper filament, creating the modern light bulb we know today.
Latimer also co-patented an improved toilet system for railroad cars and helped draft the necessary drawings to receive a patent for Alexander Graham Bell's telephone. He also held patents for the electric lamp, a process of manufacturing carbons and a locking rack for hats, coats and umbrellas.
P.S. 56 in Clinton Hill, Brooklyn, is named Lewis H. Latimer School in Latimer's honor.
An invention program at the Massachusetts Institute of Technology also is named for him.
Despite his impressive resume, Latimer was not inducted into the National Inventors Hall of Fame until 2006.