Was this email forwarded to you? Sign up here.
Situational awareness:
1 big thing: Not-so-fixed income
Fixed income trading revenue fell double digits year-over-year at the big banks. On various earnings calls this week, CEOs explained lackluster results from their fixed-income trading business like this: volatility kept clients on the sidelines, dragging down their bond trading businesses, Axios' Courtenay Brown writes.
J.P. Morgan's fixed income trading desk had the worst quarter since 2008.
Citi's bond-trading revenue hit at 7-year low.
Goldman Sachs' bond trading business slumped 18%.
Morgan Stanley fared the worst: its fixed income business plunged 30% from a year earlier.
What they're saying:
Morgan Stanley CEO James Gorman: "The weakness [in fixed income] was driven by both credit and macro. Both seasonal factors and increased economic uncertainty related to growth and rate outlooks for 2019 and beyond influenced markets resulting in rapid movements in spreads and asset prices."
Citigroup CEO Michael Corbat: "We saw basically that extreme volatility, given the overall lack of a view of where rates would finally bottom out, just impact every one of our businesses in fixed income."
Bank of America CFO Paul Donofrio: "[Fixed income trading]'s lower revenue was due to weakness in credit and mortgage markets and lower client activity in credit products."
The big picture: Fixed-income trading revenue has been slowing for years, Axios' analysis of annual filings shows.
Total fixed income revenue at the big banks this year was $43 billion. It was $50 billion in 2016, and $61 billion in 2010.
What's going on: "The nature of the market has changed," Dick Bove, an analyst at Rafferty Capital Markets, tells Axios. "You're not doing these wild issuances that were very common prior to 2008."
Additionally, "there's been this shift in pricing," Bove said. "No one is going to pay you a higher commission for trading a AAA bond."
Yes but: With more market volatility, the Federal Reserve reducing its $4 trillion bond holdings and a slowing global economy, some expect bonds to be back en vogue.
"There's going to be more debt issuance, not less," Barclays analyst Jason Goldberg tells Axios. "There's going to be more need to hedge [with bonds], not less."
1 bonus chart: The bond desk isn't pulling its weight
2. The economic costs of striking teachers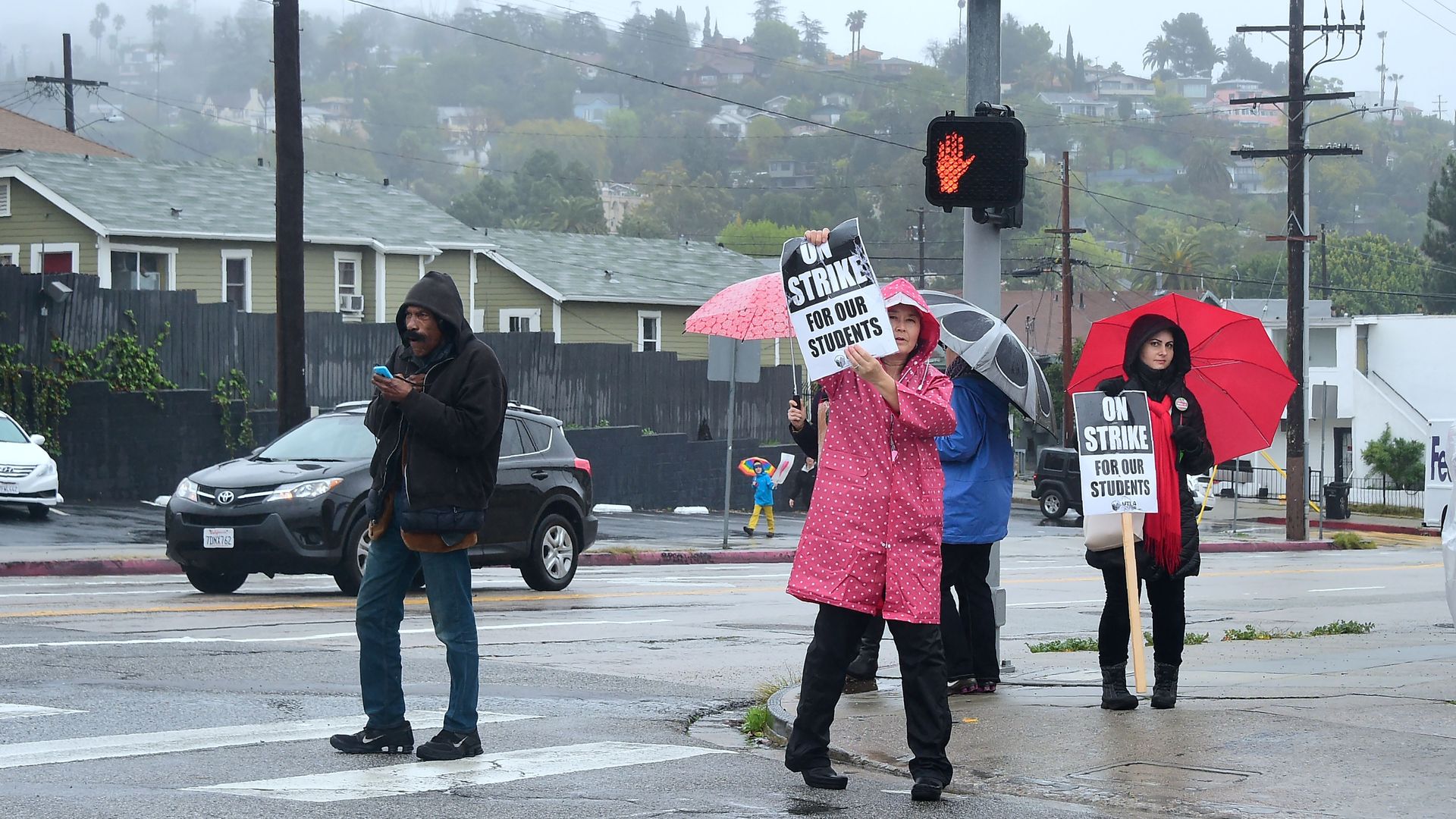 As the U.S. government shutdown hits day 28, one largely overlooked story has been the massive teachers strike in Los Angeles, the nation's second largest school district. It follows walkouts by teachers in West Virginia, Oklahoma, Arizona, Kentucky, North Carolina and Colorado.
In recent years, funding shortages have pushed local governments to attempt to cut wages and retirement benefits for government workers.
About 5% of all teachers in K–12 schools went on strike in 2018, the most since 1992, according to an October study from the Labor Center at the University of Massachusetts, Amherst.
Why it's happening: State pension funds are embarrassingly under-funded, the result of fund managers who under-delivered on return targets for pensions and over-charged for doing so. There's also a shortage of fresh capital from future retirees.
What it means: Research shows there are economic consequences for students and future growth when teachers strike at high levels. The evidence comes from Argentina, which experienced 1,500 teacher strikes between 1983 and 2014.
The big picture: A study published in July by the Cato Institute found that being exposed to a high incidence of teacher strikes during primary school results in:
Reduced wages for men and women by 3.2% and 1.9%, respectively.
An aggregate annual earnings loss of $2.34 billion for the country.
For men, both occupational downgrading and an increase in the likelihood of being unemployed.
For women, an increase in "home production," meaning neither working nor studying.
A reduction in years of schooling by 2.02% for men and 1.58% for women.
3. The $2 trillion question
Buying emerging markets has become a major consensus trade for asset managers this year. Wells Fargo in November called emerging market stocks its "highest conviction recommendation."
Bank of America-Merrill Lynch managing director for Eastern Europe, Middle East and Africa David Hauner said earlier this week that the low level of non-EM investors moving into the asset class during the rally in currencies, stocks and bonds since September shows "EM still has room to run."
Yes, but: Many analysts have pointed to the strong dollar as a possible impediment to a further rally this year, as well as the trade war between the U.S. and China. And there may be a bigger risk.
Emerging markets economies will face over $2 trillion in debt repayment this year, the largest on record, according to the Institute of International Finance, and more than double the amount scheduled as recently as 2014.
These emerging countries also have increased their borrowing by 30% since 2016, to $12 trillion, right as the Federal Reserve raised interest rates. That means the debt has been more costly.
Be smart: With a slowing global economy, and more importantly a slowing China (the mothership for emerging markets' growth over the past decade), as well as big questions facing major EM economies like Brazil, South Africa, Russia and Argentina, this year's massive debt maturity schedule is certainly something to watch.
4. Who needs a bank?
Conventional wisdom would suggest that borrowers in emerging markets, with their "emerging," or less developed, financial and banking systems, would hold a larger percentage of debt from sources other than banks.
However, mature markets like the U.S., Japan and the euro zone borrow far more from non-bank entities, a trend that has grown for more than a decade, with debt levels reaching 22.1% of total GDP.
Note: When excluding China, emerging markets debt rises to 20.2% of GDP.
5. CSX's Foote: Winners don't make excuses
"Over the last couple of months, everybody ... [was] talking about trade, tariffs, interest rates, what's going on with Brexit, government turbulence. 'All of these things ... must have some impact on the way you're running the business,' [but] we go back to the same place we were a few months ago; everybody, us and our customers, are still very optimistic about business in 2019 ... We have customers who are making long-term capital investments where they're going to be building and expanding their facilities into 2019 and 2020. And none of those projects are being pulled back."
— CSX CEO Jim Foote on the company's strong quarter and announcing a $5 billion share buyback program
Why it matters: Transports are considered a strong gauge of economic health and are typically sensitive to any signs of a slowdown. As Foote also said on the company's earnings call, rails "touch every segment of the U.S. economy ... and so we have a very good feel and sense for what's going on."
Flashback: FedEx CEO Fred Smith struck a different tone last month when he told analysts an economic slowdown was inevitable given "bad political choices" like the trade war and Brexit.
The big picture: One of the factors driving CSX and other rails' strength is the ability to charge customers more for transporting freight. But that's having a ripple effect for other companies.
One example: in the Federal Reserve's Beige Book released Wednesday, a majority of Fed districts reported rising freight prices as source of cost pressure.
Days without a factual error: 3
#IDontAcknowledgeTime