Axios Markets
October 24, 2019
Was this email forwarded to you? Sign up here. (Today's Smart Brevity count: 1,148 words, 4 minutes.)
Situational awareness:
1 big thing: Capital markets feel the global protest wave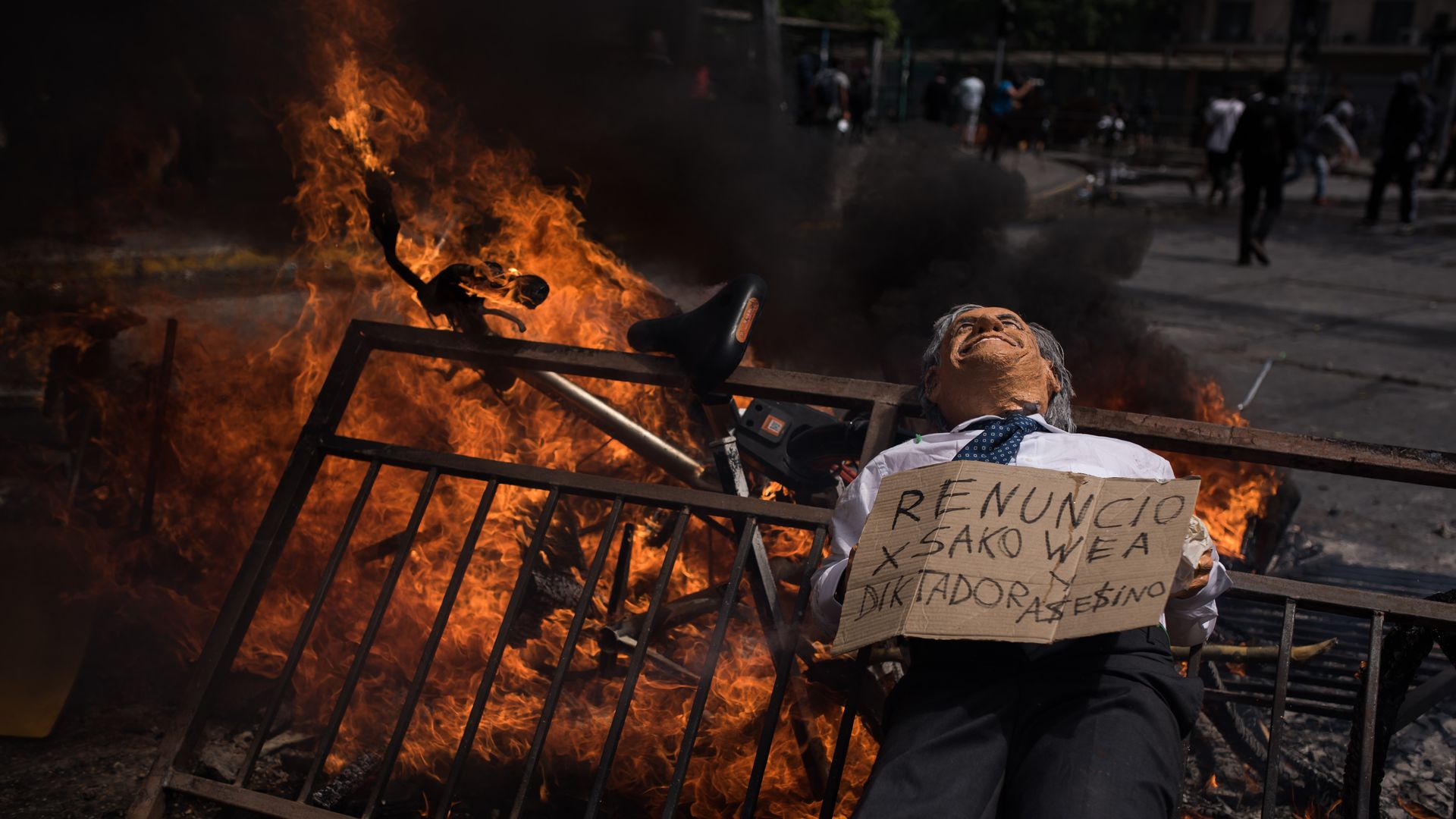 Violent protests in Chile, an OECD member long known as Latin America's slow, steady and stable credit, continued for the sixth night in a row Wednesday.
Blowback against an increase in public transit costs has continued despite the government offering concessions that increase public subsidies and taxes on the wealthy to rein in sky-high income inequality.
Why it matters: Markets are responding much more quickly to the state of unrest, with Chile's capital markets already pricing in negative outcomes.
Details: The Chilean peso saw its worst drop in more than six years on Monday, and its benchmark Ipsa blue-chip index has shed nearly 5%, including the largest one-day fall in two years, since protests began last week.
Chile's state-controlled mining company, Codelco, the world's top copper producer, said one of its mines had closed and other industries across the country are bracing for similar stoppages as trade unions have joined with protesters, Reuters reports.
JPMorgan strategists say they are selling Chile's stocks thanks largely to the "added social-political instability."
The big picture: Protests have erupted around the globe recently as young people, blue-collar workers and others have turned out to express outrage at austerity measures in Ecuador, law changes in Hong Kong, the jailing of separatist leaders in Spain and against corruption and a lack of economic reform in Iraq, Egypt and Lebanon.
"Experts discern a pattern: a louder-than-usual howl against elites in countries where democracy is a source of disappointment, corruption is seen as brazen, and a tiny political class lives large while the younger generation struggles to get by," the New York Times reports.
The bottom line: Hong Kong's protests already have wiped hundreds of billions of dollars from its stock exchange and reduced GDP expectations and real estate values. If oases of stability like Hong Kong and Chile can boil over into chaos, it's likely more is coming and that could put additional strain on the global economy.
Go deeper: Season of discontent (Reuters photo gallery of protests from around the world)
2. The actual divergence between Nike and Under Armour
Yesterday I used an incorrect chart in my item about Nike and Under Armour. Lots of you wrote in to point out the error (some were more polite than others).
First, I want to apologize for the error. There was a miscommunication between me and our visuals team and that resulted in us charting Nike at 7% gain since November 2005 when — as the above chart correctly shows — the gain has been more than 770%.
Second, I want to thank everyone who spotted the error and took time out of their day to bring it to my attention (even if you were very rude...you know who you are; but still, thank you for correcting my mistake).
Third, I want to promise that I'll be much more careful with these charts in the future. I want all of our readers to know that what you read in Axios Markets is top-tier information you can take to the bank. I let you all down yesterday and it won't happen again
Real news: Nike's stock had a rough outing on Wednesday but has been a strong performer over the past few years as direct-to-consumer and e-commerce sales, growth in China and merchandising boons from big names like LeBron James and Colin Kaepernick have helped power the brand's stock to fresh all-time highs.
That has helped Nike's stock surpass Under Armour, which had looked to be the future of athletic wear, in recent years despite ongoing controversies involving Nike's top brass.
3. The trade war is killing U.S.-China business deals
Global mergers and acquisitions activity is poised to slow this year and next, but nowhere has M&A activity been slowed like the pace of deals between the U.S. and China.
Why it matters: "M&A has been one of the areas hit hardest by the trade war, with deal value for North American target companies with a Chinese acquirer on pace to fall by over 90% since peaking in 2016," a new report from PitchBook finds.
Between the lines: The slowdown is the result of the U.S.-China trade war, and while much of it can be attributed to growing business uncertainty, the U.S. government also has stepped in to actively prevent large-scale tie-ups on multiple occasions, often citing national security concerns.
"The Committee on Foreign Investment in the United States (CFIUS) has already blocked Broadcom's $100 billion-plus attempt to purchase Qualcomm on national security grounds," PitchBook's Q3 North American M&A Report notes.
"In addition, CFIUS has also overturned completed deals. In one high-profile case, Beijing Kunlun Technology Company had to sell US-based dating app Grindr after the deal had already settled."
The bottom line: "Although it is uncertain how — or indeed if — the trade war will end, a protracted period of low cross- border investment between the US and China seems almost certain."
4. The green new debt is growing fast
Green financial instruments continue to see widespread adoption and diversification, in terms of both instruments and geographies.
What's happening: Total green and sustainability debt issuance in 2019 is poised to double levels from 2017 and will be almost four times the level issued as recently as 2016, according to projections from the Institute of International Finance.
The green bond market is still largely concentrated in a few countries and sectors, but growing quickly.
One example: Kenyan property developer Acorn Holdings recently issued $41 million of debt to fund environmentally friendly student housing in Nairobi.
What they're saying: "At around $155 billion year to date (50% higher than the same period of 2018), green bond issuance is dominated by the U.S. and Europe, with public sector entities, utilities, and banks leading the way. However, new entrants continue to make their green bond debuts," IIF economists wrote in a recent note to clients.
5. Guess who's headed to Saudi Arabia's "Davos in the Desert"
Axios' Felix Salmon writes: Never mind the murder of Washington Post columnist Jamal Khashoggi — there's money to be made. That's the clear message sent by the list of grandees scheduled to attend the Future Investment Initiative in Riyadh, Saudi Arabia, later this month.
Axios has obtained a "Draft Narrative Program" for the conference, marked "Not Final — Subject to Change." Any of the names on the program could therefore still pull out. Those names include heads of state, including Narendra Modi of India and Jair Bolsonaro of Brazil.
The Trump administration is represented by Treasury Secretary Steven Mnuchin, Energy Secretary Rick Perry, and White House senior adviser Jared Kushner. Former Treasury undersecretary David Malpass, now the president of the World Bank, is also on the list, as is former White House communications chief Anthony Scaramucci.
Top financiers scheduled to attend include Michael Corbat, CEO of Citigroup, Tidjane Thiam, CEO of Credit Suisse, and Noel Quinn, CEO of HSBC. Fund managers include Ray Dalio of Bridgewater, Robert Smith of Vista, Stephen Schwarzman of Blackstone, Larry Fink of BlackRock, Daniel Loeb of Third Point, and Barry Sternlicht of Starwood.
Masayoshi Son of Softbank is on the program; he's still trying to raise some $100 billion for Vision Fund 2, largely from Saudi Arabia.
Also in attendance, for some reason: will.i.am.