February 08, 2019
Was this email forwarded to you? Sign up here.

Situational awareness:
Amazon.com CEO Jeff Bezos accused the National Enquirer and publisher David Pecker of extortion and blackmail, and highlighted ties between Pecker and President Trump. (Medium)
A federal bankruptcy judge approved Eddie Lampert's plan to buy Sears after a daylong hearing. (NYT)
Renault said that a contribution of "50,000 euros, under a charitable donation agreement ... was allocated to [former CEO Carlos] Ghosn's personal benefit." (Statement)
1 big thing: Companies are saying less
Companies are changing the way they report earnings and analysts aren't impressed, Axios' Courtenay Brown writes.
Previously obliged to provide detailed breakouts, a growing number of companies are cutting back how much information they give investors right as concerns are growing about an economic slowdown and a potential earnings recession.
Why it matters: The companies pulling back are the same ones that drove the market to record highs — at a time when there are questions about how much longer the bull market can run.
"It's a source of frustration," Bill Smead, founder of Smead Capital Management, tells Axios. "There's more of what [companies] don't say. This is typical of what would happen in the late stages of a bull market."
What's going on: The information pullback is happening across the biggest names in tech.
Twitter said it would no longer release numbers on its monthly active user base, only its "monetizable daily active users" (or the users who see ads).
Facebook said it hopes a combined "family" metric tracking the suite of its apps will have more of a "primary role" as compared to the specific user numbers for Instagram or WhatsApp.
Last year, Apple said it would no longer report how many iPhones it sells per quarter, instead reporting the overall active installed base of iPhone users.
Outside of tech, Ford Motor said it would report sales figures quarterly, instead of monthly, following General Motors' announcement last year to report less frequently.
But why? Companies say the old metrics are less appropriate as their businesses evolve.
"A unit of sale is less relevant for us today than it was in the past given the breadth of our portfolio and the wider sales price dispersion within any given product line," Apple CFO Luca Maestri said on the company's earnings call in November.
Facebook CFO David Wehner said its new "Family" metric would "better reflect the size of our community and the fact that many people are using more than one of our services."
Market strategists aren't buying it.
Analysts at research firm MKM Partners wrote in a note that Facebook's move could be interpreted as execs "preparing to remove transparency as an engagement problem on the core service is set to worsen."
2. Short sellers take aim at Starbucks as Schultz weighs 2020 run
Former Starbucks Chairman Howard Schultz's "60 Minutes" interview and a recent New York City book event to promote an expected presidential run have short sellers lining up to bet on the company's fall.
What's happening: Short sellers added 2.5 million shares, or 6.78%, to bets against Starbucks over the last week. Short interest is now $2.7 billion, with 39.21 million shares shorted, according to data firm S3 Partners.
"We are seeing continued active short selling ... in response to the Schultz announcement," Ihor Dusaniwsky, S3 Partners' managing director of predictive analytics, said Thursday.
Starbucks continues to be most shorted stock in S3's restaurant sector, making up almost half the total increase of the sector's short interest.
Still standing: Despite its growing popularity, betting against Starbucks has not been a profitable trade. The stock rose 1.14% over the last week and shorting the stock has been the second most unprofitable short behind Chipotle Mexican Grill with $167 million of losses this year.
Yes, but: Dusaniwsky points out that even without Schultz's antics, Starbucks is fighting an uphill battle. Same store sales growth has been lagging and the large size of the company, coupled with saturation of the product makes continuing to exceed analysts' growth and revenue targets a difficult task.
"Increased stock buybacks and dividend growth are an attractive carrot for long shareholders, but unless international growth kicks into high gear, Starbucks' valuation relative to its sector brethren may seem like paying Venti prices for a Grande product."
3. Top executives are bullish on 2019, but don't know why
Top executives say American companies will continue to grow in 2019, but expect the things that drive growth will slow, a new UBS survey of top corporate officers at 500 companies shows.
What it means: Relative to their positions less than a year earlier, UBS's equity strategists found that responses for each of the 7 underlying drivers of profits turned less positive in this survey.
What they're saying: 69% of CEOs and CFOs surveyed in December expected sales growth to accelerate in 2019, up from 61% in May. And 68% expected profit margins to expand, up 4% since May.
On the other hand: Net positive responses for demand and pricing fell by about 10 percentage points from their May levels.
Further, 17% of respondents expect labor costs to be a headwind, up from 14% in May and from 10% in November 2017.
Raw material cost concerns also rose, with 16% expecting a negative impact, up 5% from May.
Interest rates are expected to be less accommodative, with just 32% of executives saying it would be a net positive, down from 49% in May.
Still: "As investor concerns about growth have risen, only 20% of CEOs/CFOs expect a slowdown in sales growth, down from 26%, and just 7% expect a significant slowdown," UBS analysts noted in the release.
4. Risk aversion paid off in 2018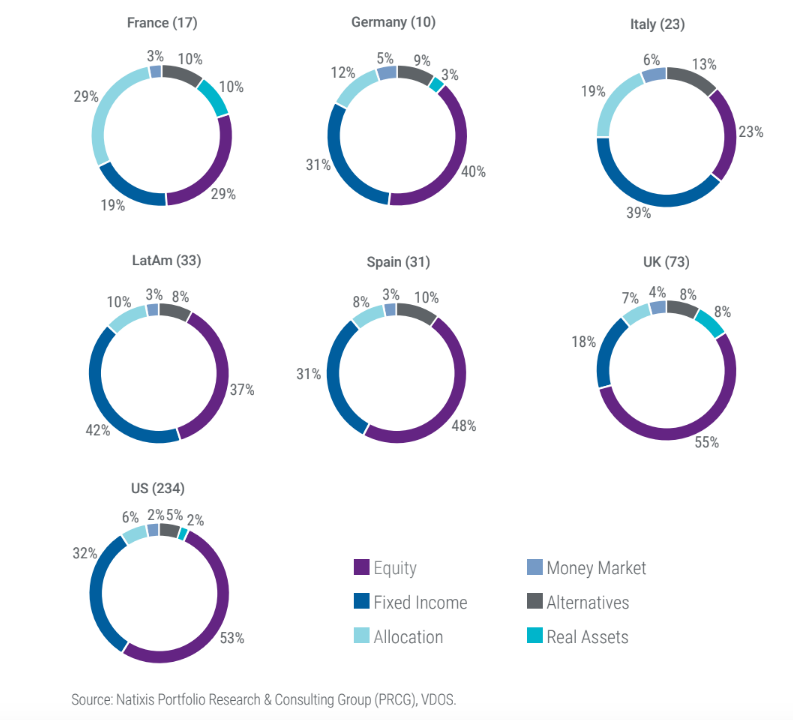 The biggest driver of losses in portfolios around the globe last year was stocks, which contributed around two-thirds of the losses investors saw in their portfolios, a study from Natixis' Global Barometers found.
Go deeper: The world's best performing region for model portfolios in 2018 was Italy, The term "best performing" is relative, though, as Italian portfolios were just the least negative, with an estimated loss of 3.2% for the average adviser portfolio, before fees.
Even diversified portfolios failed to offset investors' losses, as bonds also lost money.
In fact, investment returns were negative in every market and nearly every asset class.
But, but, but: Being conservative paid off in 2018. Investors in Italy and Latin America, which had the lowest equity allocations among the nations studied, posted the least negative portfolios.
"Having bonds, particularly sovereign government bonds in the portfolio, cushioned losses and offered more stability," Marina Gross, executive vice president of Natixis' Portfolio Research and Consulting Group tells Axios in an email.
The survey analyzed "moderate-risk" or "balanced" model portfolios in seven nations and regions, including France, Germany, Italy, Latin America, Spain, the United Kingdom and the U.S. Italian investors had the best returns (-3.2% on average) followed by Latin America (-4.4%), the U.K. (-4.2%), France (‑4.9%), U.S. (-5.1%), Germany (-5.4%) and Spain (-5.9%).
5. The $28.2 billion bank merger
BB&T agreed to buy SunTrust Banks for $28.2 billion in stock, creating the country's sixth largest bank by assets and deposits. If approved it would be the biggest U.S. bank merger since the 2008 financial crisis.
The merged bank will have $442 billion in assets, with BB&T contributing a little more than $225 billion and SunTrust contributing the rest, WSJ's Justin Lahart writes.
Those numbers matter: "A bank relief law passed last year raised the threshold for stricter oversight by the Federal Reserve to $250 billion in assets from $50 billion. With both banks on the verge of reaching that higher threshold, why not join forces and reap the cost savings of a merged entity?"
6. Thursday's stock market report in a tweet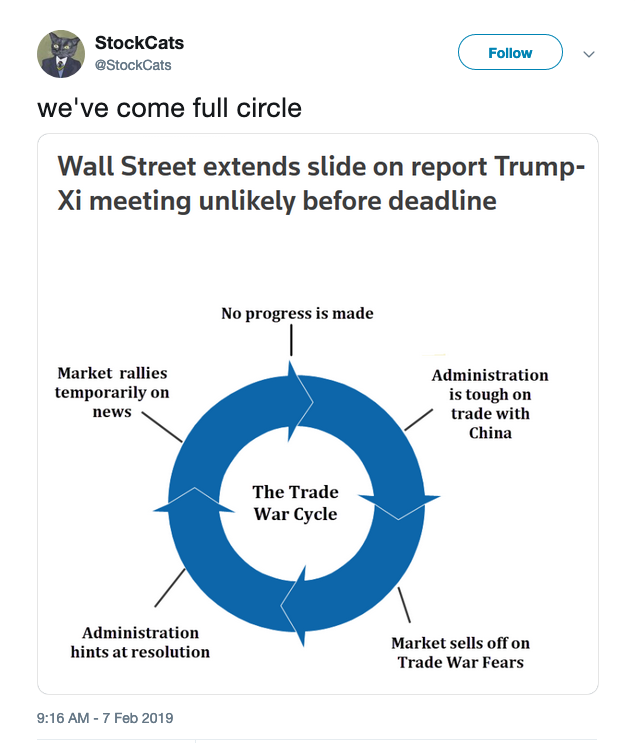 Yep.
Editor's note: Thursday's newsletter has been corrected to remove "bond-buying" from the first paragraph about the ECB's expected restart of stimulus. The bond-buying program is part of its quantitative easing program, which was wound down in December, rather than its targeted longer-term refinancing operations (TLTRO) program. Goldman Sachs analysts predicted the TLTRO program would be restarted in March.
TLTROs are operations that provide long-term funding at low rates to banks to ease private sector credit conditions and stimulate bank lending and are separate from the bond purchase program.
History: Dr. Gladys West is an American mathematician known for her contributions to the mathematical modelling of the shape of the Earth and mathematical computing for the U.S. Armed Forces prior to the introduction of electronic systems.
Her work on the development of the satellite geodesy models was eventually incorporated into what became the Global Positioning System, commonly known as GPS.
Her contributions to GPS went largely unknown until a member of West's sorority, Alpha Kappa Alpha, read a short biography West submitted as part of an alumni function.
West was inducted into the U.S. Air Force Hall of Fame in 2018 and selected by the BBC as part of that year's 100 Women honorees.