February 04, 2019
Was this email forwarded to you? Sign up here.
Situational awareness:
1 big thing: Investors loaded up on China last month
International investors poured more money into Chinese stocks last month than in any month on record, representatives from the Institute of International Finance tell Axios.
Why it matters: The portfolio flows show investors outside of China have shaken off data reports showing the country's growth grinding to its slowest pace since 1990 and are swooping in as stock prices and valuations have tumbled.
"We think capital flows are recovering because sentiment towards emerging markets has improved in recent weeks, due to a dovish shift by the Fed and deescalating China-US trade tensions," Deputy Chief Economist Sergi Lanau told Axios via email.
January's burst of investment into China's equity market comes after Federal Reserve Chair Jerome Powell called for "patience" on future U.S. interest rate increases, meaning easier global financial conditions, and an increase in stimulus from Chinese authorities in December.
UBS strategists are expecting "a slowdown in China and the rest of Asia," and "a weaker macro environment in the first quarter."
That will mean "additional easing measures from Beijing to cushion the fall."
Nancy Tengler, chief investment strategist at Tengler Wealth Management, said in December that she's expecting that stimulus to boost not just China, but markets around the globe this year.
The numbers: Chinese equities saw $9.2 billion of inflows from non-resident investors in January and IIF's economists expect around $21 billion of inflows for the first quarter, more than the first quarters of 2017 and 2018 combined.
Global investors put more money into Chinese stocks than all other emerging market equities combined in January.
Lanau says this makes he and others cautious about the outlook for emerging markets overall. IIF's data showed the asset class saw $51 billion of inflows last month, the highest in a year.
MSCI's Asia Pacific Index rose 6.8% in January, its best start to a year since 2012. MSCI's emerging-market equity index rose 8.7% for the month.
Of note: China opened up mainland, or so-called A-shares, to outside investors last year but still has a number of restrictions on foreign investment.
Chinese markets are closed this week as the country celebrates its new year holiday.
1 bonus chart: China and the emerging markets
Inflows from foreign investors to China have dwarfed other emerging markets in the first quarter over the past 3 years. In Q1 or 2017, 2018 and 2019, funds invested in Chinese stocks has totaled more than $40 billion. The next closest country is Korea, with $23.5 billion.
Reading the chart: Countries listed in descending order are China, Mexico, India, Korea, Brazil, Turkey, Ukraine, the Philippines, Thailand, Malaysia, South Africa and Indonesia.
2. An asterisk on January's jobs report
The U.S. government's blowout January jobs report had the lowest response rate in a decade, Axios' Courtenay Brown writes.
Why it matters: Economists suspect that the 60.7% hit rate on the establishment survey from the 142,000 businesses and government agencies typically surveyed could mean a downward revision to the whopping 304,000 new jobs added in January.
"A weak collection rate yields risk of an abnormally strong payroll gain that ultimately is revised lower," John Herrmann, a strategist at MUFG Securities Americas, tells Axios.
December's initial response rate came in at 61%, but the follow-up survey's response rate ticked up to 88%. That led to a significant downward revision of December's payrolls from an initially reported 312,000 to 222,000.
There are plenty of cases in which payrolls are revised higher with future collection of establishment survey data — November's jobs report was revised up twice in the most recent example. But Herrmann says that would be unlikely for January.
January tends to see weak job growth after companies ramp-up hiring over the holidays, then let go of temporary workers, Herrmann points out.
The big picture: Barring an unprecedented downward revision, January will be the 100th consecutive month of U.S. job growth. Even with December's downward revisions, payrolls remain solid, but the markdowns show the data may not be breaking out the way initial estimates suggest.
3. Africa's growing middle class
Consumer expenditures in Africa are expected to rise to $2.1 trillion by 2025 and $2.5 trillion by 2030, more than doubling the 2015 level, according to a recent study from Brookings Institute.
Why it matters: Brookings' Landry Signé notes that African consumer purchases are some of the fastest-growing in the world and will be lifted further by a burgeoning middle class.
"Household consumption has increased even faster than its gross domestic product (GDP) in recent years—and that average annual GDP growth has consistently outpaced the global average," he writes in Brookings' report on Africa.
By next year, Signé expects more than half of all African households to have some discretionary income. In the 5 largest consumer markets — Nigeria, Egypt, South Africa, Morocco, and Algeria — the African Development Bank estimates there will be 56 million middle-class households with disposable incomes of nearly $680 billion.
African consumers who are considered "better off than middle class," according to OECD standards, are expected to spend an additional $174 billion per year over the same period.
"At present, the middle class accounts for roughly one-third of the region's population, but it is expanding so quickly that total consumer expenditure is expected to double by 2020," Signé writes in the report.
Emerging economies, including Asia, Latin America and Africa are increasingly carrying the world's growth.
"About half of the world's fastest-growing economies will be located on the continent, with 20 economies expanding at an average rate of 5% or higher over the next five years, faster than the 3.6% rate for the global economy," Brahima Coulibaly, director of Brookings' Africa Growth Initiative, wrote in a recent paper.
But, but, but: Debt is a serious issue. Many of these countries are reliant on commodities, which may lose value as global growth slows, and many have never shouldered such a high level of debt.
Brookings says at least 14 African countries are either in debt distress or at high risk of debt distress, up from 6 countries just 5 years earlier. These countries currently have total debt of around $160 billion, of which $90 billion is external debt.
4. The Swamp is winning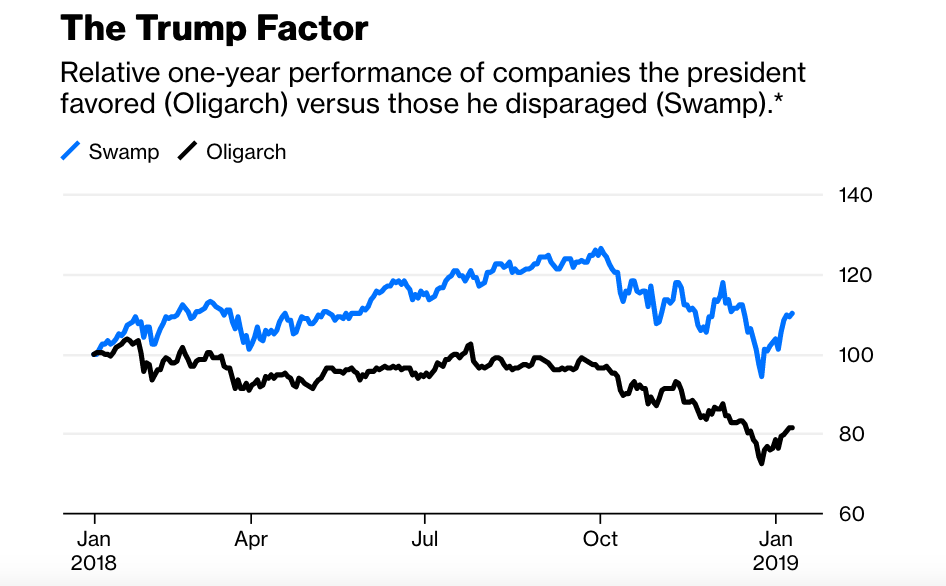 It pays to be on the president's bad side. At least it has for public companies over the past two years, a pair of indexes created by Ritholtz Wealth Management CIO Barry Ritholtz show.
President Trump has broken with past presidential precedent and heaped both praise and disparagement on a collection of U.S. companies since taking office. Ritholtz tracked the stock performance of companies relative to their relationship with the president.
"Having the U.S. president get angry with you, call you out publicly and make scary sounding threats at you — well, it turns out to be not so bad. In fact, the results are really good.
"And the companies he embraced? Well, not so much."
— Ritholtz Wealth Management CIO Barry Ritholtz
In 2017, the "Oligarch Index" of Trump's favored companies rose 20%, but trailed the S&P 500's gain of 21%. During the same year, the "Drain the Swamp Index" of Trump's hated Twitter targets rose 43%.
Much the same results were seen in 2018. For the one-year period ended Jan. 10, the Oligarch Index fell 23%. The Drain the Swamp Index rose 6.3%.
"That is a 29 percentage point advantage for Trump's most-hated companies over his most favored ones," Ritholtz noted in a piece for Bloomberg Opinion. "This is even bigger spread than the first year we tracked the indexes, when the spread was 23 percentage points."
The relative performance of the indexes likely has more to do with who Trump likes than whether or not he goes after them on Twitter, Ritholtz said.
Jeff Bezos, owner of the Washington Post, and founder and CEO of Amazon.com had a good year. Amazon gained 32%.
Twitter, a favorite target of conservatives last year, whose founder, Jack Dorsey, refused to create a lying Hillary emoji, did even better, gaining 36%.
Even the "failing" New York Times added more than 23% during the period.
The Oligarch index, meanwhile, had some disasters.
Goldman Sachs, dealing with an ethical cloud, fell 31%.
Ford Motor dropped 34%.
Facebook, a conduit for fake news that may have helped Trump's electoral prospects, lost almost a quarter of its value.
Exxon Mobil, whose former CEO served for a time as secretary of state in the Trump administration, fell 17%.
"All told, it was a rough year for the Oligarchs," Ritholtz said, "with little other than huge tax cuts to comfort them."
5. Chip sales hit record in 2018, but semiconductor stocks suffered
Global chip sales rose nearly 14% last year to a record $468.8 billion, according to new numbers from the Semiconductor Industry Association. However, growth slowed significantly in the second half as the industry enters what appears to be a period of slower growth, Axios' Ina Fried writes.
Why it matters: Chips are at the heart of all manner of electronics, from phones and PCs to broader markets like cars and appliances.
Plus, unlike the gear they end up in, a significant number of semiconductors are not only designed in the U.S. but also manufactured here. Chip sales growth is seen slowing to just 2.6% this year, according to the World Semiconductor Trade Statistics organization.
"We may be moving into a cyclical period (where we are) experiencing slower growth," Semiconductor Industry Association CEO John Neuffer said in an interview. But he added that the industry's long-term outlook is "very strong" as more chips go into more products.
By the numbers:
Total chip unit shipments topped 1 trillion for the first time.
Memory was the largest and fastest growing type of semiconductor, with sales up 27.4% to $158 billion.
Sales in 2018 rose in every region, led by China, where sales were up 20% for the year.
The big picture: Major chipmakers like Skyworks, Qorvo, Qualcomm and Micron all had forgettable stock performances in 2018.
An Axios analysis shows semiconductor stocks were embroiled in a sector-wide slowdown last year. An exchange-traded fund tracking the industry fell 14% and a number of semiconductor companies had losses of more than 20%.
Shares of Advanced Micro Devices (AMD) jumped almost 60% last year, helping buoy the entire industry. Analysts say the rise is largely due to expectations AMD was taking market share from players like Intel.
The bottom line: If semiconductor companies' shares struggle this mightily during a year of record sales, a slowdown could be a real problem.
History: Caryn Elaine Johnson was raised in New York's Chelsea-Elliott housing projects and eventually made her way to Broadway where she starred in her own show. That eventually landed her starring roles in television, film, music and movies.
She is 1 of only 15 people in history to have won a contested Tony, Oscar, Grammy and Emmy award. Just 6 others have won the prestigious "grand slam" when including uncontested awards, such as lifetime achievement honors.
She is the first African American to have received Academy Award nominations for both Best Actress and Best Supporting Actress.
She is the only African American woman to ever win a Grammy for best comedy recording, and 1 of only 3 women in history.
She has been nominated for 17 total Emmy awards and 3 Golden Globes.
Johnson is also the author of 11 books.
She is known professionally as Whoopi Goldberg.