Axios Markets
March 14, 2019
Was this email forwarded to you? Sign up here.
Situational awareness:
1 big thing: Brexit's overstated importance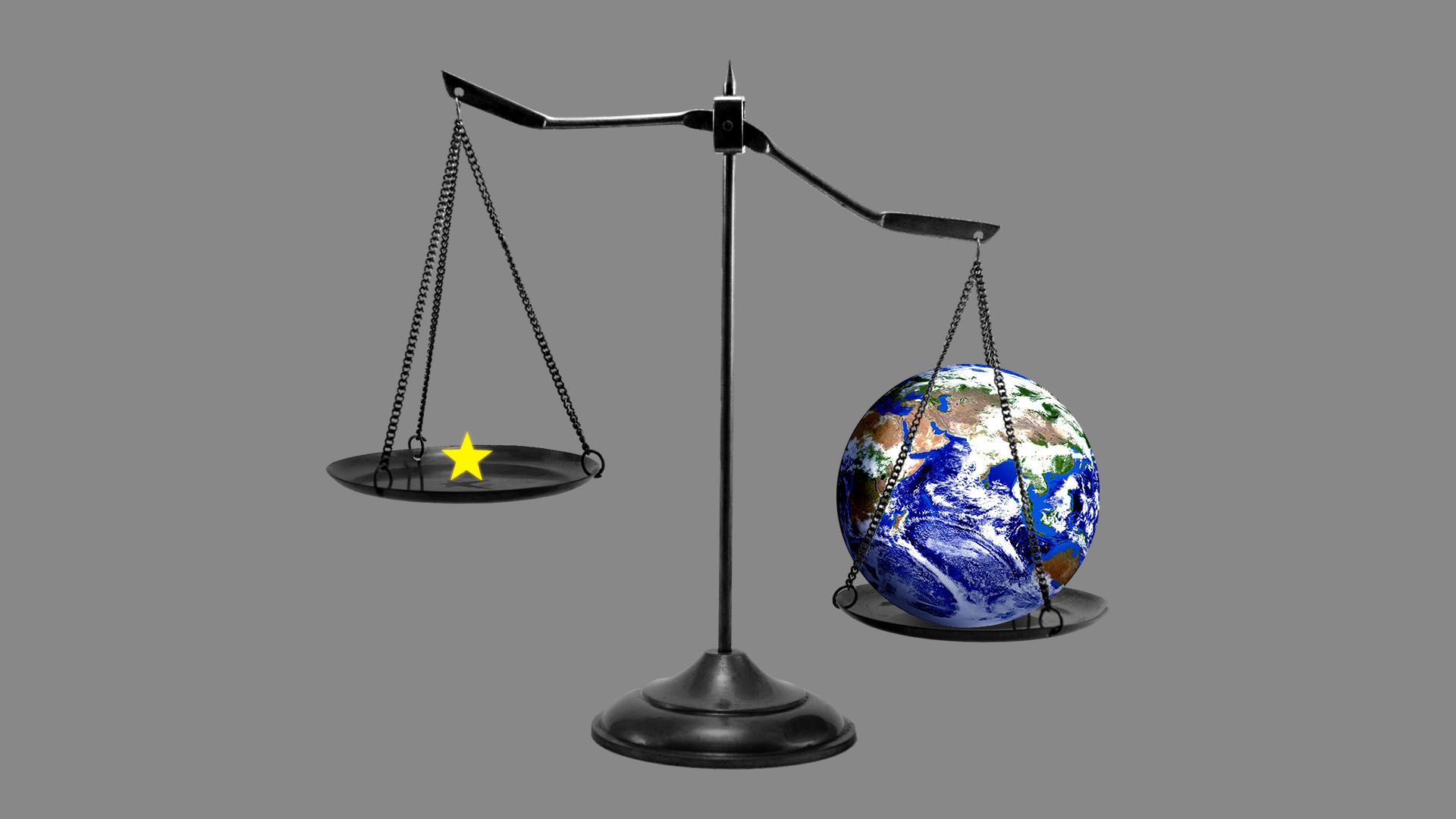 Brexit has grabbed global news headlines, but capital markets have shown little fear and Britain's currency has even strengthened as the March 29 deadline nears with no resolution in sight.
What's happening: British government debt is trading little moved from its levels at the start of the year, and London's benchmark FTSE 100 is up more than 6% year-to-date — less than S&P 500 and European Stoxx 600, but not out of sync with global equity markets.
Why it matters: Even if Brexit does happen, its impact on the global economy has been far overstated by central bankers and politicians, says Jennifer McKeown, head of global economics service at Capital Economics.
"While the prolonged uncertainty would not be good for business or financial market sentiment, an ultimate deal and softish Brexit would have little economic effect in either direction. And even in a no deal scenario, the implications for other economies would not be too severe," she said.
The big picture: To wit, a recent paper from Britain's New Economics Foundation based on Office for Budget Responsibility data finds that the country's austerity measures instituted in 2010 will cost the country's economy more than twice what Brexit will.
"Discretionary policy decisions since 2009-10 have reduced real GDP growth by such an extent that in 2018/19, GDP is 4.7 per cent lower than it would otherwise have been without the austerity," Alfie Stirling, NEF's head of economics, writes.
Austerity has suppressed "incomes and expenditure in the economy by just under £1,500 per person and more than £3,600 per household, in this year alone. We also know the effects have not been evenly felt, with the heaviest burden borne by the poorest households in society," Sterling writes.
Between the lines: To put this in perspective, policymakers warned that the vote to leave the European Union would cause rampant uncertainty and seriously damage Britain's economy.
The Bank of England recently estimated that since the 2016 Brexit vote the economy has lost 2% of GDP in the 2018-19 fiscal year. That's about £900 less per person or £2,100 less per household than what the numbers show austerity has cost.
Our thought bubble, per Axios' Felix Salmon: "Austerity has always been Europe's Achilles heel. The European monetary union was built on the Maastricht limits (debt no greater than 60% of GDP, deficit no greater than 3% of GDP) which caused unnecessary austerity and a bunch of governments lying about the true nature of their finances.
"Both phenomena increased mistrust of Europe's institutions. Ultimately, the EU's insistence on austerity was instrumental in souring some 500 million people, to a greater or lesser degree, on the entire European project — including the 17.4 million Britons who voted to leave the EU in 2016.
"Austerity has had many deleterious consequences, but Brexit is the greatest of them all."
Bonus: Sterling rides high as Brexit draws nigh
The British pound rose by the most in nearly 2 years on Wednesday after lawmakers voted down the latest Brexit proposal — an amendment to leave the EU with no agreement in place.
Even as the dollar has risen against major currencies around the globe so far this year, sterling has gained 4% on the greenback.
The big picture: As the deadline has closed in, investors have increased rather than decreased bullish bets on the pound. The CFTC reported last week speculators had cut net short positions on sterling by half since September 2018 and reduced positions by about $1.5 billion since the week of Dec. 21.
The value of the pound sank after the Brexit vote in June 2016 from around $1.50 to $1.32 almost immediately and has ebbed and flowed since, now hovering right around that level.
The bottom line: It may simply be that traders got it right when Britain voted to leave in the first place and nothing has materially changed since then.
2. Gary Cohn on tariffs and trade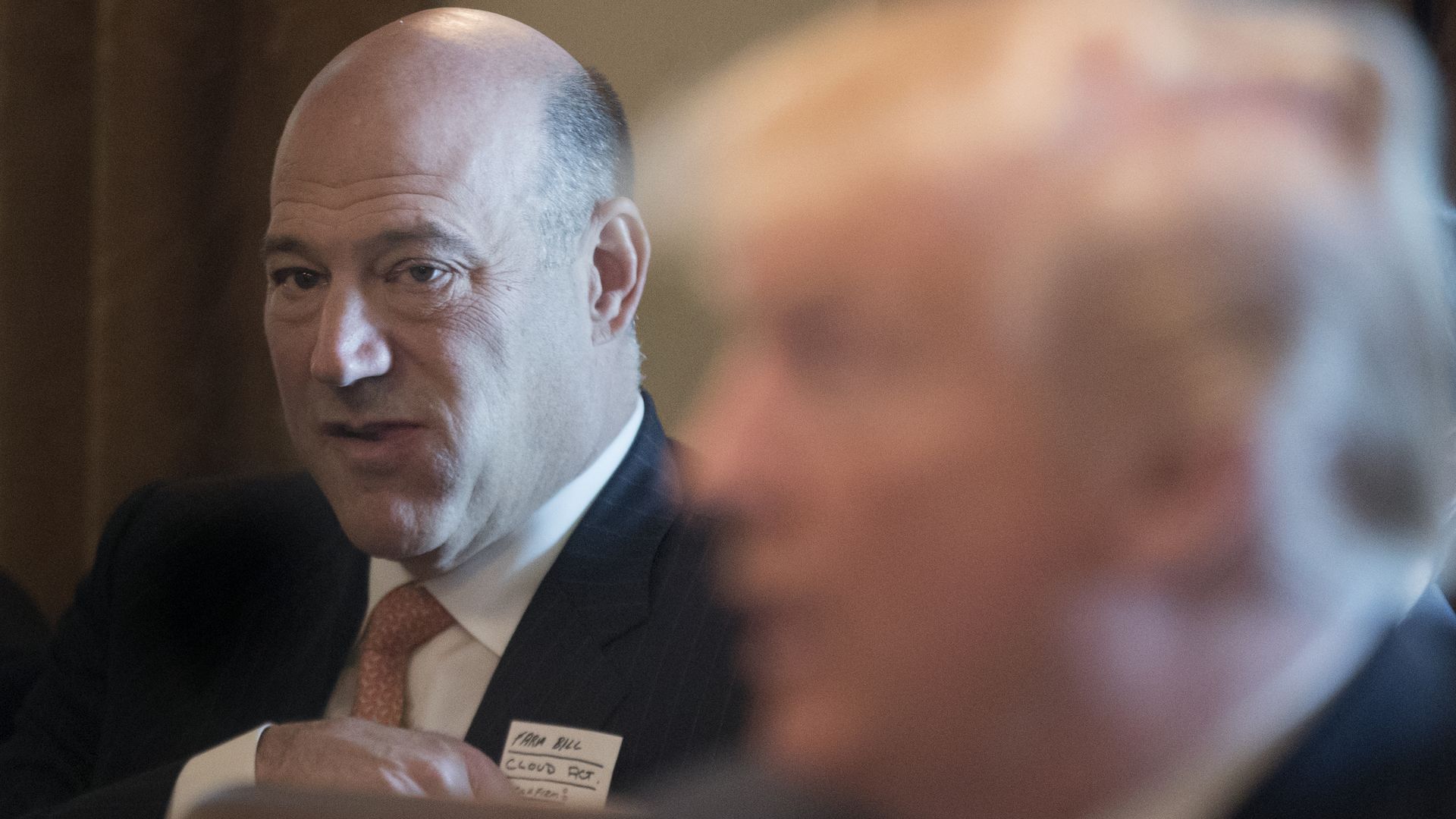 President Trump's former director of the National Economic Council Gary Cohn let his feelings about the president's tariff battle with China be known in an interview on Freakonomics Radio released Wednesday night.
"When you put tariffs on goods that people in the United States consume every day, it's a consumption tax. So all the tariffs did is they made products that Americans were going to buy more expensive. And in fact we got the final trade data numbers ... And lo and behold [in 2018], we hit an all-time record-high trade deficit globally, and with China."
"Tariffs don't work. If anything, they hurt the economy because if you're a typical American worker, you have a finite amount of income to spend. If you have to spend more on the necessity products that you need to live, you have less to spend on the services that you want to buy. And you definitely don't have anything left over to save.
"So we should try and make the goods as cheap as possible. And we don't produce the goods in the United States; we import the goods from other countries. And if we could produce the goods as cheaply as other countries do, we would produce them in the United States."
Cohn also said Trump is "desperate right now" for a trade agreement with China.
"The president needs a win. The only big open issue right now that he could claim as a big win that he'd hope would have a big impact on the stock market would be a Chinese resolution. Getting the trade deficit down I will never say is easy, but of the issues on the table, that's relatively easier. Getting the intellectual property, the forced technology transfer and the market access — much more difficult."
Cohn talked about why he joined the Trump administration, but refused to answer questions about journalist Bob Woodward's book in which he is quoted calling Trump a "professional liar" and a "f--king a--hole."
Cohn says the two still talk regularly.
3. Builders are losing confidence
Every key indicator of confidence fell among builders for the first time in 2 years, according to a joint survey by the U.S. Chamber of Commerce and construction firm USG, first provided to Axios.
Why it matters: Construction is a barometer of the economy, and "when it starts to falter, it's a sign that there's cooling ahead," the U.S. Chamber of Commerce and USG note in the release, Axios' Courtenay Brown writes.
Confidence in new business prospects, expectations for future revenue and reported buildups of work to be completed all dropped for commercial real estate contractors — a first since the survey launched in 2017.
The caveat: The survey was conducted in January — during the longest U.S. government shutdown in history.
What it means: The results reflect "increasing caution about a number of factors — the state of the economy, rising interest rates [and] concerns over material costs," according to the press release.
"Anecdotal responses suggest that the possibility of an economic slowdown in the next few years is dampening longer-term optimism."
Businesses also said tariffs and President Trump's trade war were the most important business concerns for the next year.
The survey was conducted in January — during the longest U.S. government shutdown in history.
The big picture: The construction and real estate industries were responsible for over 10% of overall economic growth in 2017, the latest full year for which data are available. But there are mixed signals about the strength of the sector.
Overall construction spending topped economists' expectations in January, but the Commerce Department also said that spending in the final 2 months of 2018 was weaker than initially reported.
That could shave up to 0.3 percentage points off of fourth quarter GDP, says Liz Ann Sonders, chief investment strategist at Charles Schwab, which was already dragged down by lackluster home construction.
The drop-off in construction jobs last month was steep — employment at construction sites saw the biggest drop since December 2013 (though many economist chalk that up to colder temperatures in February).
The other side: Michael Bellaman, the head of the Associated Builders and Contractors, a trade group that represents over 20,000 construction firms, tells Axios the overall construction industry remains strong.
"There's a high level of confidence in the business community. What that means is if I'm a CEO, I'm going to invest in a construction project. I'm going to build a new building," Bellaman said.
The trade group conducts its own confidence survey, the Construction Confidence Index, which recently showed waning confidence of commercial builders at the end of last year, but signaled "ongoing expansion in construction activity."
4. A bigger picture of Boeing's stock
Boeing's stock broke its losing streak on Wednesday and closed slightly higher after its biggest 2-day selloff in 10 years. The stock initially dropped 3% after the FAA announced the U.S. would ground the 737 MAX aircraft, Courtenay writes.
The big picture: Shares of Boeing still closed nearly 17% higher than where they opened this year, as Axios' Dan Primack points out.
Our thought bubble, per Dan: This is all quite terrible for Boeing, but investors aren't bailing on the stock quite to the extent that the headlines might suggest.
What they're saying: Analysts are playing down the the long-term effects to Boeing's business.
"We still view Boeing's financial strength and liquidity position as solidly positioned to navigate any additional costs arising from repairs or financial penalties to operators," Roger King, an analyst at CreditSights, wrote in a note.
"The airplane market is a duopoly. The [airlines] can't go to Airbus because those planes are booked out for nine years," King said.
"[Boeing] is doing all they can and I expect these planes to be back in the air within weeks if not sooner," Jim Corridore, equity analyst at CFRA Research told CNBC. "There's a lot to be said about looking at the long-term track record of Boeing and where the airline industry and the commercial aerospace industry will be over the next 10 years if you're looking at an investment in this stock."
Editor's note: The top story was corrected to show Maastricht limits say government deficit should be no greater than 3% of GDP (not 60%).