March 25, 2021
Good morning! Was this email forwarded to you? Sign up here. (Today's Smart Brevity count: 1,256 words, 4.7 minutes.)
🎙 "Sometimes, what you're looking for is already there." - See who said it and why it matters at the bottom.
1 big thing: 77% of Americans are worried about inflation
A survey from data firm CivicScience provided first to Axios shows more than three-quarters of American consumers are concerned about inflation.
Between the lines: 42% of those respondents said they were "very concerned," which was more than double the share (17%) that said they were "not at all concerned."
Why it matters: As I've written before, inflation is a self-fulfilling prophecy and is driven largely by expectations.
When people expect costs to rise they behave accordingly — they demand higher pay, raise rents and increase the cost of goods and services. All of those things push inflation higher.
Why you'll hear about this again: Perhaps the survey's most intriguing data point is that young people who have never before experienced runaway inflation are the most worried.
Gen Z reports they are "very concerned" at the highest rate, although overall concern is greatest among people between 35 and 54.
One level deeper: Expectations for inflation also align closely with expectations for how much longer the coronavirus pandemic will impact the economy.
Of those who expect the virus to last just 1-3 more weeks, 73% report being "very concerned" and nearly 90% say they are at least somewhat concerned.
Conversely, among those who expect the pandemic's effects to stick around for at least six months, just 38% are very concerned.
What's happening: The public looks to be catching up to market participants in their worries about inflation and responding to rising prices, especially for rent and gasoline. Those jumped by 9% and 9.6%, respectively, in February, according to the New York Fed.
Investors have been selling off U.S. Treasury bonds, recently pushing yields on government debt to their highest levels since January 2020, and sending 5-year breakeven inflation rates to the highest since 2008 last week.
The latest survey of global asset managers commissioned by Bank of America found that inflation is the number one risk for the market, displacing COVID-19 for the first time since February 2020.
A net 93% of investors in the survey said they expect inflation to rise in the next 12 months, the highest reading in the history of the survey, which dates back to at least 1995.
The last word: Chair Jerome Powell and the Fed appear to be getting what they want with rising inflation that should soon push PCE, the Fed's favored inflation gauge, above the central bank's 2% target.
But whether inflation will remain "anchored" there and not spike to problematic levels remains to be seen.
2. Catch up quick
The SEC has opened a new probe into SPACs, seeking information on how underwriters are managing the risks involved in investing in so-called blank check companies. (Reuters)
A number of unexpected, acute disruptions, such as this week's blockage of the Suez Canal, are set to worsen shortages and further push up global prices. (WSJ)
3. Inflows to stocks last week nearly doubled pre-pandemic record
Money flows into equity funds have gone on a record-setting streak in recent weeks, as investors' mindsets have moved from fearing a downturn in the market to fear of missing out on big returns.
What happened: Record sums of cash have flown into equity funds over the last month and a half with the No. 1 and No. 2 largest inflows to stock funds ever both occurring since the start of February.
By the numbers: For the week ending March 17, a net $53.7 billion flowed into equity funds with $43.0 billion going into U.S. equity funds, according to data from the Investment Company Institute.
For the week ending Feb. 10, equity funds saw $31.7 billion of net inflows.
Prior to 2021, the record high was $27.2 billion, set in June 2017.
To put that into perspective: ICI's data show net fund flows to equities were negative in 22 of the last 23 months, meaning investors pulled money out of stocks.
During the one month in which equity funds saw net inflows, they totaled $43.3 billion — $10 billion less than last week's total.
Yes, but: Bullish investors have so far not been rewarded. The benchmark S&P 500 has been flat since Feb. 10 and is down 1.6% since March 17.
The Russell 2000 has fallen 4% since Feb. 10 and is off 6.6% since March 17.
The Nasdaq has lost 5.3% since Feb. 10 and 1.1% since March 17.
The Dow is up since Feb. 10, gaining 3.1%, but is 1.9% lower since March 17.
Of note: Commodity funds have seen six straight weeks of net outflows, ICI data show, even as the benchmark S&P GSCI (formerly the Goldman Sachs Commodity Index) has outperformed all the major U.S. stock indexes except the Dow during that time.
4. The money behind the Madness
Axios' Jeff Tracy writes: The Sweet 16 runs the gamut from behemoths like FSU ($198.4 million in fiscal year 2019) to this year's Cinderella, Oral Roberts ($12.1 million).
There's an even split of schools that spend over and under $100 million on athletics.
Four teams spend at least 25% of their athletics budget on men's basketball: Gonzaga (35%), Creighton (32%), Villanova (28%) and Loyola Chicago (25%).
Wild stat ... Five schools (FSU, UCLA, Alabama, Villanova and Syracuse) spend more on men's hoops than Oral Roberts spends on its entire athletic department.
My thought bubble: The numbers are that much more impressive when you consider that schools spend a total of 0% of budgets paying salaries to the players who actually play the games from which they are deriving all their revenue.
5. Fitness is over
Fitness centers are in trouble, especially in the U.S., according to a new report that surveyed nearly 12,000 gym members.
What we're hearing: "The data over the past year is clear, the situation hasn't improved," Nick Rizzo, fitness research director at RunRepeat, says in an email.
The survey found that cancellation rates rose from 12.4% during initial COVID-19 lockdowns to 29.8% currently.
55.6% of members have either canceled or paused their membership since the start of the pandemic.
Even though half of gym members said they would return after the lockdowns, 30% had gone back as of August and 71% are still not exercising at their gyms.
Less than half of survey respondents say they will go back after they are vaccinated, while 24.2% are waiting until their family, friends and loved ones also are vaccinated.
The intrigue: Globally, 27.5% of gym members say they do not intend to return to the gym. That number jumps to 35% in the U.S.
What the market thinks: Defying the reopening trend that has seen airlines, oil and entertainment stocks boom over the past six months, gyms are struggling.
Shares of Planet Fitness, one of the last remaining public equity plays for large fitness centers, are down 5% from three months ago.
However, Planet Fitness has performed much better than at-home fitness companies Peloton and Nautilus, which have seen share prices decline by 37% and 27% respectively in the last three months.
6. Ja Rule sells Fyre Festival painting as NFT for $122,000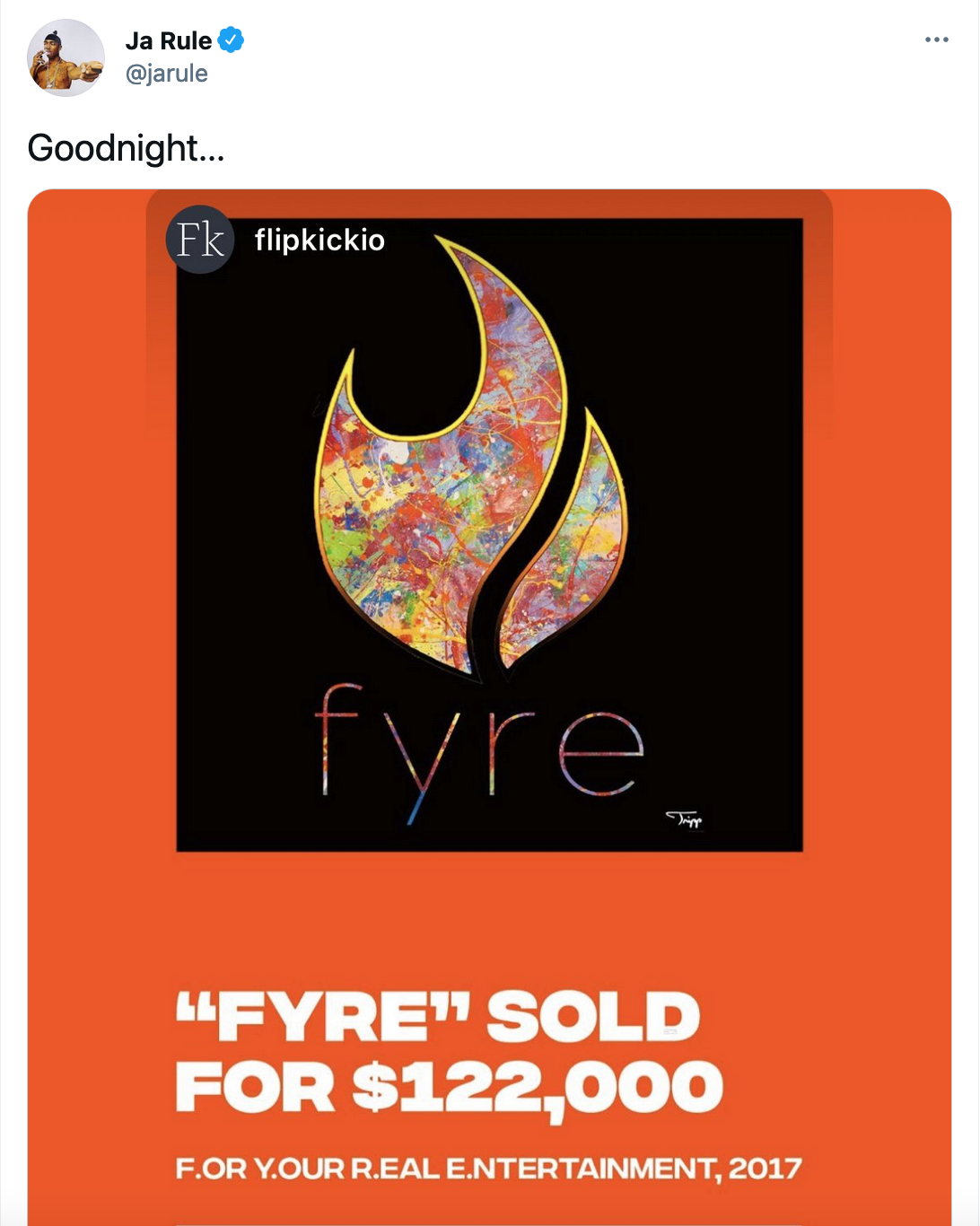 A portrait of the Fyre Media logo held by rapper Ja Rule sold at auction for $122,000 through the rapper's NFT venture KickFlip painting, Ja Rule said on Twitter.
Why it matters: Because markets are efficient.
What it means: NFTs, or non-fungible tokens, are typically digital or virtual items (music, artwork, video game powers) that are accompanied by a blockchain ownership record, but can also include real-life items with a digital ledger entry.
It gets better: In addition to the painting, the NFT includes a note from Ja Rule that says, "F---k this painting." An autograph is also available upon request, according to Complex.
Ja Rule said he bought the painting for $2,000 and has kept it in his house since the company's headquarters closed following the disastrous Fyre Festival in 2017, per Forbes.
The bottom line: This is a real story. All of this really happened.
Thanks for reading!
Quote: "Sometimes, what you're looking for is already there."
Why it matters: On March 25, 1942, The Queen of Soul Aretha Franklin was born.
The Queen was the first female artist to be inducted into the Rock & Roll Hall of Fame in 1987, won 18 Grammy Awards and was named "The Greatest Singer of All Time" by Rolling Stone magazine.