Axios Macro
June 29, 2022
East Coast skies are sunny today, but the signals emerging from regional manufacturing surveys across the U.S. are decidedly cloudy. We'll dig into some of that, along with the time the ultra-formal Federal Reserve started casting aside neckties. 🏦 👔
Situational awareness: The Conference Board's consumer confidence index fell to its lowest level in 16 months, while new data hinted that home prices could be leveling off.
Today's newsletter, edited by Javier E. David, is 696 words, a 2½-minute read.
1 big thing: Canaries in the economic coal mine
Some key real-time indicators of U.S. manufacturing conditions are starting to flag worrying signs of a downturn — a canary of sorts in the macroeconomic coal mine.
Why it matters: When viewed in isolation, monthly business condition surveys conducted by several regional Federal Reserve banks tend to be volatile. But right now, they're all pointing in the same direction: Many show an outright contraction of factory activity in June.
They raise the possibility of a slump in the manufacturing sector, which accounts for 12% of economic output, and where ups and downs typically coincide with the overall economic cycles.
Driving the news: This morning, the Richmond Fed said that its composite index of manufacturing — in a region that stretches from South Carolina to Maryland — fell to its lowest level since the depths of the pandemic two years ago.
That followed similarly gloomy June readings in recent days from indices prepared by Fed banks in Kansas City, Missouri; Philadelphia; and Dallas.
What they're saying: "The numbers confirm our growing fears that the U.S. economy is in the midst of an economic downturn, and particularly on the goods side," Peter Boockvar, chief investment officer at Bleakley Advisory Group, tells Axios.
What's going on: Factories have faced a toxic brew of recent issues, including soaring costs and material shortages. But now, a slump in new orders has pushed all but one of the Fed indices into the red, signaling a contraction in the sector.
Kansas City remains positive, but saw a sharp slowdown this month.
It was the first time the Philadelphia Fed's index — which covers factories in Delaware, southern New Jersey and eastern Pennsylvania — turned negative since May 2020.
An index tracking new orders in Texas turned negative for the first time in two years, the Dallas Fed said yesterday. One survey respondent, a computer and electronics manufacturer, said: "I would not say things have rolled over, but expedites have stopped, and in-quarter orders have slowed to a trickle. There are clear signs of early cooling beginning."
In Kansas, one manufacturing executive expected "a big decrease in sales the last half of the year. Appears our customers over ordered and have excess supply in the near term."
Yes, but: In theory, the decline in manufacturing could reflect a budding recession, but may also signal a long-awaited spending pivot from physical goods and toward services spending. That would imply less need for factories to crank at full speed.
What to watch: It's not clear yet if the apparent slowdown at factories will translate into less hiring. Manufacturers continue to report high levels of employment and, in some cases, a voracious appetite for workers.
The bottom line: If the overall U.S. economy was starting to turn down, one of the first places we'd see it would be across these regional surveys — and that's exactly what is happening.
Editor's note: The chart in this story has been corrected to show that the Richmond Fed manufacturing index sank to -11, not -19.
2. Roger Ferguson helped loosen the Fed's ties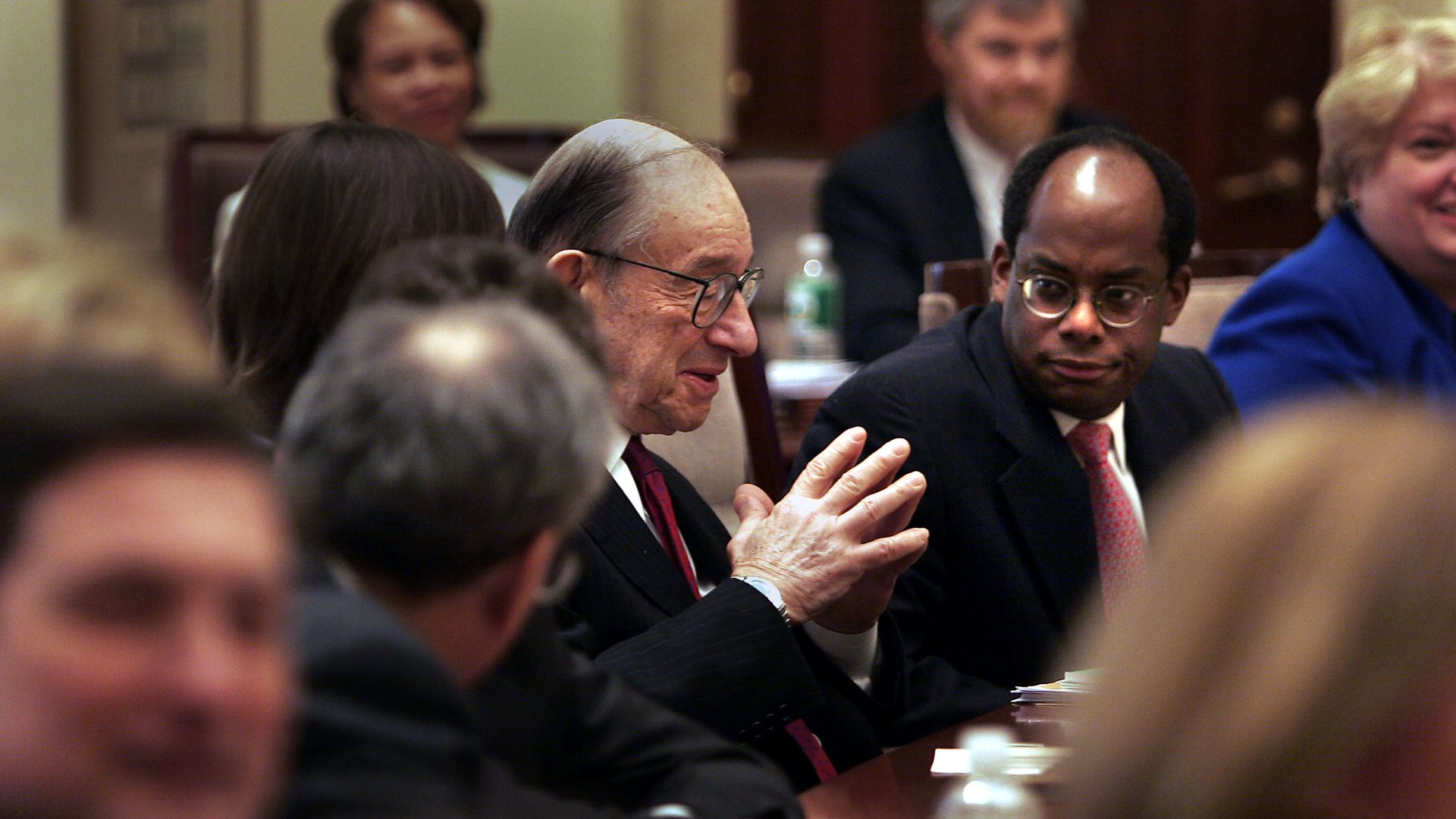 Former Fed vice chairman Roger Ferguson helped shape the Fed in a number of ways, but here's one way you might not know about: a relaxed tie policy.
New York Fed president John Williams, who worked at the Board of Governors when Ferguson joined, told the story at The Economic Club of New York last night. The event honored both Ferguson and Stanley Fischer, who served as Fed vice chair from 2014 to 2017.
Ahead of a meeting with Ferguson, Williams recalled that he and other staffers did the usual when gathering on the second floor of the Fed building: put on their ties, a custom laid out in a policy manual.
Ferguson noticed and asked bluntly: "'Why did you put them on to come talk with me?'" Williams recalled. They ditched the ties, and thus began a new, slightly more casual dress policy of sorts.
"It reflected a small, important part of a change in culture," Williams said.
Nowadays, the Fed is way more preoccupied with inflation than neckties. Ferguson, who attended in person, weighed in on what's at stake as prices soar:
"How well policymakers handle this question of inflation" will impact the "already dented prospects and trust and confidence the average citizen has in our economic system and potentially those who lead it," he said.