Axios Macro
September 29, 2023
Tomorrow is the end of the third quarter and of the U.S. government's fiscal year. Will the government be open for business on Monday? The odds are not looking great!
ICYMI: Neil and our colleague Hans Nichols spoke with Treasury Secretary Janet Yellen this week about new working groups established to create better lines of communication with China on crucial economic and financial issues. Go deeper. 🇺🇸 🇨🇳
Today's newsletter, edited by Kate Marino and copy edited by Katie Lewis, is 622 words, a 2-minute read.
1 big thing: What disinflation looks like
If you squint, even just a little bit, the end of the great post-pandemic inflation looks to be in sight.
Driving the news: The details of the August Personal Consumption Expenditures Price Index, the inflation measure favored by the Federal Reserve, showed the most favorable inflation dynamics in nearly three years.
Core PCE inflation — excluding food and energy — was up only 0.1% last month, the lowest since November 2020. Over the last three months, it has risen at a 2.2% annualized rate, not far from the Fed's 2% inflation target.
Overall inflation was hotter, with prices up 0.4% for the month, reflecting a surge in energy prices.
State of play: With gasoline prices on the rise, things may not feel much better on the inflation front for people trying to pay their bills. But the underlying, forward-looking evidence suggests that price pressures peaked more than a year ago and are now settling back down.
If it continues, it will comfort Fed officials that their work is done and that they need not raise interest rates again this year after all (a majority of top officials anticipated a rate increase at their meeting last week).
Futures markets now price in a 67% chance of no further rate hikes this year, according to a tracker from the CME Group. That number was 58% a week ago.
Yes, but: Inflation is still running somewhat hotter if you prefer the Consumer Price Index. White House economists dive into the (rather technical) reasons for the uncommonly high gap between the two measures in a blog post today.
Of note: The inflation slowdown coincided with moderating consumer spending in August — a sign that robust spending earlier in the summer may be giving way to something more measured — and less inflationary.
Inflation-adjusted personal consumption expenditures were up 0.1% in August after rising 0.3% in June and 0.6% in July.
That spending could come under further pressure in the fall as the labor market softens, higher gas prices bite and student loan payments restart.
What they're saying: "Looking ahead, we expect the consumer engine will lose some steam as the labor market and excess savings tailwinds fizzle out," said EY senior economist Lydia Boussour in a note.
"Consumers are spending more conservatively as they continue to face headwinds from elevated inflation, higher interest rates, and slowing labor market and income gains," she said, as the economy experiences a "controlled landing."
2. Same story across the pond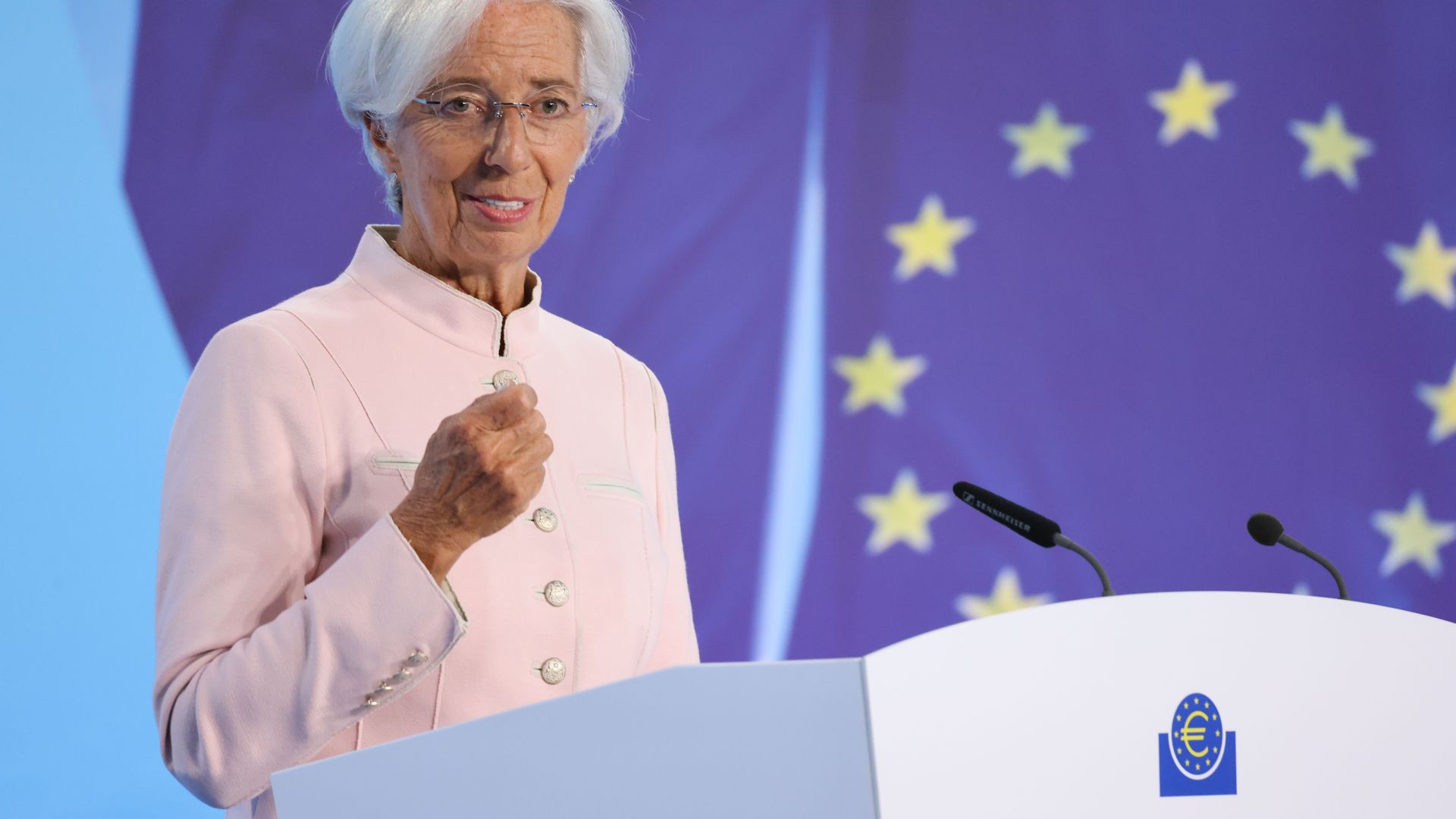 The promising inflation news is a transatlantic phenomenon. Last week, British inflation numbers came in soft, giving the Bank of England reason to pause interest rate hikes. Today, it was similarly good news in the eurozone.
Driving the news: In the 20 countries that use the euro, consumer prices were up 4.3% in September, compared to a year earlier. That figure was 5.2% in August.
That is the lowest eurozone inflation number since the 12 months ended in October 2021.
State of play: The European Central Bank elected to raise its interest rate target earlier this month — in contrast with the Fed and Bank of England that both stood pat this week — but the ECB did signal it was likely done with rate hikes.
The new inflation numbers add confidence that it will stick to that plan.
As such, market interest rates fell across Europe this morning, including a 0.15 percentage point drop in the German 10-year yield.
The bottom line: "I would observe that the fight that we are leading against inflation — we are not the only ones — is making progress and what we are doing today is trying to reinforce that progress," ECB president Christine Lagarde said earlier this month in announcing the rate hike.
The latest data affirms that.