Axios Login
December 12, 2017
Thanks for your kind notes yesterday. Ina will be back in your inbox tomorrow morning while I go back to spending my evenings watching The Crown.
Why Cloudflare's CEO took down the Daily Stormer
Cloudflare's network powers internet connections to millions of websites, but most of the 2.8 billion people who use it every month have never heard of the San Francisco company. That is, until last August, when Cloudflare CEO Matthew Prince made the controversial decision to cut off its service to white supremacist website "The Daily Stormer" in the aftermath of the Charlottesville violence, causing the site to go down.
Why it matters: Prince, the son of a journalist and an avid defender of free speech, took heat from some for acting as an internet gatekeeper and was praised by others for taking down neo-Nazi content. His decision fed into the larger debate over whether powerful internet players should have editorial control over how content is distributed online, Axios' Kim Hart reports.
Some highlights from Kim's recent conversation with Prince:
He says he'd ditch the "Daily Stormer" again, despite his feeling that his platform should generally stay out of such questions.
"We needed to provoke the conversation about what the right role was," he says.
FCC Chairman Ajit Pai has argued that big web platforms are more of a threat to speech online than internet providers — but Prince says it's not an either/or situation.
"If a company like Cloudflare with 500 employees and market cap two orders of magnitude smaller than Comcast poses a threat, then even larger companies that have a monopoly over the eyeballs and access the internet also pose a threat," he says.
Read more: Catch Kim's whole interview with Prince in the Axios stream.
First in Login: White House tackles electronic medical records
Jared Kushner's Office of American Innovation is convening conversations today related to getting electronic medical records to work together, a White House official tells Login. The goal, the official said, is letting Americans own their health care data.
It's part of a busy Tuesday for tech in D.C.
Lawmakers on the House Judiciary Committee are planning to vote on a bill aimed at tackling the debate over whether web platforms should be liable for sex trafficking that takes place online. Victim advocates worry that an amended version of the bill — backed by tech giants including Facebook and Google — would actually make it harder for trafficking victims to sue websites they may think facilitated the crime.
The Senate Commerce Committee holds a hearing on artificial intelligence as Washington looks to get a handle on big data.
The SEC takes aim at initial coin offerings
Axios' Kia Kokalitcheva reports: SEC chairman Jay Clayton issued yet another memo to investors yesterday, warning them of the risks of participating in initial coin offerings. That same day, his agency intervened in a token sale by Munchee, a restaurant meal-review app, because it violated securities laws.
Between the lines: Clayton's frustration with careless investors and token sale scams is starting to show. Munchee wasn't the first to violate securities law and the SEC has already published several documents with definitions, resources, and advice on token sales.
"[I]f a promoter guarantees returns, if an opportunity sounds too good to be true, or if you are pressured to act quickly, please exercise extreme caution," he says in an obvious warning that sounds like basic investment advice.
To be fair, Clayton also outlines some important nuances of this novel and legally complex asset. For example, a token can both be a utility and a security, he explains. Many ICO organizers, including Munchee, have emphasized their tokens' utility characteristics to avoid treating them as securities, which is still illegal.
Won't stop: Companies have already raised $3.67 billion via token sales this year, according to Bloomberg, and the number of ICOs is on track to reach 500 this quarter.
Pay more attention to Section 702
Congress is under the gun to reauthorize a major surveillance law in a debate that has been overshadowed by other major policy fights, like net neutrality and the investigation into online Russian election meddling.
Why it matters: The law — known as Section 702 — expires at the end of the year. The intelligence agencies say it would be catastrophic if it isn't reauthorized. Privacy-minded lawmakers and advocates, however, say that if it is reauthorized without reforms it will perpetuate a sprawling surveillance system that ensnares Americans' information without a warrant.
Get caught up with our Facts Matter explainer in the Axios stream.
You can log out, but you can't hide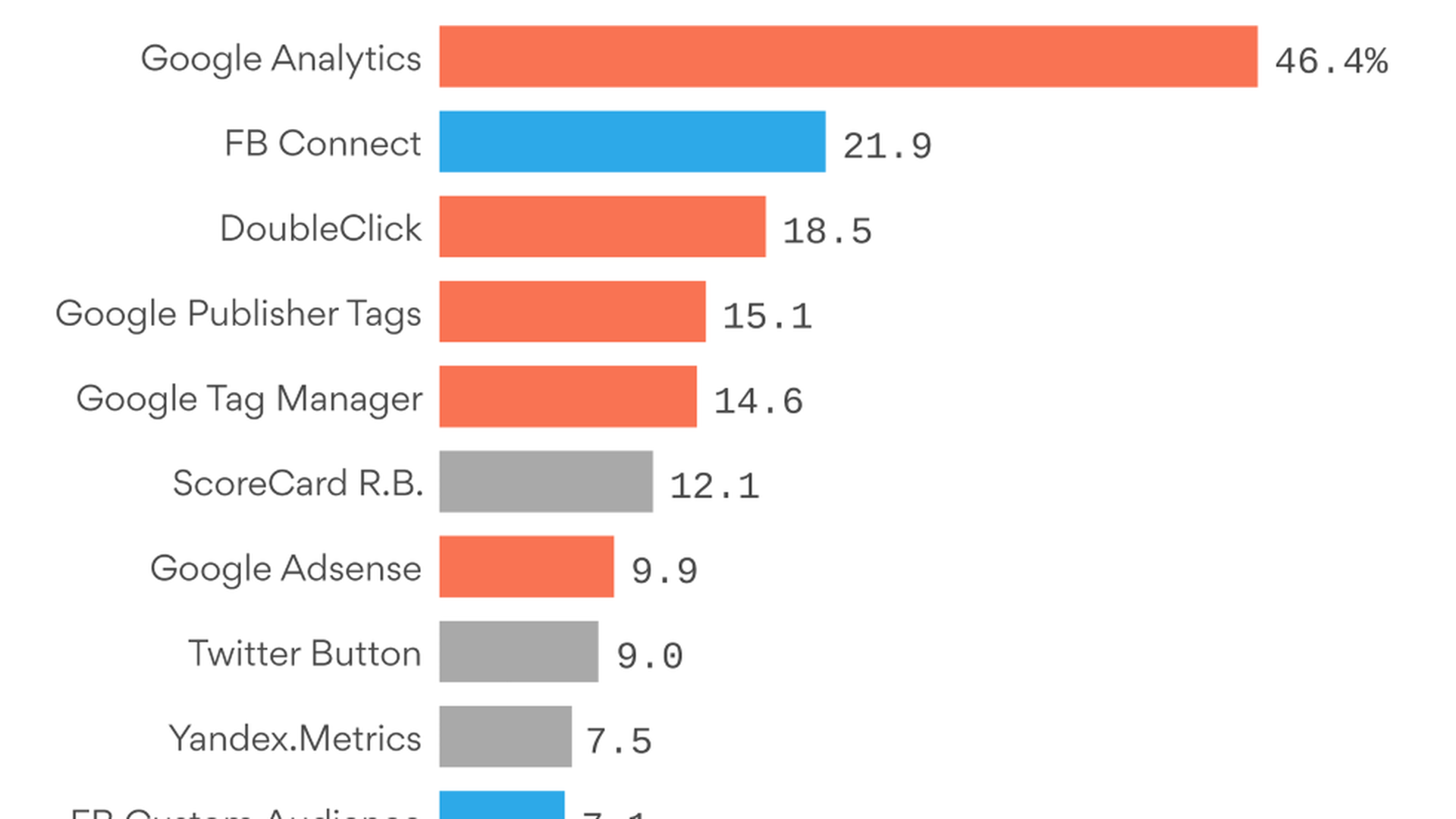 A new study from Ghostery, an anti-tracking tool, shows that an overwhelming majority (79%) of websites globally are tracking visitors' data — with 10% of these sites actually sending user data to 10 companies or more.
Why it matters: Trackers can collect and sell visitor data in ways that aren't always obvious to consumers. Too many trackers can also slow down website load times. As the trade war for data intensifies, companies that collect the most data through trackers will become the biggest targets of data privacy reform.
Axios Media Trends reporter Sara Fischer has more on this here.
Microsoft vet heads to IPO-bound Qualtrics
Longtime Microsoft executive Julie Larson-Green has agreed to join privately-held Qualtrics as its first chief experience officer.
Why it matters: Larson-Green once led Microsoft's Windows group, and once was viewed as a possible CEO successor to Steve Ballmer (the role that eventually went to Satya Nadella). She also held prominent roles in the Office and Microsoft devices units.
Axios' Dan Primack has more in the stream.
Take note
On tap:
CBInsight's A-ha! conference starts in San Francisco.
The FTC hosts a workshop on informational injury.
Trading places:
Former Y Combinator partner Kevin Hale is launching a magazine "that covers the exciting world of speculative fiction."
ICYMI:
After you Login
Still looking for something distinctive to wear to the holiday parties this week? Maybe a cryptocurrency sweater would do the trick.