Axios Login
March 27, 2023
Hello world! Ina's taking a break, and I will be your host for the Login week.
Axios' second annual What's Next Summit is this Wednesday, March 29, in Washington, D.C.! You'll hear from music producer Timbaland, head of YouTube Neal Mohan, White House Office of Science and Technology Policy director Arati Prabhakar and more on the issues and innovations shaping our future. Register to livestream the event here.
Today's newsletter is 1,202 words, a 5-minute read.
💰 Situational awareness: First Citizens BancShares has agreed to buy the commercial banking business of Silicon Valley Bank, which recently collapsed and was seized by the U.S. government.
1 big thing: AI changes the software-making game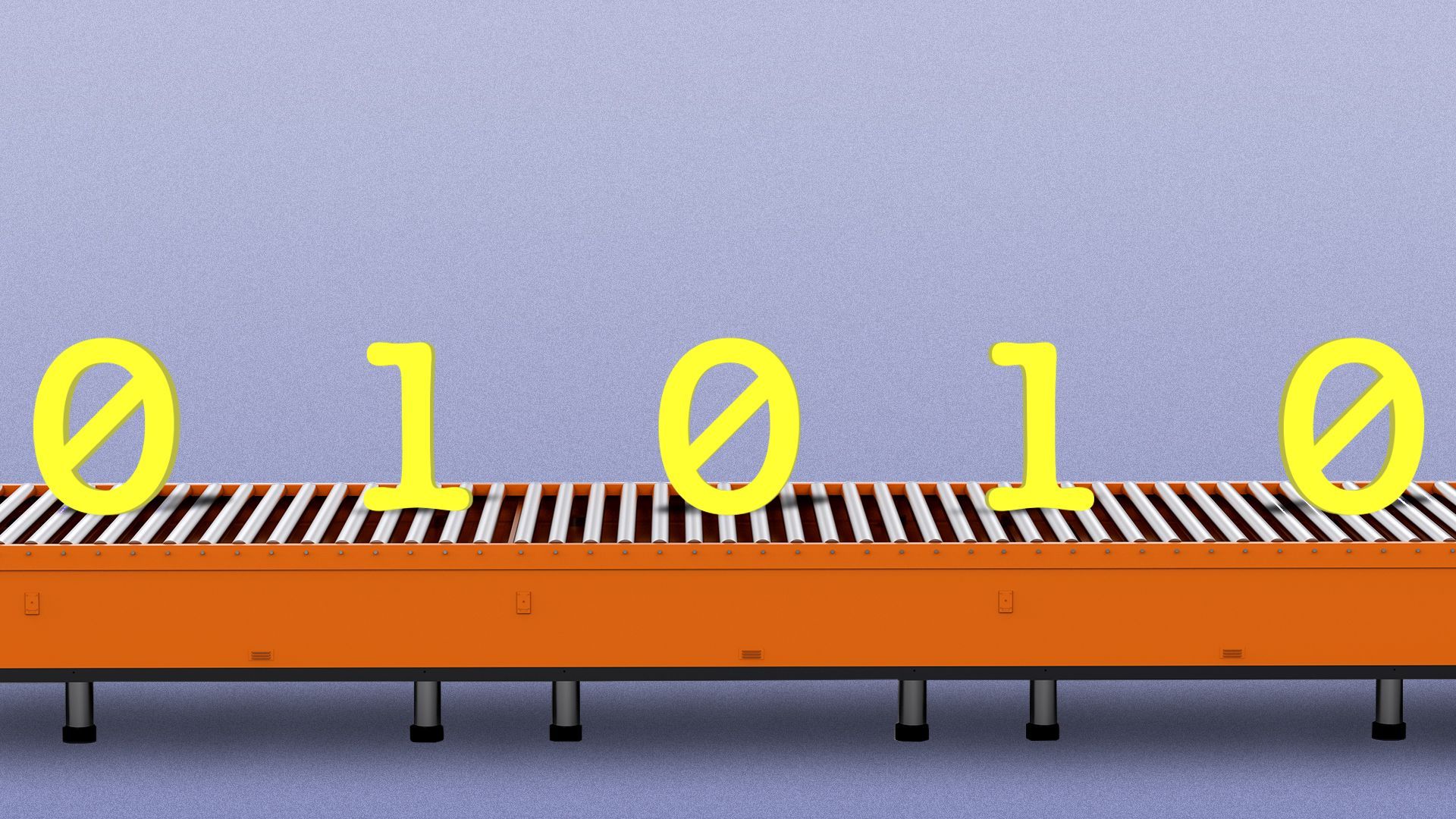 The first business ChatGPT will upend is likely to be the industry that created it.
Why it matters: Making software has never been easy. But programming practitioners and experts are increasingly confident that generative AI will change their world — supercharging the work of the best coders and empowering everyday users to get more done.
What they're saying: "The current generation of AI models are a missile aimed, however unintentionally, directly at software production itself," venture investors Paul Kedrosky and Eric Norlin wrote last week in an essay on "Software's Gutenberg Moment."
"Such technologies are terrific to the point of dark magic at producing, debugging, and accelerating software production quickly and almost costlessly."
Driving the news: OpenAI late last week released pilot versions of plugins for ChatGPT that allow it to roam the internet at users' bidding and connect with other services and data.
It's a big first step toward transforming the conversational chatbot into a more capable intelligent agent that can accomplish tasks for users. It's also a move toward turning ChatGPT into a platform other businesses can build upon.
The first batch of plugins extends ChatGPT into travel, shopping, dining, math and other realms by linking the bot to well-known services like Expedia, Instacart, Kayak, Klarna and OpenTable.
Of note: Sure, these app-like plugins are OpenAI's bid to turn ChatGPT into a new "everything app," as New York's John Herrman argues.
But they also provide evidence of how radically AI's new large language models will change the work of coding.
How it works: Typically, to connect two programs, a software developer will need to understand the APIs (or definitions of how a system interacts with other systems) at both ends, then write some "glue code" so the two services can talk to each other.
To create a ChatGPT plugin, you just "instruct the model." You provide ChatGPT with a "manifest" of your service's API — in English. ChatGPT reads it and does the rest. (You can ask the AI to generate the manifest, too.)
Engineer and entrepreneur Mitchell Hashimoto tweeted: "I've developed a lot of plugin systems, and the OpenAI ChatGPT plugin interface might be the damn craziest and most impressive approach I've ever seen in computing in my entire life."
Catch up quick: The history of software is a long sequence of adding new "layers of abstraction" that hide the complexity of binary logic behind increasingly human-friendly generalizations, from assembly language to higher-level coding environment to graphical interfaces.
Visionaries have long promised, and tried to build, "natural language programming" tools that would let people just use everyday words and sentences to tell computers what to do.
Such efforts have never fully delivered on their promise — but this time might be different.
Today's AI systems based on large language models can take instruction directly from non-programmers, or programmers using human-language shorthand.
The results are nowhere near perfect — but they're far more advanced than experts expected.
As an added bonus, ChatGPT can turn around and provide instant explanations of how the code it has written works and answer a human user's questions about it.
Be smart: The power of ChatGPT and its competitors doesn't mean programmers will all need to find new lines of work.
Today's generative AI still pretends to know more than it actually does and makes things up to fill in gaps in its knowledge. It works best as a "copilot" for developers rather than an independent creator.
The bottom line: Human beings who deeply understand programming's many dimensions will still be needed — to invent genuinely new kinds of systems, to fix problems that AI can't, and to shape (and limit) ChatGPT and its successors.
But there may be much less demand for the routine labor of taking existing software systems and wiring them up to work together. That's a lot of what developers do today.
2. Americans hooked on Chinese apps
The standoff between the U.S. government and TikTok underscores a growing problem for policymakers: Chinese apps are booming in America, but most U.S. apps aren't able to operate in China, Axios' Sara Fischer reports.
Why it matters: Mobile apps are one of the most powerful vectors for expanding trade and exporting soft power, given how widely accessible they are, how much time is spent on them, and how little regulatory oversight there is online.
Chinese companies are able to "leverage China's one billion internet users to test user preferences and optimize their AI models at home, then export the tech overseas," the Wall Street Journal notes. But given censorship demands in China, American tech firms can't reciprocate.
Driving the news: In the past 30 days, four of the top 10 most-downloaded apps in the U.S. across Apple's iOS store and the Google Play store are owned by Chinese companies.
Yes, but: While an increasing number of Chinese apps are becoming popular to download, these apps still struggle to provide American users with the same sense of daily utility as those made by U.S. companies.
Case in point: TikTok is the only app in the top 20 most-visited apps in the U.S. last month, per Comscore. Eight of the top 10 are owned by Google or Meta. The vast majority of the top 20 are owned by those two firms, Amazon or Apple.
3. Take note
ICYMI
Apple expects its long-awaited mixed-reality headset to have a slow start — like its Apple Watch did, per Bloomberg. The New York Times reports some current and former employees are underwhelmed by the product.
Book publishers won a case against the Internet Archive's "controlled lending" e-book project in federal court. (The Verge)
Parts of Twitter's source code were leaked on GitHub, according to a legal filing. (New York Times)
4. After you Login
In a 1965 article in Electronics magazine titled "Cramming More Components Onto Integrated Circuits," Intel co-founder Gordon Moore made a prediction about the exponential increase of miniaturized computing power over time that has shaped the digital age.
There hasn't been a single innovation in modern tech, from the advent of the personal computer to the rise of AI, that's not rooted in the principle that became known as Moore's Law.
With some tweaks (and regular debates over whether it still holds), it has continued to push the industry forward.
Moore passed away in Hawaii on Friday at 94. You can read his obituary — but even better, just read that 1965 article.
Thanks to Peter Allen Clark for editing and Bryan McBournie for copy editing this newsletter.