December 16, 2021
¡Muy buen día! Today we write about the Hispanic links to a beloved Christmas tradition, boosting Latino film and TV directors, and how government policies affect our sense of belonging.
💃🏾 The Library of Congress has added Latino classics like "Selena" and "Real Women Have Curves" to its film registry.
🚨 Job alert: Axios Latino is looking for a senior editor to lead the newsletter to its next milestone. If you have journalism experience and ideas to make this newsletter even better, apply here.
Send us any feedback (quejas, sugerencias, chismes) by replying to this email. Sign up if you aren't yet subscribed, and remember you can read the Spanish version here.
This newsletter — edited by Michele Salcedo — is 1,490 words, about a 5.5-minute read.
1 big thing: ¡Feliz Navidad, Charlie Brown!
"A Charlie Brown Christmas," an all-American holiday classic, came into being thanks to a Mexican immigrant.
The big picture: Bill Melendez directed the CBS special when few Hispanics worked in the entertainment business, and he quietly broke barriers with a project that has been part of U.S. pop culture for more than half a century.
Details: Born in Hermosillo, Mexico, and raised in Arizona and California, Melendez directed a 1961 animated commercial for Ford using Peanuts characters.
The work caught the eye of Peanuts creator Charles M. Schulz, who insisted Melendez direct the Christmas special when it was green-lighted by CBS.
Melendez also voices Snoopy in the holiday TV film.
The Mexican American had already worked for Disney, where he helped animate "Fantasia" and "Pinocchio." He said Disney told him his birth name, José Cuauhtémoc Meléndez, was too long for credits, so he used Bill.
The intrigue: At first, CBS executives hated the finished product. They found the dialogue flat and the story boring.
Yes, but: On Dec. 9, 1965, more than 15 million households tuned in to watch — more than half of all working television sets at the time, according to Smithsonian Magazine.
The next year, the show aired again on CBS and won a Peabody and an Emmy for outstanding children's programming.
Melendez went on to direct other Peanut animated specials.
Take note: "A Charlie Brown Christmas" will air on most PBS stations this year on Dec. 19, and is available on Apple TV+.
2. The ripple effect of state immigration policies
Harsh immigration laws can make even white non-Hispanics feel like they don't belong in their community, according to multidisciplinary research.
Why it matters: The findings in the book "States of Belonging: Immigration Policies, Attitudes, and Inclusion" show how state and local policies have a broad collateral effect.
It found white citizens can feel just as out of place as immigrant Latinos and U.S.-born Latinos when there is an exclusionary sentiment, such as laws limiting who can drive or establishing employment protections regardless of immigration status.
And that "even among populations that one wouldn't expect, there was an overall positive impact" when researchers asked them how they would feel if their state gave immigrants who had worked hard a path to legalization, said Stanford sociologist Tomás Jiménez, co-author of the book.
What they're saying: "A lot of the debate focuses on what's happening at the federal level or frames migration only as border security, and makes it seem like we can't do anything about immigration," co-author and Yale social psychologist John F. Dovidio told Axios Latino.
"But we show there can be a lot done, at the local level, and that those actions can have profound effects on the lives of new immigrants, of ethnically associated people and of white Americans as well."
State of play: As immigration reform at the national level remains at an impasse, states and cities have enacted a series of related measures.
Using polling and interviews, the researchers looked into the psychological and sociological responses to the current immigration policies in New Mexico and Arizona.
The neighboring states have similar demographics but dissimilar rules, practices and laws pertaining to immigrants.
New Mexico, for example, gives undocumented citizens in-state tuition. Arizona has English-only laws for public matters.
The intrigue: The book's authors found a marked policy awareness of Arizona's laws among that state's residents, while those in New Mexico weren't that attuned to specific measures that made were more welcoming to immigrants.
Lawmakers "might fear they'll draw attention or get negative headlines if they enact positive immigration policies, but, once they do, this shows no one's really gonna pay attention or dwell on it," said co-author Deborah Schildkraut, a Tufts political scientist. "It won't be an ongoing lightning rod: once they're in place, people will just go about their lives."
3. A high-kicking Latina joins the Rockettes
Latina dancers can be seen more frequently among the Rockettes' kickline at Radio City Music Hall. The famed dance group recently tapped Venezuelan Valeria Yamin for its holiday spectacular.
Details: The dance company, founded in 1932 and renowned for precision kick lines, has been working to diversify its ranks.
Still, relatively few dancers of Latino origins have been part of the famed holiday show.
Flashback: Nuyorican Lillian Colón became the first Latina Rockette in 1987, the year the Radio City company opened its membership to non-white dancers. Colón kept at it for 16 years.
Sophia Anthony, of Cuban and Puerto Rican ancestry, followed in Colón's footsteps and has been a Rockette since 2013.
Megan García joined in 2019 for a single season, and Yamin was hired in August for this year's show.
Actress Jenna Ortega, of Mexican and Puerto Rican roots, was also part of the New York show in 2016, albeit as a performer in the story that frames the dances.
4. The push to put Latinos behind the camera
Agents and studio execs at the first Directors Guild of America Latino Summit earlier this month promised to "be pushier" to get Latinos into directing jobs.
Why it matters: Latinos have struggled to land directing gigs in TV and movies, despite there being talent and even after Mexican directors Guillermo del Toro, Alejandro González Iñárritu and Alfonso Cuarón won Oscars for their work.
"Changing the pipeline is key to one day achieving an inclusive industry," a DGA diversity report states.
For example, Issa López's feature "Tigers Are Not Afraid" received good reviews when it premiered in the U.S. in 2019. Yet in the past the industry has taken longer to tap indie directors of color than white directors.
By the numbers: Between 2019 and 2020, directors of Latino origins helmed 7.2% of TV episodes, a slight increase from 6% the year prior, according to the DGA's annual report.
Of those directors, 4.8% were men and 2.4% women.
It is the second-lowest percentage, tied with Asian Americans. Only Native Americans have fewer directors.
Black directors were behind the camera in 17.7% of 2020's TV and streaming episodes (although most of those were directed by Tyler Perry), while white non-Hispanics helmed 66% of aired episodes.
A third of the directors who broke into TV after doing commercials or feature films were people of color.
5. Stories we're watching
1. Venezuela's high court has ruled elections for governor in Barinas state must be done over, after the ruling party lost.
2. Two Puerto Rican mayors have been charged with corruption this month, and the FBI says more investigations of boricua officials are ongoing.
Ángel Pérez Otero, of Guaynabo municipality, was arrested last week, accused of bribery and extortion.
Félix Delgado, former mayor of Cataño, in northern Puerto Rico, pleaded guilty on Dec. 2 to receiving kickbacks.
Puerto Rican officials have been the subjects of a series of corruption allegations in the past few years, even as the island struggles to recover from 2017's Hurricane Maria and restructure its debt after declaring bankruptcy.
6. 📚 1 smile to go: Owning their voices and words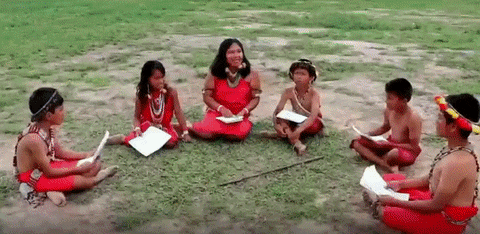 Primary school Indigenous children in Peru have been granted the copyright over their short stories, possibly as a precursor to their publication.
Details: The stories compiled in "Uchi Augmatui" tell the Awajún kids' slice-of-life tales on topics like watching animals interact, people trading and bartering at the market, or how coronavirus affected their Amazonian community.
Giving the Awajú community intellectual property rights over their writings is part of a government effort to properly preserve traditions.
Thanks for reading. We'll be back Tuesday for our last newsletter of this year. Have a good one!