Axios Generate
July 17, 2019
1 big thing: IEA's limited case for natural gas
The International Energy Agency yesterday issued a report making the climate case for natural gas — with important caveats — and unveiled a tool for tracking methane emissions from oil-and-gas development.
What they did: The report explores the past (see chart above) and potential of replacing coal-fired power and heating with gas. Here are a couple of big takeaways...
It has already helped. IEA estimates that since 2010, coal-to-gas switching has avoided CO2 emissions that are equivalent to putting another 200 million electric vehicles on the road drawing on zero-carbon power during the same period. And there's cost-effective potential for even greater switching.
It beats coal despite methane. While emissions of the powerful greenhouse gas methane from natural gas production and transport erode its CO2 benefits to a hotly debated degree, IEA says it's still a winner.
By the numbers: "On average, coal-to-gas switching reduces emissions by 50% when producing electricity and by 33% when providing heat," IEA said.
Known unknowns: One important caveat is the information gap. "We don't know the full extent of [methane] emissions globally because we have yet to see the kind of field studies of actual emissions" as done in the U.S., Mark Brownstein, a top official with the Environmental Defense Fund, tells me.
Better tracking is needed. IEA, in unveiling its methane emissions tracking tool, noted "wide divergence" in estimates and called for more data.
Industry can do more. IEA said the oil industry can do a lot more with available tech to detect and stem methane emissions at no net cost.
What they're saying: "The issue isn't gas vs coal. It's whether the oil and gas industry is doing everything possible to make emissions of methane as low as possible," Brownstein tells me. The answer, he said, is no, even as some major companies are clamping down.
But, but, but: Coal-to-gas switching does not come anywhere close to putting the world on an emissions path that avoids blowing past the temperature goals of the Paris climate agreement.
The bottom line: "It is clear that switching between unabated consumption of fossil fuels, on its own, does not provide a long-term answer to climate change, but there can nonetheless be significant CO2 and air quality benefits, in specific countries, sectors and timeframes, from using less emissions-intensive fuels," IEA said.
Go deeper: Natural gas is helping combat climate change — but not enough
2. The climate legacy of Justice Stevens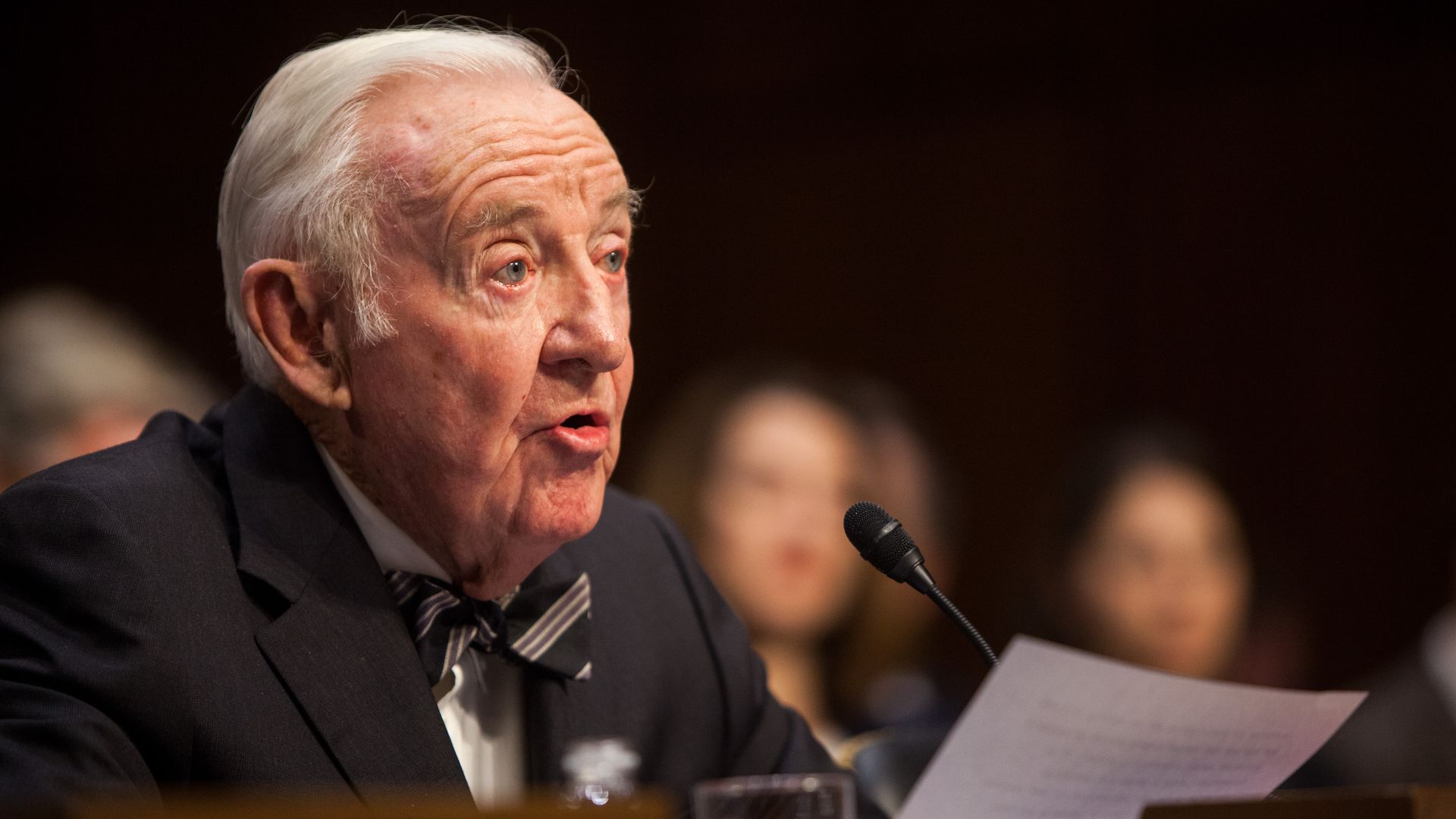 Former Supreme Court Justice John Paul Stevens, who died yesterday at age 99, wrote the landmark 5-4 decision in 2007 that clearly gave EPA the power to regulate GHG emissions.
Why it matters: EPA began acting on that authority during the Obama years. Major rules include emissions standards for cars and power plants, which the Trump administration is weakening.
Stevens also wrote the majority opinion in 1984's Chevron v. Natural Resources Defense Council, which gives agencies leeway to interpret statutes that are vague or silent on a topic. That's important for regulators' ability to craft rules on global warming.
Why you'll hear about this again: Democratic White House candidates are vowing to revive robust administrative steps, even as they float big legislative ideas that would face long odds in Congress.
What we're watching: How the expanded conservative majority on the Supreme Court will view the scope of EPA's power when another climate case arrives on its docket.
What they're saying: Several experts I asked about this last year said that while the conservative-led high court might narrowly view EPA's power under the Clean Air Act, it's unlikely to upend the 2007 decision Stevens wrote in Massachusetts v. EPA.
3. A nuclear exec looks forward
Axios' Amy Harder recently talked with a top exec from NuScale, a company developing small nuclear reactors designed for greater safety and easier construction than today's plants.
Driving the news: The Oregon-based company is expecting final design approval from the Nuclear Regulatory Commission by the second half of next year. NuScale hopes to have one of its small modular reactors in commercial operation by 2026.
Highlights from her interview with chief commercial officer Thomas Mundy...
What's the biggest challenge your company faces?
"Right now it's going head to head internationally against state-supported technology companies, basically Russia and China."
"We're a small commercial enterprise, we're not a state-owned entity. We don't have financial backing like what those companies have and going head to head and being able to offer competitive financing package presents a challenge for us."
NuScale's first customer for its electricity is set to be the Utah Associated Municipal Power Systems. Are you worried the group may opt for natural gas?
"That's always a possibility. … We have been able to demonstrate we can be competitive with natural gas generation and therefore they [the Utah municipal power systems] are moving down that path, siting examination, preparing their license applications, doing all the things and moving toward construction."
NuScale has received around $300 million in funding from the federal government. How important is government support to your technology?
"It's very significant. Not just for our program, but all [advanced reactor] technology. It's the infusion of financial support through those [government] awards that enables us to get to the market a whole lot sooner had we not received that financial support."
4. Another lens onto Bitcoin's energy use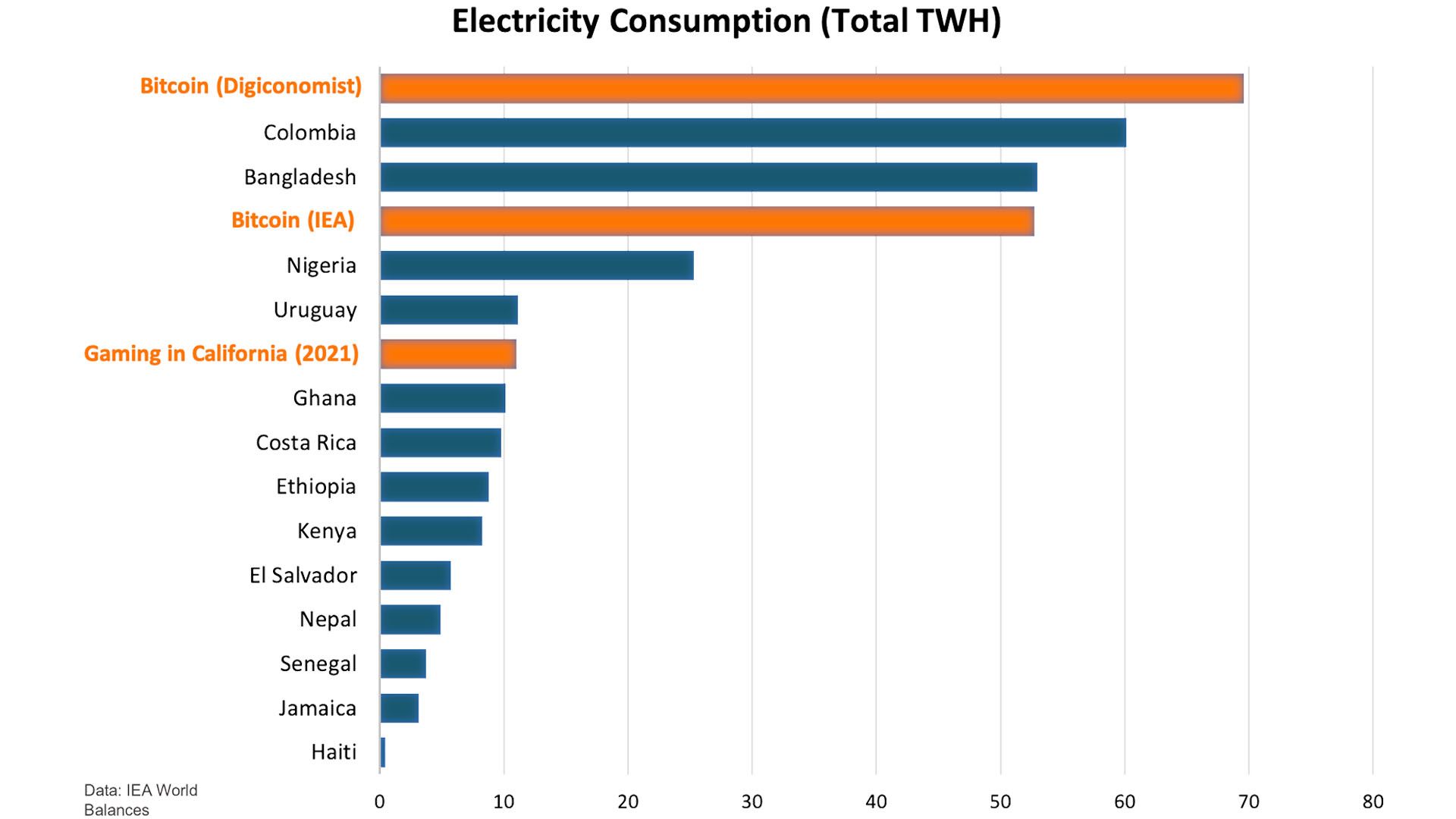 Remember our story last week about estimates of energy consumption from Bitcoin mining?
A nonprofit group says those numbers, not to mention video gaming's energy consumption, make the case for large-scale expansion of power access in poor nations.
What they did: The Energy for Growth Hub, in a recent post, compared the estimates we covered to electricity consumption in a number of countries, as the chart above shows.
The group advocates for developing power systems in Africa and South Asia large enough to sustain manufacturing and business development.
What they're saying: "The deeper human story here is the yawning chasm of global energy inequality," Todd Moss and Jacob Kincer write.
"California gamers will soon use more electricity than 100 million people in Ethiopia. Bitcoin already consumes more power than 200 million people in Nigeria," they add.
The big picture: Their post is not an argument against Bitcoin or video games. "Instead, the tremendous gaps in global energy use show why every country needs a high energy future," they write.
"We estimate that 3 billion people live in a place where a deficient power system is a first-order barrier to fulfilling human potential or finding a job. As we weigh costs and tradeoffs, surely economic opportunity for everyone is a higher priority than Fortnite."
Go deeper: Nonprofit aims to help Africa build energy for economic development
5. Catch up fast: tanker safety, EU, nuclear, EVs
Oil: "The U.S. plans to brief foreign diplomats based in Washington this week on a new maritime security initiative to protect shipping in the Middle East, following a spate of attacks on tankers in recent months," Bloomberg reports.
Why it matters: The region is a huge transit hub for oil, including the Strait of Hormuz that handles roughly 19 million barrels per day.
Europe: Climate Home News looks at yesterday's closely contested vote in the European Parliament that made Ursula von der Leyen the first female president of the European Commission.
"Climate change played a decisive role after liberal, socialist and green blocs all demanded von der Leyen strengthen her climate platform as a condition for their support," according to the piece.
Nuclear: Per AP, "Nuclear Regulatory Commission staff is recommending that the agency cut back on inspections at the country's nuclear reactors, a cost-cutting move promoted by the nuclear power industry but denounced by opponents as a threat to public safety."
Electric cars: Reuters writes, "France's Renault SA said on Wednesday it will invest $145 million in a unit of China's Jiangling Motors Corporation Group (JMCG) that will allow it to expand its electric vehicle manufacturing footprint in the world's largest auto market."