Happy Friday!
Blondie topped the charts this week in 1981 with "Rapture," so needless to say Debbie Harry brings us today's intro tune . . .
https://www.axios.com/newsletters/axios-generate-fcd3e126-daad-4425-9572-edaa0d577543.html?chunk=0#story0
Renewables soar as China leads the way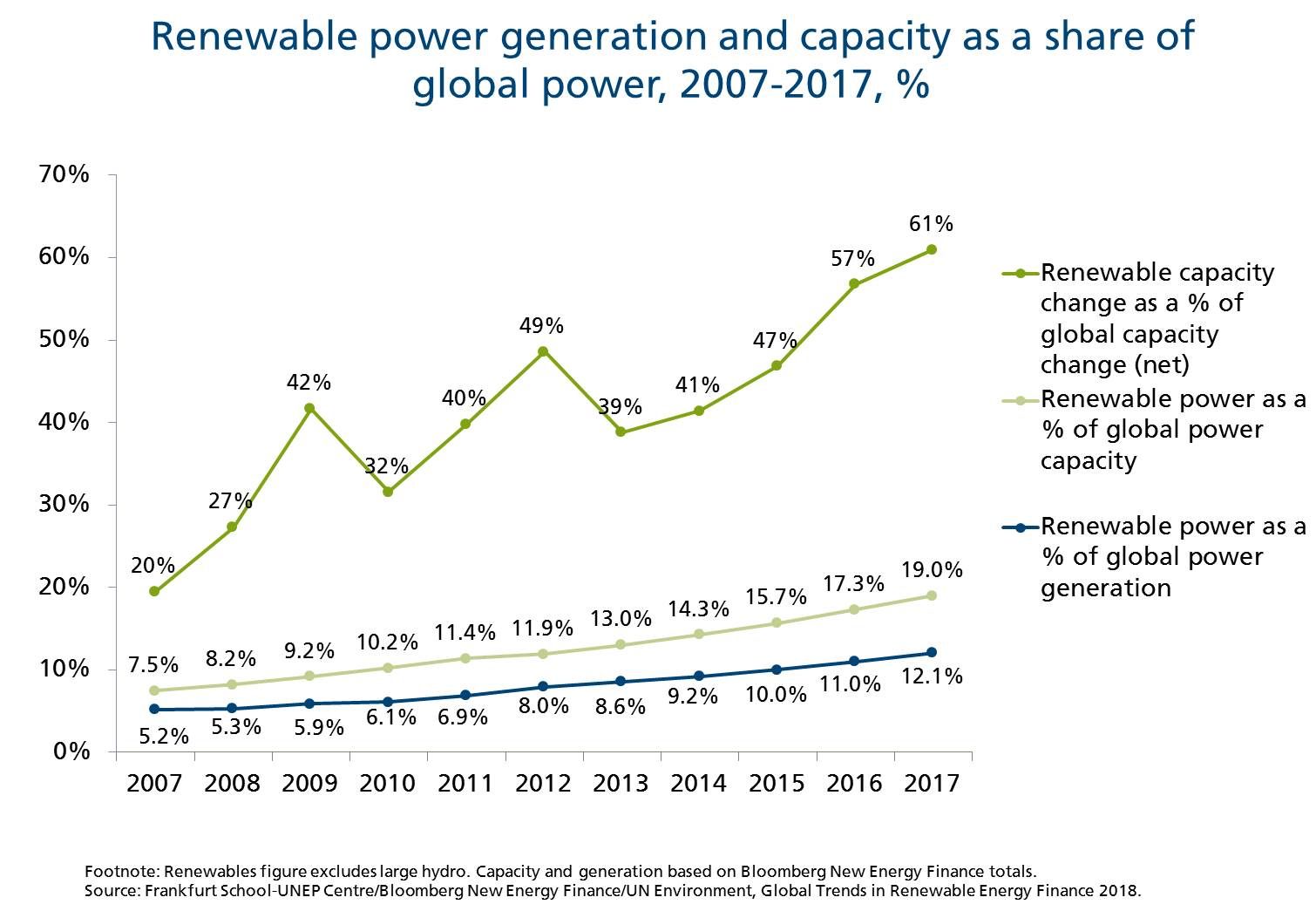 Screenshot: UNEP chart from "Global Trends in Renewable Energy Investment 2018" report
A new report, published by United Nations Environment Programme (UNEP) and partners, underscores how additions of new renewable power capacity — especially solar — greatly outpaced other sources in 2017.
Additions of solar generating capacity alone, led by China which accounted for more than half the increase, outstripped net new fossil fuel capacity, according to the report.
The bottom line: The report underscores both the progress toward a lower-carbon global power mix and the immense challenge of corralling carbon emissions, which grew last year after a 3-year plateau. Nils Stieglitz, president of Frankfurt School of Finance & Management, wrote in an accompanying statement:
"This shows where we are heading, although the fact that renewables altogether are still far from providing the majority of electricity means that we still have a long way to go."
By the numbers:
157 gigawatts of renewable power capacity were added worldwide last year, with solar accounting for 98 of them.
That outpaces the 70 gigawatts of fossil fuel generation capacity added.
Renewables are growing fast but from a small base (see chart above). Non-hydro renewables accounted for 61% of new capacity additions last year, but renewables were 12% of global generation.
Global investment in renewables rose 2% in 2017 to $279.8 billion.
China alone accounted for 45% of that investment and added 53 gigawatts of solar capacity.
https://www.axios.com/newsletters/axios-generate-fcd3e126-daad-4425-9572-edaa0d577543.html?chunk=1#story1
On Trump's radar: FirstEnergy plea for DOE help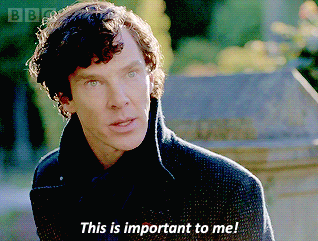 FirstEnergy Solutions' plea for DOE to use emergency powers to help its coal-fired and nuclear plants has landed on the White House's radar.
ICYMI: While in West Virginia yesterday, Trump said, "And we'll be looking at that 202. ... And we'll be looking at that as soon as we get back."
Translation: It's an apparent reference to FirstEnergy's March 29 request for DOE to make sweeping use of its powers under Section 202(c) of the Federal Power Act to keep the companies' coal-fired and nuclear plants running and ensure they're "compensated fairly."
One level deeper: As we noted in the newsletter last week, FirstEnergy wants DOE to alter market conditions in the PJM Interconnection region, which covers all or parts of 13 states — including Ohio, Pennsylvania and West Virginia — and contains lots of coal and nuclear plants operated by multiple companies.
Their filing says DOE should order PJM to ensure financially challenged coal and nuclear plants are compensated by ratepayers for the "full benefits they provide to energy markets and the public at large, including fuel security and diversity."
Thought bubble: For all the noise around EPA chief Scott Pruitt's ethics woes, whether or not Trump will attempt this aggressive intervention in power markets probably has more bearing on the U.S. electricity mix.
Seems relevant: Via Utility Dive, "Trump's comments come a day after he reportedly dined with Jeff Miller, a lobbyist for FirstEnergy and GOP political operative who ran the 2016 presidential campaign of Energy Secretary Rick Perry."
https://www.axios.com/newsletters/axios-generate-fcd3e126-daad-4425-9572-edaa0d577543.html?chunk=2#story2
The climate angle on FirstEnergy's cry for help
While Trump talked up the FirstEnergy request in coal country, remember that they're also planning to close 3 nuclear plants (2 in Ohio, 1 in Pennsylvania) by 2021.
Over at Vox, David Roberts takes stock of that possibility alongside Exelon's plan to close the Three Mile Island nuclear plant in 2019. He wrote:
"Together, the four nuclear plants produced 40 terawatt-hours of energy in 2017 — more energy than was produced by PJM's entire fleet of wind and solar plants (30 TWh)."
"Here's my question: Why aren't climate hawks freaking out about this?"
The story later notes...
Go deeper: The climate stakes of the potential loss of a lot more nuclear plants in coming years is starting to get more attention. MIT energy expert Jesse Jenkins has a helpful tally of planned and potential closures here.
https://www.axios.com/newsletters/axios-generate-fcd3e126-daad-4425-9572-edaa0d577543.html?chunk=3#story3
One oil idea: We should all be freaking out more
Here's a question hanging over oil markets: Should traders be paying more attention to geopolitical risk?
A few recent analyses on the topic, spurred by escalating conflict between Saudi Arabia and Yemen's Houthi rebels (and by extension Iran), caught my eye...
Warning: "With MBS soon heading home from his US tour, the gloves may be set to come off and we believe the market should brace for further escalation," wrote RBC Capital Markets analyst Helima Croft in a note yesterday, referring to Saudi Crown Prince Mohammed bin Salman.
The note says this week's Houthi attack on a Saudi oil tanker ramps up a proxy war that "could eventually prove to be the tripwire for a direct confrontation between Saudi Arabia and Iran."
Along those lines, Financial Times energy markets editor David Sheppard writes:
"Oil traders, distracted for now by a brewing trade war between the US and China, are at risk of growing complacent. But it is unlikely they will be able to discount Saudi Arabia's conflict in Yemen much longer."
The latest: Oil prices are trending downward again Friday thanks to new fears of a U.S.-China trade war. Bloomberg has more here.
https://www.axios.com/newsletters/axios-generate-fcd3e126-daad-4425-9572-edaa0d577543.html?chunk=4#story4
Petro-notes: Russia+OPEC, Shell docs
Russia and OPEC: Reuters has the latest on the prospect of a long-term, even multi-decade alliance, between Russia and OPEC once the current output-limiting deal ends.
Russian energy minister Alexander Novak said it could be an "indefinite" agreement. The whole thing is still pretty nebulous, but for what it's worth, he's also quoted in their story saying:
"In essence, this could be some international organization, which could gather once every half a year and discuss the situation on the oil market; both OPEC and non-OPEC countries."
Shell and climate: The Washington Post has an in-depth look at newly unearthed Royal Dutch Shell internal documents about global warming.
"A Dutch journalist has uncovered Royal Dutch Shell documents as old as 1988 that showed the oil company understood the gravity of climate change, the company's large contribution to it and how hard it would be to stop it," WashPost says.
https://www.axios.com/newsletters/axios-generate-fcd3e126-daad-4425-9572-edaa0d577543.html?chunk=5#story5
A busy and confusing day in the Pruitt saga
Thursday brought mixed signals from the White House and more tough headlines for embattled EPA administrator Scott Pruitt.
Inside the building: At least 5 officials at the Environmental Protection Agency underwent job changes in the past year after they raised questions of administrator Scott Pruitt's spending and management style, the New York Times scooped Thursday.
Why it matters: Per my Axios colleague Alayna Treene, the NYT story reveals that concerns about Pruitt's behavior were apparent within his own team before drawing the attention of the media.
Inside the plane: Trump offered support for Pruitt when he took questions on Air Force One en route home from West Virginia yesterday.
"I think he's done a fantastic job at EPA. I think he's done an incredible job.  He's been very courageous. Hasn't been easy, but I think he's done an absolutely fantastic job. I think he'll be fine," Trump said, later adding, "I just left coal and energy country. They love Scott Pruitt."
Yes, but: Pruitt is by no means out of the woods. Trump repeated that he's looking into questions around the EPA boss.
Between the lines: Per Axios' Jonathan Swan, Trump meeting the press on Air Force One — and getting the inevitable Stormy Daniels question in the process — in order to defend Pruitt is important. 
It shows how dire Pruitt's situation is and how Trump is trying to contain the story. But he's in a tough spot. The bad headlines are piling up, yet conservatives are lobbying hard to keep Pruitt, which they didn't do with Rex Tillerson and David Shulkin.
One more thing: White House deputy press secretary Hogan Gidley, in this exchange with reporters earlier in the day, noted Trump has confidence in Pruitt but stops far short of saying he's out of danger.
https://www.axios.com/newsletters/axios-generate-fcd3e126-daad-4425-9572-edaa0d577543.html?chunk=6#story6
Good weekend listens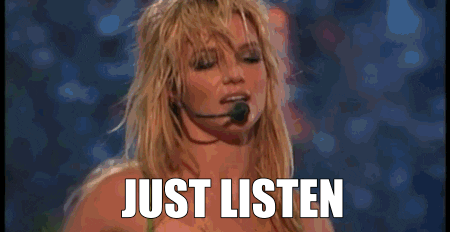 Here are a few energy-themed podcasts that interested me this week...
Storage: The latest episode of Currents, a podcast about project finance from the law firm Norton Rose Fulbright, looks at the future growth of energy storage and the heavy intersection with state and federal policy.
It includes a really cogent explainer on FERC's recent order that's designed to remove barriers to storage participating in wholesale power markets.
The big picture: The latest episode of Chris Nelder's Energy Transition Show is a wide-ranging chat about disruptions with Bloomberg Gadfly's Liam Denning.
Come for some Exxon schadenfreude (if that's your thing) and stay for discussion on topics like evolution of the offshore oil industry to behave more like shale and why only looking at current electric vehicle deployment data is the wrong thing to focus on.
(Note: you can hear a chunk of the discussion at the link above, but I recommend buying a subscription for the whole thing.)
Carbon taxes: The latest episode of the Columbia Energy Exchange discusses the case for a carbon tax with Glenn Hubbard, dean of Columbia Business School.
Ripped from the headlines: The Energy Gang, a Greentech Media podcast, explores 3 big topics: recent data showing global CO2 emissions are rising again; FirstEnergy Solutions bankruptcy and plea for DOE market intervention; and EPA's move to weaken auto mileage rules for model years 2022–2025.