Good morning. Check this out: You're invited to join Axios and NBC News tomorrow at 8 a.m. in downtown D.C to discuss the economy in 2017. "Meet the Press" moderator Chuck Todd and Axios founder and CEO Jim VandeHei will host conversations with Senator Debbie Stabenow of Michigan and Congressman Jeb Hensarling of Texas. Doors open at 7:30 a.m. RSVP here.
Ok, onward to the energy news . . .
https://www.axios.com/newsletters/axios-generate-f9696218-cb7a-4bbd-965f-8804952e286f.html?chunk=0#story0
Offshore oil policy in focus today
An Interior Department official will describe plans to make more federal waters available to drilling and revise Obama-era regulations in testimony before a House Natural Resources subcommittee hearing later this morning.
Why it matters: President Trump wants to undo former President Obama's decision to close off most Arctic waters and the Atlantic coast to development, but changing those policies requires detailed bureaucratic work that will likely face court challenges.
Click here for a copy of the testimony of Katharine MacGregor, the acting assistant secretary for land and minerals management.
Of note: MacGregor says Interior's offshore safety branch has "identified potential modifications" to Obama-era rules that toughened standards for blowout preventers, the equipment that failed so catastrophically in the BP Deepwater Horizon disaster.
Not mentioned but might come up: Interior secretary Ryan Zinke's plans to potentially re-combine two offshore energy branches: Bureau of Safety and Environmental Enforcement (BSEE), and the Bureau of Ocean Energy Management (BOEM).
The Obama administration, seeking to resolve what it called inherent conflicts at Interior after the BP disaster, split the troubled Minerals Management Service into separate drilling safety and offshore leasing divisions.
Last I heard: On June 29 I asked Zinke about the potential decision to merge them again. "We are looking at that. We are walking through a process to make sure there are no unintended consequences," he said in a short interview on the sidelines of an event at the Energy Department.
"They were together, we had an oil spill, there is many that say it was an overreaction, and over a period of time BSEE and BOEM are not working as well jointly as they should."
https://www.axios.com/newsletters/axios-generate-f9696218-cb7a-4bbd-965f-8804952e286f.html?chunk=1#story1
What else we're watching in Congress
A few more things of note on Capitol Hill today...
Appropriations: A House Appropriations panel will mark up newly released EPA and Interior spending legislation. GOP summary here. The measure would cut EPA's budget by $528 million to $7.5 billion, which stops far short of the roughy one-third reduction the White House wants.
Funding fight: The full House Appropriations Committee will mark up an Energy Department spending bill. It would make steep cuts to renewable energy and efficiency programs, though not as steep as the White House wants. It endorses the White House request to kill the Advanced Research Projects Agency-Energy.
Reality check: Senate GOP appropriators tend to like ARPA-E and there's no chance they'll agree to nix it. Nor do they match their House counterparts' support for such massive cuts to green energy R&D in general.
Carbon capture: A coalition of senators will roll out legislation to extend tax incentives for trapping and storing carbon emissions from coal-fired power. The group is led by centrist Democrat Heidi Heitkamp, the liberal Sheldon Whitehouse, and conservative GOP-ers John Barrasso and Shelley Moore Capito.
https://www.axios.com/newsletters/axios-generate-f9696218-cb7a-4bbd-965f-8804952e286f.html?chunk=2#story2
EV news and notes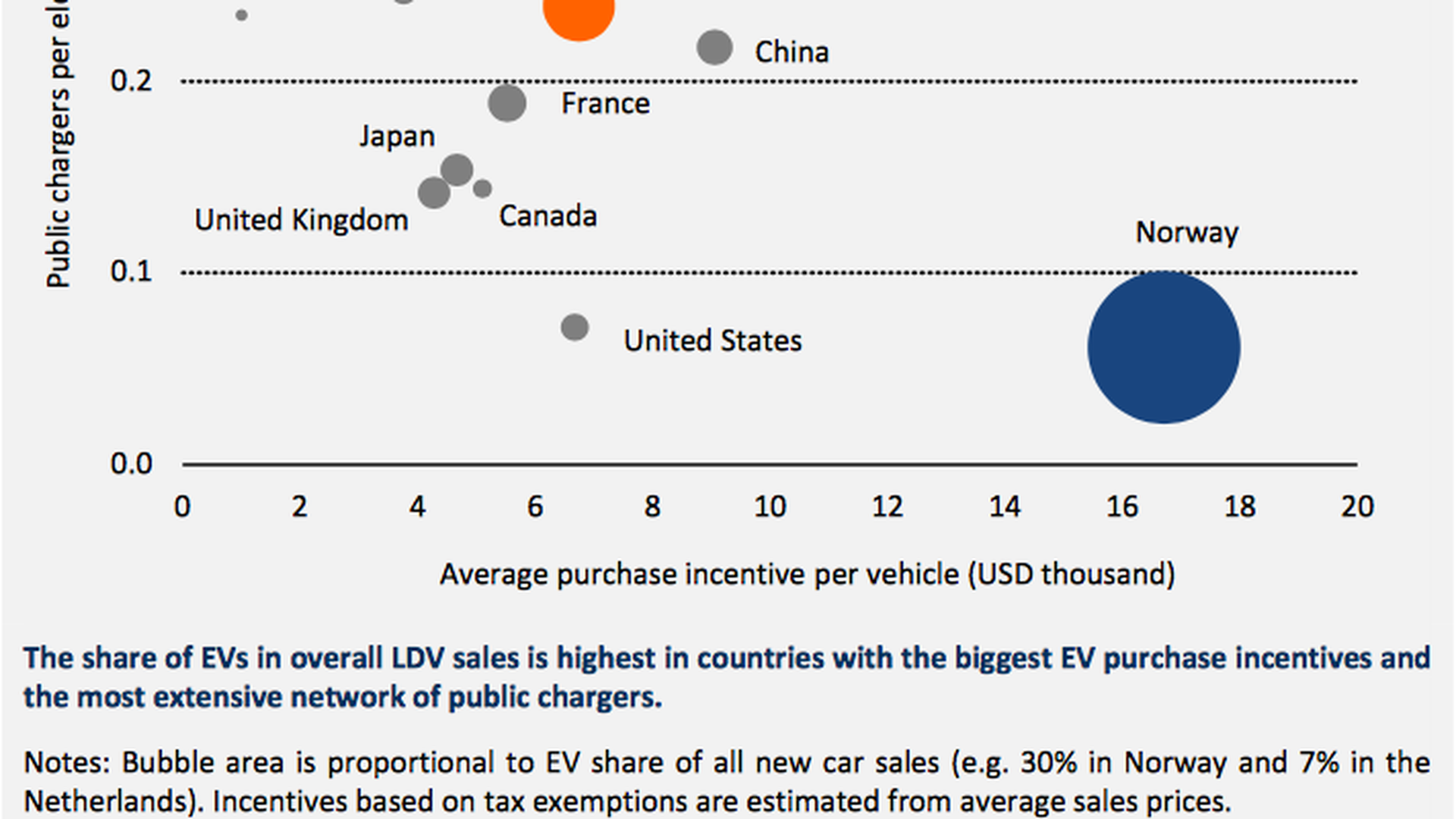 Big picture: The International Energy Agency's huge report on global energy investments and trends released yesterday has some interesting snapshots of the state of electric vehicles worldwide.
The chart above is cool — it looks simultaneously at the size of EV incentives in different countries, EV sales as a share of all vehicle sales, and the availability of public charging.
Some other snapshots via IEA...
Electric passenger car sales are still a tiny percentage of the market, but worldwide grew by 38% last year to reach 750,000 units, with 340,000 of those in China, the biggest market. A number of major automakers have been boosting their commitment to EVs, showing that the industry is moving away from seeing them as only a "niche" product.
The share of EVs in total car sales worldwide rose to 1.1%, double that of 2014. However, the EV share of the total car stock remains much lower, at just 0.2%. IEA notes that to make a real dent in greenhouse gas emissions, EV sales will need to maintain steep sales growth for many years (combined of course with drawing on a lower-carbon power mix).
Global investment in expansion of charging networks was around $6 billion last year, a rise of 42% over 2015.
***
Tesla: Now that the mass-market Model 3 has begun rolling off the production line, TechCrunch has a look here at how it changed from the prototype.
More Tesla: The Associated Press reports that the Silicon Valley automaker is "expanding its service operations and hiring more than 1,000 technicians to meet expected demand for its new Model 3 sedan."
China: Reuters reports on a new analysis showing that Chinese companies "are on track to produce 49 of the 103 new electric car models that will be launched globally by 2020, as part of China's push to accelerate the switch to battery power from oil."
https://www.axios.com/newsletters/axios-generate-f9696218-cb7a-4bbd-965f-8804952e286f.html?chunk=3#story3
Oil price forecasts slashed and output growth trimmed
Joining the club: The Energy Department's stats arm cut its oil price predictions for this year and 2018, joining a number of banks that have slashed their predictions in recent days.
The Energy Information Administration's latest forecast cuts $4 from its WTI prediction next year, now at $49.58 per barrel, while the 2018 outlook for Brent is also $4 lower. For 2017, EIA trimmed both forecasts by a little under $2 per barrel.
Yes, but: EIA serves a somewhat wordy reminder that nobody is really sure of anything, ever.
"Uncertainty remains regarding the duration of, and adherence to, the current OPEC production cuts, which could influence prices in either direction. Also, the U.S. tight oil sector continues to be dynamic, and quickly evolving trends in this sector could affect both current prices and expectations for future prices."
Still, EIA is hardly alone here in cutting their price outlook — Barclays this week trimmed its 2018 average Brent forecast by $5 to $52, while BNP Paribas has also cut its predictions.
Production: EIA latest report has slightly cut its U.S. production outlook, though they're still predicting a record 9.9 million barrels on average next year (instead of 10).
Oh, and here's a reminder of the scope of the shale boom — EIA notes that the U.S. will account for almost 90% of the increase in global production of crude oil and other liquid fuels by non-OPEC countries in 2018.
The latest: Oil prices are heading upward again in trading Wednesday morning, "riding on optimism that U.S. crude inventories likely shrank again last week," according to MarketWatch.
Go deeper: The Dallas Fed has a new research note on how much oil is sloshing around global markets and why that remains the case despite OPEC's efforts to rein in inventories.
https://www.axios.com/newsletters/axios-generate-f9696218-cb7a-4bbd-965f-8804952e286f.html?chunk=4#story4
From Amy's notebook: oil + wind = offshore pals
A press release sent Tuesday caught the eye of my Axios colleague Amy Harder. I'll let her explain...
An unlikely partnership is making a public debut: oil and wind companies.
Offshore magazine, a publication devoted to the offshore oil and gas industry, and Renewable Energy World, a website backing renewables, are hosting an offshore wind conference in Houston next month, the American Wind Energy Association announced Tuesday.
Get smart: It may seem strange to the casual observer, but there's actually a lot of crossover between the offshore wind and oil industries. Companies pursuing offshore fossil-fuel drilling and offshore wind use many of the same companies to help move and construct the massive infrastructure required for both types of energy.
Quoted: The announcement reminded me of an interview I recently did with Jeff Grybowski, CEO of Deepwater Wind, the company to build the first (and so far only) offshore wind farm in the U.S.
On the sidelines of AWEA's annual conference in Anaheim in May, Grybowski told me the offshore wind industry can "piggyback" on the offshore oil industry by using the same service firms, such as Gulf Island Fabrication.
"That industry is centered in Houston, and it's incredibly supportive of offshore wind," Grybowski said.
https://www.axios.com/newsletters/axios-generate-f9696218-cb7a-4bbd-965f-8804952e286f.html?chunk=5#story5
Federal news on my screen
Nominations: Last night the White House announced its picks for two high-level Energy Department positions.
His choice for the top science official at DOE is Paul Dabbar, a former nuclear submarine officer who is currently the managing director for M&A at J.P. Morgan.
Trump is nominating Mark Wesley Menezes to be under secretary at the department. He's currently the VP for federal relations at Berkshire Hathaway Energy.
Climate change: Via The Hill, Trump's pick to run the Navy told senators yesterday that he's "totally aware" of the risks that climate change poses due to rising seas and other factors.
"We must protect our infrastructure, and I will work hard to make sure we are keeping an eye on that because without the infrastructure, we lose readiness," Richard V. Spencer told the Armed Services Committee.
EPA: Reuters has posted the transcript of its interview with EPA administrator Scott Pruitt, who, as my colleague Shannon Vavra noted yesterday, floated the idea of a climate change debate on TV.
Of note: Pruitt said the California waiver (which enables the state to impose tougher vehicle standards that the feds) is not under review "right now."
Reuters has more here on his approach to the auto industry.
https://www.axios.com/newsletters/axios-generate-f9696218-cb7a-4bbd-965f-8804952e286f.html?chunk=6#story6
One gigantic thing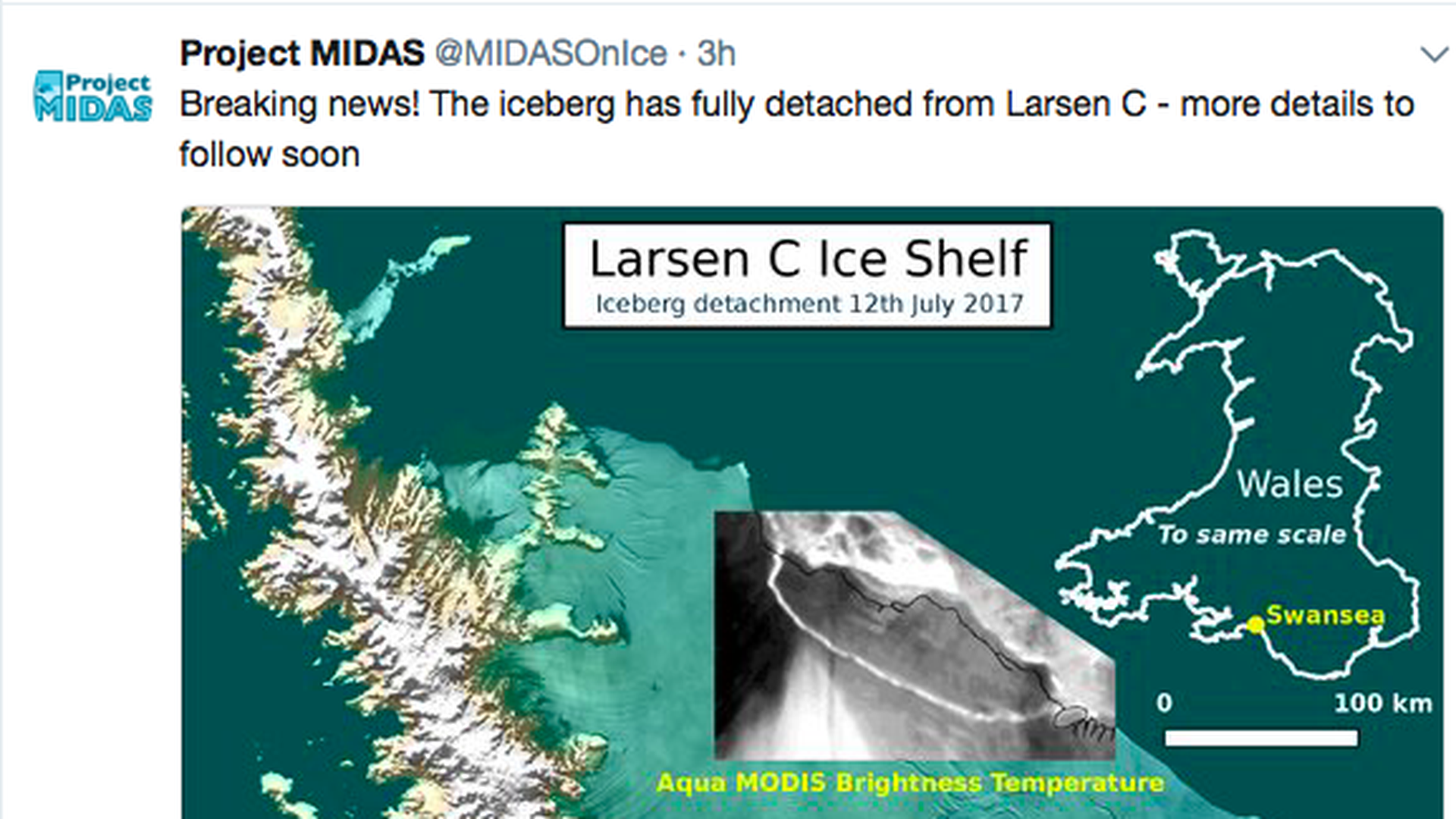 Breaking (literally) this morning: An iceberg weighing over a trillion tons — one of the largest icebergs ever recorded — has separated from the Larsen C Ice Shelf in Antarctica in what scientists called a "natural event," according to Project MIDAS, the U.K.-based research team studying the phenomenon.
From their blog post announcing the news: "The calving occurred sometime between Monday 10th July and Wednesday 12th July 2017, when a 5,800 square km section of Larsen C finally broke away...Its volume is twice that of Lake Erie, one of the Great Lakes."
Impact: It won't have any "immediate" effect on sea-level because it was already floating, they note, but the team's post adds that if the ice shelf loses much more of its area, it could lead to "glaciers that flow off the land behind, speeding up their passage towards the ocean," which could eventually have a modest sea-level impact.
Go deeper: Over at Mashable, Andrew Freedman looks at the event in the context of the warming region.