Happy Friday! A quick note before the weekend starts: Do you live in Los Angeles or know people there?
Join Axios for our debut editorial event in L.A. on the next frontier: the human brain on Wednesday, June 14th at 8:30 a.m. Pacific. Axios Science editor Alison Snyder will host one-on-one conversations with leading experts on artificial intelligence, brain-machine interfaces, and biopharmaceuticals. More information and RSVP here.
Ok let's dive in . . .
They're bringing social back
The think tank Resources for the Future is launching an initiative to update estimates of the "social cost of carbon" — a metric policymakers and businesses use to tally the monetary damages of increased emissions. The launch of the multi-year effort arrives roughly two months after a White House executive order disbanded an Obama-era interagency group on the issue and withdrew its estimates.
What they're saying: RFF and other critics say President Trump's approach, which instructs agencies to use a more limited methodology from 2003, is too narrow and low-balls the actual impact of emissions.
RFF's new initiative flows from recommendations in an early 2017 National Academy of Sciences report that was co-chaired by RFF president Richard Newell, who yesterday said in a statement that estimates "should be based on the most up-to-date science and economics, and be totally transparent."
Quick take: State, city, and corporate efforts to cut emissions can't simply replace federal rules and policies, as my colleague Amy Harder wrote about here. And, RFF can't force federal agencies to use updated estimates on the social costs of carbon.
Yes, but: The effort could inform a future administration, and guide other parties like states and companies. The RFF move is another example of non-federal parties expanding climate efforts as Trump pulls Washington back.
Rollback rebound: In a related policy area, the consulting firm ClearView Energy Partners coined the term "rollback rebound" when forecasting that liberal states could accelerate their climate and renewable energy policies in response to Trump's scuttling of Obama-era rules.
Natural gas exporter staffs up
Amy has a cool post in the Axios stream this morning on natural gas exports and the staffing moves of one ambitious company. Here's a piece of it...
Driving the news: Former President Obama's top international energy envoy has joined a natural gas exporting company that's banking on swift federal reviews under the Trump administration and a booming export market in five years.
Amos Hochstein, who ran the State Department's energy bureau under Obama, is now a senior advisor and vice president at Tellurian, a company founded last year that filed an application in April to export liquefied natural gas.
Why it matters: Hochstein's hire demonstrates that natural gas exports are one of the few energy policy areas where bipartisan support has endured the transition from Obama to Trump. Obama streamlined the federal review process from three steps to two, and Trump officials signaled last month it's a top priority for them too.
Click here for more on Tellurian's staffing moves and the wider picture on U.S. gas exports.
R&D cuts could lead to Chinese battery raid
My Axios colleague Steve LeVine, who knows a thing or two about batteries, has a post in our Future of Work stream about the effect of Trump's budget proposal.
What they're saying: Leading U.S. battery researchers tell Steve that a proposed 75% cut in federal funding could set back U.S. hopes to dominate the future of batteries and electric cars, and lead to a raid of U.S. talent by China and others in the technological race.
More from his piece:
The mood is somber this week at an annual conference in D.C., where hundreds of battery researchers from universities and federal labs are presenting their latest findings, and justifying millions of dollars in government funding toward the creation of super batteries for electric cars and the grid.
In interviews, researchers said Congress is likely to largely ignore Trump's proposals and restore much of 2018 funding. But — given the intensity of competition for industries expected to be worth hundreds of billions of dollars in future sales — they said the best ideas could be wooed away by China, Japan, South Korea, or others.
Click here for the whole thing.
Wind industry boosts GOP lobbying muscle
Two lobbying registrations in the wind industry just surfaced in the Lobbying Disclosure Act database:
American Wind Energy Association brought on Holland & Hart, and specifically partner William Myers III, who was the Interior Department's solicitor in the George W. Bush administration.
Statoil Wind U.S. tapped Brownstein Hyatt Farber Schreck to lobby on offshore wind development. Like AWEA, they're boosting their GOP connections. One of the Brownstein lobbyists will be Jon Hrobsky, a former GOP Capitol Hill aide who was a senior official in the Interior's offshore energy branch under George W. Bush. The other is Luke Johnson, another W. Bush-era Interior vet who also worked for the late Utah GOP Sen. Bob Bennett.
A global power snapshot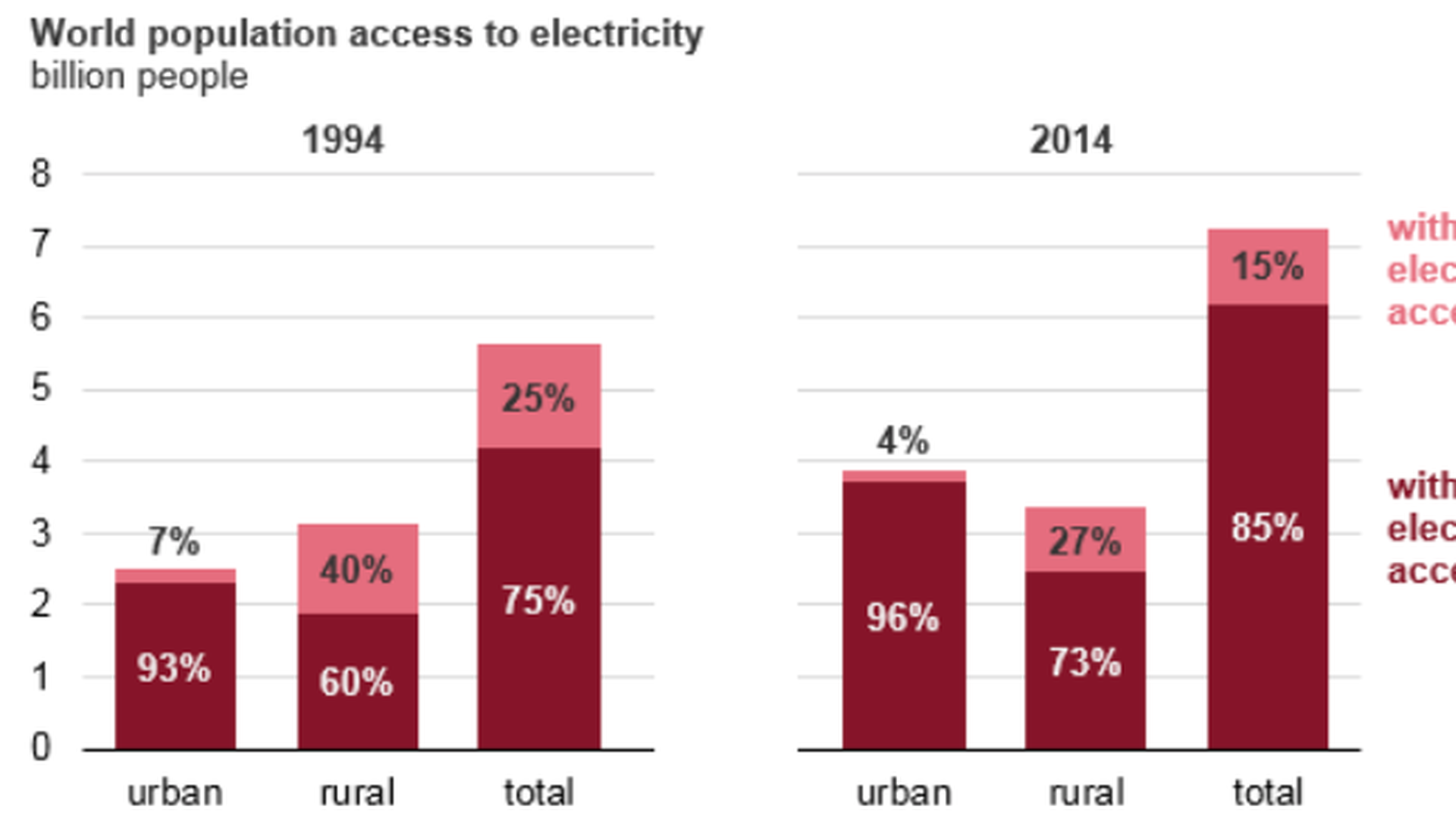 The Energy Information Administration, using World Bank data, has crafted a brief report on the increasing global access to electricity. Lots of people still don't have it, but that share of the global population fell from 25% in 1994 to 15% in 2014.
One reason why: urbanization. EIA notes that the growing percent of the global population with power access stems in part from the movement to cities — 53% of the world lived in urban areas in 2014, up from 44% in 1994.
Oil news on my screen
Regulations: The Interior Department may merge two offshore energy divisions established in the wake of the BP Deepwater Horizon catastrophe in 2010, Bloomberg reports.
The Obama administration, seeking to resolve what it called inherent conflicts of interest, broke apart the scandal-plagued Minerals Management Service to create separate branches on drilling safety regulations and offshore leasing.
Prices: Reuters looks at the persistent glut of crude oil sloshing around world markets that sent prices tumbling this week. The recent market trends underscore OPEC's challenge despite the cartel's extension of its production-cutting deal.
"The challenge OPEC is facing is bigger than anyone thought a few weeks ago," Tamas Varga of the London brokerage PVM Oil Associates tells Reuters.
Markets: The Financial Times has the latest on Saudi Aramco's plans for a massive IPO."Saudi Aramco will not join the FTSE 100 stock index if it lists its shares in the UK, averting confrontation with City institutions and strengthening London's status as frontrunner for a slice of the Saudi state oil group's initial public offering," the paper reports.
Keep the tips and feedback coming to ben@axios.com.