Axios Generate
October 17, 2019
Happy Thursday. Today's Smart Brevity count: 1,073 words, ~ 4 minutes.
And on this date in 1980, Dire Straits released "Making Movies," so we'll skate into the newsletter with a nice track...
1 big thing: Electric vehicle gains and growing pains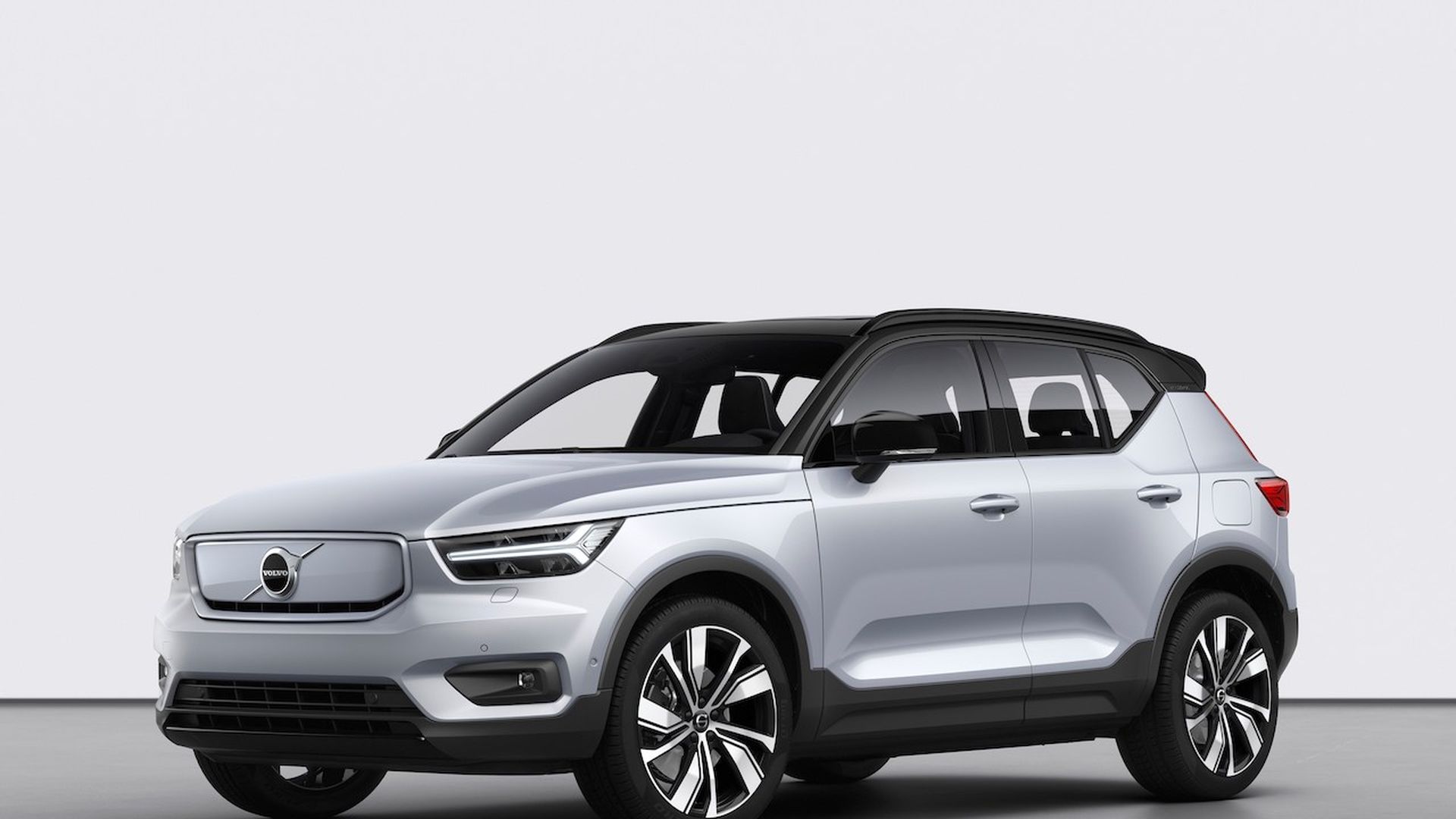 The slow global transition to electric vehicles is facing a mix of green and yellow lights. (Sorry readers — I know that's a cliche but I'm going with it!)
Driving the news: Volvo has taken the wraps off its first fully electric vehicle, the XC40 Recharge, a small SUV unveiled yesterday that has a range of roughly 250 miles.
Specifics on pricing are unclear. But per multiple reports, Anders Gustafsson, the automaker's top U.S. official, said it will be around $50,000 with incentives.
Breaking Thursday: Ford announced what it calls North America's "largest electric vehicle charging network" as it prepares to launch its line of electric cars.
Via CNN, Ford is working with EV charging companies Greenlots and Electrify America. "When needed, users will be directed to one of the network's chargers using an app or in the vehicle's central touch screen," they report.
Why it matters: The Volvo SUV — slated to be available in the U.S. in late 2020 — is the latest of an expanding number of consumer offerings. Legacy automakers and startups alike are planning a suite of new models.
The big picture: The number of fully electric vehicles on sale in the U.S. is slated to jump from 21 this year to 35 next year, according to the research firm IHS Markit.
They see it mushrooming from there, reaching 130 by 2026, according to data projections shared with Axios.
Ford, in its charging announcement, notes that its "Mustang-inspired SUV" will arrive in 2020, and the company is pouring billions of dollars into EV efforts in the coming years.
But, but, but: This fall has brought a fresh reminder of why the transition to electric vehicles faces headwinds, too.
"A recent streak of events highlight the challenges (from financial to technical) with commercializing all-electric transport," Morgan Stanley analysts said in a note this week.
They note examples including the financial struggles of the Chinese EV startup Nio and Dyson's decision to pull the plug on its EV plans.
Several recent reports show slowing sales in the U.S., and China, where the government has recently cut subsidies.
The intrigue: The United Auto Workers' strike against GM underscored how the shift toward EVs is forcing changes in automakers' relationships with their workforces. A tentative agreement to end the strike emerged yesterday.
Axios' Joann Muller recently flagged a UAW analysis which found that EVs have 80% fewer parts, and are easier to assemble, which means they'll require a lot fewer workers.
GM's electric plans are part of the tentative agreement to end the strike. Per the Detroit Free Press, GM's Detroit-Hamtramck Assembly Plant would stay open to produce an electric pickup truck.
Go deeper: Plug-in EV sales seemed to stall in Q3 with 20% sales decline (S&P Global Platts)
2. Rick Perry adds a piece to the Ukraine puzzle
Energy Secretary Rick Perry told the Wall Street Journal Wednesday that President Trump directed him to contact Rudy Giuliani, the president's personal lawyer, in the spring about alleged Ukraine corruption concerns.
Why it matters: Per the WSJ, Perry's comments on his call with Giuliani about unsubstantiated claims of Ukrainian meddling in the 2016 U.S. election shows "how closely the president's personal lawyer worked with the administration on Ukraine policy."
Giuliani also spoke with other senior Trump administration officials in his quest for investigations in Ukraine, the paper notes.
The big picture: Three House committees have subpoenaed Perry to provide documents by this Friday as part of their investigation into Trump's alleged efforts to push Ukraine to investigate Joe Biden.
The purpose of the call between Perry and Giuliani was to look at setting up a meeting between Trump and new Ukrainian President Volodymyr Zelensky.
Their conversation occurred well before Trump's July 25 call with Zelensky that's at the center of the House impeachment inquiry.
Perry told the WSJ that he's never heard Trump, Giuliani or anyone in the Trump administration discuss investigating the former VP or his son Hunter Biden.
Go deeper: Axios' Rebecca Falconer has more here.
3. A carbon tax group's next lobbying step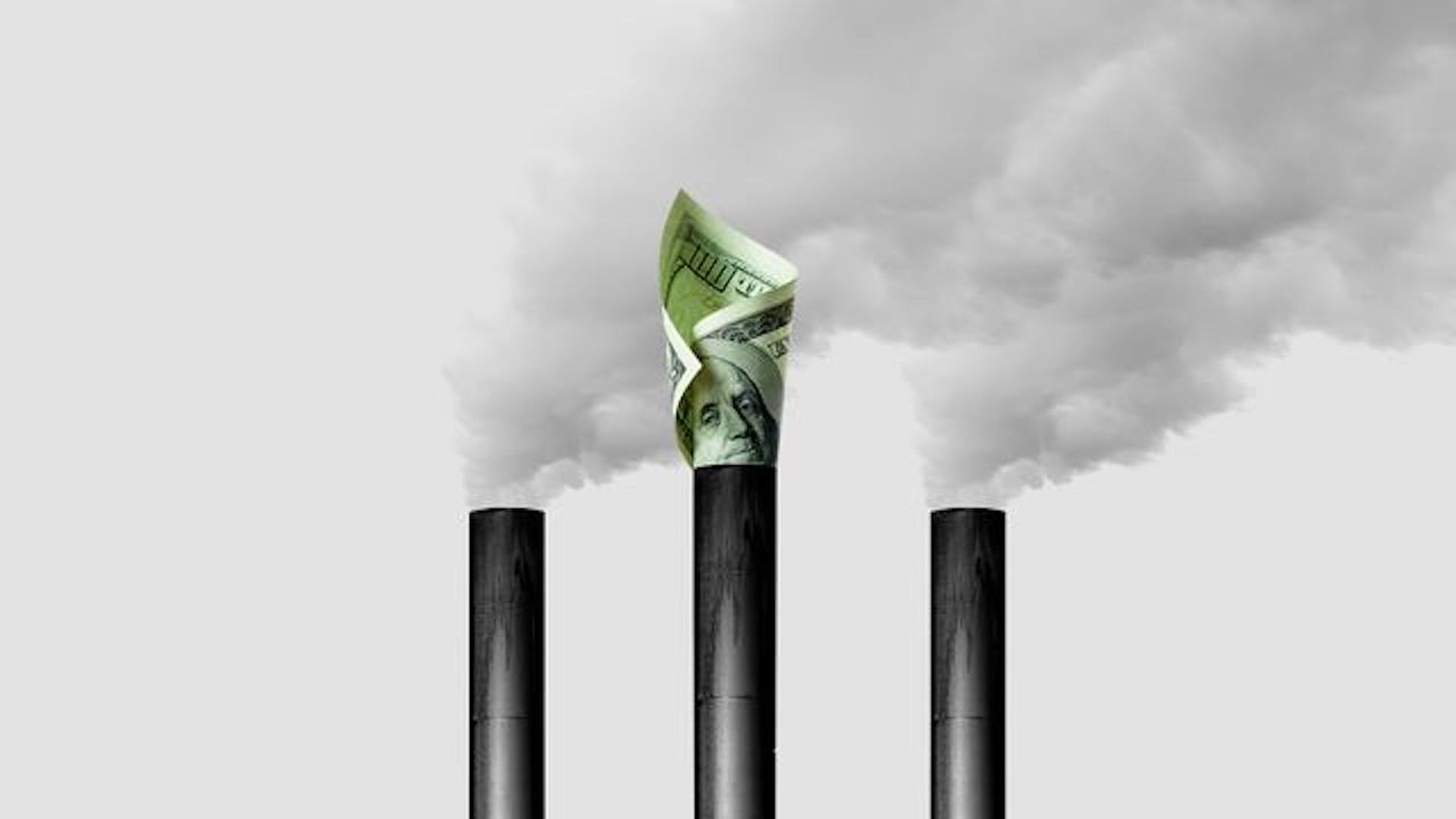 Americans for Carbon Dividends has officially registered to lobby on its own behalf after only using the outside firm Squire Patton Boggs since launching last year.
Why it matters: The self-registration in addition to retaining Squire Patton Boggs signals the group's increasing activity on Capitol Hill, a spokesman said.
The organization is promoting a tax that would return the revenues to the public.
Where to stands: The group is the lobbying and advocacy offshoot of the Climate Leadership Council, a coalition whose backers include several big oil companies and green groups.
The CLC last month updated its 4-part policy proposal and added new members.
What they're saying: "We are deepening our advocacy outreach on Capitol Hill and thus devoting more internal time and resources to that work," spokesman Carlton Carroll said via email.
"This is just one example of our increasing advocacy work now that we've updated our four pillars," he said of the group's new lobbying registration.
But, but, but: So far, the lobbying part of the group's advocacy has been pretty modest by Beltway standards.
Squire Patton Boggs' newly filed disclosure on its Q3 lobbying for Americans for Carbon Dividends shows $150,000 in expenses, the same level as the prior four quarters.
* * *
Speaking of lobbying, Q3 spending reports for big players are just starting to surface in the Lobbying Disclosure Act database.
For instance, utility giant American Electric Power reported $1.6 million in Q3 lobbying, down from $2.4 million in the prior quarter.
The Alliance of Automobile Manufacturers reported $1.3 million for the period, down slightly from the prior 3 months.
We'll have more soon as reports surface.
4. Petro notes: Crude markets, Exxon trial, Aramco IPO
Markets: Per Reuters, "Oil prices fell on Thursday as industry data showed a larger-than-expected build-up in U.S. inventories but losses were limited after the United Kingdom and the European Union announced they had reached a deal on Brexit."
Climate: Via Bloomberg Environment ($), "A lawsuit accusing Exxon Mobil Corp. of defrauding investors on the risks the company faces from climate change is set for a courtroom showdown, as scheduled, after a judge Oct. 16 tossed a set of pretrial motions from both sides."
The trial is set to begin next week.
Aramco IPO: Via AFP, "Banks aiding a stock market float for Saudi oil giant Aramco will be 'devoid of all sincerity' regarding environmental and social concerns, green and rights groups jointly said Thursday."
BankTrack, Friends of the Earth United States and Oil Change International and other groups sent the letter to banking giants including Bank of America and Citigroup, they report.
Regulations: The New York Times has the latest on the legal battle over protections for a bird called the sage grouse that lives in areas attractive to energy companies.
"A federal judge on Wednesday blocked the Trump administration's plan to ease protections for an iconic bird that makes its home on millions of acres of oil and gas-rich sagebrush lands, dealing a blow to government efforts to allow more drilling, mining and logging in the west," the paper reports.
5. Quote of the day
"For the IMF, we always look at risks, and [climate change] is now a category of risk that absolutely has to be front and center in our work."
Who said it: International Monetary Fund Managing Director Kristalina Georgieva, speaking at a climate panel yesterday at the IMF's annual meeting.
Why it matters: The comment suggests growing IMF concern about the destabilizing effects of global warming and the need to focus on policy advocacy.
Where it stands: The remarks come days after IMF analysts released a report calling on major carbon-emitting nations to impose CO2 taxes that reach $75-per-ton in 2030.