Good morning! I'm a tad late to this, but congrats to Dire Straits on their election to the Rock & Roll Hall of Fame.
Or maybe I just need an excuse to head for the weekend with this brilliant tune . . .
https://www.axios.com/newsletters/axios-generate-e30eff4b-ba68-4a5a-b680-cb2d40452d30.html?chunk=0#story0
BP buys stake in solar company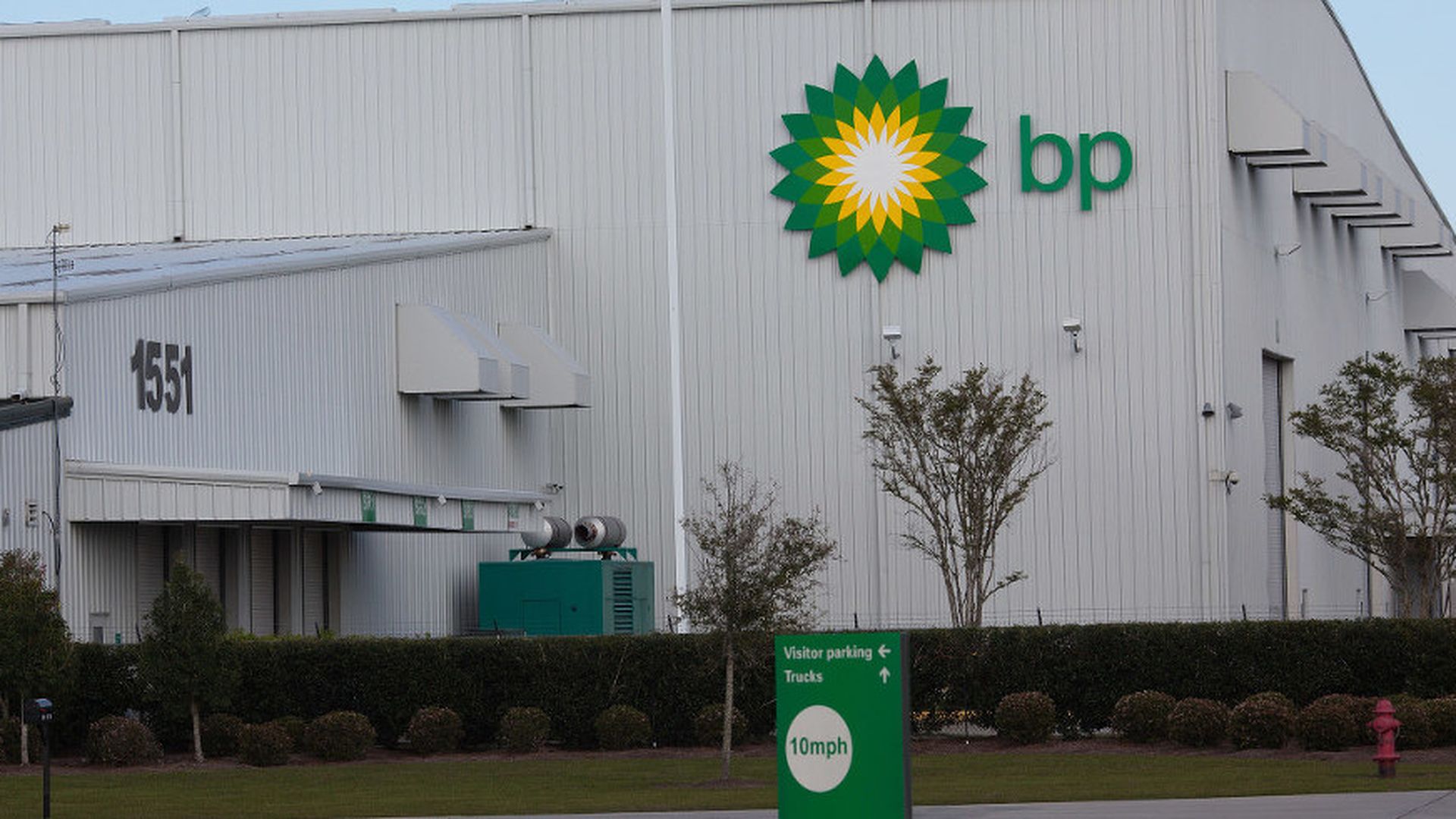 Some corporate news, courtesy of my colleague Amy Harder . . .
European oil and natural gas giant BP announced Friday it's investing $200 million over 3 years in Lightsource, one of Europe's largest solar companies, to acquire a 43% stake in the business.
The big picture: This is another sign of how big oil is slowly and gradually investing in lower-carbon technologies, alongside continued investments in oil and natural gas. This trend is driven by a series of overlapping factors, such as the notion of slowing oil demand and investor concern about climate change.
Yes, but: This is a drop in the bucket compared with BP's nearly $2 billion net profit that it disclosed in its most recent quarterly earnings. BP's renewable-energy assets, which include wind farms in the U.S. and biofuels in Brazil, aren't "making a material difference to the bottom line," BP CEO Bob Dudley told an oil conference earlier this year.
https://www.axios.com/newsletters/axios-generate-e30eff4b-ba68-4a5a-b680-cb2d40452d30.html?chunk=1#story1
More oil and gas notes
Shale startup: A Warburg Pincus group says it will invest $780 million in an oil-exploration company called ATX Energy Partners — one of the largest private equity investments in a shale startup, the Wall Street Journal reports.
"The big check from Warburg and its partners is the latest sign that private- equity firms are willing to spend increasing amounts of money on U.S. energy exploration. Investments of $500 million in shale companies have become commonplace, and investment firms are under pressure to put to work the huge piles of cash investors have forked over in recent years," WSJ writes.
Joining forces: ExxonMobil and Petrobras announced yesterday that they have formed a "strategic alliance" to pursue "opportunities for cooperation in exploration, production, gas and chemicals both inside and outside Brazil."
The move deepens Exxon's work with Brazil's state oil giant. Earlier this year the two firms jointly acquired 6 blocs off Brazil's coast.
Colliding: Bloomberg points out that OPEC and the International Energy Agency have contrasting estimates of how well the cartel and allied producers will fare in their bid to draw down excess global supply. The IEA is more pessimistic.
Why it matters: "Whichever way the pendulum swings will have a significant impact on the market," Ole Hansen, head of commodity strategy at Saxo Bank in Copenhagen, tells the news service.
Arctic: With Congress on the brink of opening the Arctic National Wildlife Refuge to oil drilling, this New York Times feature uses satellite imagery to look at the impact of the only well ever drilled there — called KIC-1 — in the mid-1980s.
Why it matters: The extent to which energy companies can safely explore for oil is a major point of debate in the long-running fight over ANWR development.
"In the 30 years since KIC-1 was drilled, techniques have changed somewhat. For one thing, directional drilling now allows operators to drill many wells from one pad. Yet KIC-1 shows how even when care is taken, the delicate landscape of northern Alaska can be damaged by drilling activities, and that the damage can persist," the NYT reports.
Bankrupt: Houston-based multinational Cobalt International Energy filed for bankruptcy Thursday, Reuters reports.
https://www.axios.com/newsletters/axios-generate-e30eff4b-ba68-4a5a-b680-cb2d40452d30.html?chunk=2#story2
Good listens for your weekend
Here's a few new or recent energy-themed podcasts that are worth your while . . .
Power markets: The latest podcast from the Kleinman Center for Energy Policy at the University of Pennsylvania is a deep dive with Stu Bresler, a top official with PJM, the organization that oversees power markets in a number of states in the Midwest and East Coast.
The episode explores PJM's criticism of Energy secretary Rick Perry's push for new rules that reward coal and nuclear plants, but then pivot to an in-depth discussion of PJM's proposal for changes to how prices are set.
Oil and gas: The consultancy Wood Mackenzie looks at what 2018 will bring for the oil and gas industry as prices have recovered, with the year expected to build on the 2017 uptick in decisions to move ahead with large projects.
A boost in deepwater spending is expected after several years of declines. They get into expectations for more U.S. shale growth, but also discuss pressure on companies to show profitability — not just rising output — from shale projects.
Energy storage, part 1: The new episode of the Greentech Media podcast The Interchange explores the current and future states of energy storage technology and markets.
This includes a look at how storage could displace the need for new gas plants to meet peak demand periods.
Energy storage, part 2: The latest edition of The Energy Transition Show is an in-depth discussion with Paul Denholm of the National Renewable Energy Laboratory about the pairing of solar power and storage systems
Interesting point: Solar and storage don't need to be co-located to work effectively together. "You can put a battery in a downtown region, have your photovoltaics in a remote region, and the battery can still act to mitigate all of the fluctuations and provide additional services. They don't have to be physically co-located or coupled in any manner," Denholm notes.
https://www.axios.com/newsletters/axios-generate-e30eff4b-ba68-4a5a-b680-cb2d40452d30.html?chunk=3#story3
On my screen: tax deal, grid reliability, airlines
Congress: Bloomberg reports that the emerging House-Senate tax deal alters Senate language that renewable energy companies say would have badly undercut tax equity financing market.
"A tentative compromise would preserve most, but likely not all, of the value of renewable energy tax credits that developers sell to JPMorgan Chase & Co., Bank of America Corp. and other large financial institutions, said Senator John Thune, the chamber's No. 3 Republican," they report.
Flashback: Wind and solar interests had feared that a Senate provision designed to prevent companies from avoiding tax liabilities by shifting payments to other countries — called the "Base Erosion Anti-Abuse Tax" (BEAT) — would have a spillover effect that thwarted project financing.
Grid policy: Via Power Magazine, conclusions in a new report from the nonprofit orgnization that seeks to ensure power system reliability are at odds with Perry's claim that retirements of coal and nuclear plants will erode reliability.
Per the North American Electric Reliability Corp report: "[N]ew resources, which are primarily natural gas and renewable generation, should collectively provide the bulk power system with the same level of voltage support, frequency response and other essential reliability services as conventional generators."
Why it matters: The findings are certain to be used by groups battling Perry's push for new FERC regulations that boost compensation for coal and nuclear plants in some markets.
Aviation: My colleague Haley Britzky looks at a study from the International Council on Clean Transportation, which shows that for the seventh year in a row, Alaska Airlines was the most fuel-efficient airline among U.S. carriers.
https://www.axios.com/newsletters/axios-generate-e30eff4b-ba68-4a5a-b680-cb2d40452d30.html?chunk=4#story4
White rebuts plagiarism allegations
In case you missed this item in the Axios stream yesterday. . .
President Trump's pick to lead the White House Council on Environmental Quality says her written responses to senators' questions represent "my views," despite some language that's identical to prior submissions from nominees for top EPA jobs.
"[I]t should not be a surprise that I share the views of my fellow nominees on a number of issues. In preparing my responses, I sought to reiterate positions already stated that are reflective of my own," Kathleen Hartnett White says.
Why it matters: White, a former Texas regulator now with the conservative Texas Public Policy Foundation, is in line for a key role coordinating administration environmental policy. It's not clear if the allegations will hinder her nomination, but she already had a somewhat rocky confirmation hearing last month.
White's comment comes in a letter seen by Axios. She prepared this in response to a Democratic Sen. Tom Carper's letter about her written answers to the Environment and Public Works panel, which vetted her nomination.
Click here for the rest.
* * *
And some more news on nominations. . .
Yesterday the Senate voted to confirm two high-level EPA officials.
Matthew Leopold will be general counsel. The former counsel to Florida's Department of Environmenal Protection, who also previously worked in the Justice Department, will be busy with the wave of court battles EPA will face as it seeks to unwind Obama-era regulations.
David Ross was confirmed to head EPA's Office of Water.