Good morning and welcome back to Generate! After this edition I'll be off for a few days, which is good news for you, because my colleague Amy Harder will be bringing you great content as Generate guest host.
Speaking of great content, Mike Allen will have one-on-one conversations with House Speaker Paul Ryan and Bob Woodward at our Axios News Shapers event this morning. Details here. And if you didn't RSVP, you can watch Ryan's livestream at 8:15 am Eastern. Plus, make sure you read the second edition of the weekly Axios Science newsletter tomorrow.
Ok let's dive in . . .
From Amy's notebook: Wind execs are bullish despite Trump
Amy's at the American Wind Energy Association conference in Anaheim, where yesterday she moderated a panel with top executives. She passed along this dispatch...
The mood: Positive, even though they're facing a potential adversary in the White House after eight years of mostly friendly policies under President Obama.
Key thoughts: Tom Kiernan, head of AWEA, touted wind's new position as America's top renewable energy source by generating capacity and urged fellow executives to make sure it stays there. Tristan Grimbert, CEO of EDF Renewable Energy and newly elected chair of AWEA's board, predicted the electric grid will change more in the next 10 years than it has in the last 100 years. "The grid of the future will be distributed, decarbonized and digital," Grimbert told a packed crowd in Anaheim.
About President Trump:
Executives, including Karen Lane, chief financial officer for onshore Americas in the newly merged Siemens Gamesa Renewable Energy, agreed that the most important thing coming out of Washington isn't the budget or Trump's rhetoric, but instead stable tax policy. This would include keeping intact a 2015 congressional deal to extend for five years a production tax credit for wind energy.
OPEC's big day arrives tomorrow
We're one day away from OPEC's big meeting in Vienna to decide on the future of the production cutting agreement between the cartel and several outside producers including Russia.
A few things to note as zero-hour approaches...
The latest: While a nine-month extension of the deal is considered the most likely outcome, Reuters reported Wednesday morning that Kuwait's oil minister says all options are on the table, including a one-year extension and deepening the 1.8 million barrel per day cut.
Setting the table: The BBC has a useful explainer about the meeting and the oil market challenges facing OPEC.
Trump's curveball: Bloomberg reports that the new White House proposal to sell another 270 million barrels from the Strategic Petroleum Reserve over the next decade, on top of sales Congress has already authorized, could undermine OPEC's effort to prop up prices and relieve the global glut.
Meh: Goldman Sachs, in a new research note, downplays the relevance to the cartel, noting the scope of the proposed sales is "negligible" relative to the size of OPEC's cuts and the global market.
Go deeper: A huge issue for OPEC in recent years and going forward is the rise of U.S. shale production. "A harsh reality may emerge, likely well after the May 2017 meeting, that the price at which shale can grow quickly could be much lower than the price OPEC members want and need," Columbia University analyst Jamie Webster says in a piece that lays out several paths OPEC could take regarding shale.
Europe's climate approach with Trump
Boston College international affairs expert David Wirth, a State Department vet, has an interesting preview of Trump's NATO and G7 meetings in Europe this week.
His Lawfare post explores how European countries will grapple with Trump's hostile stance toward the Paris pact, which is toggling between watering down the U.S. engagement and withdrawing outright.
Why it matters: With climate expected to come up at the May 26-27 G7 summit, the meetings will be Trump's biggest foray into multilateral global climate diplomacy.
Bottom line: Wirth expects the carefully negotiated summit communique to be a compromise with the U.S. by avoiding the strong support for Paris that was a feature of last year's summit.
But he doesn't expect any blessing of a U.S. pullout either, or, conversely, an express appeal for the U.S. to stay. Instead, there will be "mundane" references to Paris that nonetheless "communicate the expectation that the status quo will prevail."
"That necessarily includes the assumption that all the G7 states, including the United States, will remain party to the Agreement going forward, as a flexible vehicle both for asserting their own national interests and for coordinating their efforts for the benefit of the ecosphere and all humankind."
Breaking Wednesday morning: Via Bloomberg, Pope Francis added to the voices urging Trump to work on climate change. The news service reports that Francis gave Trump a copy of his encyclical on the topic when they met Wednesday.
"Francis's choice of gift suggests he added his voice to those who are urging Trump not to renege on the Paris accord, which is the cornerstone of global efforts to limit climate change," Bloomberg notes.
Budget takeaways
A few more nuggets Trump's first detailed budget proposal...
Energy and climate at State: The plan proposes roughly $13 million for the State Department's Bureau of Energy Resources. That's about a $1 million cut, but nothing approaching the 47 percent reduction floated in a draft budget document that Foreign Policy obtained last month.
The draft, like the March outline the White House floated, would vastly curtail State's climate work and end payments to multilateral climate and green energy funds.
ARPA-E: The budget plan plows ahead with seeking to eliminate the Energy Department's Advanced Research Projects Agency-Energy, a division with bipartisan support that funds work on breakthrough energy tech. But the detailed DOE proposal does not explain the reasoning behind the effort, which is highly unlikely to succeed.
"With at least a half dozen key GOP Senators already pushing for full ARPA-E funding, maybe the Administration just didn't want to waste the ink," Paul Bledsoe, a senior fellow on energy at the Progressive Policy Institute who works with ARPA-E backers, tells Axios in an email.
SPR: In a sign that Trump's proposal to sell roughly half the oil in the Strategic Petroleum Reserve faces huge headwinds, GOP Sen. Lisa Murkowski called it "crazy," according to The Hill. She's chairwoman of the energy committee.
Ok, a little more on the budget
By now you've probably seen plenty on the cuts and policy changes Trump is seeking, but just in case, some further reading...
DOE: Greentech Media has a close look at the proposals to sharply curtail several Energy Department programs.
EPA: E&E News carefully examines the specifics of the proposal to cut EPA by nearly a third.
Climate: Bloomberg looks at the various ways in which the plan would curtail federal work on the issue, such as eliminating a Federal Emergency Management Agency program that maps flooding risks.
Science: Science magazine describes proposals to cut programs across the government.
Oil:
The Houston Chronicle
reports on
pushback from Gulf Coast lawmakers over Trump's proposal to overturn the law that shares royalties from production in federal waters with those states.
Lobbying notes
Several new filings have popped up in the Lobbying Disclosure Act database. So here's what's new in influence...
Oil: Extraction Oil and Gas has hired lobbying giant Squire Patton Boggs for representation on topics including Bureau of Land Management permitting and other federal lands issues.
Biofuels: Renewable Energy Group, Inc. has retained West Front Strategies to lobby on extension of biodiesel tax credits.
Hydro: The Pacific Northwest Generating Cooperative has registered to lobby in-house on "issues related to protection of the federal Columbia River Hydropower system."
Nuclear: General Fusion has tapped Hobart Hallaway & Quayle Ventures to lobby on "education around magnetized target fusion."
Materials: Troy Corp. has also brought on Hobart Hallaway & Quayle Ventures in this case for work on "environmental issues including the Superfund program and regulatory reform."
One cute thing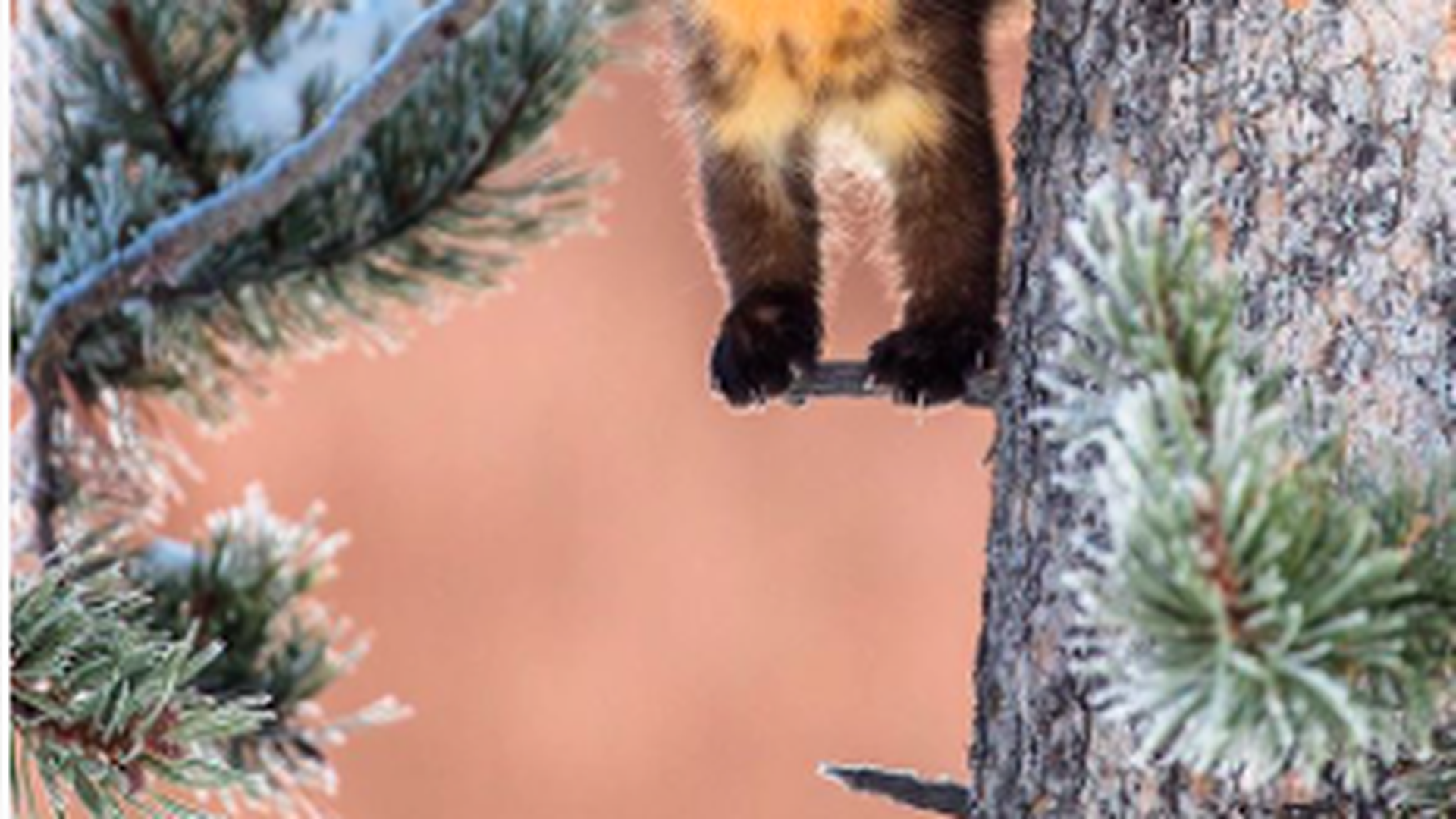 The Interior Department's Instagram feed has another winner: this shot of a pine marten at Yellowstone National Park.
Thanks for reading! I'll see you in a few days, and get ready for some great stuff from Amy in my absence. But you can still find me at ben@axios.com.