Axios Generate
October 24, 2017
Good morning and welcome back! There's a lot going on so let's dive right in . . .
So hot right now: the FERC docket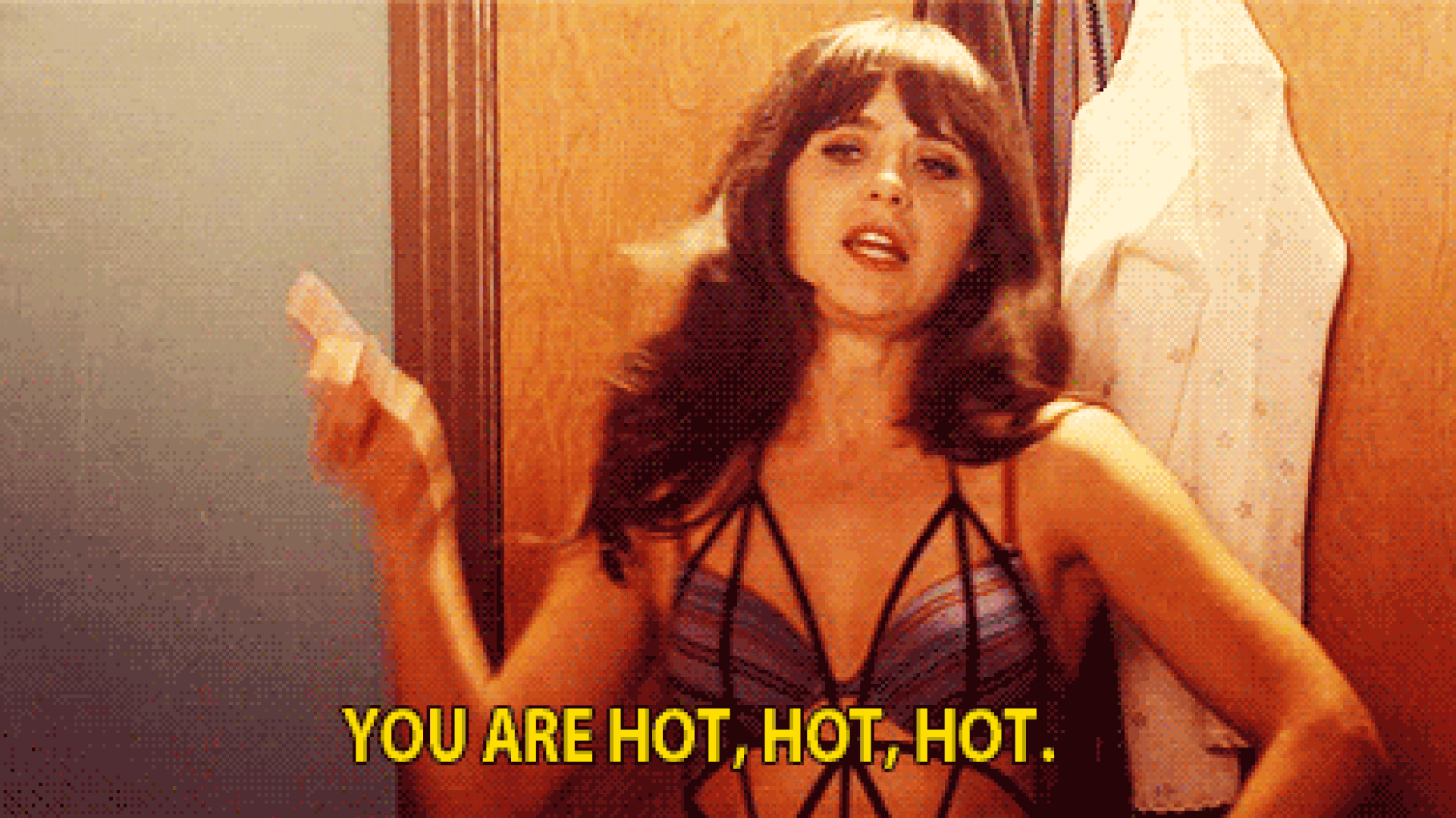 Making their case: Yesterday marked the deadline for submission of comments to the Federal Energy Regulatory Commission on Energy secretary Rick Perry's proposal for new wholesale power market rules that would boost revenues for coal and nuclear plants based on their "resilience and reliability" benefits.
Why it matters: The flood of hundreds of comments from major energy companies and their lobbying groups, union locals, regional regulators, and lawmakers — to name some of the parties — signals how the recent proposal immediately became the biggest, most consequential energy policy scuffle in town.
Some of the comments:
Exxon is very opposed: The energy giant tells FERC that the plan would raise consumer costs, discriminate against natural gas and "unravel" the competitive markets that FERC has promoted for decades.
PJM Interconnection doesn't like it either: The regional transmission organization that oversees states that would be affected by the plan — such as Ohio and Pennsylvania — yesterday filed detailed comments in opposition.
FirstEnergy really likes it: The big Ohio-based utility that has lots of coal-fired generation filed extensive comments in support of the plan.
Quick take: In a very brief note Tuesday morning, the consulting firm ClearView Energy Partners offered some initial thoughts on the state of play...
"Our quick review of the voluminous comments posted at FERC through yesterday evening reinforces our view that FERC is unlikely to dismisses Secretary Rick Perry's concerns as entirely unfounded; we therefore do not expect FERC to simply reject the proposal," they note.
Yes, but: They do not expect FERC, an independent agency, to adopt Perry's proposal without "significant changes."
Go deeper: For a guided tour, read Utility Dive senior reporter Gavin Bade's Twitter feed from yesterday. For a self-guided tour, sift through the comments on the FERC docket, by starting here and typing RM18-1 into the field marked "Docket Number."
The future of electric vehicles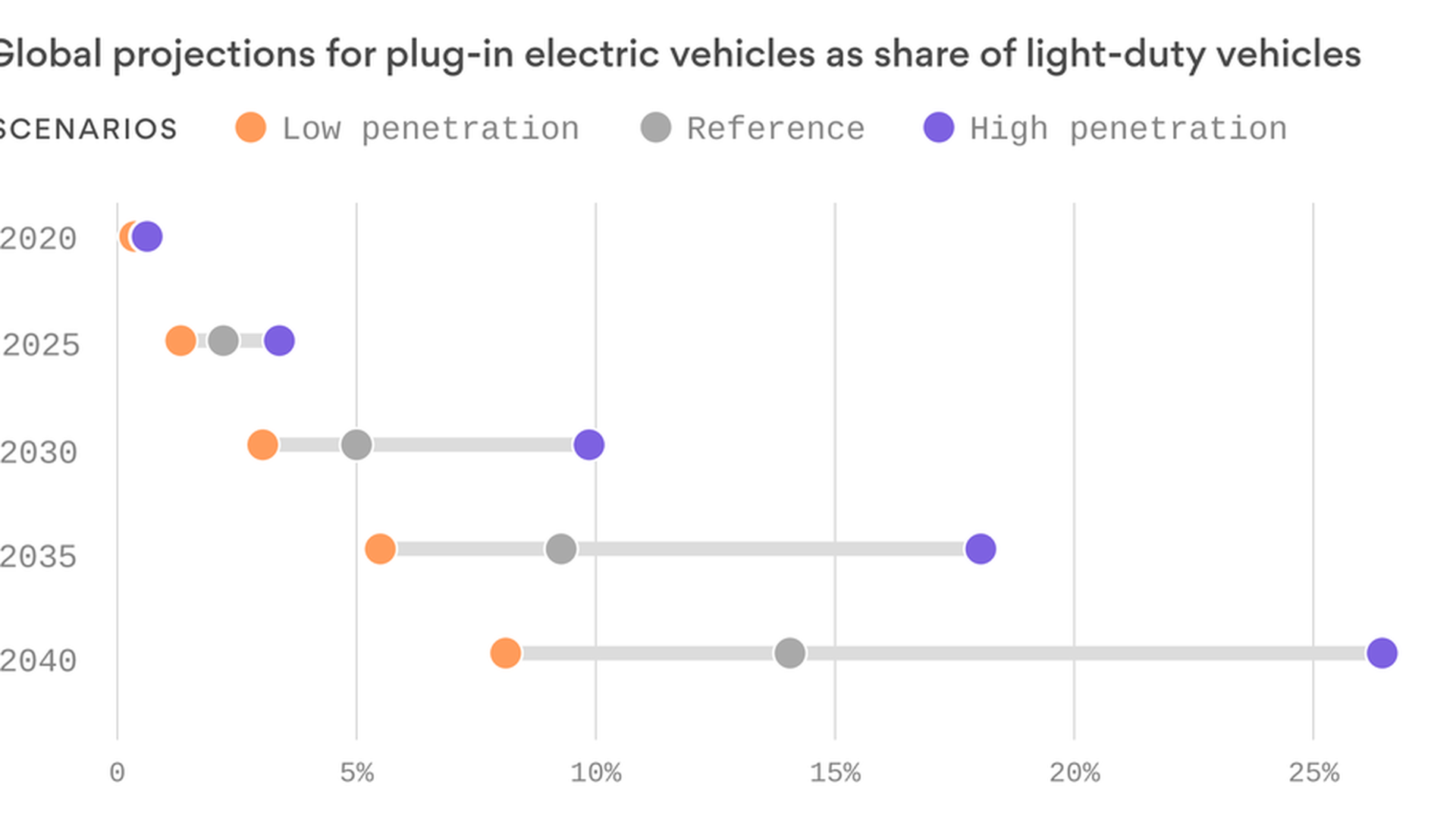 New projections: The federal Energy Information Administration is out with a new report on electric vehicles and how much the market might grow.
Possible futures: The chart above shows EIA's forecast of how much, or how little, of the global auto market that EVs will grab in coming decades. It shows their projections of the share of vehicle stocks, or cars on the roads, that will be plug-in electrics.
Compared to EIA's base or "reference" case, the "low" penetration case envisions a market in which consumers are willing to pay the upfront costs, which in turn means less charging infrastructure built and fewer vehicle models available, which leads to slower adoption.
They also explore a "high" EV penetration case with a self-reinforcing cycle that moves in the other direction — higher consumer willingness to pay means more sales that in turn lead to more charging networks and a greater blossoming of vehicle choices, leading EVs to grow to 26% of the light-duty vehicles on the roads in 2040.
ICYMI: My Axios colleague Amy Harder explored another aspect of the report here, looking at why EVs currently account for a much bigger percentage of vehicle sales in Norway than elsewhere.
***
Tesla's China push: "Tesla is moving closer to becoming the first foreign car company to have a wholly owned manufacturing operation in China, a deal that would test the relationship norms between a foreign automaker and the Chinese government," the New York Times reports.
Amy's notebook: In Iowa, ethanol trumps even health care
Amy has this dispatch from the latest developments in the ethanol wars and the renewable fuel standard (RFS)...
Driving the news: Iowa Gov. Kim Reynolds, a Republican, is coming to Washington, D.C., Tuesday to make the case for ethanol in planned meetings with Vice President Mike Pence and EPA administrator Scott Pruitt.
She'll be defending a federal mandate that requires refineries to blend biofuels — mostly corn ethanol — into the nation's gasoline supply. Corn-rich Iowa is the nation's top biofuels producer, and also a pivotal political battleground.
Highlights of Amy's chat with Reynolds...
Why she's meeting with them: "In Iowa, we have failing Obamacare failing citizens in the state, so we're also going to be talking about that. The RFS, that's our priority though."
Is President Trump just backing the mandate because Iowa is an important political state? "He traveled the country and listened to U.S. farmers, and we made our case and he supported it. I'm very appreciative of that."
Critics say biofuel backers aren't open to any compromise. "That's not true. There used to be subsidies and we got rid of that. We have changed along the way."
Are you worried electric cars could erode the need and support for biofuels, which are liquid like oil, in the longer term? "That's part of the future too and we're embracing that in Iowa."
Go deeper: Amy's latest Harder Line column delves into the politics and policy of ethanol.
Oil market lightning round
Aramco IPO: CNBC looks at some tea leaves at a big investment conference underway in Saudi Arabia.
"The absence of Jamie Dimon from Saudi Arabia's Future Investment Summit should not be seen as a sign that Saudi Aramco's upcoming Initial Public Offering (IPO) is in some kind of trouble, the CEO for the Middle East and Africa at Deutsche Bank told CNBC Tuesday."
Earnings: This new Wood Mackenzie podcast previews earnings reports from independent oil-and-gas producers.
Deals: Via Reuters, "Aker BP has agreed to buy the Norwegian unit of U.S. oil firm Hess in a $2 billion deal, the companies said on Tuesday."
Prices: A Wall Street Journal piece looks at the forces acting on oil prices from different directions as traders weigh increased geopolitical against higher volumes of U.S. crude on the global market.
Natural gas notes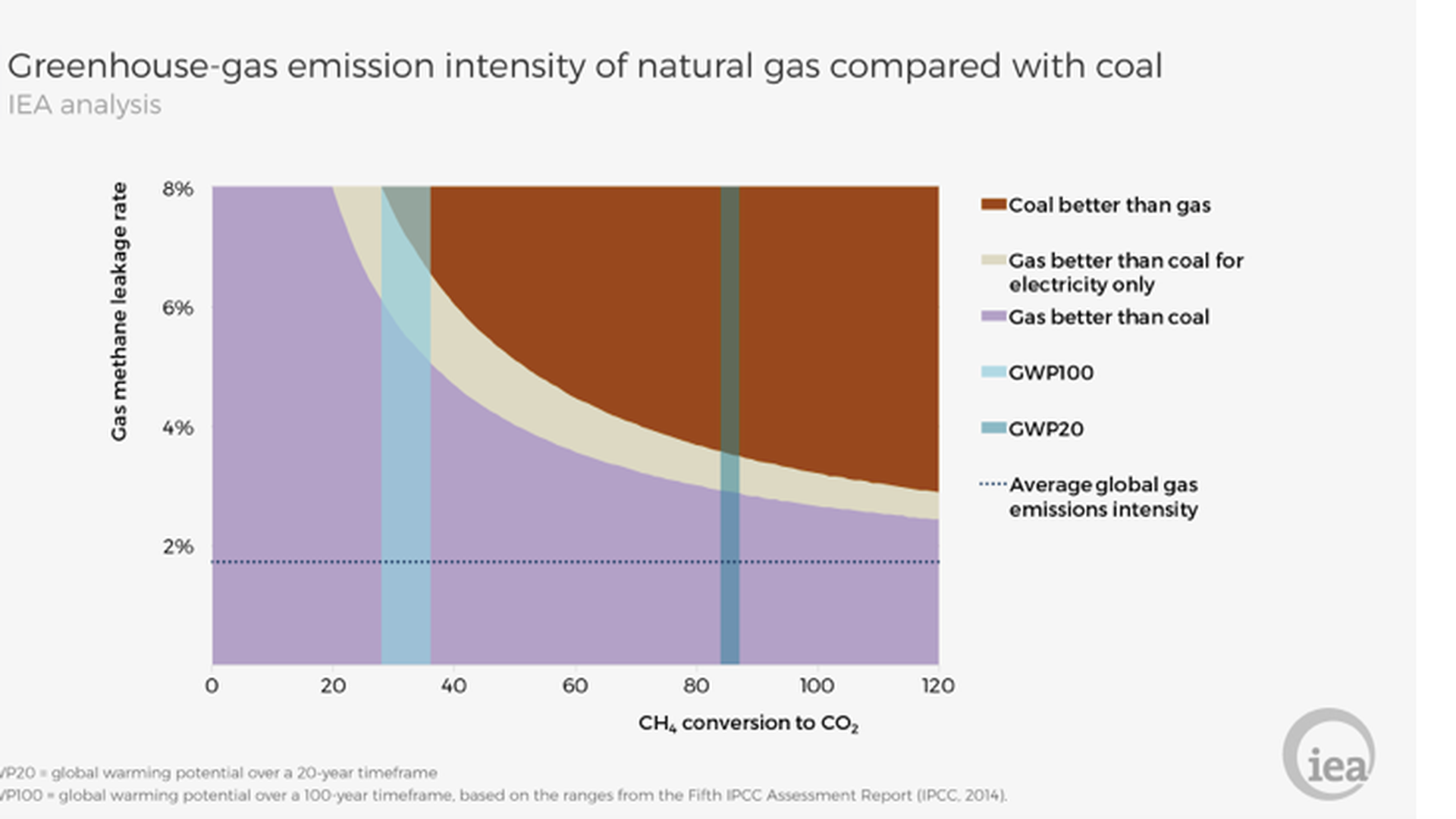 A couple of gas-related things that caught your host's attention...
(Not) Cooking with gas: Yesterday Amy touched on a key part of a new International Energy Agency analysis of leakage of the potent greenhouse gas methane — the finding that roughly half of current methane emissions from oil-and-gas operations could be stemmed at no net cost.
But the chart above gets to another interesting point. It concludes that even at their estimated current methane leakage rates (that's the dotted horizontal line), natural gas is still better than coal as a power and heat source from a climate change standpoint.
Yes, but: Don't pop the champagne yet. "Even if natural gas is better than coal, this comparison sets the bar too low," IEA notes.
The U.S. supply-demand outlook: A new note from RBN energy forecasts the medium-term future of U.S. natural gas under a "middle of the road" price scenario (around $57-per-barrel crude and $3-MMBtu). They see U.S. production rising to 92 billion cubic feet per day in 2022 compared to 74 bcf today.
Look for supply and demand to remain "neck and neck" in coming years, thanks largely to demand from foreign buyers for U.S. gas, RBN says. In their words:
"[I]f it were up to U.S. consumption alone to absorb that flood of supply, the U.S. gas market would be massively out of balance over the next five years — less than 6.0 Bcf/d of incremental demand versus close to 18 Bcf/d of net supply growth. "
"Fortunately...the biggest growth is going to come from exports — about 4 Bcf/d to Mexico via pipe and in the form of 9 Bcf/d of LNG to overseas markets."
New research on what's shutting down coal plants
New research from the nonpartisan think tank Resources for the Future concludes that EPA regulations that drive down emissions of nitrogen dioxide from coal-fired power plants have not been a major reason why substantial numbers of these units have shut down.
The main culprits: Inexpensive natural gas, the rise of renewables, and stagnant power demand are the other "market shocks" shutting down coal plants.
In their words: Here's the topline summary from the paper that looks at the trends between 2005 and 2015...
"Using a new electricity sector model that accurately reproduces unit operation, emissions, and retirement, we find that electricity consumption and gas prices account for nearly all the coal plant profitability decline and resulting retirements."
"Nitrogen oxides regulations explain most of the emissions reductions but had little effect on coal plant profitability and retirement."
To be sure: The analysis looked specifically at EPA's nitrogen dioxide rules, not the impact of other EPA rules covering sulfur dioxide, and mercury and air toxics. However, it suggests that these mandates are unlikely to be major causes of plants going offline either.
The big picture: This recent primer from the Federal Reserve Bank of St. Louis looks at the topic and arrives at a similar view. "Although regulation increases costs for coal producers, coal's main problem is technology that has reduced the cost of competing sources of energy," it notes.
Climate change news
Making progress: A big new report from the CDP (formerly the Carbon Disclosure Project) finds that increasing numbers of major companies are taking steps on climate change like setting emissions reductions targets, using internal carbon pricing and offering low-carbon goods and services.
New warning: The New York Times summarizes a Government Accountability Office report made public late Monday like this: "Fires, floods and hurricanes are already costing the federal government tens of billions of dollars a year and climate change will drive those costs ever higher in coming years, a new federal study warns."
Go deeper: Read the GAO report here.
One big, tricky question: A new blog post at UC-Berkeley's Haas School of Business grapples with whether warmer temperatures will increase or decrease U.S. energy consumption as cooling needs rise but heating drops.
"[I]f you had asked me a month ago, I would have said that that the net effect on U.S. energy consumption was probably an increase...Now that I've looked more closely at this, however, I'm not at all sure," notes professor Lucas Davis in the post.
New muscle for energy innovation group
The American Energy Innovation Council (AEIC) — a group that wants more robust federal support for development and commercialization of advanced energy tech — has added two new names:
Wanda Austin, the former president and CEO of Aerospace Corp, and Jay Faison, the entrepreneur who founded and leads the ClearPath Foundation, which seeks "conservative clean energy solutions."
Why it matters: They're joining the seven year old AEIC at a time when the White House is seeking deep cuts in energy research, development and demonstration programs.
Who they are: AEIC, which operates through the Bipartisan Policy Center, is a group of current and former CEOs that includes Bill Gates, Southern Company CEO Tom Fanning, VC heavyweight John Doerr, and former Lockheed Martin CEO Norman Augustine.
In their words: Faison is eager to bring his work with clean energy companies, including small outfits, into his role with AEIC. "ClearPath sees itself as a bridge between private industry and policy. Many of these companies don't have lobbyists, so we are kind of pro-bono lobbyists for energy innovators. We are very, very connected to the process," he told Axios.
One cool thing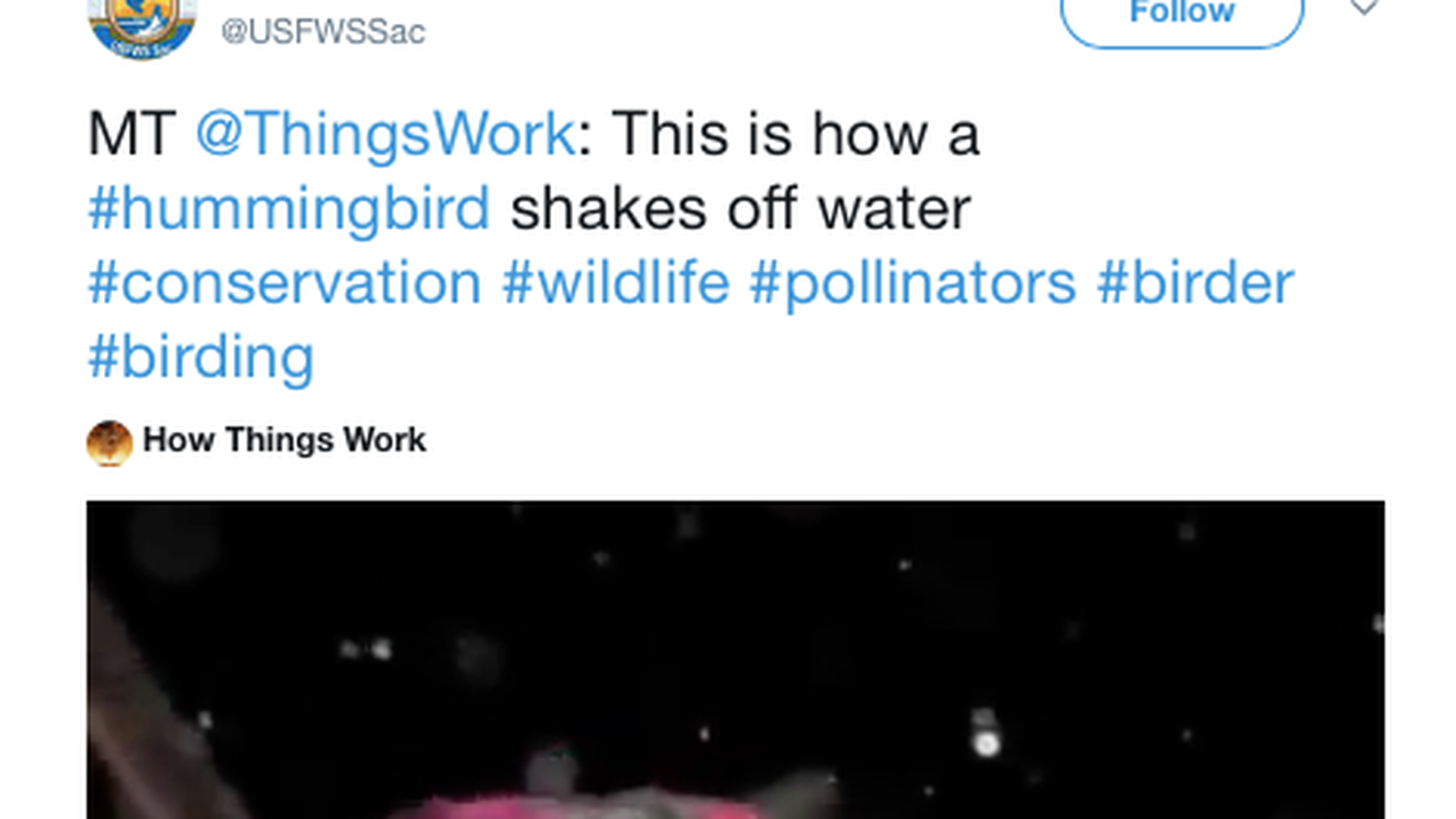 This fits the bill: This tweet of a brief slowed-down, close-up video of a hummingbird shaking off water, courtesy of the Sacramento office of the U.S. Fish and Wildlife Service, is pretty cool.